American Airlines recovers ground, Continental, Delta, United, GOL up. JetBlue raises funds
American Airlines (+12.1%) led the charge yesterday on Wall Street, with Continental (+11% - see below), GOL (+11.6%) and Delta (+7.0%) also performing well above the market. United shares (+6.0%) were also stronger than the overall Dow Jones index rise.
This was despite the continuing high level of oil prices and the at-best weak financial and traffic results still being reported.
And JetBlue (+3.5%), while up on the day, reportedly lost ground after the market closed, announcing a 20 million share offering and USD150 million in convertible bonds (see below). Along with a host of other companies, the airline is taking advantage of the rash of positive vibes to raise money for "general corporate purposes".
For daily updates on American aviation stock prices and a complete wrap of the day's breaking news, sign up now for a complimentary subscription to America Airline Daily.
North & South America selected airlines daily share price movements (% change): 02-Jun-09
Continental stocks leapt 11.0% yesterday, apparently largely because a JP Morgan analyst assessed that the price had fallen too far recently. JPM believed that the horror-inducing results Continental reported on Monday could have been worse.
In "normal" times, these numbers - with no serious prospect of recovery in the next few months - would have rung all sorts of warning bells about bankruptcy. But these are not normal times, fair enough. Nonetheless, the figures were truly awful.
Certainly, if CO's stock looked to be really out of line with either its peers or its previous price levels, there might be cause for greater optimism. But the fact is that the carrier's stock price is only down 20% on last year, 1-Jun-08.
Continental Airlines share price index: Jun-2008 to Jun-2009
And, among its peer airlines, Continental is hardly out of line, in the absence of any strong feeling that something different and better is about to happen to it. Only Delta, Alaskan and US Airways have performed (slightly) better over the past 12 months.
Selected US carriers' share price increases: Jun-2008 to Jun-2009
(LCCs in light blue)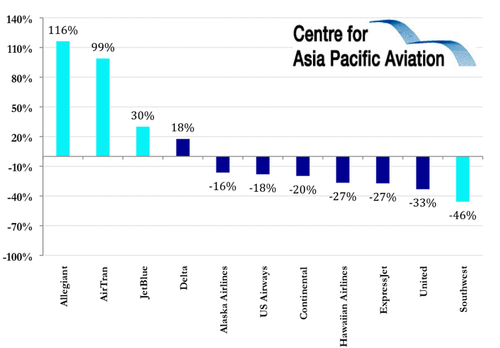 JetBlue share offering of 2-Jun-09
The following is an extract from JetBlue's announcement:
"JetBlue Airways Corporation announced today that it intends to make concurrent offerings, subject to market conditions, of 20,000,000 shares of common stock and $150 million aggregate principal amount of convertible debentures, which are to be divided into two series, each with an aggregate principal amount of $75 million and maturing in 2039 (but subject to earlier repurchase or redemption). JetBlue intends to grant the underwriters of the common stock and the debentures a 30-day over-allotment option to purchase up to an additional 3,000,000 shares of common stock and up to an additional $11.25 million principal amount of the debentures of each series. In connection with the common stock offering, in order to maintain Deutsche Lufthansa AG's current ownership position in JetBlue, the underwriter would reserve up to 15.6% of the offered shares for sale to Lufthansa, and Lufthansa would have an option to purchase up to 15.6% of the over-allotment shares from JetBlue, depending on the extent to which the underwriter exercises its over-allotment option.
"The debentures of each series will be convertible into JetBlue common stock at the option of their holders. The interest rate, conversion rate, conversion price, offering price and other terms of the debentures of each series will be determined at the time of pricing of the offering. The debentures will be general senior obligations of JetBlue. Neither of these offerings is contingent upon the consummation of the other offering.
"JetBlue intends to use the proceeds from the offerings for general corporate purposes."