Allegiant Air assures prudent capacity management will counter softness in demand
Analysis
US ultra low cost carrier and travel company Allegiant Air remains optimistic about its performance during 1Q2013 despite macroeconomic trends that pressured close-in bookings during late 2012.
The company's confidence is fuelled by the first quarter typically being its strongest and applying prudent capacity management to improve performance during off-peak times. Included in the pruning of supply are some of Allegiant's routes to Hawaii, where the carrier is still learning the ropes with respect striking an optimal supply-demand balance.
Allegiant during 1Q2013 will continue to place significant emphasis on its Florida markets and ease off Las Vegas as cost pressure in the market continues to mount.
Allegiant executives recently stated that beginning in Nov-2012 average base fares were lower than anticipated, which dampened the forecast for Dec-2012 and led the company to revise passenger unit revenues for 4Q2012 downward. At the end of 3Q2012 Allegiant estimated 4Q2012 passenger revenue per available seat mile to fall 7%-9% year-over-year and during Nov-2012 revised the estimate to a 8% to 10% decrease. The drop in passenger unit revenues was actually 10.3% for the last three months of the year.
Outlining some of the drivers of the weakened performance to investors, Allegiant president Andrew Levy explained the slower than normal booking trends continued from Nov-2012 to Dec-2012, which is the reason for larger than expected decline in passenger unit revenues. (Allegiant's total revenue per available seat mile – TRASM – which includes ancillary revenues, fell 3% during 4Q2012). He noted that some of the same trends are continuing into Jan-2103, and originally Allegiant determined the weakness stemmed from consumer anxiety over the fiscal cliff situation in the US, which was later resolved.
Tax concerns are hurting consumer confidence
Even though the Jan-2013 compromise reached between President Obama and the US Congress averted large-scale tax hikes, there will still be increases in the Social Security tax, which will result in less take-home pay for Americans. The rise in that specific tax led to a plunge in US consumer confidence, which was followed by a contraction in US GDP growth during 4Q2012, said Mr Levy. "We are more persuaded that macro issues contributed to the weaker than expected demand we experienced," he concluded.
Allegiant's unit revenues were also pressured by a 3% increase in average stage length and a larger number of 166-seat MD-80s operating in the carrier's fleet. During the last couple of years Allegiant has undertaken a project to add 16 seats to the 150-seat aircraft, and as of 30-Jan-2013 47 of its 51 MD-80s were operating in the higher density configuration.
Despite the fall in unit revenues, Allegiant recorded a 37% increase in 4Q2012 net income to USD14.8 million, with full-year profits jumping roughly 60% to USD78.6 million. The carrier's total fare increased USD5 to USD133 driven by a 27% increase in ancillary air-related charges. The sharp year-over-year jump in the ancillary line item was driven by Allegiant's introduction of charges for large carry-on bags, and the resulting increase in checked luggage revenue.
Mr Levy stressed to investors that Allegiant directs its energy to margin expansion and earnings per share growth rather than managing its business around RASM (revenue per available seat mile) or CASM (cost per available seat mile), instead focussing on margin expansion and earnings per share growth.
Allegiant recorded an 11% operating margin for 4Q2012 and the full year 2012, while EPS during 4Q2012 grew 36% to USD0.76 and 58% for the full year to USD4.06.
Allegiant's financial performance: 4Q2012 vs 4Q2011 and full year 2012 vs full year 2011

Some of the macroeconomic pressure is lingering into 1Q2013 but, according to Mr Levy, Allegiant's bookings are overall strong and aggressive capacity management should allow the company to deliver a solid performance during the quarter.
Zeroing in on managing peak and off-peak capacity
Allegiant expects scheduled service departures to fall or grow within a range of +/- 2% during 1Q2013 and available seat miles to expand by 15% to 19% year-over-year. But within that growth the carrier is carefully managing peak and off-peak seats on offer. Mr Levy concluded that during 1Q2012 Allegiant had offered excess seats in the market place during off-peak times, especially in the Las Vegas market.
Las Vegas is home to Allegiant's headquarters and serves as the carrier's largest base in terms of seats on offer. But during 1Q2013 Allegiant expects a 16% decline in its Las Vegas departures year-over-year and flat available seat mile growth due to a shift in managing peak versus off-peak capacity.
Allegiant Air top 10 hubs/bases/stations (by seats): 4-Feb-2013 to 10-Feb-2013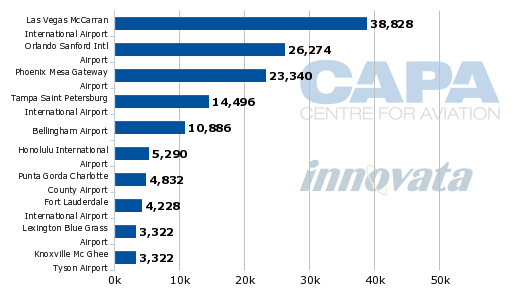 Allegiant is also working with the operator of Las Vegas McCarran International Airport to evaluate options to ease the effect of an increase in the airport's costs after the new T3 international terminal opened at the airport in Jun-2012. During 4Q2012 Allegiant's system-wide station operation expense grew 25% to USD20.7 million, and company CFO Scott Sheldon warned that if Allegiant retains the same service footprint at McCarrarn during 2013, its costs to serve the airport would increase USD3 million to USD3.5 million year-over-year.
Based on figures from McCarran, Allegiant transported a total of 2.3 million passengers (enplaned plus deplaned) from the airport during 2012, a 9.5% rise over the 2.1 million customers carried by the airline during the year prior.
Allegiant banks on strong demand in Florida during 1Q2013
During 1Q2013 Allegiant's base in Orlando, Florida will represent 21% of Allegiant's scheduled service available seat miles and 23% of the carrier's departures. With 28% available seat mile growth and 18% departure growth year-over-year during 1Q2013, Orlando Sanford International Airport is the second largest market where Allegiant will grow capacity during the quarter. The push early in 2013 continues an emphasis Allegiant has placed on one of its oldest bases during the last couple of years.
During 2Q2012 Allegiant increased departures from Sanford by 20% year-over-year, and between Nov-2011 and Oct-2012 the carrier added service to 13 smaller US cities, reflecting its strategy of serving smaller markets from large US leisure destinations. Orlando Sanford is roughly 77km from Disney World while Orlando International is 37km from the theme park.
Allegiant previously tried splitting its operations between Sanford and Orlando International, but consolidated all its flights back in Sanford in Feb-2011 after offering service from both airports for about a year.
See related article: Allegiant touts Orlando performance as Frontier continues its expansion from the region
Allegiant during 1Q2013 also plans "sizable" available seat mile and departure growth from Tampa Saint Petersburg International Airport and its expanded base at Punta Gorda. Mr Levy stated Allegiant is "placing a lot of bets" in Florida during 1Q2013. Demand is typically higher for Florida markets during the first quarter as the milder climate is attractive for leisure travellers based in colder regions.
Allegiant is the largest airline represented at Saint Petersburg, which is 24km from Tampa International Airport. Saint Petersburg is the fourth largest city and Florida, and its beaches draw a fair number of tourists. Allegiant launched service from the airport in 2006 and now offers service to about 25 destinations, accounting for approximately 84% of the seats on offer.
Tampa Saint Petersburg International Airport capacity by carrier (% of seats): 4-Feb-2013 to 10-Feb-2013
During Jun-2012 Punta Gorda, located in Southwest Florida, became Allegiant's ninth base of operations and its fourth in Florida, joining Orlando, Saint Petersburg and Fort Lauderdale. To mark Punta Gorda's status as a new base, Allegiant in Jun-2012 added new service to Fort Wayne and South Bend, Indiana; Niagara Falls, New York; and Peoria, Illinois.
Those routes joined the carrier's existing service to Greenville, South Carolina; Knoxville, Tennessee; and Lexington, Kentucky. Other additions to Punta Gorda since it attained base status for Allegiant include, Plattsburgh, New York; Rockford, Illinois; Springfield, Illinois; and Toledo, Ohio. With the transition of Punta Gorda to a base, Allegiant now has bases in Southwestern Florida as well as its beaches on the Gulf of Mexico and Southeastern Florida, featuring popular beach destinations on the Atlantic Ocean.
It is not clear if Allegiant's gamble will pay off in Florida in 1Q2013 given the potential effect of weak consumer confidence on discretionary spending, but unit revenue performance in Jan-2013 was largely in line with the carrier's expectations. At the end of 4Q2012, Allegiant estimated passenger unit revenues (PRASM) would fall 11% to 13%, and on 5-Feb-2013 when the carrier reported Jan-2013 traffic results it estimated a PRASM decline of 10.6% to 11%.
Allegiant is still learning the ropes in Hawaii after its Jun-2012 debut
Hawaii will represent Allegiant's largest growth markets during 1Q2013 with respect to capacity deployment. Allegiant inaugurated Boeing 757 service to Hawaii in Jun-2012 with service from its Las Vegas base and Fresno, California to Honolulu.
Since that time the carrier has introduced service to Honolulu to Bellingham, Washington (tapping into the cross borderCanadian market); Eugene, Oregon; Boise, Idaho (beginning 9-Feb-2013); Stockton, California; Spokane, Washington (beginning 9-Feb-2013); and Phoenix Mesa. The carrier cancelled service between Monterrey, California and Honolulu prior to its original launch date in Nov-2012, citing low demand.
Even though Hawaii represents the largest capacity increase by region year-over-year during 1Q2013, Mr Levy noted the rise is off a base of zero, given Allegiant did not inaugurate service to Hawaii until late in 2Q2012. Overall, Hawaii will represent 8% of Allegiant's scheduled available seat miles during 1Q2013 and 2.3% of its departures.
As Allegiant expands its knowledge about demand patterns in Hawaii, the airline is adjusting capacity in its markets to the Hawaiian Islands accordingly, said Mr Levy, which means putting the right amount of seats into its markets based on seasonality.
About four 757s are being deployed to Hawaii, with an aircraft and a half operated on the US mainland and one aircraft serving as a spare. Allegiant back in 2010 selected the 757s as its aircraft of choice for its expansion into the Hawaiian market.
Mr Levy stated Allegiant is not feeling any pressure of competitive capacity growth between Hawaii and the US mainland that Hawaiian Airlines recently said was pressuring its financial performance. Allegiant's service from Hawaii largely follows its model of serving small US mainland destinations, which are generally shielded from legacy carrier encroachment.
See related article: Hawaiian Airlines looks to rebound from tough competitive market conditions in 2H2013
Company CEO Maurice Gallagher stated Allegiant was still on the learning curve with respect to selling its service to Hawaii. Allegiant markets vacation packages from its small city destinations including hotel rooms and cars. He stated the Hawaii product offer differs in many ways from the traditional mainland destinations, "so we need to get a little better in how to sell, market and package".
While Allegiant continues to post the best financial results among US carriers, its pure focus on leisure customers could pose a challenge if the macreconomic trends that have recently pressured demand persist.
The carrier assures it will aggressively manage capacity to ensure a favourable supply-demand balance, and with 40 consecutive quarters of profitability under its belt, Allegiant has demonstrated an uncanny ability to deliver on its promises.
background info
Allegiant's routes from Tampa Saint Petersburg International Airport: Feb-2013