Allegiant touts Orlando performance as Frontier continues its expansion from the region
Analysis
Low-fare, low frequency carrier Allegiant Air remains bullish over the performance of one of its largest and oldest bases at Orlando Sanford International Airport even as Frontier Airlines is targeting similar markets from nearby Orlando International Airport. While Allegiant's focus during the last couple of years has been its highly publicised launch of service to Hawaii, the carrier stressed during 2Q2012 its operating margin in Orlando improved significantly despite a 30% increase in departures year-over-year. For Frontier, Orlando has become a key area in its network as the carrier has developed a point-to-point strategy during the last year to help lift its revenues.
Executives at Allegiant recently stated the carrier plans more growth from Orlando, with an expected increase in departures during 2H2012 of 20%. Based on markets published by Allegiant as of 20-Aug-2012 the carrier by year-end will serve approximately 47 destinations from Orlando, which is two more than the 45 operated from Allegiant's Las Vegas base, the carrier's largest in terms of seats on offer.
Allegiant Air top 10 hubs/bases/stations (seats per week): 20-Aug-2012 to 26-Aug-2012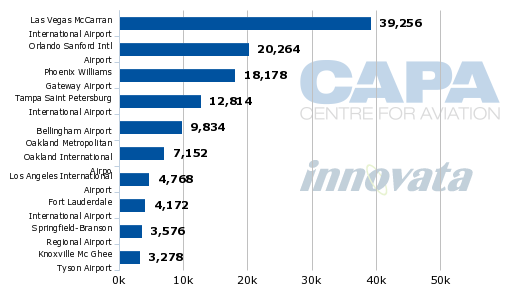 Sanford is located approximately 42km from downtown Orlando, and Allegiant is the largest carrier at the airport, accounting for 94% of Sanford's scheduled seating capacity. Icelandair also offers some scheduled flights from the airport, but not during its 2012 summer period ranging from 18-May-2012 to 19-September-2012. Schedules in Innovata (20-Aug-2012 to 26-Aug-2012) show that Dutch charter carrier Arkefly also offers flights from Sanford to Amsterdam with one stop in Miami featured on a portion of the routes. The airport also hosts a number of other charter flights from Europe operated by Monarch, Thomas Cook and Thomson Airways, while Florida-based SSTAir offers charter flights to a number of destinations in Brazil. Thomson has said it intends to operate a Boeing 787 from its UK airports to Sanford beginning in May-2013.
Orlando Sanford Intl Airport capacity by carrier (% of seats, filed in GDS): 20-Aug-2012 to 26-Aug-2012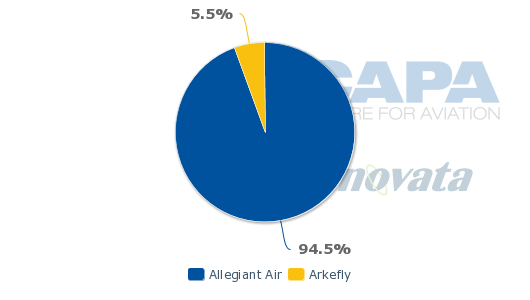 Allegiant in Feb-2010 split its operations in the Orlando area, moving service from 10 of 31 cities it served from Sanford to Orlando International. Those markets included Allentown, Pennsylvania; Des Moines, Iowa; Grand Rapids, Michigan; Greenville/Spartanburg, South Carolina; Huntington, West Virginia; Knoxville, Tennessee; Lexington, Kentucky; Springfield, Missouri; Tri-Cities, Tennessee; and Youngstown, Ohio.
At the time Allegiant stated its reasoning for the move was to satisfy customer demand for better access to the theme parks closer to Orlando International, and to improve its position with competitors that serve the larger airport. Sanford is approximately 77km from main theme park Disney World while Orlando International is 37km.
But the split operations only lasted a year and in Feb-2010 Allegiant moved service to those 10 markets back to Sanford after determining it was less expensive to operate from the airport located further out from Orlando's main attractions.
Continuing the small city push from Orlando
Since making the move to consolidate its flights back to Sanford, Allegiant has recorded significant expansion from the airport. Between Nov-2011 and Oct-2012 the carrier will add service to roughly 13 smaller US cities.
New service introduced by Allegiant from Sanford since Nov-2011 includes flights to Asheville, North Carolina; Saginaw, Michigan; Newport News, Virginia; Grand Forks, North Dakota; Moline, Illinois; Niagara Falls, New York; Salisbury, Maryland; Bloomington, Illinois; and Hagerstown, Maryland. Allegiant operated flights from Hagerstown to Orlando from 2008-2010, and local Hagerstown media outlets have reported the carrier was lured back by incentives from the airport.
Currently, Allegiant only serves Orlando from six of those markets: Hagerstown, Bloomington, Salisbury, Newport News, Saginaw and Asheville. But as those markets mature it is likely that Allegiant will introduce flights to its other bases, especially the US east coast markets to its three other bases in Florida: Fort Lauderdale, Tampa Bay and Punta Gorda. In many of its east coast markets Allegiant serves two-to-three of its Florida bases.
Allegiant recently announced service from Sanford to Harrisburg, Pennsylvania (where the carrier will also offer new service from Tampa Bay), Columbus, Ohio and Lansing, Michigan beginning in Oct-Nov-2012. The service to Lansing marks a return to Michigan's state capital, which the carrier served from 2003 to 2009.
Part of Allegiant's reasoning for pulling out of Lansing was to distance itself from Detroit, which is a major hub for Delta Air Lines and approximately 151km from Lansing. Allegiant shifted its flights to Grand Rapids, whose distance is about 259km from Detroit. Markets Allegiant served during its first stint in Lansing included Las Vegas, Tampa Bay and Orlando.
Allegiant representatives told the Lansing State Journal newspaper that it observed and "conceded" Lansing and Grand Rapids were two different markets, and now there is an opportunity to serve both cities. No other carrier currently offers direct flights from Lansing to Orlando, but Sun Country operates seasonal flights between the two destinations.
After it launches flights from Columbus Rickenbacker Airport, Allegiant will become the second scheduled carrier to serve the airport behind Vision Airlines, which operates service from Rickenbacker to Myrtle Beach, South Carolina. Allegiant's move into the Columbus-Orlando market is interesting given that Southwest and AirTran combined offer an ample 2,597 weekly one-way seats from nearby Port Columbus (approximately 32km from Rickenbacker) to Orlando. It is one of the few markets where Allegiant will face competition as most of its market are too small for US major and larger low cost carriers to operate profitably. As of 06-Aug-2012, Allegiant estimated it only had competition on 15 of its routes compared with 171 routes within its network with no direct competition.
Port Columbus to Orlando International capacity by carrier (seats per week, one way): 19-Sep-2011 to 10-Feb-2013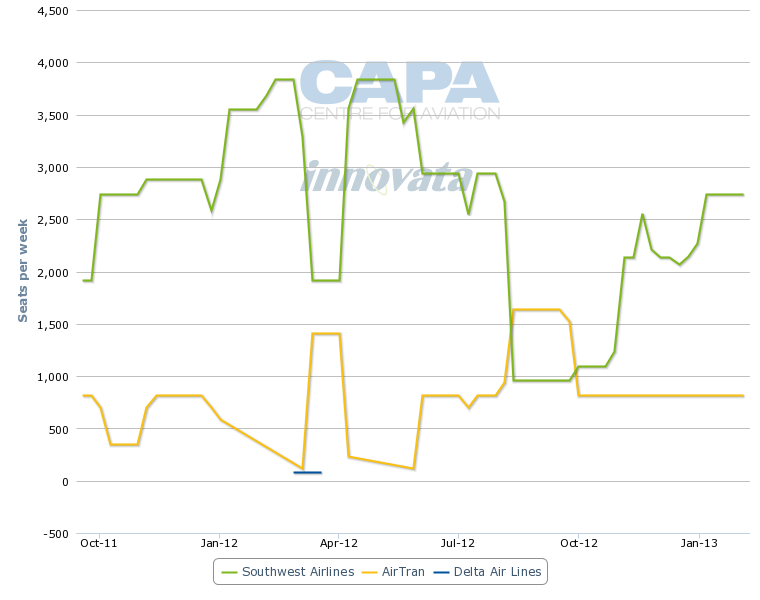 Allegiant routes with competitive overlap: Aug-2012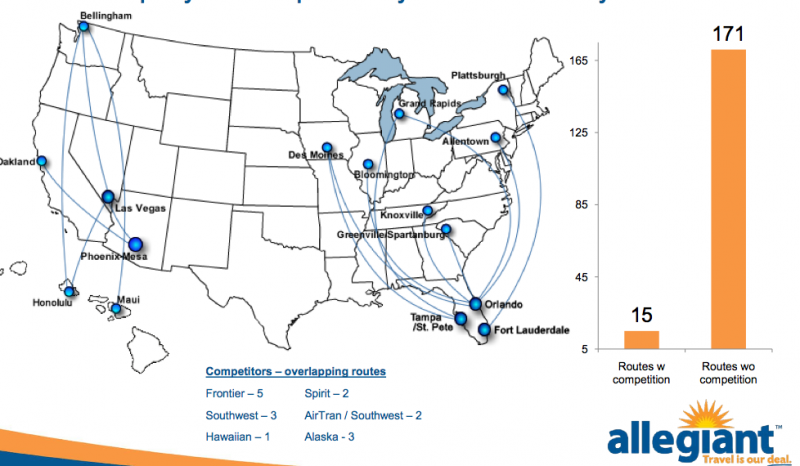 Frontier and Allegiant emerge in markets cut by AirTran
Both Frontier and Allegiant have opted to take advantage of AirTran's withdrawl from some smaller markets after AirTran's new parent Southwest determined those routes would be underperformers in the combined AirTran-Southwest network.
Allegiant began operating flights from Orlando to Asheville, Bloomington and Moline once the decision was made by AirTran-Southwest to drop those routes. Southwest closed on its acquisition of AirTran in May-2011.
See related article: Allegiant faces pivotal year as it seizes on AirTran cuts and works toward Hawaii launch
Frontier also saw an opportunity in some of the smaller markets abandoned by AirTran. As AirTran-Southwest made the decision to cut those routes from their combined network, Frontier was in the midst of a network overhaul that included de-hubbing Milwaukee and Kansas City, bolstering its Denver hub and building out some point-to-point operations where it determined it could forge a competitive advantage.
See related article: Frontier's ongoing network overhaul shows promise through solid revenue improvement
In somewhat of a nod to Allegiant, Frontier has opted to introduce its point-to-point flights on a small scale, especially from Orlando where it has made a push during the last few years. Current schedules in Innovata show that Frontier serves nine markets from Orlando, and the only route pairing with daily service is to the carrier's Denver hub. The rest of the service is limited to one-to-four weekly flights. Frontier's markets from Orlando include Allentown, Bloomington, Denver, Harrisburg, Kansas City, Knoxville, Madison, Milwaukee and Omaha.
Allegiant was not deterred by competition from Frontier when it opted to launch new flights from Orlando to Harrisburg in Oct-2012. Harrisburg was one of the routes eliminated by AirTran from Orlando, and Frontier introduced flights on the pairing on 24-May-2012. Frontier also launched Orlando-Allentown flights in May-2012, which was one of the markets Allegiant moved to Orlando International in Feb-2010.
Once Allegiant begins its Harrisburg-Orlando flights during Oct-2012 and Frontier launches its new service from Orlando to Greensboro, North Carolina, in Nov-2012, the two carriers will compete on five routes from the Orlando area. Allegiant dominates in Allentown in terms of weekly seats on offer at 596 while in Bloomington Frontier's approximately 414 seats outnumber Allegiant's seats on offer.
Frontier and Allegiant one-way seats on offer in overlapping markets from Orlando: 19-Aug-2012 to 25-Aug-2012
Frontier is planning further expansion from Orlando in Nov-2012 with twice-weekly service to Trenton, New Jersey, two weekly flights Columbia, Missouri, and thrice-weekly flights to Shenandoah, Virginia. Frontier is facing no competition in any of those markets as Trenton is only served by small carrier Streamline Airways while Delta is the only scheduled airline serving Columbia with flights to its Atlanta and Memphis hubs. United operates Saab 340 turboprop flights from Shenandoah to its Washington Dulles hub through partner Silver Airways, which took over the operation from Colgan Air on 01-Aug-2012. Colgan's parent Pinnacle Airlines filed for Chapter 11 bankruptcy protection in Apr-2012.
So far Allegiant has not opted to serve any of Frontier's latest markets from Orlando. During 2007 the Columbia Daily Tribune reported Allegiant had some discussions with officials from the Columbia airport about potential service, but the facility's runway length was a concern for the carrier. The city is reportedly on working to extend its 1,981m runway. Frontier plans to operate 138-seat Airbus A319 aircraft on its new twice-weekly flights from Columbia to Orlando.
Additional overlap between Allegiant and Frontier could emerge as both carriers carefully determine the opportunities being created from consolidation by larger US carriers. But it remains unclear if the growing number of small markets where the two carriers compete can support two competitors even if both airlines offers low-frequency service. A big driver in Allegiant's success is that no other carrier has adopted its strategy of serving major leisure markets from small US cities. With Frontier now adopting some of those tactics the calculus for Allegiant's success may be changing.