Alaska Airlines keeps a bullish long-term view despite loosening ties with Delta Air
Analysis
Alaska Air Group finished 4Q2013 and FY2013 on a strong note ahead of a competitive onslaught by Delta at Alaska's Seattle's hub reaching a crescendo during 2014. Alaska Airlines grew its profits despite facing a higher level of competitive capacity in many of its markets and having numerous routes within its network in the developmental phase.

At the start of 2014 the canny Alaska appears poised to move on from its diminishing relationship with Delta while possibly exploring new opportunities with American as that carrier becomes entrenched in merger integration.

Overall Alaska is maintaining a positive view for 2014 as demand for the moment seems stable and its financial health is strong. While it seems the competitive network pressure continues unabated in 2014, Alaska believes it is capable of demonstrating its staying power.
Alaska Airlines records strong net income and operating profits for 4Q and FY2013
Alaska Air Group grew its profits by 78% year-on-year during 4Q2013 to USD78 million. For FY2013 the company's net income jumped 66% to USD508 million. Top-line revenues for 4Q2013 increased 7% to USD1.2 billion and 11% for FY2013 USD5 billion. The company's overall operating expenses grew 2% in 4Q2013 to US1 billion and 5% for FY2013 to USD4.3 billion.
Alaska Air Group's consolidated revenue performance: 4Q2013 vs 4Q2012 an FY2013 v FY2012

Alaska Air Group's consolidated top-line expenses: 4Q2013 vs 4Q2012 an FY2013 v FY2012

On a unit basis Alaska Air Group's costs during 4Q2013 grew 1% year-on-year and remained flat for FY2013. But similar to other low-fare airlines including Southwest and JetBlue, Alaska is predicting a 1% rise in unit costs excluding fuel for FY2014 (which is lower than the 2% to 3% estimated increase for Southwest and a 3% to 5% rise for JetBlue).

See related reports:
JetBlue Airways builds its network strength as cost headwinds strengthen
Southwest Airlines: solid financial performance for FY2013, but challenges are piling up
Company CFO Brandon Pedersen recently outlined some of the elements driving the cost creep including an estimated 30%, or USD27 million, increase in technology spend year-on-year for FY2014, USD25 million to USD30 million in costs for a brand refresh and airport cost increases, particularly in Los Angeles and Seattle.

Mr Pedersen assured that despite the projected rise in Alaska's unit costs for FY2014, the company remains focussed on lowering its cost over the long-term in order to maintain its cost advantage over large US network carriers and narrow the gap with other low cost producers.
The airline also has the advantage of possessing a relatively strong balance sheet. Alaska's USD1.3 billion in cash is roughly 25% of its USD5 billion in FY2013 revenues. Company CEO Brad Tilden also recently highlighted to investors that debt and operating leases are roughly about 35% of Alaska's capital structure.
Alaska posts a decent unit revenue performance despite competitive capacity pressure
Alaska also recorded a decent performance in unit revenue and yield metrics for 4Q and FY2013, increasing yield by 1.4% during the quarter, which helped lift unit revenues 1.6%. For FY2013 yields notched down 0.8% which drove unit revenues down 0.5%.
Alaska Air Group's consolidated unit revenue and yield performance: 4Q2013 vs 4Q2012 and FY2013 vs FY2012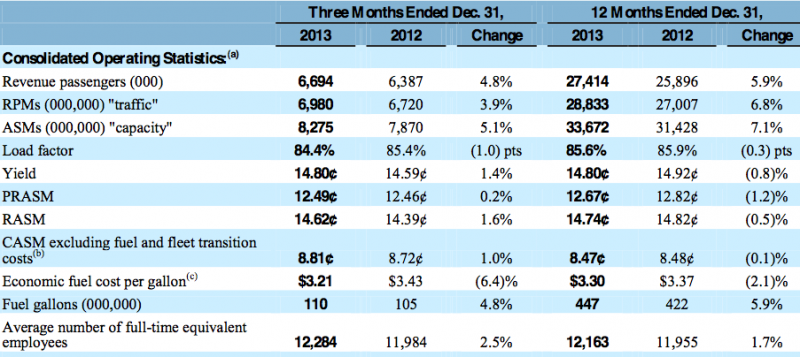 As has been the case for the last couple of years, Alaska's 7% capacity growth during FY2013 was higher than the industry average. Mr Tilden ticked off a list of challenges Alaska faced in FY2013 that will persist in the future. He explained during 4Q2013 overall industry capacity increased 3% in the domestic markets; but "8% in the markets we serve when you exclude our own growth. This was a similar story throughout the year, and it put a lot of pressure on our unit revenues, especially on the long-haul Alaska and west coast markets".

Both JetBlue and Delta each bolstered their service to Anchorage during the high season and by Sep-2014 Delta will compete with Alaska on six of 10 Alaska's top markets from Alaska's Seattle hub. Delta is building Seattle as its US western gateway to Asia, and is working to bolster connections on its own metal to those long-haul Pacific markets.

See related reports:
Delta Air Lines' latest punch at Alaska in Seattle is to siphon traffic from Vancouver
Delta Air makes still more aggressive moves in Seattle as Alaska Airlines pledges to defend itself
Alaska Airlines' vice president of planning and revenue management Andrew Harrison remarked that the company started 20 new markets during 2012 "that came through in '13 and are maturing very nicely. We started another 15 markets in 2013 that we're also seeing maturing nicely. So yes, we may have some downward pressure on yields in some of these markets where there is heavy competitive capacity. That said, we have a good source of new markets and new revenues coming online in 2014."

Most of Alaska's announced new markets are to Salt Lake City, a hub for Delta. During Jun-2013 Alaska plans to introduce new service from Salt Lake City to its Portland and San Diego hubs, Los Angeles, San Jose, California, Boise, Las Vegas and San Francisco.
Alaska Air Group's planned route launches from Salt Lake City: Jun-2014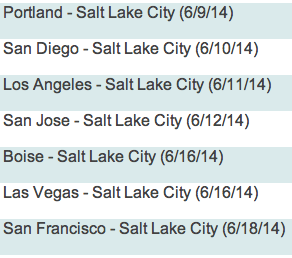 See related report: Alaska Airlines answers Delta's aggression in Seattle with a push from Delta's Salt Lake City hub
Alaska may have some upside with American as its business with Delta changes
Obviously the changing nature of Alaska's long-time relationship with Delta is a significant issue for Alaska during 2014, illustrated by Delta's aggressive moves in Seattle during the last year. As of Nov-2013 the USD235 million in revenue Alaska garnered from its codeshare with Delta represented 51% of Alaska's USD460 million in annual codeshare revenue.
Alaska Air Group's annual codeshare revenue breakdown: Nov-2013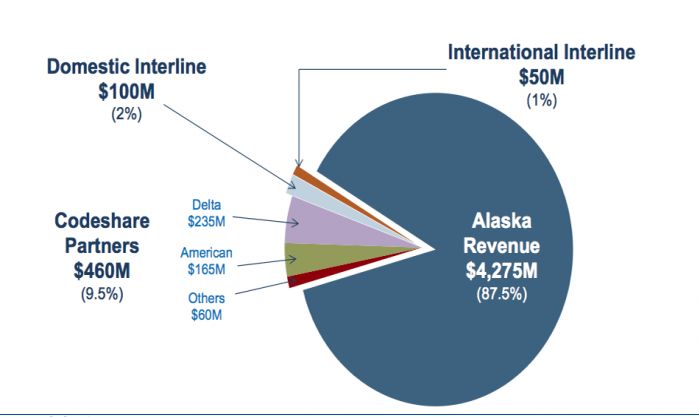 Mr Harrison stated Alaska's contract with Delta is changing, and explained that presently Alaska is "operating way upside" with respect to to those contractual terms. "You're going to see and continue to see a reduction in the amount of traffic that Delta is putting on our metal, and that's not surprising to us," Mr Harrison remarked.

Alaska made some tempered comments about its relationship with American, as Mr Harrison stated he has met with the carrier's new management, "we look forward to future things", he said. While Mr Harrison stated that obviously integration is American's top priority he should be able to share how Alaska and American plan to work together in "future quarters".
Delta continues to put Alaska's fortitude to the test in 2014
In addition to the likely revenue decline from its partnership with Delta, Alaska also faces continuing competitive capacity pressure in its network, of 7% and 8%, respectively, in 1Q2014 and 2Q2014, peaking in 3Q2013 during the busy high season for the US at 8%.

Alaska showed resilience in 2013 in facing competitive capacity headwinds, with favourable financial results. With its solid fundamentals it has the potential to withstand the continued pressure during 2014.
But whichever way it is looked at, the airline faces a formidable force in Delta, who has stated its intent to further expand from Seattle. Combatting Delta's take-no-prisoners approach in its headquarters and largest hub still proves to be Alaska's biggest challenge in 2014. The outcome could be a win-win for American and Alaska.