Airlines making do with current fleets: American, United, Southwest updates
Analysis
US airlines are largely making do with their current fleets, with capital expenditure mostly going into upgrading the passenger experience or the efficiency of the aircraft. That much was clear from executive comments at this week's JP Morgan conference. Legacy carrier CEOs spoke of upgrading the front cabins with lie-flat seats and other premium amenities, while low-cost carriers spoke of slowing deliveries of aircraft on order and upgrading with wi-fi and efficiency improvements.
JetBlue, alone, for instance, has deferred 100 aircraft. It also spoke of aircraft optimisation, similar to what Southwest was able to achieve with the schedule optimisation achieved last year.
Just a few years ago, airlines and airframe manufacturers were looking ahead to the middle of this decade and expecting to see the next generation, clean-sheet designs that would be a step change in economy and efficiency. Back then, there were just two airframers in the arena, but today, those airlines that are in the market said they are "pursuing all their options," largely echoing each other. That, of course includes such newcomers to the mainline field as Bombardier and Embraer. Even Boeing acknowledged it must set its sights not just on Toulouse, but on Russia, China and Japan in addition to Canada and Brazil. See related report: Is there room for the little Fokker?
During the conference, the airlines spoke not only new aircraft from Bombardier and Embraer, but also of the interim solutions that may be offered by Boeing and Airbus. Airbus expects to announce its decision on whether or not to re-engine the A320 by Farnborough. For its part, Boeing is looking at the possibility of re-engining its B737, as well as its B777, but decisions on that will not come before the end of the year. In the meantime, according to Boeing Commercial Airplanes' Jim Albaugh, it is mulling the increase in the B737 and B777 program production rate, in market contrast to industry urgings that production rates be slowed.
American's CFO Tom Horton indicated American is following the events and is in constant talks with Boeing and Airbus.
Meanwhile, Continental Executive VP and CFO Zane Rowe was positively ebullient about the company's order for the B787, producing a chart illustrating why the company remains so enthusiastic, saying it all comes down to trip costs and seat costs. It is scheduled to receive the first of 25 next year.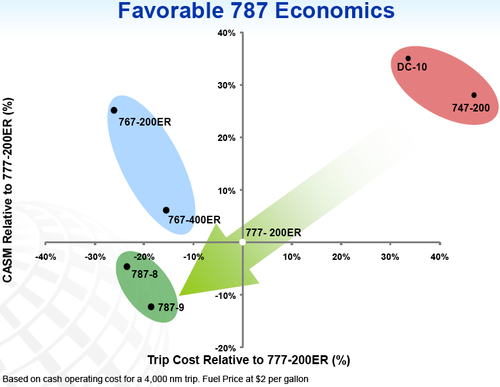 Even Southwest entertaining other options
A questioner reminded Southwest CFO Laura Wright of a recent conversation they'd had indicating the airline might be interested in the Bombardier CSeries. "I think you should assume we will be looking at all options," she said, in a significant departure from the company's insistence on a single aircraft type – the B737. "We've been a Boeing customer for 39 years, but it's prudent to look at all the options and we need to evaluate the CSeries as well. But we are not anywhere close to a decision on anything."
United is in the midst of narrowbody evaluations after completing its widebody considerations, splitting its 50-aircraft order between Boeing and Airbus with 25 A350 XWBs and 25 B787s. Indeed, CFO Kathryn Mickells said when the company decided to retire its B737 classics several years ago, it resulted in taking the pressure off the need to make an immediate decision, especially with the reduction in capacity. "That gives us a lot of flexibility as we look forward to a long-term replacement and we will take full advantage of the full range of opportunities in the marketplace. We expect to make a narrowbody decision this year."
Boeing's next moves to get back on top

Despite the reticence on orders, Boeing's Albaugh gave an upbeat briefing during the conference, saying the industry is clearly on the leading edge of the recovery. "The good news is that traffic is starting come back and will be at 2008 levels this year," he said. "It will continue to climb in 2011 [with] airlines back in the market in 2012." Boeing's backlog, in terms of USD, slipped back in 2009, to USD250 billion.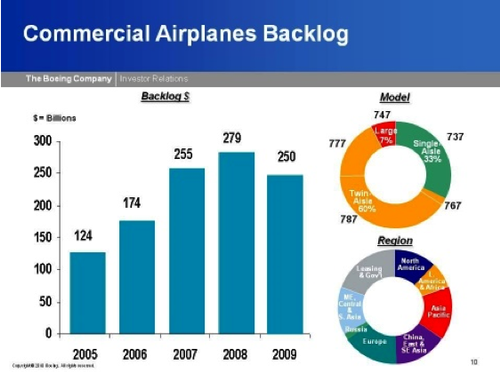 Both Boeing and Airbus have put the next generation, clean-sheet, narrowbody programme out until the middle of the 2020 decade, even as airlines are looking for better economics in this decade. Consequently, both are looking at what they can do to offer the step change required. However, they also have to consider what the marketplace will be like by mid-decade, indicating the considerations for tweaking current narrow bodies go well beyond the efficiencies required by the market.
"You project out another five or six years and you're going to see a crowded marketplace," he said. "We are not going to be in a duopoly in seven or eight years and certainly not in 10 or 15 years. Will we exit the smaller airplane market? I can guarantee that will not be the option we will choose."
The one goal Albaugh has is to flip the company's position to be first place in the Boeing/Airbus competition and to re-establish its leadership in the marketplace.
"We're second place in a duopoly," he said. "That means you're in last place, and I don't want to be in last place. I want to be in first place. And we're going to have some real challenges from the Canadians, the Brazilians, the Japanese, the Chinese, the Russians. We need to make sure that we're doing the things today to keep us competitive in the future. That means continuing to do what the Boeing Company has always done over the years and that is to push technology and to take risks. I can tell you the risks will be more prudent than maybe some of the risks we took in the past, but we understand we have to deliver an airplane that has more value than the competition. There's no question in my mind that some of these new airplanes will be good airplanes and they may not be successful what they want to achieve."
He noted the USD30 billion investment by the Chinese in commercial airplane development over the next decade, adding that the country will eventually be an aircraft competitor. "I think one of our strategic decisions is how are we going to cooperate Chinese or do we compete against them. We are looking at thing like incremental improvements, pre-emptive technology, we are looking at teaming or we are looking at whether we want to exit the small-plane market but I can guarantee you that is not the option that we choose."
Bombardier has already made that decision with the CSeries. It is cooperating.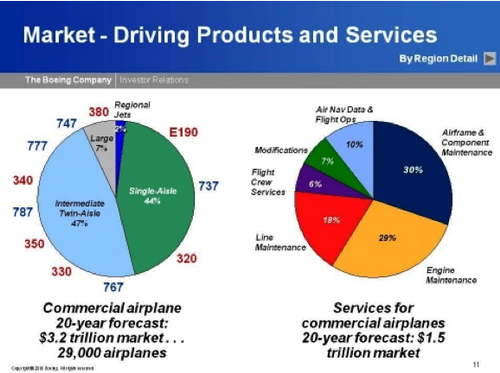 Interim products
Albaugh admitted concern on whether the company has not been aggressive enough on its decision to provide interim products while awaiting more advanced technological developments for a clean-sheet design after 2020. Its decision on whether or not to re-engine the B737 (B737-RE) will not come until year end. He had the same concern on the B777 and has thus formed two groups to study what should be done for the future of these aircraft.
"They are the foundation of Boeing Commercial Airplanes," he said. "So we have to decide whether keep the airplane as is, to re-engine it or go with a new airplane. We don't want the B737 to be in last place. If you re-engine, what you want to make sure of is you're not a me-too airplane. Boeing not only competes on price but on value. We want to ensure, if we do re-engine, that we have an airplane that enjoys five, six, seven percent 10% value proposition over competition. If we make a decision not to re-engine, we won't make a decision to do a new airplane but continue to focus on that. We are talking to all three engine manufacturers. We think they all will provide improvement in efficiency of about 10 to 15%. We also are looking at how we can take some of the technologies that we developed on the B787 and scale that down to the B737."
In the meantime, the B737 will get the Sky interior to enhance the passenger experience, and it is targeting a 2% reduction in fuel consumption by reducing drag and propulsion enhancements. Flydubai is the first customer. "The fuel burn improvement through airframe and engines may not seem like much but over the life of aircraft net present value of 1.2 million and certainly something to go after," he said.
"On the B777 we are already working to improve fuel burn by 1% and increase max zero fuel weight by up to 5,000 pounds to put more people and freight on the airplane," he said. "We want to enhance the thrust package by 1-2.5% allow more weight when taking off from high airports. Service entry is this year in production. We are also taking a hard look at the engine and are working on some great ideas with both Rolls and GE."
Production rates for B737, B777
Right now Boeing doesn't need the new orders and, in fact, passed on a number of sales last year because they wanted to be able to get better prices. It had been suggested that some of the leasing firms may drop out owing to the fact they are in trouble forcing a cutback in production. However, Arbaugh said the trend in airline operations was up and if some leasing companies did wash out there would be others to step in to take those delivery positions.
"We're taking a hard look at what we want to do with the rate," he said. "Right now we are at 31 and a half airplanes per month and we will make a decision some time this summer about increasing that rate to 34. We are sold out in 2011. We are over committed in 2012. The airlines say the market is coming back so there are not too many wanting to defer deliveries, so may need to increase rates."
The B777 decision could come as early as next month, said Albaugh, saying the company is working just as hard on whether or not to increase the production rate in an environment where new orders are not there. The earlier announcement for a rate increase would mean the jump could happen in 2011, compared to 2012 for the 737.
"Obviously we don't want to go up in rate and then have to come back down," he said, noting the company is expecting to lock in a couple of new B777 orders shortly. "We need to feel very, very confident that we can go to the six or seven airplanes per month whatever we might decide to do and we need to be able to stay there for years to come."
He said the A350 will be a competitor to the B777. "But the A350-1000," he asked. "You pick a day, a year that it will be delivered. We think we've got a lot of good years of production on the B777-300ER left. We've asked Lars Andersen to come in and make that airplane more efficient than it is today, so it does compete very well against the A350-1000."
Restructuring
The troubles with the B787 are widely known, but it is the restructuring done in the wake of those problems that tell the tale.
"We didn't have a program-management function in place," he said, adding that the icons that had made the company such a success in the past had long since gone. Albaugh said the reorganisation of the company to ensure there were more "gray beards," and stronger engineering. "The idea here is to make sure that they provide the kind of oversight to development programs to ensure we don't have some of the kinds of issues that we had on the B787 program in the future," he told investors.
To that end he brought out of retirement many of those who made Boeing a success in the past. He also said that the company is driving decision-making down through the entire organization to ensure mid-level employees get the experience needed to rise into future leadership positions.
The organisation include focusing on excellence, execution and growth, strengthening enterprise engineering oversight, the development of a senior advisory group and the establishment of a program management function. It also established a focused business development organisation, realigned sales and communication organisations and named B737 and B777 product development leaders.