airBaltic settles into Etihad partnership for Africa, Middle East & Asia – North America may be next
Analysis
airBaltic is quietly pleased with initial performance from its partnership with Etihad Airways, under which airBaltic commenced Riga-Abu Dhabi service in Dec-2013. Less than three months on, airBaltic is still observing trends in the proportion of local versus connecting traffic, but Bangkok is an early popular onward destination. CEO Martin Gauss told CAPA that Latvia's growing portfolio of air service agreements can expand the number of codeshares it can place on Etihad flights, enabling airBaltic to sell flights from Riga to the Middle East, Africa and Asia – a potentially huge area it previously had no access to, with its local market base instead using competing airlines.
As Etihad rapidly digests its Darwin Airline and Jet Airways equity stakes and evaluates Alitalia, speculation has mounted on airBaltic being a potential equity partner. Mr Gauss says the first priority for the airline is growing the codeshare – which so far is more important to airBaltic than Etihad – but he does not rule out any possibilities. More concretely in the medium term is gaining better access to North America, with airBaltic considering if a North American carrier can serve Riga and partner with airBaltic, or if airBaltic should serve North America with its own metal. The trans-Atlantic market is appealing but also competitive with joint ventures, and Mr Gauss is not rushing to enter.
airBaltic resumes UAE service – but this time to Abu Dhabi, not Dubai, and only with partnership
airBaltic in Dec-2013 launched four weekly flights from its home base of Riga to Abu Dhabi. The service marked airBaltic's re-entry to the UAE, but under a very different premise. airBaltic had served Riga-Dubai with typically two weekly 757-200 flights. airBaltic now serves Riga-Abu Dhabi with four weekly A319 flights. The carrier launched the Dubai service in Oct-2008 and suspended it in Apr-2012.
airBaltic had offered about 400 weekly seats to Dubai and now offers 464 to Abu Dhabi. This represents slight growth in capacity but more critically allows greater frequency, and with a more efficient aircraft.
But the biggest difference is that airBaltic now serves the UAE in partnership with Etihad. Mr Gauss, speaking at the Hamburg Aviation Conference, said airBaltic would only re-enter the UAE if it had a local partner, and Etihad emerged. The picking of Etihad over Emirates is unsurprising as Etihad has over 40 partners and actively promotes its mini alliance, whereas Emirates' partnerships are less deep. Neither Emirates nor Etihad (or Qatar for that matter) serve Riga. But in a similar vein to the Middle East Big 3, Turkish Airlines does link Riga with Istanbul.
airBaltic made the first move in the Abu Dhabi partnership
The airBaltic-Etihad partnership is unique (but not exclusively so) for Etihad. Most of Etihad's partnerships take the form of Etihad flying into a partner's hub (as is the case with Korean Air) or the partner carrier and Etihad jointly serving a market (such as airberlin and Virgin Australia respectively serving Germany-Abu Dhabi and Australia-Abu Dhabi alongside Etihad).
It is more unusual for a partner carrier to serve Abu Dhabi but Etihad not to serve the partner's hub. This reflects airBaltic taking the lead in the partnership, with airBaltic benefitting from the Riga-Abu Dhabi flight while Etihad receives incremental feed. It is probably a testament to Etihad's breadth that at the same time it was conducting major partnerships, including equity evaluations into Air Serbia, Darwin Airline and Jet Airways, it found resources for a smaller partnership not involving equity.
With only airBaltic serving the Riga-Abu Dhabi route, it is logical that airBaltic is transferring more passengers to Etihad than Etihad is transferring to airBaltic. Mr Gauss hopes that Etihad, with its far larger scale, will one day be able to put more passengers on airBaltic than airBaltic puts on Etihad. airBaltic is able to use its position and brand around the Baltic States to sell flights to Abu Dhabi and beyond whereas in far-flung places – Mumbai, Sydney – airBaltic is an unknown entity. Etihad will in due course likely take the lead in selling Riga and beyond to passengers outside the Baltic area.
The Riga-Abu Dhabi route is only about nine weeks old and so it is too early to establish any trends, Mr Gauss noted. He explained airBaltic saw a change in the balance between Abu Dhabi-bound and transfer passengers, and further changes could occur in the next few months. But one clear insight is that Bangkok is the best selling connection for airBaltic.
This is unsurprising as Bangkok is Etihad's largest destination and in 2013 Etihad carried more passengers to/from Bangkok than any other destination.
Etihad top 10 routes ranked on seat capacity: 17-Feb-2014 to 23-Feb-2014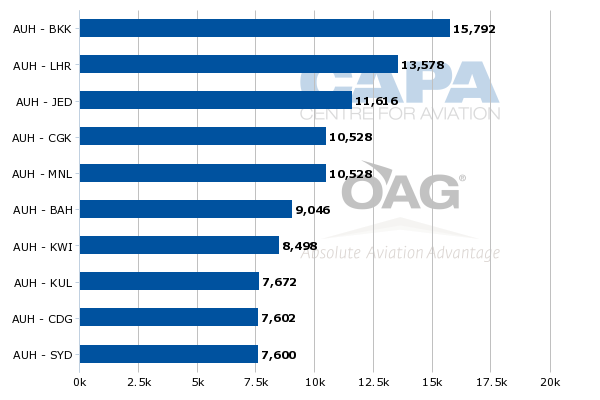 Two stop itineraries often appear to work, especially where smaller points are involved
One of the doubts raised over Etihad's strategy with Darwin for example centres around whether travellers will be prepared to make a two-stop connection to reach the ultimate destination. Here airBaltic's initial experience may be instructive.
Most itineraries airBaltic sells should be one-stop, but airBaltic can also tap its approximately 60-destination wide network to offer two-stop itineraries connecting through Riga and Abu Dhabi. Even with the extra connection, airBaltic and Etihad will offer the shortest connection in many instances, Mr Gauss said.
Two-stop itineraries also provide airBaltic with the opportunity to boost passenger numbers on connecting European flights. But the main benefit is being able to sustainably offer a service to the Middle East and offline connections beyond. "It's the accumulation of these individual points where you can now reach them with one stop," Mr Gauss said.
Developing the codeshare is a more immediate priority for airBaltic than selling a stake to Etihad
Given Etihad's growing equity alliance of carriers it has invested in, there is speculation Etihad could take a stake in airBaltic. As CAPA previously wrote:
Following airBaltic's near bankruptcy in 2011 and its subsequent renationalisation and investment from the Latvian Government, the state has been on the look out for a private sector investor. Meanwhile, CEO Martin Gauss has been focusing on the carrier's restructuring programme and expects to restore profitability in 2014 after achieving better than expected results for 9M2013.

An EU investigation into state aid received in 2011 is ongoing and could potentially lead to the carrier having to repay the funds received from the state. This would increase the pressure to secure fresh investment. Some observers have suggested that the Etihad partnership could be a stepping stone to a future equity relationship. The codeshare attests to some meeting of minds already.
See related report: airBaltic-Etihad codeshare could lead to deeper links. Meanwhile, EU state aid inquiry continues
Mr Gauss said the immediate priority is to build the codeshare, but seems to not rule out a stake, saying: "Let's see what comes next." airBaltic would be a small acquisition for Etihad in terms of network size, but so too were Darwin Airline and Air Serbia. With airBaltic's restructuring seeing the light at the end of the tunnel, the carrier is not under financial duress – unlike many other Etihad acquisitions. But the potential need for airBaltic to secure new capital could change this.
Etihad is necessarily not a passive investor and it takes an active role in helping manage its acquired airlines (mindful of foreign ownership and control limits). This could be a downside to airBaltic if it wants to retain complete independence and prove to others profitability is possible – no small achievement for small European airlines. Alternatively, Etihad and airBaltic may have common interests and future goals. The possibility of achieving efficiencies by being part of the Etihad equity alliance (such as aircraft and part acquisition, maintenance) as well as the protection of a big brother should another crisis rip through aviation, could very well outweigh any possible loss of freedom.

But for now the focus is on growing the partnership. airBaltic later in Feb-2014 will evaluate the Abu Dhabi service to see if frequency should be increased this early. Growth in Etihad-generated bookings could later give casuse to increase frequency. Mr Gauss noted that by codesharing with Air France between Riga and Paris (a route Air France did not serve), airBaltic increased frequency due to the strong volume of bookings from Air France.
Mr Gauss said airBaltic has interline access to over 100 destinations from Etihad, and this should be sufficient for most passengers. Additional codeshares could be beneficial from a revenue perspective as well as selling in the GDS, but these are subject to agreement with Etihad as well as if Latvia has an air service agreement with the third country that would permit codesharing. Mr Gauss hopes that as Latvia expands its portfolio of air service agreements, airBaltic will be able to codeshare on more Etihad destinations.
Evolution of alliances: airBaltic could also partner with Etihad partner Air Serbia
A byproduct of the airBaltic-Etihad partnership could see airBaltic partner with Etihad's new partner, Air Serbia (a partnership between airBaltic and airberlin pre-dates the airBaltic-Etihad partnership). Mr Gauss says airBaltic considered serving Belgrade two years ago but the route did not materialise. A partnership with Air Serbia, introduced via Etihad, could change the route's prospect. As Mr Gauss said: "Now with maybe having a foot in the door, to say 'let's codeshare with Air Serbia' that might be something that really boosts our route to Belgrade, if we open that route."
Such an outcome is consistent with the development of what CAPA has described as extensions of radial alliances, where one carrier's partners cooperate with each other via the mutual partnership. This is especially relevant for Etihad where it has an interest in seeing its partners generate more passengers. For example, airberlin and Virgin Australia, two members of the Etihad equity alliance, partner as well as codeshare with each other. This is even the case despite airberlin being a member of oneworld, which is also home to Qantas – the competitor to Virgin Australia.
See related report: Radial Alliances and Virtual Airlines. Reshaping the partnership model in a new world
Medium term could see airBaltic enter the trans-Atlantic market – but not without due diligence
airBaltic has 18 codeshare partnerships in Europe, according to Mr Gauss, and the Etihad partnership opens Africa, Asia, Australia and the Middle East. Largely unexploited is a potentially deep partnership (beyond interlines) for North America. Mr Gauss said airBaltic within five years – but not within two – could evaluate flying to North America with its own metal, but only in cooperation with a local partner. Alternatively, and with less risk (albeit potentially less reward) is a North American carrier serving Riga and partnering with airBaltic. airBaltic says its top markets out of Riga to North America would be New York, Toronto and Chicago.
Much of this traffic – as was Riga's traffic to Asia – has been carried by foreign airlines. Lufthansa, Aeroflot, Finnair and Turkish Airlines – all established or expanding sixth-freedom carriers – are the largest serving Riga.
Riga International Airport capacity seat by carrier: 17-Feb-2014 to 23-Feb-2014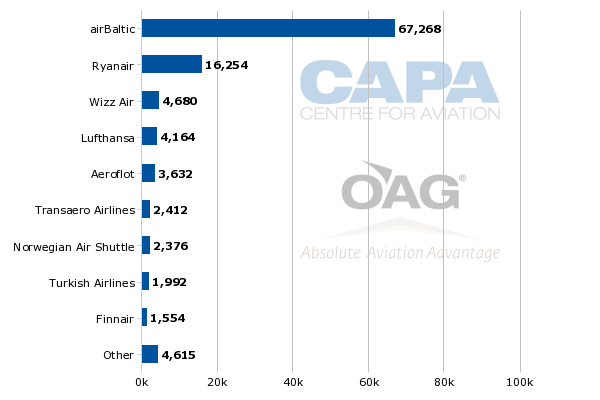 The long-haul aspiration is worthy, but the troubles of other Eastern European carriers – Czech Airlines, LOT – serving North America are a reminder of the reality of a trans-Atlantic market deeply covered by joint ventures and the generic statement of long-haul coming with high risk. Mr Gauss is no stranger to this issue, noting that as airBaltic emerges from bankruptcy it takes the approach that: "Everything we do is EBIT-focused". Partnerships are a bold step but also a low-risk one. Mr Gauss and airBaltic seem content to continue a partnership, rather than marketing alliance, strategy. The airline remains open to other possible partnerships. "We're not in an alliance and I think we benefit from it by having different partners from different alliances," Mr Gauss said.
Now that airBaltic is close to being back on the profitability track, baby steps, not huge leaps, are important. And that, encouragingly, is the view from airBaltic.