AirAsia X 2016 outlook: turnaround predicted as Australia improves, China grows, 5th freedoms launch
Analysis
Long haul low cost airline group AirAsia X is confident that it will be able to complete a turnaround in 2016, boosted by a more balanced network, improved conditions in its main markets, and lower fuel prices. AirAsia X was highly unprofitable in 2014 and most of 2015, prompting restructuring, along with a spate of aircraft deferrals and cancellations.
In its original home market of Malaysia, AirAsia X restructured its network and cut capacity in 2015. The parent airline is resuming growth in 2016, but a large portion of the additional capacity will be allocated to new fifth freedom routes, which wisely reduces its reliance on the challenging Malaysian market.
The affiliates in Indonesia and Thailand will undergo relatively modest growth as the group's overall fleet expands by only three aircraft. A new, more disciplined approach to capacity expansion at AirAsia X has emerged, with a focus on new routes connecting existing AirAsia destinations and pursuing fifth freedom opportunities in markets underpenetrated by LCCs.
This is Part 2 in a series of reports on the AirAsia/AirAsia X outlook for 2016. The first examined the resumption of expansion in Australia. In Australia the AirAsia X Group now has a more balanced approach, with a reduced reliance on the Malaysia-Australia market, new flights from Indonesia to Australia, and – soon – new flights from New Zealand to Australia.
See related report: AirAsia diversifies its Australia operation & regains New Zealand presence with Gold Coast-Auckland
This report will focus on the AirAsia X Group plans and outlook for 2016. The expansion in Australia and the group's new strategy for the Australian market are important components of its turnaround plan, and are an important factor in its future outlook. AirAsia X is also planning to expand in other markets in 2016, including China, India and Hawaii.
Australia accounts for nearly one third of AirAsia X's seat capacity
Australia currently accounts for 30% of the AirAsia X Group's total seat capacity. Japan is the group's second largest market, slightly larger than China, based on current schedules.
AirAsia X Group weekly seat capacity and seat capacity share by destination country: 11-Jan-2016 to 17-Jan-2016
AirAsia X Group weekly seat capacity and seat capacity share by destination country: 11-Jan-2016 to 17-Jan-2016
China, however, is a larger market overall for the AirAsia brand, as 54% of total AirAsia seat capacity in China is currently provided by short haul subsidiaries or affiliates. None of these subsidiaries or affiliates currently serves Japan, although the AirAsia Group is planning to launch a new short haul joint venture in Japan in 2016.
In Australia, short haul affiliate Indonesia AirAsia accounts for only 18% of total AirAsia branded capacity, while the AirAsia X Group accounts for the remaining 82%.
As CAPA outlined in the last instalment in this series of reports, Australia has been a highly unprofitable market. Malaysia AirAsia X (MAAX) recorded a pre-tax loss on Australian routes of MYR366 million (USD112 million) for 2014, and MYR286 million (USD76 million) for the first nine months of 2015.
Still, AirAsia X executives recently stated that the Australian operation had been profitable in 4Q2015, and that they are confident that the Australian operation will be profitable in 2016, driving an overall return to profitability for the group.
In early 2015 AirAsia X implemented significant reductions in the Malaysia-Australia market to align capacity better with demand. Market conditions in Australia overall are now more favourable, aided in part by similar capacity reductions from competitors, in particular Malaysia Airlines.
AirAsia X has since resumed capacity expansion in Australia, but with a new, more rational approach focused on seasonal increases from Malaysia, new routes from Indonesia, and a new fifth freedom sector from New Zealand.
AirAsia X currently operates 59 weekly flights to Australia, including 49 weekly flights by MAAX, and 10 by Indonesia AirAsia X (IAAX). After MAAX launches Gold Coast-Auckland on 22-Mar-2016 the AirAsia X Group will operate 66 weekly return flights in the Australian market during peak periods (typically December and January), and at least 54 weekly flights during the rest of the year.
Indonesia AirAsia X network limited to three long haul routes for now
AirAsia X could pursue further expansion in Australia, and IAAX has been considering a potential third Australia route. The Indonesian affiliate launched Bali-Melbourne services in Mar-2015 and Bali-Sydney services in Oct-2015.
IAAX's only other current long haul route, Jakarta to Jeddah, was launched in Dec-2015.
Indonesia AirAsia X routes ranked by weekly capacity: 11-Jan-2016 to 17-Jan-2016
IAAX is also the only AirAsia X carrier operating short haul routes (historically AirAsia X has not operated any routes of less than four hours). As the IAAX short haul routes are operated on behalf of short haul sister carrier Indonesia AirAsia (IAA) they are excluded in the above chart and in AirAsia X Group capacity figures that were highlighted earlier in this report.
The IAAX short haul flights are operated with A320s, with the exception of some Bali-Jakarta flights, which need to be operated with A330s in order to support the Jakarta-Jeddah service. AirAsia X affiliates typically only operate A330s, but IAAX had to take over eight of IAA's A320s in 2H015 to meet Indonesian regulatory requirements, which stipulate a minimum of 10 aircraft to maintain an air operators' certificate.
The AirAsia X Group has not allocated IAAX any additional A330s in its 2016 fleet plan. As a result IAAX at this point is not planning to launch any new long haul routes in 2016. Nevertheless, the plan for 2016 could change, depending on market conditions, the way its initial three long haul routes mature, and whether IAAX succeeds at becoming profitable.
In addition to Brisbane or the Gold Coast in Australia, IAAX has been considering a Bali-Tokyo Narita service, which would be a logical market given AirAsia X's strong and growing presence in the Japanese market. Bali-Auckland was also evaluated, but at this point a more sensible option could be the one-stop product to Auckland via the Gold Coast. (IAAX would not have to operate the Auckland-Gold Coast leg, as its passengers could transfer onto the new MAAX Gold Coast-Auckland service.)
There is potential for AirAsia to pursue further expansion in Australia using Bangkok-based Thai AirAsia X (TAAX), which has been evaluating Sydney as a destination, but for now TAAX's short term focus is on expanding in the Chinese market. In the medium term it hopes to resume expansion to Japan and South Korea.
Japanese and South Korean authorities have prevented all Thai carriers from adding flights since early 2015, when ICAO raised safety concerns with Thailand's DCA. TAAX was forced to scrap plans for expanding in Japan and South Korea, but has been able to maintain routes that were already launched – from Bangkok Don Mueang to Osaka Kansai, Seoul Incheon and Tokyo Narita. Seoul and Tokyo are currently served with two daily flights, while Osaka is served with one daily flight.
Thai AirAsia X routes ranked by weekly capacity: 11-Jan-2016 to 17-Jan-2016
TAAX has shifted gears to focus on China, starting with the late Sep-2015 launch of daily service to Shanghai, and more new routes to China are planned for 2016 as TAAX adds one more A330-300.
Expansion by TAAX and short haul sister carrier Thai AirAsia (TAA) in China is in response to rapidly growing inbound demand, following a big surge in Chinese visitor arrivals to Thailand in 2015. New Chinese destinations have not yet been disclosed, but TAAX has been assessing cities in eastern and northern China that are more than four hours from Bangkok. TAA is planning to continue rapid expansion in the Thailand-China market, focusing on destinations in southern and central China.
Sydney and other routes that have been under evaluation by TAAX, such as Tehran, are not likely to be launched this year given the current focus on China.
Expansion at TAAX will be relatively modest until restrictions are lifted in Japan and South Korea, which is not likely in the near term, since Thailand has been slow to resolve the issues raised by ICAO. TAAX has stated that it expects to grow passenger traffic by only slightly more than 10% in 2016, to about 1 million passengers.
TAAX is aiming to restore profitability in 2016; the airline was profitable before the ICAO-related restrictions came into effect. It was forced to slow down expansion and reduce aircraft utilisation rates, being unable to implement planned new flights to Japan and South Korea.
Kuala Lumpur-based MAAX currently operates 17 routes, including five to China, four to Australia, three to Japan, two to South Korea, and one each to Nepal, Taiwan and Saudi Arabia.
Australia accounts for three of its five largest routes. Melbourne, Sydney and Perth are all currently served with two daily flights, as are Seoul and Taipei, but MAAX reduces Melbourne, Sydney and Perth to between seven and 12 weekly frequencies during off peak months.
There are also some seasonal reductions to Seoul planned for 2016, while Taipei will be maintained at 14 weekly frequencies, making Kuala Lumpur-Taipei its largest route on a year-round basis.
Malaysia AirAsia X routes ranked by weekly capacity: 11-Jan-2016 to 17-Jan-2016
Rank
Origin
Destination
Total Seats
1
KUL
Kuala Lumpur International Airport
SYD
Sydney Kingsford Smith Airport
10,556
2
KUL
Kuala Lumpur International Airport
ICN
Seoul Incheon International Airport
10,556
3
KUL
Kuala Lumpur International Airport
PER
Perth Airport
10,556
4
KUL
Kuala Lumpur International Airport
MEL
Melbourne Tullamarine Airport
10,556
5
KUL
Kuala Lumpur International Airport
TPE
Taipei Taoyuan International Airport
10,556
6
KUL
Kuala Lumpur International Airport
JED
Jeddah King Abdulaziz International Airport
9,048
7
KUL
Kuala Lumpur International Airport
OOL
Gold Coast Airport
5,278
8
KUL
Kuala Lumpur International Airport
HND
Tokyo Haneda Airport
5,278
9
KUL
Kuala Lumpur International Airport
KTM
Kathmandu Tribhuvan Airport
5,278
10
KUL
Kuala Lumpur International Airport
KIX
Osaka Kansai International Airport
5,278
11
KUL
Kuala Lumpur International Airport
PVG
Shanghai Pudong Airport
5,278
12
KUL
Kuala Lumpur International Airport
PEK
Beijing Capital International Airport
5,278
13
KUL
Kuala Lumpur International Airport
CTU
Chengdu Airport
3,770
14
KUL
Kuala Lumpur International Airport
XIY
Xian Xianyang Airport
3,016
15
KUL
Kuala Lumpur International Airport
HGH
Hangzhou Xiaoshan International Airport
3,016
16
KUL
Kuala Lumpur International Airport
PUS
Busan Gimhae Airport
3,016
17
KUL
Kuala Lumpur International Airport
CTS
Sapporo Chitose Airport
3,016
In 2015 MAAX launched just one new route – Kuala Lumpur-Sapporo. As part of its restructuring, three routes were suspended – Adelaide, Nagoya and Tokyo Narita – and several routes saw capacity reductions. MAAX also transferred in 2015 the Kuala Lumpur to Colombo and Chongqing routes to sister short haul carrier Malaysia AirAsia (MAA).
ASKs at MAAX were down 7% through the first three quarters of 2015, but capacity growth will resume in 2016 as about six new routes are expected to be launched, growing the MAAX network to about 23 destinations. Capacity increases are also planned for several existing destinations.
MAAX has so far announced three new destinations for 2016 – Auckland, Delhi and Honolulu.
Four times weekly service to Delhi, which AirAsia X served until 2012, will be resumed on 3-Feb-2016. Delhi is an important resumption of market, as it enables MAAX to link up with short haul affiliate AirAsia India, and it diversifies a network that is now predominantly north-south focused. Delhi is expected to be a particularly strong one-stop market for Australia, therefore working well towards MAAX's hoped-for turnaround in the Australia market.
As mentioned earlier, Auckland will be served as a new extension to MAAX's existing daily Kuala Lumpur-Gold Coast service from 22-Mar-2016. The routing Kuala Lumpur-Gold Coast-Auckland enables AirAsia X to regain a presence in New Zealand, after dropping Kuala Lumpur-Christchurch in 2012.
MAAX has not yet set a date for Honolulu, but is finalising preparations for US services in readiness for a launch date. MAAX was initially aiming to launch four weekly flights to Honolulu via Osaka from 1-Nov-2015, but has had to push the launch back several times as it has taken longer than expected to secure all the regulatory approvals. The current target launch date of this service is late Apr-2016, but this is still subject to final approvals.
As CAPA has previously reviewed, Osaka-Honolulu is a sensible route for AirAsia X since it is a large leisure market not yet served by any LCCs, and it enables MAAX to reduce its reliance on the Malaysia market.
See related report: AirAsia X long-haul low-cost service to the US will provide an important test for the Asian model
Gold Coast-Auckland is another fifth freedom route that enables AirAsia X to extend its network to a destination that otherwise may not be viable. As is the case with Osaka-Honolulu, a majority of Gold Coast-Auckland passengers will be end to end leisure travellers, rather than passengers originating or heading to Kuala Lumpur.
After Osaka-Honolulu is launched, about 6% of MAAX's seat capacity will be on fifth freedom sectors. Broadly half of MAAX's seat capacity growth in 2016 will be allocated to fifth freedom sectors, resulting in relatively modest additional capacity for the Malaysian market.
MAAX to pursue more expansion in China
MAAX says that a few other routes for 2016 are in the pipeline, and while other new destinations have not yet been disclosed, the focus will be on expanding in China. MAAX is also likely to add capacity to some of its five existing Chinese destinations, only two of which are currently served daily.
The China expansion is logical as the Malaysia-China market is now growing again, having finally recovered after over a year of inbound declines in the aftermath of the MH370 incident. AirAsia is bullish on China overall, with nearly every one of its short haul and long haul subsidiaries or affiliates planning new China routes – generally to existing destinations. An overall 'connect the dots' strategy.
For the Malaysia-China market, the strategy is to use short haul subsidiary Malaysia AirAsia to launch new routes to cities in southern and central China from Kuala Lumpur, as well as secondary Malaysian cities. MAAX will be used to launch new routes from Kuala Lumpur to cities in eastern and northern China. MAA currently has a 35% share of seat capacity in the Malaysia-China market, while MAAX has a 24% share, according to CAPA and OAG data.
MAAX is now planning to expand its fleet by three aircraft in 2016, giving it the capacity to add about six new destinations and pursue modest frequency increases in some existing markets. MAAX shrank its fleet by three aircraft in 2015, as it restructured its network
AirAsia X fleet grew by only one aircraft in 2016
The AirAsia X Group currently operates 27 377-seat two class A330-300s, including 20 aircraft at MAAX, five aircraft at TAAX and two aircraft at IAAX. The overall fleet only grew by one aircraft in 2015, four A330-300 deliveries offsetting the phase-out of two A340-300s and one A330-200s.
MAAX's A330-300 fleet was maintained at 20 aircraft in 2016, while its overall fleet shrank by three aircraft due to the phase-out of the two A340-300s and one A330-200, which were used in recent years for charters or wet leases.
TAAX, which launched services in 2014, added three A330-300s for a total of five aircraft. IAAX added one A330-300; although it took its first A330-300 from MAAX in 2014 it did not launch services until 2015.
Of the four A330-300 deliveries in 2015: one aircraft was handed directly to TAAX and the other three were taken by MAAX. MAAX transferred one of its older A330-300s to IAAX and two of its older A330-300s to TAAX in 2015, effectively offsetting the three newly delivered aircraft.
AirAsia X revises 2016 fleet plan from two to four deliveries
As of Sep-2015, AirAsia X was planning to expand its fleet by only one aircraft in 2016, for a total of 28. At the time, the group was committed to only two A330-300 deliveries: one aircraft replacing an older model A330-300 that MAAX plans to return as the lease expires, and the second aircraft intended for growth at TAAX.
See related report: AirAsia Part 4: AirAsia X pursues turnaround. Delhi to add to Honolulu & Sapporo as new routes
Now, AirAsia X says it is planning to take delivery of four A330-300s in 2016. The current plan still earmarks one growth aircraft for TAAX, and one replacement aircraft for an older model A330-300 that is now operated at MAAX. The two aircraft added to the 2016 fleet plan have been allocated to MAAX. As a result MAAX's fleet is now projected to expand to 22 aircraft by the end of 2016, scrapping the earlier plan to maintain the MAAX fleet at 20 aircraft.
The adjustment in the fleet plan at MAAX is an indication that the carrier is confident of improved short term opportunities for growth, particularly with fifth freedom routes and the surging Malaysia-China market.
AirAsia X 2016 and 2017 fleet plan still represents significant slowdown in growth
However, the 2016 fleet plan could still be changed again, depending on market conditions. AirAsia and AirAsia X maintain a very flexible approach to fleet management with frequent changes.
The decision to take two additional aircraft in 2016 is the latest of several adjustments that AirAsia X has made in its short to medium term fleet plan over the last 15 months. The group was originally planning to end 2015 with a fleet of 31 A330-300s, ending 2016 with a fleet of 38 A330-300s, to have a fleet of 46 A330-300s by the end of 2017.
See related report: AirAsia X slows fleet expansion, seeking a 2H2015 turnaround. Could AirAsia buy its half-sister?
Even with the recent reacceleration, AirAsia X plans to end 2016 with a fleet of 30 aircraft, eight aircraft down from the original plan.
For now there are no deliveries in place for 2017, as AirAsia X has cancelled or converted to the A330-300neo all of the A330-300ceos originally in the plan. AirAsia X currently has 66 A330-300neos on order, the first two of which are slated to be delivered in 2018.
AirAsia X Group fleet summary: as of 15-Jan-2016
Nevertheless, AirAsia X has the flexibility to change the plan for 2017 and restore some of its initial A330-300ceo delivery slots for 2017, if market conditions warrant. The group also has flexibility with its order for 10 A350-900s: AirAsia X has the right to cancel its A350 order without penalties. (A decision will likely hinge on the A330-300neo matching AirAsia X's expectations that it will have sufficient range to serve Europe from Kuala Lumpur non-stop, without payload restrictions.)
AirAsia X expects to be profitable again in 2016
The decision to take delivery of four instead of two A330s in 2016 is also an indication that AirAsia X is confident that it will be able to complete its attempted turnaround. If profitability is indeed restored in 2016, the group will be more inclined to reconsider A330-300ceo expansion in 2017 and 1H2018, prior to the first two A330-300neos arriving in 2H2018.
MAAX has been highly unprofitable over the last two years, accumulating net losses of MYR938 million (USD272 million) from 1-Oct-2013 to 30-Sep-2015. Over the same period the carrier incurred operating losses of MYR387 million (USD112 million).
In its last quarterly financial report, for 3Q2015, MAAX reported an operating loss of MYR31 million (USD8 million) and a net loss of MYR288 million (USD71 million). The AirAsia X Group's two overseas affiliates were also unprofitable in 3Q2015, with IAAX incurring a net loss of approximately USD7 million, and TAAX a net loss of USD11 million.
See related report: Scoot approaches profitability & becomes SEAsia's top performing long haul LCC, boosting SIA outlook
But in its 3Q2015 results presentation AirAsia X pointed to several indications that its turnaround attempt was on track, including a 25% year over year improvement in yield at MAAX, and strong forward bookings for all three carriers. The operating loss at MAAX narrowed by 77%, compared with 3Q2014. The larger net loss was driven primarily by foreign exchange losses, and MAAX stated that it would have been profitable in 3Q2015 if it had not been for the rapid depreciation of the Malaysian Ringgit.
In Feb-2016 MAAX is expecting to report further financial improvements for 4Q2015, and is confident that it will be able to turn an annual profit for 2016. The carrier last reported an annual profit in 2012.
Malaysia AirAsia X annual net profit/loss (in MYR millions): 2010 to 9M2015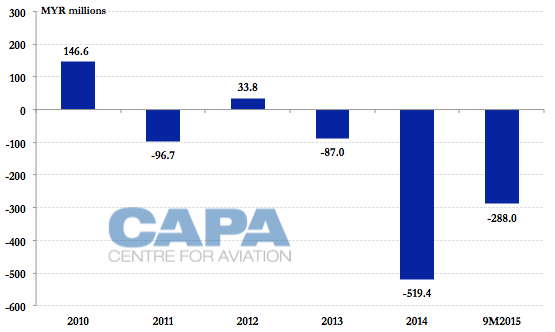 AirAsia X should benefit from lower fuel prices and improved market conditions
AirAsia X will benefit from reduced fuel costs in 2016 as higher priced hedges unwind. Initiatives to reduce non-fuel costs, improve revenue management and boost load factors will also be key drivers in the anticipated turnaround.
Market conditions have also improved, not only in Australia but also in North Asia. MAAX's North Asian operation was highly unprofitable in 2015 – with greater losses than in Australia, which had had much larger losses than North Asia in 2014; a reversal. Demand in South Korea was impacted in 2015 by MERS, while China was sluggish due to depressed inbound demand in the Malaysia-China market and intensifying competition in one-stop markets such Australia-China.
AirAsia X should also quickly realise positive contributions from its new markets as Hawaii, India and New Zealand are added to its network. Typically new international routes take time to mature, but AirAsia is already a familiar brand in India and New Zealand. In Hawaii it will rely primarily on outbound sales in Japan, where it already has a strong presence.
With the three new markets AirAsia X will also not need to rely to such a degree on Malaysia, where competition remains intense. Auckland and Honolulu are being added with fifth freedom rights, while New Delhi will rely heavily on transfer traffic beyond Kuala Lumpur.
Challenges remain in what could be a make or break year
AirAsia X still has its share of challenges to overcome in 2016.
Rival Malaysia Airlines has been reinvigorated, with a new focus on regional services within Asia Pacific, resulting in more overlap – the flag carrier has primarily only cut long haul routes that are not served by MAAX.
Lion Group's Malaysian affiliate Malindo Air recently started competing with MAAX in the Perth market, where there has already been an impact on yields, and Malindo will soon be competing against MAAX on two more routes – New Delhi and Taipei.
MAAX's decision to resume expansion is rather bold, given current market conditions in Malaysia and its relatively weak financial position. While the additional capacity is relatively modest and the selected routes are not too risky, competition continues to intensify in Malaysia and throughout Asia Pacific. Profitability cannot be assured.
2016 could be a critical year for Asia's largest long haul low cost airline group. AirAsia X will need to complete the attempted turnaround and prove the sustainability of its model.