Aeromexico takes a bold stand against Donald Trump as its JV with Delta hangs in the balance
Analysis
Airlines have largely been mute about the rise of the presumptive US Republican presidential nominee Donald Trump and some of his outlandish proposals, including the proposed wall to be erected on the US-Mexico border, which he believes Mexico – the US' largest trading partner in Latin America – should pay for.

But Mexico's largest airline Aeromexico has drawn a line in the sand with a new ad that subtly takes aim at Mr Trump's proposal. It is a commendable move for Aeromexico, which is attempting to establish a strategic cross-border joint venture with its SkyTeam partner Delta Air Lines, just as Mr Trump proposes to erect borders.

The message of tolerance and of borderless air travel featured in the ad is against a backdrop of the ever-growing US-Mexico air travel market, which is strategic for US and Mexican airlines alike. More than anything, Aeromexico has to make moves to preserve business in one of its most lucrative and strategic markets.
Aeromexico shrewdly works to counteract Trump's protectionist messages
There are real challenges in predicting the outcome of Mr Trump's declarations – to construct a border wall between the US and Mexico if he is elected president. But Aeromexico wisely and boldly decided to counteract the message of intolerance inherent in the proposal.

According to Adweek, the black and white ad titled 'Fronteras' ('Borders' in Spanish) questions the benefits of borders and touches on issues of intolerance. Aeromexico's brand is not featured until the end of the ad, whose concluding statement suggests that whereas on land borders maintain distances, air travel creates opportunities to experience different cultures, beliefs and ideas.
"Borders. Has anything good ever come of them?" See - Fronteras; Aeromexico

Aeromexico's VP of digital marketing, Andres Castaneda, told the news outlet Bolsamania that a key point of the airline industry is the promotion of diversity, and "it is important that we have a greater understanding of tolerance and respect for others".
Aeromexico highlights tolerance as it works to secure a JV with Delta
Aside from rightly speaking up for diversity as Trump seeks, in fact, to close off borders, it makes sense for Aeromexico to highlight the importance of air travel as it works to secure approval for its proposed USD1.5 billion cross-border joint venture with Delta. It is a crucial step for Aeromexico, one that will essentially allow Aeromexico and Delta to operate a single entity in one of the world's most important transborder markets.

The US represents Mexico's largest international market measured in seat deployment – by a wide margin. Data from CAPA and OAG for the week of 6-Jun-2016 to 12-Jun-2016 show that the US accounts for 70% of Mexico's international seat deployment.
Mexico international capacity (number of seats) by country: 6-Jun-2016 to 12-Jun-2016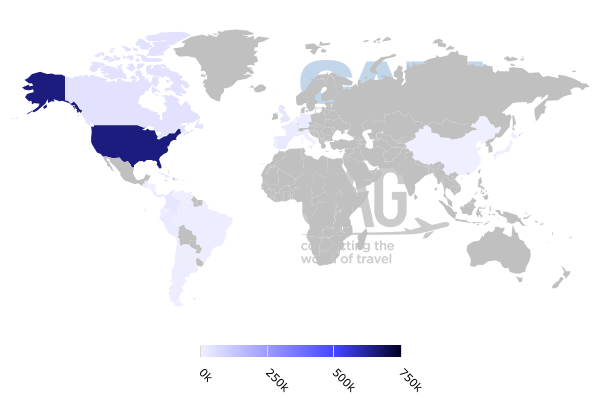 Although Mexican airlines have been making strides in growing their transborder presence, US airlines still dominate the US-Mexico transborder market. Data from Mexico's SCT show that foreign airlines grew their Mexican passenger numbers for the first four months of 2016 by 6.3% year-on-year, to 10 million. Of those 10 million passengers, US airlines account for 69%.

For the week of 6-Jun-2016 American holds the largest share of seats on offer between the US and Mexico at 22%; United is the second largest airline with a 20% share. Aeromexico's 13% share puts it in third place. Delta and ULCC Volaris each have a 10% share.
United States of America to Mexico (seats per week, one way, 8-Jun-2015 and 6-Jun-2016)
| Airline | Week of 8-Jun-2015 seats | Week of 8-Jun-2015 percentage share | Week of 6-Jun-2016 seats | Week of 6-Jun-2016 percentage share |
| --- | --- | --- | --- | --- |
| Aeromar | 204 seats | 0.06% | 306 seats (50%) | 0.1% |
| Aeromexico | 43,777 seats | 13.85% | 42,841 seats (-2.14%) | 13.47% |
| Alaska Airlines | 14,265 seats | 4.51% | 15,910 seats (11.53%) | 5% |
| American Airlines | 51,176 seats | 16.2% | 69,758 seats (36.31%) | 21.94% |
| Branson Air Express | 840 seats | 0.27% | N/A | N/A |
| Delta Air Lines | 34,980 seats | 11.07% | 30,863 seats (-11.77%) | 9.71% |
| Dynamic Airways | N/A | N/A | 1,603 seats | 0.5% |
| Frontier Airlines | 4,978 seats | 1.58% | 4,086 seats (-17.92%) | 1.29% |
| Interjet | 11,769 seats | 3.72% | 16,536 seats (40.5%) | 5.2% |
| Southwest Airlines | 17,179 seats | 5.44% | 20,803 seats (21.1%) | 6.54% |
| Spirit Airlines | 6,315 seats | 2% | 6,473 seats (2.5%) | 2.04% |
| Sun Country | 3,402 seats | 1.08% | 3,807 seats (11.9%) | 1.2% |
| Sunwing Airlines | 187 seats | 0.06% | N/A | N/A |
| US Airways | 23,453 seats | 7.42% | N/A | N/A |
| United Airlines | 65,246 seats | 20.65% | 63,224 seats (-3.1%) | 19.89% |
| Virgin America | 2,368 seats | 0.75% | 2,516 seats (6.25%) | 0.79% |
| VivaAerobus | 3,759 seats | 1.19% | 720 seats (-80.85%) | 0.23% |
| Volaris | 26,592 seats | 8.42% | 30,624 seats (15.16%) | 9.63% |
| jetBlue Airways | 5,500 seats | 1.74% | 7,875 seats (43.18%) | 2.48% |
| Total | 315,990 seats | 100% | 317,945 seats (0.62%) | 100% |
Combined, Aeromexico and Delta would hold a 23% share, which allows for more leverage in competing with American and United for Mexican passengers. Mexican authorities have offered their approval of the tie-up if Aeromexico and Delta agree to relinquish eight slots pairs at Mexico City Juarez international airport. The airlines believe that they will gain US approval in 2016, which is important given the uncertainty surrounding the way that the next Presidential administration will handle aviation policy.

See related report: Donald Trump's contribution to the global aviation system. The ground has already shifted.
Aeromexico derives much revenue from the US; creating a positive tone protects its interests
Revenue from international markets accounted for 50% of Aeromexico's total USD2.6 billion in operating revenue posted in 2015. Given the importance the US plays in Aeromexico's future, it is not surprising that the airline is countering Mr Trump's negative message with its own positive sentiments about the benefits of air travel.

The US is Aeromexico's largest international market measured by seats, representing 54% of the airline's international seats deployment.
Aeromexico international capacity (number of seats) by country: 6-Jun-2016 to 12-Jun-2016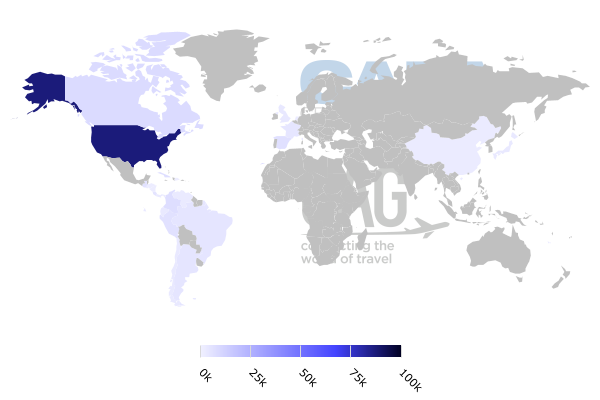 As Trump touts a new wall, Mexico's growing middle class could take their spend elsewhere
Just as Mr Trump was tabling his suggestion for a border wall, the bilateral between the US and Mexico was loosening. There are now no restrictions on the number of airlines permitted to operate on a route pair between the two countries.

See related report: Mexico's airlines continue transborder push as they await a new bilateral agreement to take affect

It is an important step, since demand for air travel by Mexicans has not reached its full potential. Mexico has one of the more stable economies in Latin America, and Aeromexico has estimated flights per capita among Mexico's middle and upper class population at 0.6. That is in comparison with 0.8 for Brazil, 1.4 for Europe and 2.4 for the US.

The economic potential for Mexico's growing air passenger market is high for both Mexican and US airlines as demand among Mexico's population to travel on transborder routes will continue to grow. But if Mr Trump wins the election, members of Mexico's rising middle class are likely to choose more welcoming destinations to visit, for spending their growing income.
Trump may need to reverse stance on many issues if he gets elected – Mexico included
No one can accurately predict Mr Trump's ability to win the general election, just as no one can assess his eventual stance on many important issues. The Qatar CEO, Akbar al Baker, has stated that he does not think Trump means "what he says" (about banning Muslims).
Mr Baker has said: "He does not realize that he has a lot of investment in Muslim countries and at the same time there is a very huge Muslim population in the United States"..."Like all politicians, he says everything but once he gets elected, he will change his mind."

Mr Trump may not also realise the relevance that Mexico plays in the US economy, and if he gets elected he may need to change his mind about the proposed wall on the Mexican border.
Aeromexico sends a message to Mr Trump while shrewdly spreading brand awareness
Aeromexico deserves credit for creating a counter-message to Mr Trump's declaration of erecting a wall between the US and Mexico. If Mr Trump is elected and introduces a protectionist agenda, Aeromexico and all other US and Mexican airlines could have much at stake. The airline's ad was both a wise business decision and a smart way to spread brand awareness, while also stating its position on Mr Trump's candidacy.