Aegean's 3Q2011 results impacted by 40% fuel expense increase
Analysis
Greece's largest passenger carrier, Aegean Airlines, has continued to improve despite the economic crisis in Greece and other European countries, and has recorded a significant increase in international passenger traffic in 3Q2011. A rise in operating expenses, namely fuel, has negatively affected the carrier which posted a net loss of in the nine months to September.
Aegean's expanded international network led revenue gains for the carrier with new destinations and increased frequencies in important markets across Europe. Aegean's international network now accounts for more than half of the airline's available seats. Meanwhile there is a weakening domestic market with capacity decreased in the face of reduced consumer demand.
Aegean reported a 15% year-on-year increase in revenue in 3Q2011, assisted by a substantial increase in international traffic of 22%. The airline reported a net loss of EUR2.7 million in 3Q2011, a reduction of EUR5.7 million from 3Q2010. Aegean made note that the EUR8.4 million loss in 3Q2010 was affected by social contribution tax charges. Aegean's EBITDAR decreased 4% based on 3Q2010 results with EUR65.6 million despite an increase in overall revenue of 15%.
Aegean's operating cash flow increased with an outflow of EUR23 million against an inflow of EUR24 million, which allowed for the airline to invest in slots at Paris CDG and London Heathrow. The company's cash and cash equivalents rose to EUR194 million.
Aegean Airlines key figure for the nine months to 30-Sep-2011

Source: Aegean Airlines
High revenue growth dampened by cost increases
Aegean's revenue for 3Q2011 increased by 15% to EUR537.4 million year-on-year, mainly due to the significant increase in its international network traffic. Overall passenger traffic rose 2.3 million, an increase 12% for the airline.
As with most other airlines, Aegean felt the impact of rising fuel prices with a 40% increase in fuel expense to EUR38 million compared to 3Q2010. This heavily impacted the airline's end result where despite revenue increasing by EUR71.2 million, EBITDAR decreased EUR2.99. This indicates the level of operating costs which increased significantly due to fuel expenses.
High airport charges are also affecting the company's operating costs. Managing Director of Aegean Airlines, Dimitris Gerogiannis, called for the Greek State to reduce airport charges at Athens International Airport which are 3.5% higher than other Greek airports and 2.5% higher than airports in Spain and Turkey. Mr Gerogiannis stated that "if the Athens airport charges are not adjusted the economy and tourism of the city will continue to suffer and so will the competitiveness of the Greek airlines ."
Strong international focus led revenue gains
Aegean attributed its international network growth to the success of the carrier's expansion strategy with new destinations and frequencies added to key markets including Italy, Spain, France, UK, Russia and Israel. There were high growth rates on international services form regional airports including Rhodes, Heraklion and Thessaloniki that saw increases of 22%, 21% and 15% respectively.
Overall international passenger numbers increased 22% to 1.3 million and domestic rose 2% to 963,000. Aircraft load factors decreased 0.5% to 76.6% despite average number of passengers per flight increasing by 4% to 123.
The Greek economic crisis has also affected the airline with the carrier identifying a decrease in domestic demand. However, as 18.4% amount of the airline's traffic is international, it has not been affected to as large an extent as it could have been if the domestic network was its core focus, although European markets are offering almost no pots of gold. Aegean's international versus domestic capacity is divided almost evenly between international and domestic with 49.3% domestic and 50.7% international, including 32.3% within the Schengen zone. Domestic capacity has fallen 3.7% against international since 1H2011
Aegean Airlines international vs domestic capacity share (21-Nov-2011 to 27-Nov-2011)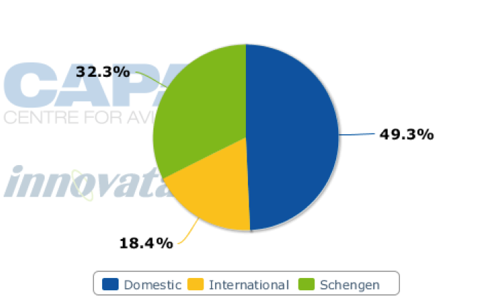 This differs with Greek rival Olympic, which has more of a domestic focus with three quarters of their available seats on domestic routes. Olympic's international capacity rose 6.5% against domestic from 1H2011 results.
Olympic Air international vs domestic capacity share (21-Nov-2011 to 27-Nov-2011)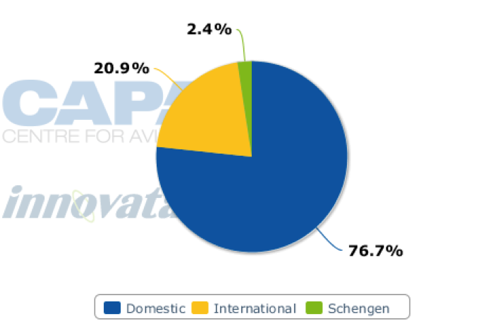 Over the week of 21-Nov-2011 to 27-Nov-2011 Aegean had the most international seats available out of Greece with 63,736 available compared with second-largest carrier out of Greece (based on seats available), Olympic, which had only 19,884. Capacity has dropped since the start of 2H2011 in line with seasonality factors.
Greek international capacity by carrier (21-Nov-2011 to 27-Nov-2011)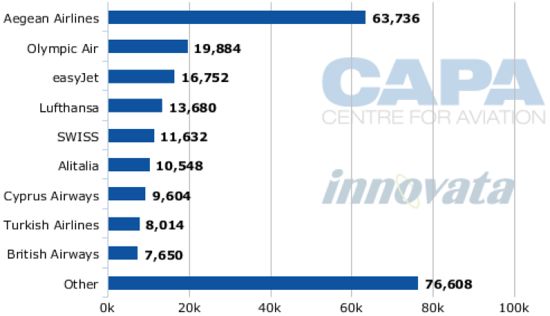 Contrasted with Greek domestic seats, Olympic Air had more seats available over the same time period with 72,828 with Aegean close behind with 64,164 seats. This was a significant reduction in capacity for both carriers with Olympic and Aegean offering 103,952 and 103,566 seats respectively over the period 29-Aug-2011 to 04-Sep-2011. This dramatic change will be due to seasonal demand and impacts from the Greek economic crisis.
Greek domestic capacity by carrier (21-Nov-2011 to 27-Nov-2011)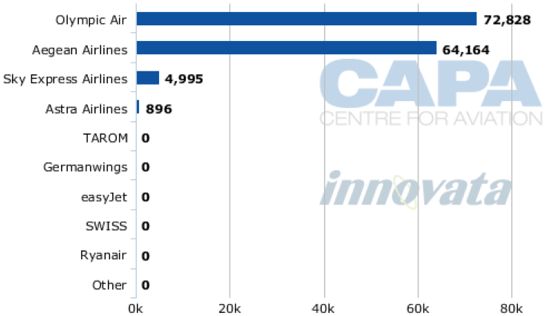 Outlook for FY2011
Aegean is still on the right track to becoming profitable once fuel prices decrease, especially since its international network strengthening. The carrier has added capacity in Greek regional airports as well as at the airline's base in Athens despite the economic crisis faced in the country and rise in fuel prices.
The airline's expansion strategy is proving its success through revenue and passenger traffic growth, however higher fuel costs have affected the extent of this success. Aegean is improving organisational efficiencies through operating an all narrowbody Airbus fleet of 29 aircraft with A319, A320 and A321 in service across its network, 22 of which are A320. A further 5 A320 are on order to be delivered over 2013-2014. This fleet commonality allows for reduced expenses relating to cross-training pilots and crews and also reduces maintenance costs. Mr Gerogiannis commented "The improvement of our productivity, the offer of innovative services and our fleet homogeneity all contribute to our ability to compete, within an environment where customers expect and must receive improved value."
An update on the airline's expectations for full year results was not released, though the airline's position in 1H2011 was that there would be a net loss. Mr Gerogiannis stated in Aug-2011 that "the environment continues to be particularly challenging, with the recession in Greece and higher fuel costs leading to losses."
Appendix