Aegean Airlines: wider 1Q loss exposes growing seasonality. Ryanair maintains competitive pressure
Analysis
The Aegean Airlines group suffered another fall in its operating result in 1Q2016, when winter losses widened. As is the case for almost every other European airline, it suffered a fall in unit revenue. However, whereas many others managed to lower unit costs at a faster rate, Aegean's cost efficiency gains were not enough to offset the RASK decline, in spite of lower fuel prices. This adverse RASK versus CASK trend seems to have established itself and Aegean has now had six successive quarters of contraction in its operating margin.
One of Aegean's biggest structural challenges is the high degree of seasonality in its business. The summer quarters, particularly 3Q, are much more significant than the winter to its capacity and traffic and must generate sufficient profits to offset winter losses. Moreover, the extent to which Aegean depends on a strong summer is growing.
By contrast with Aegean, ultra LCC Ryanair, which is the second largest airline in Greece, is now enjoying year-round profitability and margin expansion. Ryanair is matching Aegean's overall rate of growth in Greece and gaining market share in the domestic market. Aegean is unlikely to see an end to downward unit revenue any time soon.
See related report: Ryanair's best margin since 2005 illustrates the success of 'Always Getting Better' programme
1Q2016 losses widen
In 1Q2016, the Aegean Airlines group's net loss widened by 159% to EUR22 million. The result was additionally burdened by higher finance costs than in the same period last year, partly mitigated by a higher tax credit. The operating loss, which excludes these items widened by 58% to EUR28 million.
Revenue grew by 7% and the operating margin fell by 6.1ppts to -18.7%. Aegean's operating margin has suffered a year on year decline in every quarter since 4Q2014.
Aegean Airlines Group 1Q2016 consolidated financial results summary
| EUR million except where stated | 1Q2015 | 1Q2016 | Change |
| --- | --- | --- | --- |
| Revenue | 138.1 | 147.9 | 7% |
| Other operating income | 2.1 | 4.3 | 105% |
| EBITDAR | 6.7 | 6.7 | 0% |
| Operating result (EBIT) | -17.5 | -27.7 | 58% |
| Operating margin % | -12.7 | -18.7 | -6.1 |
| Net profit | -8.3 | -21.5 | 159% |
| Passengers million | 1.8 | 2.0 | 9% |
| RPK million | 1,566 | 1,788 | 14% |
| ASK million | 2,233 | 2,583 | 15.7% |
| Load factor %* | 70.1 | 69.2 | -0.9 |
| RASK EUR cent | 6.28 | 5.89 | -6.2% |
| CASK EUR cent | 7.06 | 6.97 | -1.3% |
| CASK ex fuel EUR cent | 5.68 | 5.83 | 2.5% |
ASK growth slows from 20% to 16%; load factor slips once more
Aegean increased its total ASKs by 15.7% in 1Q2016, continuing the double digit growth of the past two years, albeit at a slower pace than the 20% growth of 1Q2015 and FY2015. Overall load factor slipped by 0.9ppts to 69.2% and scheduled load factor was down 1.0ppts at 69.3%.
The first quarter is always much weaker than the rest of the year, but the group's load factor fell in each of FY2014 and FY2015 (to 76.9%, well below the industry average of around 80%) and the continuing downward trend is a concern. Load factor fell in three out of four quarters in 2015 (it remained just better than flat in 3Q105, the peak quarter, gaining 0.2ppts to 83.4%).
In terms of seat numbers, capacity was up by 11% and the higher ASK growth rate was due to a 5% increase in average sector length as Aegean's international network grew faster than its domestic network. International passenger numbers increased by 12%, while domestic traffic was up by 6%. Total passenger numbers rose by 9% to 2.0 million in 1Q2016.
Aegean Airlines Group 1Q2016 operating statistics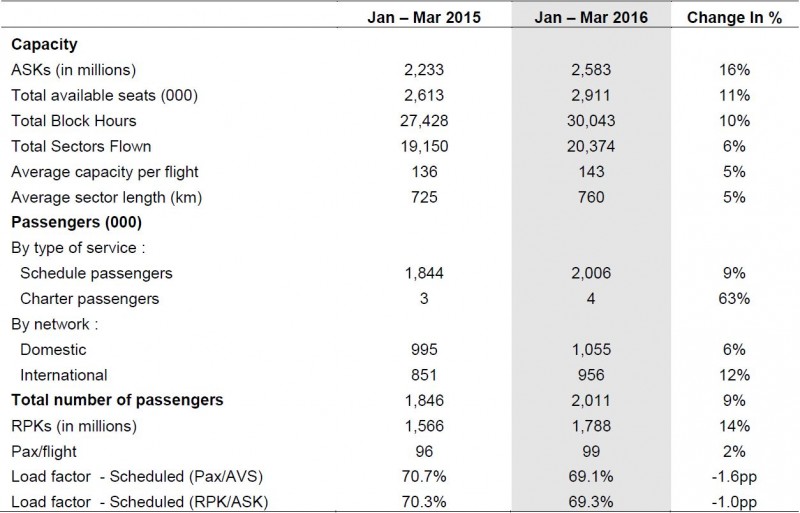 Revenue up 7%; total RASK down 6%
The Aegean group's revenue grew by 7%, slower than the growth in ASKs. Scheduled passenger revenue grew by 11%, while charter revenue halved (it has almost disappeared entirely) and other revenue fell by 9%.
Passenger revenue per passenger actually increased by 1%, but this was much less than the 5% increase in average sector length. Passenger revenue per ASK fell by 5%, as a result of yield weakness and the fall in load factor, and total revenue per ASK (RASK) fell by 6%.
Aegean Airlines Group 1Q2016 consolidated revenues
| EUR million | 1Q2015 | 1Q2016 | Change | % of 1Q2016 revenue |
| --- | --- | --- | --- | --- |
| Scheduled | 114.3 | 126.8 | 11% | 86% |
| Charter | 1.0 | 0.5 | -50% | 0% |
| Other | 22.7 | 20.6 | -9% | 14% |
| Total | 138 | 147.9 | 7% | 100% |
Costs up 14%; CASK down 1% (only thanks to lower fuel)
Operating costs increased by 14%, faster than the growth in revenue, but slower than the increase in ASKs. Fuel costs declined by 4% and fuel's share of total costs fell from 20% in 1Q2015 to 16% in 1Q2016.
Ex fuel costs increased by 19%, which was faster than ASK growth. Labour costs, which were the third biggest category after fuel and operating leases, grew by only 7%. However, ex fuel costs were inflated by significant increases in aircraft lease and ownership costs, airport charges and marketing costs, all of which outpaced ASK growth.
Based on costs at the level of EBIT, it can be calculated that total CASK fell by 1.3% year on year in 1Q2016, but this was entirely thanks to lower fuel prices. Ex fuel CASK increased by 2.5%.
Aegean Airlines operating costs 1Q2016
| EUR million | 1Q2015 | 1Q2016 | Change | % of 1Q2016 costs |
| --- | --- | --- | --- | --- |
| Fuel cost | 30.8 | 29.5 | -4% | 16% |
| Lease cost | 20.9 | 29.6 | 42% | 16% |
| Labour cost | 24.3 | 25.9 | 7% | 14% |
| Depreciation | 3.3 | 3.9 | 18% | 2% |
| Other expenses | 78.4 | 91.1 | 16% | 51% |
| Total | 157.7 | 180 | 14% | 100% |
| Costs ex fuel | 126.9 | 150.5 | 19% | 84% |
RASK has fallen faster than CASK for six quarters
The Aegean group's RASK has suffered a year on year decline in every quarter since the start of 2014, which was the first full year after the acquisition of Olympic Air. The rate of decline in RASK has been steadily reducing since it fell by 17% in 4Q2014, but the 6% drop in 1Q2016 was still significant.
It is also the case that Aegean's CASK has fallen in every quarter since the start of 2014, but the rate of CASK decline has also been on a broadly reducing trend since 4Q2014, in spite of continued drops in fuel CASK.
Moreover, and more importantly in terms of Aegean's margins, RASK has fallen more rapidly that CASK in each of the past six quarters.
Aegean Airlines Group year on year growth in RASK and CASK (%) by quarter 1Q2014 to 1Q2016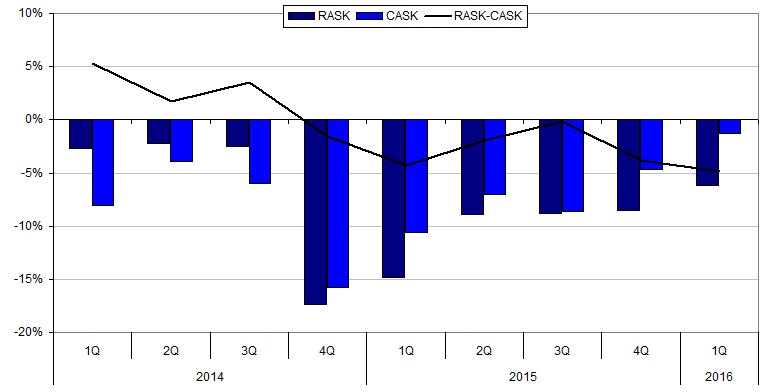 Ex fuel CASK is creeping up
The reducing trend in the rate of CASK decline is due to a deteriorating trend in ex fuel CASK. Ex fuel CASK fell year on year in every quarter from 1Q2014 to 3Q2015, but the rate of decline started to contract after 4Q2014.
In the past two quarters, ex fuel CASK has increased year on year. This partly reflects growth in the fleet and network during the winter ahead of the more profitable summer season (all three additional A320s planned for 2015 were delivered in 1Q). It may have also been currency related, but Aegean will be looking to reverse this trend.
Aegean Airlines Group year on year growth in fuel CASK and ex fuel CASK (%) by quarter 1Q2014 to 1Q2016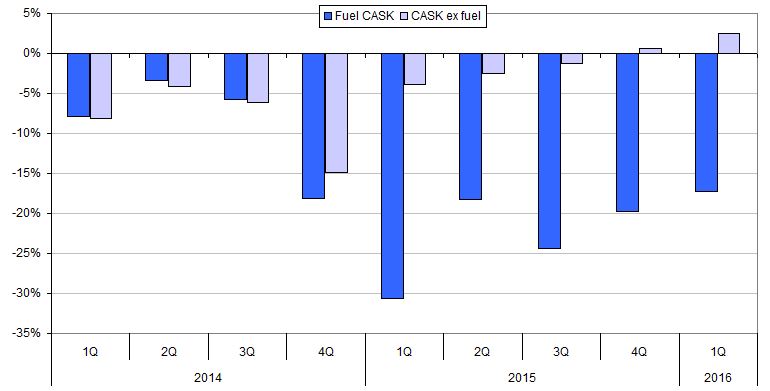 Weak unit revenue reflects a number of factors
The weak RASK environment faced by Aegean reflects a number of factors. Low oil prices have contributed to some additional capacity growth across markets in Europe and this has put downward pressure on yields for almost all airlines.
In addition, Aegean's specific operating environment is challenged by the ongoing economic weakness in Greece. Although the strength of inbound tourism has helped to drive strong growth in international passenger numbers, this has also been at least partly fuelled by price stimulation as a result of strong competition from LCCs, in particular Ryanair. Aegean's own rapid capacity growth, while defending its market share, has also contributed to unit revenue weakness.
Moreover, Ryanair's entry and rapid growth in the Greek domestic market since 2014 has led to further yield pressure.
Greece-Europe capacity: seasonality is increasing
In the highly seasonal market between Greece and Europe, the total number of seats in the peak week in early Aug-2016 will be 6.1 six times the level of the late Jan-2016 trough week (source: OAG).
This multiple between the peak and trough weeks is growing (it was 5.4 times in 2014). For Aegean, the peak to trough capacity differential is not as great (but the multiple is more than two times), but this means that the market is much bigger and more competitive in the summer than in the winter.
Greece to Europe: total weekly seats 27-May-2013 to 7-Nov-2016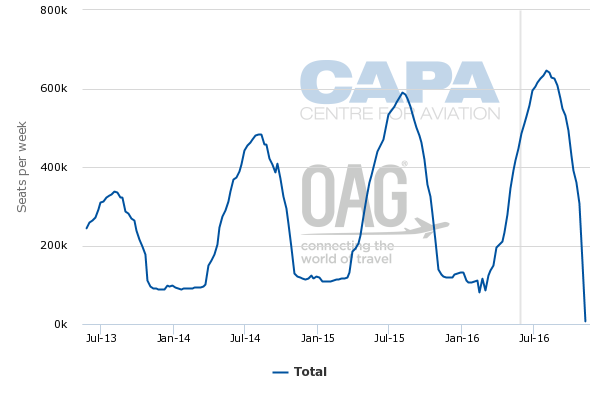 Seasonality of Aegean's profits is also increasing
This seasonality of demand has a significant impact on Aegean's earnings pattern. Over the past two years, it has become more reliant on summer profits, in particular 3Q, to offset winter losses. In 2014, 3Q accounted for 81% of its annual EBIT, while 2Q accounted for 31%. In 2015, 3Q was 99% of annual EBIT and 2Q remained at 31% as winter losses deepened.
The higher loss in 1Q2016 puts even more pressure on achieving a good result in the summer quarters this year.
Aegean Airlines Group: EBIT by quarter as % of annual total 2014 and 2015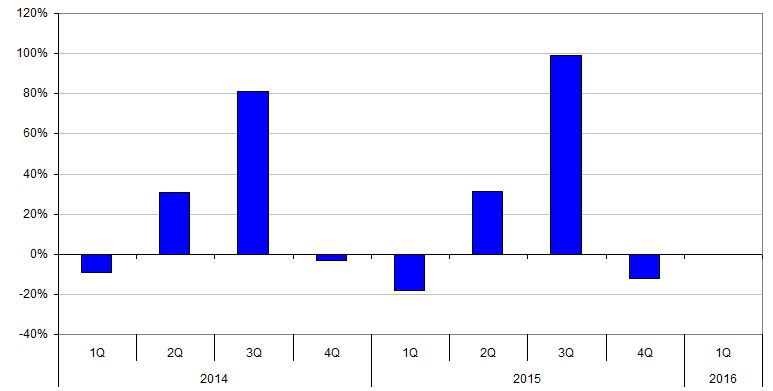 Aegean's share of Greece-Europe is holding up
Aegean has held its seat share of Greece-Europe steady, keeping it at 14.5% in the first week of Aug-2016 (the same as a year earlier), while Ryanair's share has remained at 9.2%.
However, the more exaggerated seasonality in the market means that it is growing faster in the summer than in the winter (indeed, its 1Q2016 seat growth of 11% compares with its FY2015 target growth of 15%). In 2014, Aegean's 3Q ASKs were 2.3 times their 1Q level, while this multiple increased to 2.4 times in 2015.
Faster capacity growth in the summer means that downward unit revenue pressure is unlikely to abate much, if at all. This is all the more so, given that the largest competitor, Ryanair, has a significantly lower unit cost and average fare than Aegean.
But Aegean is losing domestic share as Ryanair grows rapidly
The Aegean group may have been able to defend its overall market share on Greece-Europe, but not in the domestic market, where Ryanair is growing more rapidly. Based on data for the first full week of August, Aegean/Olympic's combined seat capacity will be little more than flat year on year, growing by less than 1% year on year to 185k in summer 2016, whereas Ryanair will grow its weekly seat numbers by 17% to 40k.
(Note that, from the start of winter 2015/2016, Aegean has transferred a number of domestic routes from Aegean Airlines to its regional Olympic Air subsidiary. This is part of efforts to lower distribution costs in the domestic market by increasing the use of direct channels, since Olympic is not sold via GDSs.)
Aegean anticipated a further fall in domestic market share and this is now happening. The Aegean group's seat share will fall from 77% in early Aug-2015 to 74% in Aug-2016, while Ryanair's share will increase from just below 15% to 16%. Fourth ranked domestic operator Astra Airlines is almost quadrupling its weekly seat capacity to 10k, taking its share from 1% in summer 2015 to 4% in summer 2016 (data source: OAG).
Aegean/Olympic's loss of domestic market share suggests that price competition may be even more intense on domestic routes than on international routes.
Greece domestic market: airlines by weekly seats 27-May-2013 to 7-Nov-2016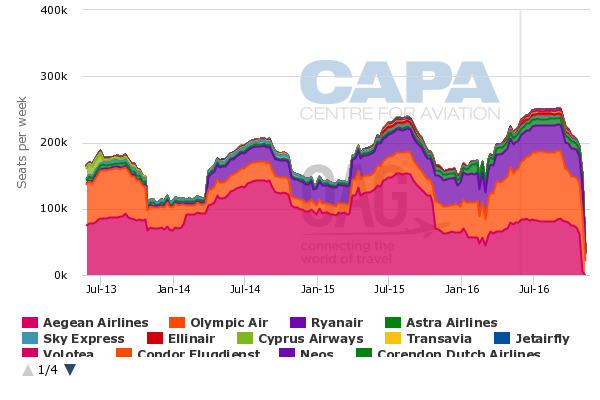 1Q is not a reliable FY indicator, but ex fuel CASK should still be a priority
CAPA's analysis of Aegean's 2015 annual results, in which the group reported a fall in profits and operating margin, concluded with the following remarks:
In 2016, Aegean's slower rate of capacity growth may help to ease downward pressure on unit revenue. Slower competitor growth in Athens should also help in this regard. There should also be further help in CASK reduction from fuel prices. Nevertheless, ex fuel CASK reduction should remain a priority.
See related report: Aegean Airlines: no longer Europe's highest-margin FSC. Competition and the economy weigh in
The evidence from the 1Q2016 results is that downward pressure on unit revenue is easing, but not disappearing. With regard to CASK reduction, lower fuel prices did more than help this in 1Q; they were the sole cause of CASK reduction. The increase in ex fuel CASK in 1Q was a concern, even if it could partly be explained by fleet growth ahead of the peak season and foreign exchange movements.
As noted above, Aegean's full year profit depends on the summer quarters 2Q and 3Q (in particular 3Q), while 1Q and 4Q are historically loss-making. Moreover, ASKs flown in 1Q are typically only 15% of the FY total, so CASK calculations can be more volatile as the denominator is a significantly lower number than in the other quarters All of this means that 1Q results are not a reliable indicator for the full year.
Nevertheless, ex fuel CASK reduction should still be a priority.