Ryanair's best margin since 2005 illustrates the success of 'Always Getting Better' programme
Analysis
Ryanair achieved another strong increase in net profit in FY2016, following up on FY2015's 66% growth with a 43% gain. Passenger growth accelerated to 18% – its highest rate for seven years, helped in no small measure by a second successive 5ppt gain in load factor, taking it to 93%.
This was achieved with only a 1% fall in average fares, demonstrating the success of the customer service and network improvements that Ryanair has introduced over the past two years under its 'Always Getting Better' programme. Overall, Ryanair managed the rare combination of an increase in revenue per seat and a fall in cost per seat (although the latter owed much to lower fuel prices). This gave it its highest operating margin since FY2005.
Looking into FY2017, Ryanair expects profit growth to slow down, but at a figure around 13% it still aims for a double-digit rate. Moreover, it is likely to retain its position as the airline with Europe's highest operating margin.
Ryanair's underlying net profit up 43%
Ryanair's reported net profit for FY2016 (year to Mar-2016) was EUR1,559 million, an 80% increase on FY2015's EUR867 million.
However, this included a EUR318 million gain on the sale of Ryanair's holding in Aer Lingus to IAG. Excluding this one-off item, the underlying net profit was up 43% to EUR1,242 million – better than Ryanair's guidance range of EUR1,175 million to EUR1,225 million.
Ryanair FY2016, financial and operating highlights
| EUR million except where stated | FY2015 | FY2016 | Change |
| --- | --- | --- | --- |
| Revenue | 5,654 | 6,536 | 16% |
| Operating profit | 1,043 | 1,460 | 40% |
| Operating margin | 18.4 | 22.3 | +3.9ppts |
| Net profit | 867 | 1,559 | 80% |
| Adjusted net profit | 867 | 1,242 | 43% |
| Gross cash | 4,796 | 4,335 | -10% |
| Gross debt | 4,432 | 4,023 | -9% |
| Net debt/(cash) | -364 | -312 | -14% |
| Passengers million | 90.6 | 106.4 | 17% |
| Load factor % | 88% | 93% | +5ppts |
| Average fare EUR | 47 | 47 | -1% |
| Total rev/pax EUR | 62 | 61 | -2% |
| Cost per pax EUR | 50.9 | 47.7 | -6% |
| Cost ex fuel per pax EUR | 28.9 | 28.2 | -2% |
Europe's most profitable airline
Ryanair's operating profit grew by 40% to EUR1,460 million, and revenue increased by 16% to EUR6,536 million.
Ryanair's operating margin gained 3.9ppts to 22.3%; again, the highest in Europe and making it the only European airline to report an operating margin in excess of 20% in 2015 (or nearest financial year).
Operating margins for listed European airline companies and subsidiaries (% of revenue), 2014 and 2015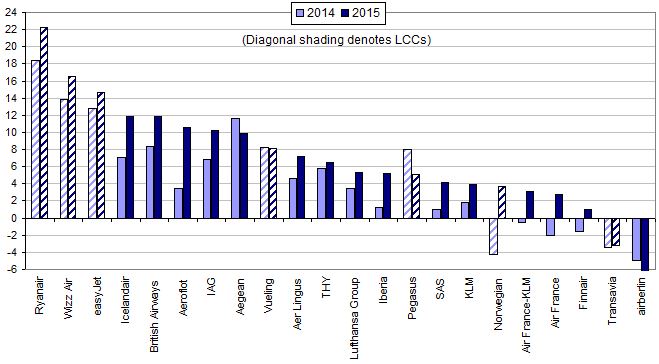 Record profit figures and highest operating margin since FY2005
Ryanair's revenue, operating profit and pre-exceptional net profit were all the highest figures in its history. Since FY2014, which was the last time that it suffered a fall in profits, its revenue has increased by 30% and both profit measures have more than doubled (operating profit up by a multiple of 2.2 times, and pre-exceptional net profit up 2.4 times).
Ryanair's FY2016 operating margin of 22.3% was its highest since FY2005 (when it made 24.9%).
Ryanair operating profit* and net profit*, FY2004 to FY2016 (EUR millions)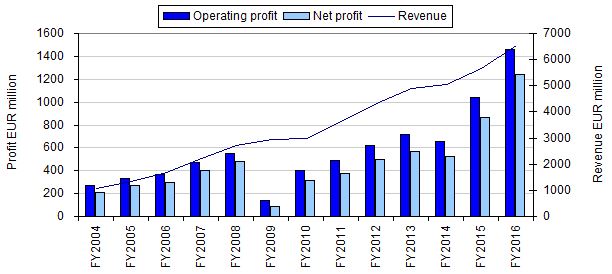 One of the strongest airline balance sheets: cash held "frightens the competition"
Ryanair's balance sheet continues to look very impressive, even though its gross cash balance at the end of FY2016 actually fell by 10% to EUR4,335 million. Nevertheless, this still represented eight months of revenue (reduced from 10 months a year earlier). Moreover, this cash level was after Ryanair had distributed EUR1.1 billion to shareholders in FY2016 (EUR700 million share buy-back and EUR398 million proceeds from the sale of the Aer Lingus stake).
After subtracting its gross debt balance, its net cash position was EUR312 million at the end of FY2016 (compared with EUR364 million a year earlier).
Ryanair prefers to give surplus cash back to its shareholders in the form of share buy-backs as and when the balance is sufficiently high, rather than through regular dividends. In this respect it differs from other leading European airlines, such as easyJet, IAG and the Lufthansa Group, all of whom are now paying regular dividends.
The Ryanair CEO, Michael O'Leary, told analysts on a conference call to discuss the FY2016 results that carrying a strong net cash balance on the balance sheet provides two major benefits:
Firstly, it allows Ryanair to take advantage of any opportunities to acquire aircraft without having to raise finance.
Secondly, according to Mr O'Leary, "it frightens the competition" and allows Ryanair to fight any price war.
Ryanair gross debt, gross cash and net debt at year end, FY2004 to FY2016 (EUR millions)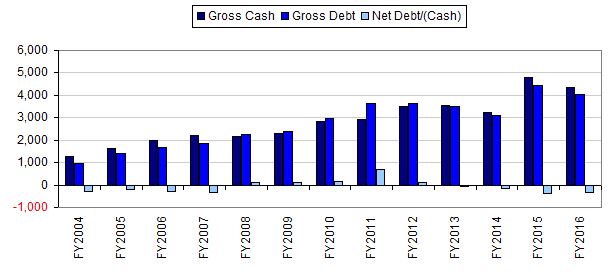 Passenger numbers up 18%, load factor up 5ppts to 93%
Ryanair's passenger numbers increased by 17.5% to 106.4 million in FY2016. This was Ryanair's second successive year of double-digit passenger growth and acceleration from the 10.9% increase in FY2015.
After many years of strong double-digit growth, its passenger growth rate had slowed to single-digit rates in the years FY2011 to FY2014, prompting criticism that there were no longer sufficient opportunities.
Ryanair annual percentage growth in passenger numbers (%), FY2004 to FY2016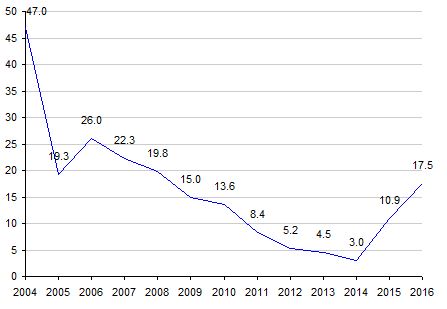 A significant contributor to Ryanair's passenger growth over the past two years has been an increase in load factor. In FY2016, its load factor gained 5ppts to 93%, after already gaining 5ppts the year before. Ryanair does not report seat numbers, but from the passenger numbers and load factor data it can be calculated that seat capacity grew by 11.6% in FY2016.
This 10ppt load factor increase over two years highlights the positive reception in the market for Ryanair's 'Always Getting Better' initiative, which has transformed its product and improved customer service. In FY2016 it achieved load factors in excess of 90% every month, apart from Jan-2016 (when it was 88%, an 5ppt improvement year-on-year).
Further significant load factor improvements will now be less likely. In the first month of FY2017, Ryanair's load factor gained 2ppts to 93%, but the company expects the full-year load factor to be similar to last year's.
Ryanair passenger numbers ('000) and load factor (%), FY2004 to FY2016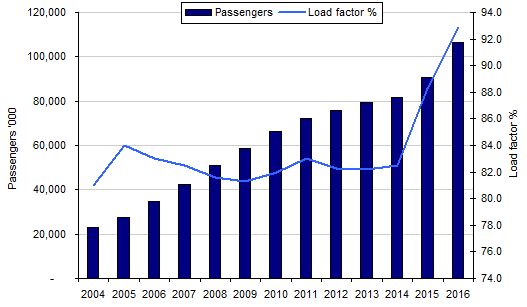 Market share gains in key European markets
Ryanair's acceleration in its passenger growth rates over the past two years has led to some important market share gains. Comparing market share data for intra-Europe seats by country in its FY2016 presentation with its FY2014 presentation highlights this.
According to the data presented by Ryanair its market share in the UK, the largest market for intra-European seats, has increased from 13% two years ago to 18% and its rank has moved up from third to second. It has overtaken British Airways, but is still behind easyJet in the UK.
In Germany, where it is third, Ryanair's share has increased from 4% to 6% and it is targeting significant further gains in market share. In Spain it has remained at number one with 18%. In Italy it has also remained at number one, but its share has grown from 21% to 26%.
In France Ryanair is still ranked number three, behind Air France-KLM and easyJet, with a share of 6%. In Portugal its share has grown from 13% to 20%, but its ranking has slipped from first to second.
Ryanair seat share and market rank in selected countries, FY2014 to FY2016
CEO Mr O'Leary: "…we do not target easyJet…"
The Ryanair CEO, Michael O'Leary, has said that he expects to overtake easyJet soon in the UK, where Ryanair is second on seats to/from European destinations: "As we open up the new base in Belfast, we're adding more aircraft this winter in Glasgow, Edinburgh, Manchester and Stansted continues to grow strongly, we should overtake them by the end of this year. […] I don't get too hung up on whether we overtake them or not. Its only a question of time, when we'll overtake them".
Data from CAPA and OAG on capacity from the UK to Europe for the week of 23-May-2013 show that easyJet has 19.3% of seats and Ryanair has 19.0% (BA has 15.8%).
According to Ryanair's FY2016 presentation slides, out of easyJet's 28 bases only three are not served by Ryanair. More than half of easyJet's bases (15) are also Ryanair bases this summer. These include four new bases for Ryanair (Milan Malpensa, Berlin Schoenefeld, Belfast and Hamburg). In summer 2016 40% of easyJet's city pairs compete with Ryanair, while 20% of Ryanair's city pairs compete with easyJet, according to Ryanair.
Nevertheless, Mr O'Leary told analysts on the FY2016 conference call that Ryanair did not target easyJet or any other airline. Ryanair's growth was based on its low costs, which enabled low fares and drove volume growth, he said. He added that a number of other easyJet base airports were now negotiating with Ryanair. Ryanair's significantly lower unit cost and fares are likely to present a growing challenge to easyJet.
Certainly, easyJet has suffered weak unit revenue for longer. This brought easyJet into loss for the Jan-Apr quarter, whereas Ryanair achieved a profit for every quarter of its financial year.
See:
Ryanair's revenue up 16%
In FY2016 Ryanair's revenue grew by 15.6%, faster than the growth in seats, but slightly less than passenger growth. Scheduled revenue grew by 16.6%, but ancillary revenue growth was slower, at 12.5%.
Ancillaries' share of the total fell from 25% in FY2015 to 24% in FY2016, but this remains comfortably ahead of Ryanair's long term target of 20%.
Ryanair's average fare (scheduled revenue per passenger) fell by 1% to EUR46.7 and its average total revenue per passenger fell by 2% to EUR61.4. Nevertheless, because of the load factor gain, it can be calculated that total revenue per seat increased by 4% to EUR57.1.
Ryanair revenues, FY2015 and FY2016
| EUR million | FY2015 | FY2016 | Change | % of FY2016 total |
| --- | --- | --- | --- | --- |
| Scheduled revenues | 4,260 | 4,967 | 16.6% | 76% |
| Ancillary revenues | 1,394 | 1,569 | 12.5% | 24% |
| Total revenues | 5,654 | 6,536 | 15.6% | 100% |
Costs were up 10%
Operating costs increased by 10% – less than the growth in passengers, seats and revenue. Fuel costs grew by only 4%, thanks to lower fuel prices (partly offset by Ryanair's hedging programme and by the stronger USD versus EUR), while non-fuel costs increased by 15% (faster than seat growth, but less than passenger growth).
Ryanair's unit cost focus is on cost per passenger, rather than cost per seat, which is a more commonly targeted measure. Cost per passenger fell by 6%, and by 2% excluding fuel. Cost per seat fell by 4%, contrasting with the 4% increase in revenue per seat. However, ex fuel cost per seat increased by 3%.
Ryanair operating costs, FY2015 and FY2016
| | 2015 | 2016 | Change | % of 2016 total |
| --- | --- | --- | --- | --- |
| Fuel and oil | 1,992 | 2,071 | 4% | 41% |
| Airport & handling charges | 713 | 831 | 17% | 16% |
| Route charges | 547 | 623 | 14% | 12% |
| Staff costs | 503 | 585 | 16% | 12% |
| Depreciation | 378 | 427 | 13% | 8% |
| Marketing, distribution & other | 234 | 293 | 25% | 6% |
| Maintenance, material and repairs | 135 | 130 | -3% | 3% |
| Aircraft rentals | 109 | 115 | 5% | 2% |
| Total costs | 4,611 | 5,076 | 10% | 100% |
| Costs ex fuel | 2,619 | 3,004 | 15% | 59% |
Pax growth to slow to 9% in FY2017; FY2024 target 180 million
After the double-digit growth in passenger numbers of the past two years, Ryanair expects a return to single-digit growth. In FY2017 it plans a 9% increase in passenger numbers to 116 million. Currently, forward bookings are 2% better than at the same point last year. After this year, annual passenger growth is then expected to be mainly in the range of 6% to 8% until FY2024.
Ryanair's passenger target for FY2024 is 180 million passengers, compared with a target of 160 million set a year ago. It has also increased its FY2024 fleet target from 520 to 546 aircraft.
Ryanair planned fleet and passenger numbers to FY2024: revision from FY2015 presentation to FY2015 presentation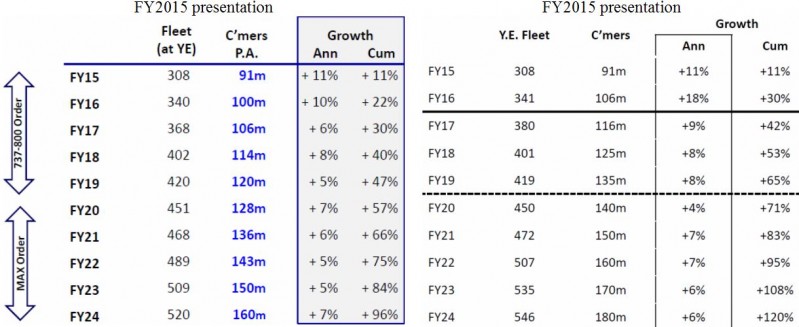 But the unit revenue outlook is weakening
Ryanair's FY2016 margin improvement was the result of both unit revenue growth and unit cost decline. However, unit revenue growth looks unlikely to recur in FY2017. This is because further load factor improvements will be very difficult to achieve and so – any unit revenue growth would have to come from increased revenue per passenger.
Ryanair has cautioned that pricing will be softer, and its guidance is that average fares will fall by 7% in FY2017 (1H -5% to -7% and 2H -10% to -12%). This may partly be Ryanair's usual overly cautious approach to guidance (particularly into 2H, where visibility is lower), but there is little doubt that European airlines are operating in a soft pricing environment, with low fuel prices and the delayed effect on airline costs from hedging programmes contributing to greater capacity growth this year.
Ancillary revenues may be expected to grow more closely in line with passenger numbers, helped by Ryanair's digital initiatives, including its new website and mobile app, combined with the increased uptake of reserved seating, priority boarding, fast track security and new initiatives currently under development by Ryanair Labs. Total revenue per seat may be expected to fall at a slightly lesser rate than the decline in average fares.
See related report: Airlines plan Europe summer 2016 seat capacity: growth accelerating due to LCCs and new models
Unit cost set to continue to fall
This soft unit revenue outlook will put the pressure on Ryanair's unit cost if it is to grow profit margins once more. Ryanair expects a 1% reduction in ex fuel cost per passenger (and so, a similar decline in ex fuel cost per seat, since load factor is expected to be flat) in FY2017 and a EUR200 million reduction in its fuel bill.
This guidance suggests a fall in total cost per seat of around 8%, which should more than offset the expected fall in revenue per seat. Mr O'Leary told analysts that he was confident Ryanair would maintain its position as Europe's lowest CASK airline, in spite of Wizz Air's proximity to Ryanair's level of CASK and its increasing mix of A321s compared with A320s. Mr O'Leary argued that Wizz's Airbus aircraft were more expensive than Ryanair's 737-800s and 737MAX aircraft. He added that the MAX would bring further fuel efficiency gains and also increase the average seat count of Ryanair's fleet from FY2020, helping to cut unit cost.
Ryanair index of revenue per ASK and cost per ASK, FY2001 to FY2016* (indexed to 2009 = 100)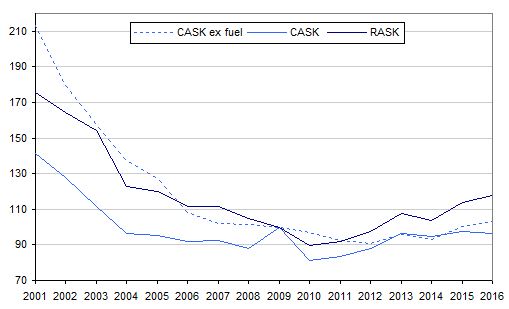 FY2017 net profit guidance should mean that Ryanair remains Europe's most profitable airline
Ryanair's net profit guidance range is EUR1,375 million to EUR1,425 million, which is a 13% year-on-year increase at the midpoint. This growth in profit is considerably slower than the 66% growth in FY2015 and 43% in FY2016, but Ryanair's track record of cautious guidance suggests that it could be increased as the year progresses.
Moreover, it also implies a further operating margin improvement of 1-2ppts, further consolidating Ryanair's position as Europe's most profitable airline. It is also Europe's largest airline by seats and passenger numbers and has the lowest unit cost.
The airline's passenger service improvements have reinvigorated the business model over the past two years and returned it to levels of profitability not seen for a decade.
It is now continuing to develop its digital initiatives and is also close to adding elements to its business model – such as a connecting ticket and interlining with long haul operators.
See related report: Ryanair transfer traffic & interlining; closing the gap with FSCs on product, but not on costs
Ryanair looks set to keep its position as Europe's most profitable airline for a while longer.