2008/09 - Indian aviation's lost year
Analysis
The Indian Government is reportedly finalising a USD1 billion relief package for all domestic carriers, to help them through the darkest chapter in the country's aviation history. The package, to be unveiled in the coming months, reportedly involves some cash injections (Air India alone is seeking USD286 million in cash, as well as soft loans), as well as deep discounts in airport charges and the abolition of excise duties on jet fuel.
It would be a dramatic act for a government under which aviation has flourished (prior to its current troubles), but which faces a tough electoral test, with a poll due by May next year.
The reported government package appears large, although precedents are not readily available. In the aftermath of September-11, the US government's Air Transportation Safety and System Stabilization Act set aside USD5 billion in compensation for US airlines (for the ground stop order issued by the Secretary of Transportation and incremental losses incurred between 11-Sep-01 and 31-Dec-01, as a direct result of the terror attacks). In 2000, the US domestic airline industry handled 537 million passengers.
By contrast, Indian airlines handled 43.5 million passengers in the 12 months ended 31-Mar-08, and is facing a much different set of factors than September-11, which was essentially a demand shock, with significant ongoing security ramifications. In India, the fuel cost crisis - magnified by India's state fuel taxation system - has evolved into a demand shock, as fares/surcharges have risen to such levels that passengers are turning to cheaper alternatives. The global economic slowdown is exacerbating the problems being faced by India's international airlines, Air India, Jet Airways and now Kingfisher Airlines.
Airline losses in India could double this financial year to around USD1.5 billion, led by Air India. Other Subcontinent governments are contemplating their own bailout packages as flag carrier losses mount.
Air India, Pakistan International Airlines (PIA), Biman Bangladesh Airlines and SriLankan Airlines reported combined losses of approximately USD715 million in the 12 months ended 31-Mar-08.
Indian Subcontinent flag carrier losses: 12 months ended 31-Mar-08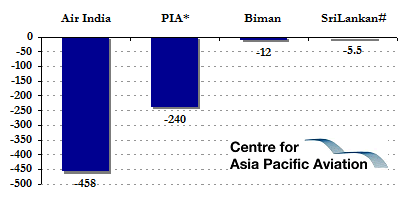 In the interim, the biggest cost saving measure these airlines can implement is to reduce their flying operations. Air India has already cut its three worst performing routes and more cuts are possible, while it is unlikely to resume its expansion programme until Winter 2009 (around the same time as Jet Airways launches its second phase expansion).
2008/09 will be known as the lost year for Indian aviation, in which traffic stalled and red ink flowed. On the positive side, it has exposed the massive taxation imbalances on the sector, which the government is now seeking to redress. This could have long-term benefits.