Wizz Air's first results post-IPO: FY2015 underlying net profit up 67%, but slowing in FY2016
Analysis
Reporting its first financial results since its Feb-2015 IPO, Wizz Air announced that its underlying net profit jumped by two thirds in FY2015. In another year of double digit capacity and revenue growth, it managed to grow its unit revenue while simultaneously lowering its unit cost.
Ranked by operating profit margin for the 12M period to Mar-2015, Wizz Air is equal second with easyJet and behind only Ryanair in the list of Europe's most profitable airlines. The IPO has also left it with a robust balance sheet, a useful attribute in the volatile airline industry.
Wizz Air's guidance for FY2015 implies much slower profit growth of less than 20%. Lower fuel prices and a competitive market backdrop look likely to put unit revenue under pressure. Moreover, further unit cost reduction is harder when costs are already very low. Nevertheless, Wizz Air's low cost base and impressive ancillary revenue performance, together with strong market share in Central and Eastern Europe, position it to remain one of Europe's more successful airlines.
Wizzair's underlying net profit was up 67%
In FY2015 (year to Mar-2015), Wizz Air's net profit more than doubled (+109%) to EUR183 million. The underlying net profit, which excludes exceptional items, increased by 67% to EUR146 million and the pre-exceptional operating profit grew by 64% to EUR170 million. The operating margin improved by 3.6 ppts to 13.9%. Revenues increased by 21% to EUR1,227 million.
Wizz Air Group financial and operating highlights FY2014 and FY2015*
| EUR million except where stated | FY2014 | FY2015 | Change FY2015 vs 2014 |
| --- | --- | --- | --- |
| Revenue | 1,012 | 1,227 | 21.3% |
| EBITDAR | 241 | 341 | 41.3% |
| EBITDAR margin % | 23.8 | 27.8 | 3.9 |
| Operating profit, EBIT** | 104 | 170 | 64.3% |
| Operating margin % | 10.2 | 13.9 | 3.6 |
| Net profit | 88 | 183 | 108.9% |
| Underlying net profit | 87.5 | 146.2 | 67.1% |
| Pax million | 13.9 | 16.5 | 18.4% |
| ASK million | 24,385 | 29,267 | 20.0% |
| Passenger load factor % | 85.7 | 86.7 | +1.0ppt |
| RASK EUR cent | 4.15 | 4.19 | 1.1% |
| CASK EUR cent | 3.72 | 3.61 | -2.9% |
| CASK ex fuel EUR cent | 2.25 | 2.26 | 0.3% |
| Rev/pax EUR | 72.7 | 74.5 | 2.5% |
| Cost/pax EUR | 65.2 | 64.1 | -1.7% |
Wizz Air's best ever profit
The FY2015 net profit, operating profit and operating margin were Wizz Air's highest ever. Wizz Air's revenues grew at a compound average growth rate of 36% pa from FY2005 to FY2014 although this has "settled" to a relatively slower 22% pa since FY2010. After a period of losses and weak profitability, Wizz Air's FY2015 results have confirmed its status as one of Europe's more consistently profitable airlines since FY2012.
Its FY2015 EBTIDAR margin of 27.8% places it ahead of all other European airlines, beating Ryanair's 27.1% and its operating margin of 13.9% places it equal with easyJet in joint second behind Ryanair's 18.4% (based on 12M to Mar-2015 for all three airlines).
Wizz Air revenue, operating profit** and net profit (EUR million) FY2005 to FY2015*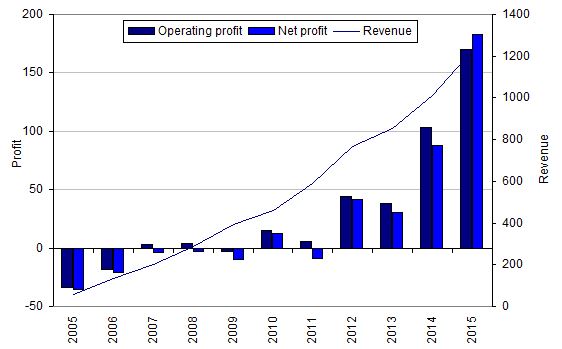 At 31-Mar-2015, Wizz Air had cash of EUR449 million, equivalent to 133 days of revenues, compared with EUR186 million at the end of FY2014. The increase was the result of Wizz Air's IPO in Feb-2015, which raised EUR149 million, and its free cash flow generation. Wizz Air has limited capital expenditure needs, since it finances aircraft using operating leases, but it previously was somewhat under-capitalised.
See related reports:
Wizz Air: growing at 15% annually, one of Europe's most profitable airlines "not desperate" for IPO
Wizz Air: London share listing planned after three-fold profit increase for the ultra-LCC
Wizzair's ASKs were up 20%
Wizz Air increased ASKs by 20% in FY2015, with RPKs up 21% and load factor up 1ppt to 86.7%. Capacity growth was faster than the airline's medium term target growth rate of 15%, partly due to an increase in average stage length of almost 3% (seat growth was 17%). Passenger numbers were up 18.4% to 16.5 million and have grown at compound average rates of 34% pa since FY2005 and 15% since FY2010.
Development of Wizz Air passenger numbers (million) FY2005 to FY2015*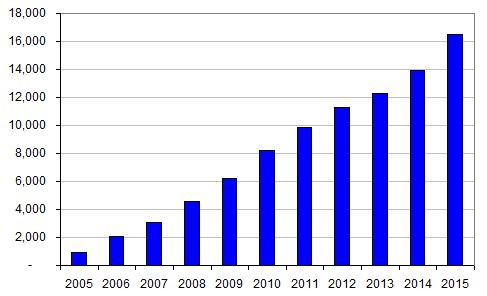 The 1.0 ppt load factor gain to 86.7% in FY2015 extends a trend of steady improvement from 83.3% in FY2010. Wizz Air is comfortably ahead of industry average levels of around 80%, but behind Ryanair and easyJet's 88% to 90% load factors.
Development of Wizz Air passenger load factor (pax as % of seats)FY2010 to FY2015*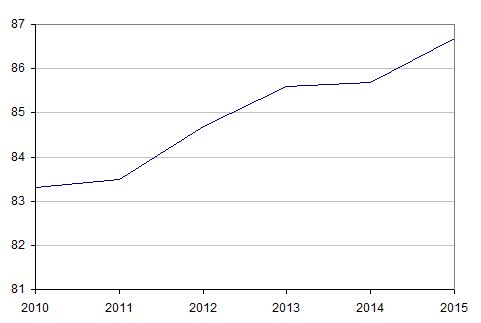 Wizzair revenue rose 21%
Revenue increased by 21%, slightly faster than the increase in ASKs, with ancillary revenue growing by 23%. Ancillary revenue was 35% of the total, a very high proportion by industry standards. Ancillary revenue per passenger grew by 3.7% in FY2015 to more than EUR26, which compares with EUR15 for Ryanair. This growth was driven by features such as Wizz Discount Club fees, multi-currency pricing and administration fees, while bag fees per passenger were stable.
Wizz Air's ancillary revenue stream is a strategic advantage in keeping average fares low, thereby driving traffic volume. Since FY2010, ancillary revenue per passenger has increased by 81%, while ticket revenue per passenger has gained only 16%.
Overall revenue per ASK (RASK) grew by 1.1% in FY2015. CFO Mike Powell told analysts at a presentation on the FY2015 results that Wizz Air aims to manage capacity growth so that it can maintain flat unit revenue (RASK). It has achieved RASK growth every year since FY2010, highlighting the strength of demand in its markets, the maturing of its route network and the success of its ancillary revenues.
Currency movements had a negative impact of c2.5ppts on RASK, according to Mr Powell.
Wizz Air Holdings revenue FY2014 and FY2015*
| EUR million | FY2014 | FY2015 | Change | % of FY2015 total |
| --- | --- | --- | --- | --- |
| Passenger ticket revenue | 659 | 794 | 21% | 65% |
| Ancillary revenue | 353 | 434 | 23% | 35% |
| Total revenue | 1012 | 1227 | 21% | 100% |
Wizz Air revenue per passenger (EUR) FY2010 to FY2015

Costs up 16%
Operating costs increased by 16%, less than the growth in capacity and revenue. This was helped by lower fuel prices, which led to fuel costs growing by only 10%. At 38% of the total, fuel remained the biggest cost item.
According to CAPA calculations, half of Wizz Air's annual increase in operating profit of EUR67 million can be attributed to an 8% reduction in its average fuel cost per ASK (including the impact of hedging, without which the reduction would have been greater).
The increase in ex fuel costs of 21% was in line with revenue growth and only just ahead of ASK growth. Cost per ASK (CASK) fell by 2.9% and ex fuel CASK increased by 0.3%.
Wizz Air Holdings operating costs** FY2014 and FY2015*
| EUR million | 2014 | 2015 | Change | % of FY2015 total |
| --- | --- | --- | --- | --- |
| Staff costs | 68.3 | 81.8 | 20% | 8% |
| Fuel | 360.6 | 396.6 | 10% | 38% |
| Distribution/marketing | 17.1 | 18.8 | 10% | 2% |
| Maintenance | 48.5 | 62.0 | 28% | 6% |
| Aircraft rentals | 112.5 | 137.1 | 22% | 13% |
| Airport, handling, route charges | 250.4 | 297.7 | 19% | 28% |
| Depreciation/amortisation | 25.4 | 33.9 | 33% | 3% |
| Other costs | 25.6 | 29.3 | 14% | 3% |
| Total costs | 908.3 | 1057.2 | 16% | 100% |
| Ex fuel costs | 547.7 | 660.6 | 21% | 62% |
Wizzair's fleet to increase to 88 aircraft in FY2018
Wizz Air Group's fleet consisted of 55 A320 aircraft at the end of FY2015, with an average age of 3.8 years. Of these, 35 were without winglets and 20 with winglets. Its fleet plan will take the total to 88 in FY2018, through the addition of a further eight A320s with winglets in FY2016 and 25 A321s (with winglets) from FY2016 to FY2018.
This plan will see the average number of seats per aircraft grow from 180 in FY2015 to 194 in FY2018 and the proportion of winglet-equipped aircraft increase from 36% to 60% over the same period. This should enable Wizz Air to continue to grow its traffic and to achieve unit cost savings relative to its current fleet.
The fleet remains operating lease-funded, typically through sale and lease-back. Mr Powell told analysts that this method of financing was unlikely to change, since Wizz Air's analysis suggests that the overall cost of leasing is lower than ownership, particularly when taking account of the soft residual values of current-engine A320 family aircraft.
Wizz Air fleet development (number of aircraft at calendar year end) and average age of fleet 2006 to 2015 and target for 2016 to 2018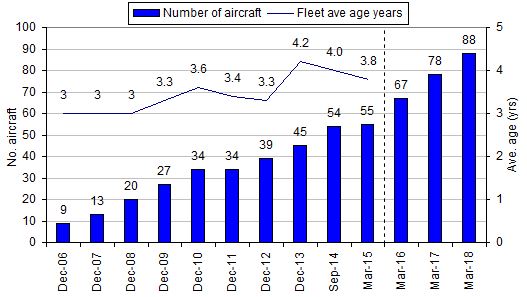 FY2016 guidance implies a narrower operating margin as RASK growth stalls
Wizz Air's FY2016 guidance expects that total CASK will be unchanged, in spite of a 1.5% fall in fuel CASK, mainly because currency movements are expected to push ex fuel CASK up by 1.0%.
Although CASK has fallen in FY2014 and FY2015, thanks to lower fuel, much of Wizz Air's profit improvement over the past five years has been due to RASK growth (see later). In turn, RASK growth has mainly been driven by ancillary revenues.
Indeed, although ticket RASK grew very slightly in FY2015, it has fallen 6% since FY2012. By contrast, ancillary RASK increased by 37% from FY2012 to FY2015. However, growth in ancillary RASK is slowing: it increased by only 2% in FY2015 after double digit growth rates in each of the previous four years.
Wizz Air revenue per ASK (RASK) by revenue source FY2010 to FY2015*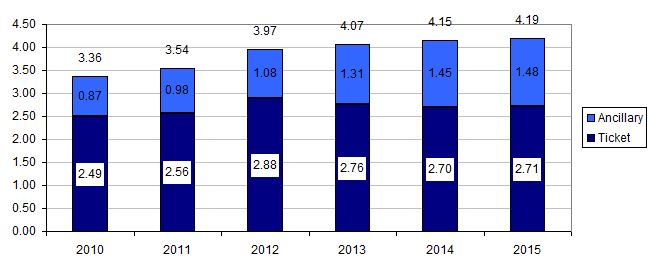 Wizz Air has recently introduced features such as allocated seating, a "Plus Fare" bundled product and improvements to its mobile app. These initiatives may help to drive further ancillary revenue growth. Moreover, additional destinations in its network, combined with its strong share in the Central and Eastern Europe market, should ensure continued healthy demand for Wizz Air's product.
Nevertheless, in FY2016, the airline expects total RASK to fall at a low single digit percentage rate due to the pass through of lower fuel prices. The combination of lower RASK and flat CASK envisaged by Wizz Air's guidance suggests that operating profit will grow more slowly than revenue and that there will be a narrower operating margin in FY2016.
With ASK growth planned at 17%, its RASK guidance implies revenue growth of around 16%. Its underlying net profit target range of EUR165 million to EUR175 million would mean growth of 16% at the midpoint, which is faster than the operating profit growth implied by its guidance. Presumably, this would be the result of lower net finance and currency items.
Further CASK reduction is becoming harder
Wizz Air has demonstrated strong control over ex fuel CASK in recent years. Having fallen by 42% from FY2005 to FY2010, ex fuel CASK is virtually unchanged since then. Over the past five years, changes in overall CASK have been almost entirely due to changes in fuel cost per ASK, which has fallen in each of the past two years.
Wizz Air – index of operating cost per ASK (CASK) and total revenue per ASK (RASK) (each indexed to 100 in FY2009) FY2005 to FY2015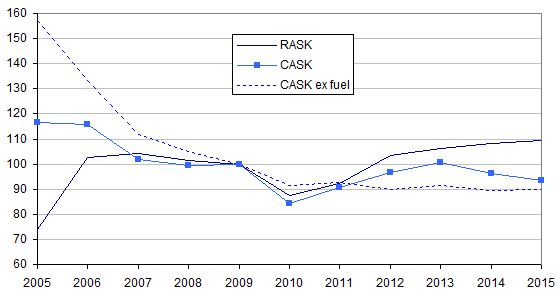 The flip side of this is that it is very difficult for Wizz Air to cut unit cost without a fall in fuel prices (and even then, as its FY2016 guidance demonstrates, it may not be possible to cut CASK). It already has the second lowest level of CASK in Europe, beaten only Ryanair.
As is the case for its Irish rival, it becomes progressively harder for Wizz Air to squeeze further cost efficiency improvements out of the business. Although both airlines have been pursuing RASK-led strategies to profit and margin growth recently, it is likely that CASK will continue to represent the yardstick for success for Europe's two lowest-cost LCCs.