Wizz Air: London share listing planned after three-fold profit increase for the ultra-LCC
Analysis
The Wizz Air Group has announced its intention to float on the London Stock Exchange. CAPA suggested this was under consideration in a report in Apr-2013 and the company has been mulling it over for years. The decision had no 'whiz' about it, but now may well be a suitable point in its history for a public listing.
The IPO prospectus is not yet available, but we have updated our analysis of the available data. This shows that Wizz Air has now established a firmer platform of profitability from which to attract investors and has consolidated its position as Europe's second lowest cost carrier.
One of its biggest challenges is that Europe's lowest cost airline, Ryanair, is also Wizz Air's closest competitor. Wizz Air's recent growth and profitability suggest that this has not deterred it and it has continued to focus on its niche in Central/Eastern Europe. An IPO will strengthen Wizz Air's under-capitalised balance sheet and expand its aircraft funding options. It will also further raise its profile and should add to its already strong focus on cost efficiency.
See related report: Wizz Air: why Europe's second lowest cost producer may be looking for fresh capital: IPO time?
Wizz Air's FY2014 net profit is up almost threefold
Wizz Air Holdings plc (Wizz Air Group) has not yet filed its accounts for the year ended Mar-2014 with the Companies Registry in Jersey, where the company is incorporated, but its announcement of its intention to float provides some financial and operating data. This company includes both the larger Hungarian based Wizz Air and the smaller Wizz Air Ukraine. Using this, the accounts of FY2013 and data previously published by CAPA (from various sources), we can present a fairly clear picture of Wizz Air's operating and financial performance in recent years.
In FY2014, Wizz Air almost tripled its net profit to EUR89 million and grew its EBITDAR (earnings before interest, tax, depreciation, amortisation and rentals) by 53% to EUR241 million. Its EBITDAR margin gained 5ppts to 24%. Revenues increased by 19% to EUR1,019 million and passenger numbers grew 13% to 13.9 million.
Wizz Air Group financial and operating highlights: FY2011 to FY2014*
| | | | | | |
| --- | --- | --- | --- | --- | --- |
| | 2011 | 2012 | 2013 | 2014 | Change 2014 vs 2013 |
| Revenue EUR million | 589 | 766 | 851 | 1012 | 19% |
| EBITDAR EUR million | 105 | 145 | 158 | 241 | 53% |
| EBITDAR margin | 18 | 19 | 19 | 24 | 5 |
| Net profit EUR million | -9 | 42 | 30 | 89 | 193% |
| Pax million | 9.8 | 11.3 | 12.3 | 13.9 | 13% |
| RASK EUR cent | 3.54 | 3.97 | n/a | n/a | - |
| CASK EUR cent | 3.51 | 3.74 | n/a | 3.72 | - |
| CASK ex fuel EUR cent | 2.32 | 2.25 | 2.30 | 2.25 | -2% |
| Rev/pax EUR | 59.9 | 68.1 | 69.2 | 72.8 | 5% |
| Cost/pax EUR | 59.3 | 64.1 | 66.1 | n/a | - |
Profitability is now well established and revenue growth remains strong
Wizz Air's revenues grew at a compound average growth rate of 38% pa from FY2013 to FY2014 although this has "settled" to a relatively slower 26% pa since FY2007. After a period of losses and weak profitability, Wizz Air Group has established itself as more consistently profitable since FY2012. Its FY2014 EBTIDAR margin of 24% compares favourably with LCC peers in Europe.
Wizz Air revenue, EBIT* and net profit FY2005 to FY2014 and revenue estimate (EUR million): FY2013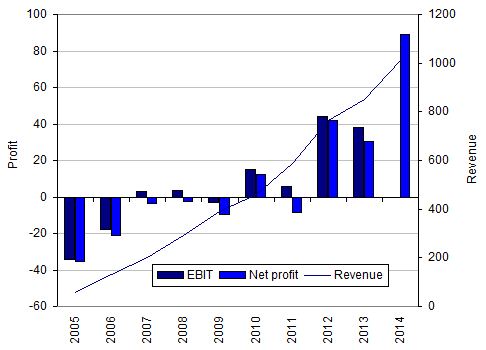 EBITDAR margins for European LCCs: 2013*
| | |
| --- | --- |
| Airline group | EBITDAR margin |
| | 24% |
| | 23% |
| | 22% |
| | 18% |
| | 17% |
IPO (and more profits) will strengthen the balance sheet
Balance sheet analysis is not possible for the most recent financial year, since we have not yet been able to examine the full accounts for FY2014, but we can turn to the accounts for FY2013, filed in Jersey. At 31-Mar-2013, Pegasus had cash of EUR152 million, equivalent to 65 days of revenues (a little more than at the end of FY2012).
Wizz Air has had limited capital expenditure needs, since it has financed aircraft using operating leases, and this was arguably a reasonable cushion in the event of a major disruption. It had only EUR59 million of debt on the balance sheet at the end of FY2013, giving a net cash position of EUR94 million. Capitalising operating leases at 8x annual rental would add EUR767 million of off-balance sheet debt to give an adjusted net debt figure of EUR673 million.
This adjusted net debt figure was almost 9x book equity of EUR76 million at the end of FY2013, giving the group an under-capitalised appearance. Retained earnings will have increased as a result of FY2014's net profit and so it is likely that the book value of equity was significantly higher at the end of FY2014, but new equity will increase its flexibility in funding the next phase of fleet expansion.
It plans to raise EUR200 million of fresh equity through the IPO (and also provide an opportunity for existing shareholders to sell some of their shares). If it also continues to generate net profits, its financial gearing ratios should improve in future years.
Passenger numbers up 13% in FY2014 and load factor continues to rise
Wizz Air Group increased the number of passengers carried by 13% to 13.9 million in FY2013. Growth rates have slowed – the compound average growth rate was 24% from FY2007 to FY2014 – but it remains one of Europe's fastest growing airlines. The IPO announcement said that Wizz Air Group's load factor increased by 0.2 ppts to 85.7%in FY2014.
Development of Wizz Air passenger numbers (million): FY2005 to FY2014*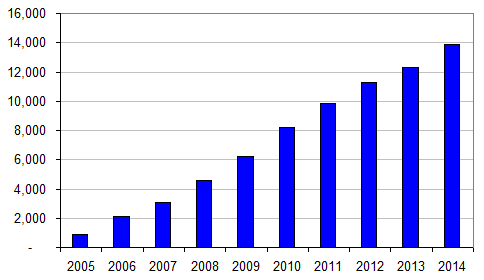 Using data for calendar years from the European Low Fares Airline Association (ELFAA), we can see that Wiz Air's load factor has been on a rising trend since calendar 2009, when it was 83.4%, and it reached 86.1% in calendar 2013.
Wizz Air's load factor is comfortably higher than the average of around 80% for Europe's legacy carriers (as reported by the Association of European Airlines for 2013) and a little higher than the average of 84% for Europe's LCCs (as reported by ELFAA for 2013). Nevertheless, peers such as easyJet, Transavia and jet2.com achieve load factors around the 90% mark, suggesting further scope for gains.
Development of Wizz Air passenger load factor (%): 2006 to 2012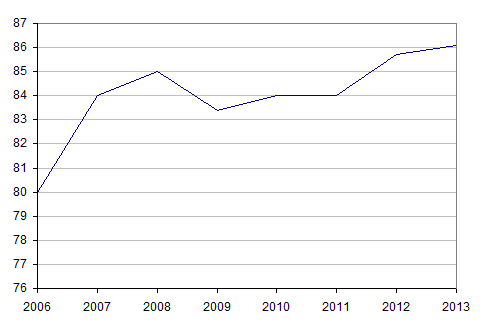 In May-2014, the Wizz Air Group's network includes 315 routes, serving 96 destinations in 35 countries. According to OAG data for the week of 19-May-2014, 52% of its seat capacity is Western Europe and 45% Eastern/Central Europe, with 3% in the Middle East (the latter being routes to Dubai World Central).
Wizz Air number of routes, destinations and countries served: Jun-2006 to May-2014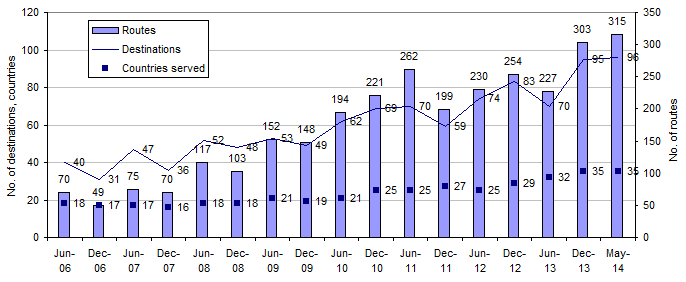 Wizz Air's fleet to grow 16% pa to 2017
Wizz Air's fleet consists of 50 Airbus A320 aircraft (as of 22-May-2014, the date of the IPO announcement), up from 45 at the end of calendar 2013. The average age of the fleet is 4.4 years, making it among the youngest of any significant airline in Europe. Fleet numbers have grown broadly in line with passenger numbers, with a fleet CAGR of 26% pa from calendar 2007 to 2013.
According to the CAPA Fleet Database, Wizz Air has 38 A320s and 26 A321s on order. The airline plans to grow the fleet to 82 aircraft by the end of 2017, implying an average growth rate of 16% pa for the calendar years 2014 to 2017. If passenger numbers grow at the same rate, this implies around 25 million passengers in FY2018.
Wizz Air fleet development (number of aircraft at calendar year end) and average age of fleet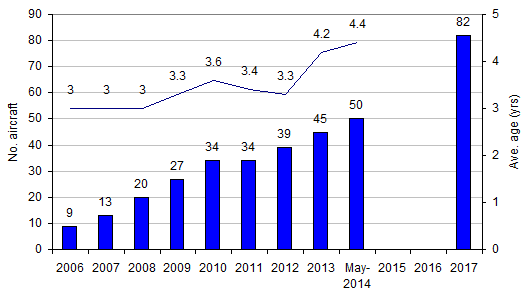 Further growth, building on strong market position in Central/Eastern Europe
Demand for aviation in Wizz Air's core region of Central/Eastern Europe is projected to grow faster than the rest of Europe, due to higher GDP growth and lower current levels of penetration of air travel. Nevertheless, Wizz Air's planned increase in traffic is much faster than market growth and will require further market share gains. In this respect, it should be helped by the fact that LCC share of seats within C/E Europe is only 15%, compared with 38% within Western Europe (year to date, May-2014, source: CAPA, with data provided by OAG).
According to OAG data for the week of 19-May-2014, Wizz Air is the number two low-cost carrier in Central/Eastern Europe, behind first placed Pegasus Airlines. However, since the group only serves one destination in Turkey (Wizz Air from Budapest to Istanbul Sabiha Gokcen and Wizz Air Ukraine from Kiev to Antalya), it is fair to say that it is the largest LCC in the region ex Turkey.
Top 10 low-cost carriers in Central/Eastern Europe: 19-May-2014 to 25-May-2014
| | | |
| --- | --- | --- |
| Rank | Airline | Seats |
| 1 | | 472,473 |
| 2 | | 378,000 |
| 3 | | 372,708 |
| 4 | | 161,304 |
| 5 | | 86,440 |
| 6 | | 71,862 |
| 7 | | 65,788 |
| 8 | | 58,190 |
| 9 | | 47,133 |
| 10 | | 45,254 |
| 11 | | 39,302 |
| 12 | | 23,624 |
| 13 | | 22,608 |
| 14 | | 20,877 |
| 15 | | 18,522 |
Ryanair is also strong in the region
Wizz Air's closest LCC rival is Ryanair. Data from OAG for the week of 19-May-2014 show that the Wizz Air Group has 8% more seats than Ryanair in the countries of Central/Eastern Europe overall, including countries where only one of them is present. It is 6% bigger than Ryanair overall in the C/EE countries where Wizz Air Group is present.
However, in the Central/Eastern countries where both airlines are present, Wizz Air Group is 5% smaller than Ryanair in the number of seats. (Across all countries where the two are both present, Wizz Air has 81% fewer seats, but many of Ryanair's routes are between two destinations in Western Europe and Wizz Air does not operate such routes). In addition, Ryanair's strength in Western Europe positions it better for travellers between Western and Central/Eastern Europe. For this reason, Wizz Air is focusing on routes from C/EE countries eastward to non EU destinations, even as far as the UAE.
See related reports:
Wizz Air versus Ryanair, number of seats: 19-May-2014 to 25-May-2014
FY2014 revenues are up 19%, with ancillaries especially strong
For FY2014, Wizz Air Group reported revenue growth of 19% year on year. From this and from data that it has announced on passenger numbers and ancillary revenue per passenger, we can calculate a breakdown of revenues over the past two years (see table below). Passenger ticket revenues accounted for 65% of the FY2014 total and increased by 14%, slightly ahead of the growth in passenger numbers.
Ancillary revenues increased by 29% and accounted for 35% of total revenues, a higher proportion than for any other European LCC (for Ryanair, it was 25% in FY2014).
Wizz Air Holdings revenue: FY2013 and FY2014*
| | | | | |
| --- | --- | --- | --- | --- |
| EUR million | FY2013 | FY2014 | Change | % of FY2014 total |
| Passenger ticket revenue | 577 | 659 | 14% | 65% |
| Ancillary revenue | 274 | 353 | 29% | 35% |
| Total revenue | 851 | 1012 | 19% | 100% |
A key part of Wizz Air's consumer appeal is its low fares and the average ticket revenue per passenger of EUR47.3 in FY2014 brackets it with Ryanair (EUR46.4, FY2014) and Pegasus (EUR44.3, calendar 2013) among the lowest in Europe. This group of three LCCs has significantly lower average fares than the next lowest group of LCCs (easyJet, Vueling and Norwegian, in the EUR65 to EUR80 region), although Wizz Air's average fares are higher than those of the other two.
Wizz Air performs strongly on ancillary revenue per passenger, with a figure of EUR25.4 in FY2014. This compares with EUR15.3 for Ryanair and EUR8 for Pegasus in the equivalent financial year. Wizz Air has grown ancillary revenue per passenger by an average of 15% pa from FY2010. Essentially, this reflects the success of its unbundled approach to its product.
Wizz Air's total revenue per passenger, which is perhaps a better reflection of what it costs passengers, on average, to use its services, was EUR72.8 in FY2014. This compares with EUR61.7 for Ryanair and EUR56.5 for Pegasus, but is far lower than for the next group of LCCs.
Wizz Air Holdings revenue per passenger: FY2010 to FY2014*
| | | | | | |
| --- | --- | --- | --- | --- | --- |
| EUR | FY2010 | FY2011 | FY2012 | FY2013 | FY2014 |
| Ticket rev per pax | 41.5 | 43.2 | 49.5 | 46.9 | 47.3 |
| Ancillary rev per pax | 14.5 | 16.6 | 18.6 | 22.3 | 25.4 |
| Total rev per pax | 56.0 | 59.8 | 68.1 | 69.2 | 72.8 |
Wizz has a good track record in managing ex fuel CASK
Wizz Air's profit growth in FY2014 must reflect revenue growth exceeding cost growth. Unfortunately, at this stage, we do not have data on costs in FY2014, other than two pieces of data reported by Wizz Air in its IPO announcement. First, it said that ex fuel CASK fell by 2% to EUR2.25 and, second, it reported that total CASK was EUR3.72 (but did not say by how much this had changed from the previous year).
Combining this with data previously presented by CAPA, the fall in ex fuel CASK in FY2014 demonstrates the continuation of a very consistent track record since FY2005, although it seems that it has become harder to cut ex fuel CASK since FY2010 after quite dramatic cuts in the years prior to then. We do not have data on average sector lengths and so it is not possible to analyse whether this CASK performance has been helped or hindered by changes in distances flown.
Our previous analysis of Wizz Air found that its low cost structure owed much to low labour costs and high labour productivity, although, when compared with Ryanair (which has the lowest CASK in Europe) it had some disadvantages in airport costs and aircraft-related costs (operating leases, depreciation and maintenance). The IPO should improve Wizz Air's credit rating and widen its access to funding and this should be beneficial to its aircraft-related costs. Moreover, as Ryanair increases its use of primary airports, the gap in airport costs may also narrow.
Although it has shown good control over ex fuel CASK, Wizz Air's total CASK increased in FY2011 and FY2012. Its FY2014 total CASK was similar to that achieved in FY2012. We do not know what level of RASK it achieved in FY2014, but its higher level of profit suggests that RASK was higher than in FY2012. From this, we can also infer that RASK has been on a rising trend since FY2010.
Wizz Air – index of operating cost per ASK (CASK) and total revenue per ASK (RASK) (each indexed to 100 in FY2009) FY2005 to FY2014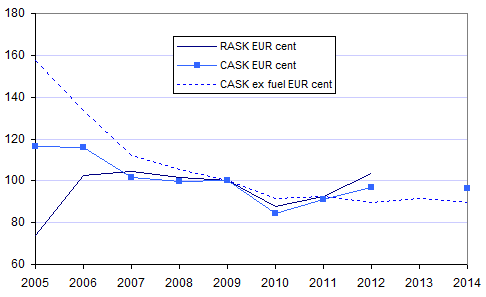 Wizz Air: an ultra-LCC with Europe's second lowest CASK
Wizz Air's FY2014 CASK figure also confirms that it belongs among the group of Europe's three ultra-LCCs. Its CASK is the second lowest among European airlines. Its greatest challenge may be that Ryanair, which has the lowest CASK, is also its closest competitor. The other one of the three, Pegasus, does not overlap much with Wizz Air's route network.
Operating cost per ASK (CASK, EUR cent) versus average trip length (km) for selected European low-cost carrier: 2013*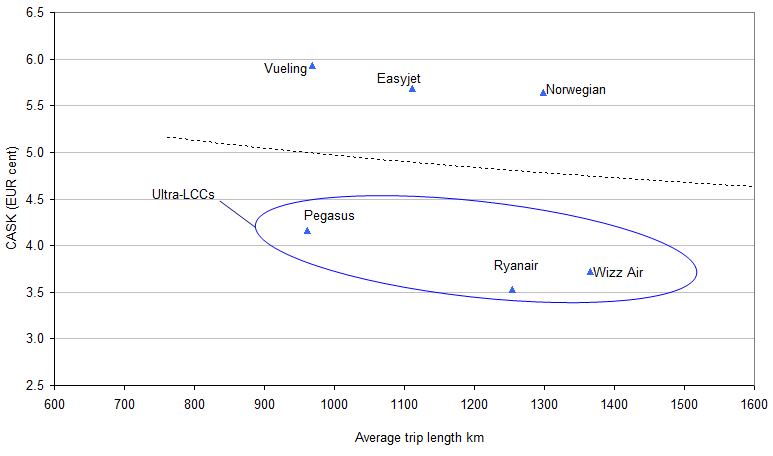 Now for an increased focus on the battle with Ryanair
Although full analysis will have to await the IPO prospectus, from the available data, we can see that Wizz Air Group has established a good record of growth in traffic and now also in profit.
It has used its very low cost base, built on high labour productivity and a good record of cost control, to build a strong market position in the fast growing markets of Central and Eastern Europe. Competition with Ryanair is unlikely to dissipate and Ryanair has both a cost advantage and a superior network (on a Europe-wide basis).
However, there are signs that the CASK gap with its even lower cost rival could close over time. The greater transparency brought about by a public listing will provide a great opportunity to compare and contrast Europe's two lowest-cost airline operators.