Wizz Air: to Dubai and beyond! Pushing the frontier of the narrowbody LCC model
Analysis
The United Arab Emirates' newest airport, Dubai World Central (DWC), opened its passenger terminal on 27-Oct-2013 and its first commercial passengers. The operator was Wizz Air, the Eastern/Central European LCC, with a flight from Budapest. Wizz Air Group (which includes Wizz Air Ukraine) also launched Bucharest, Sofia and Kiev from DWC as the winter season commenced.
According to Wizz Air CEO József Váradi, Wizz Air expects to handle 250,000 passengers on services to DWC in the first year of operations. Based on the four routes launched this week, this would imply load factors averaging 95%. Although Wizz Air's 2012 load factor was more than 85%, this seems very ambitious for new routes, even in the hyperbolic world of low-cost airlines. More likely, Wizz Air plans to add frequencies and/or routes through the year.
Either way, it demonstrates the carrier's confidence in taking the narrowbody LCC model further than most on routes that look to be under-penetrated. Mr Váradi is even talking of adding flights to India from DWC.
Wizz Air has commenced routes to DWC from Bucharest, Budapest and Sofia, while Kiev-based subsidiary has launched Kiev to DWC. All routes use 180 seat Airbus A320 aircraft, according to Innovata.
Wizz Air Group routes from Dubai World Central commenced winter 2013
| | | | |
| --- | --- | --- | --- |
| Destination | Weekly frequency | Aircraft | Seats/aircraft |
| | 3 | | 180 |
| | 4 | | 180 |
| | 3 | | 180 |
| | 4 | | 180 |
The new routes increase the Wizz Air Group's exposure to the Middle East, previously only served via Wizz Air's Tel Aviv routes. Without the four new routes, the Middle East would account for just over 1% of the Group's ASKs. The addition of Dubai brings this to almost 6%. While this is still quite small compared with its network in Western Europe and Eastern/Central Europe, it is starting to represent a meaningful exposure to the Middle East.
Wizz Air Group ASK by region before routes from Dubai World Central: 28-Oct-2013 to 3-Nov-2013
| | | | |
| --- | --- | --- | --- |
| Airline | W Europe | E/C Europe | M East |
| | 51.6% | 47.1% | 1.3% |
| | 79.6% | 20.4% | 0.0% |
| | 54.2% | 44.6% | 1.2% |
Wizz Air Group ASK by region including routes from Dubai World Central: 28-Oct-2013 to 3-Nov-2013
| | | | |
| --- | --- | --- | --- |
| Airline | W Europe | E/C Europe | M East |
| | 49.7% | 45.4% | 4.9% |
| | 70.0% | 17.9% | 12.1% |
| | 51.8% | 42.6% | 5.6% |
Dubai routes now feature in list of top routes for Wizz
This increased importance of Middle Eastern routes is evident in the lists of biggest routes for the group's two carriers. The Budapest-DWC route has leapt into Wizz Air's top 10 routes by ASKs, featuring at number six, while the smaller Wizz Air Ukraine now has Kiev to DWC as its number one route by ASKs.
Wizz Air top 10 international routes by ASK: 28-Oct-2013 to 3-Nov-2013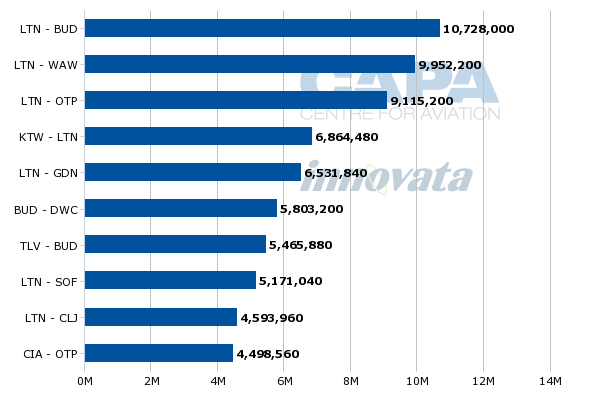 Wizz Air Ukraine top 10 international routes by ASK: 28-Oct-2013 to 3-Nov-2013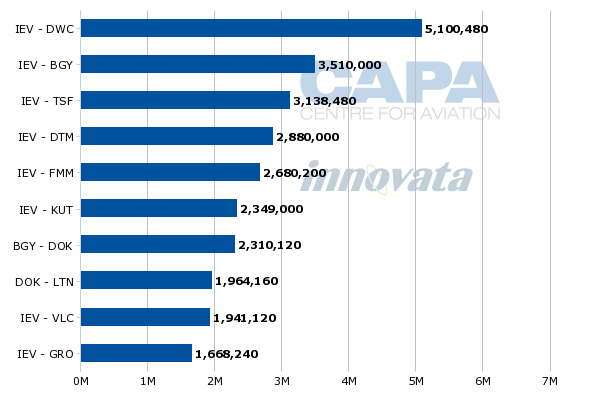 And DWC is now one of the group's biggest airports
Dubai World Centre has become Wizz Air Ukraine's number five airport by ASKs and the number 13 most important airport, out of a total of 87, for the Wizz Air Group as a whole.
Wizz Air Group top 10 international bases by ASK (million): 28-Oct-2013 to 3-Nov-2013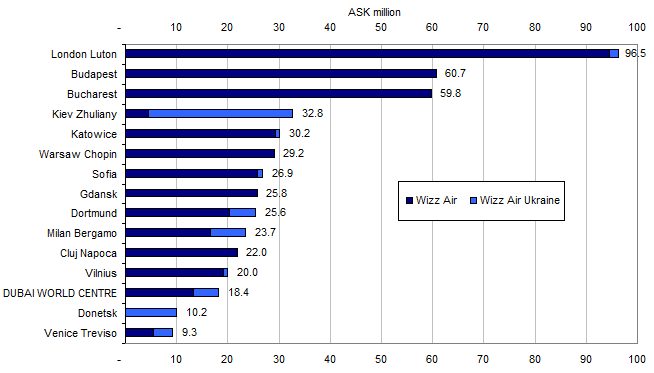 Wizz Air is DWC's biggest airline, but small in the total Dubai market
Dubai World Central share of seats by airline: 28-Oct-2013 to 3-Nov-2013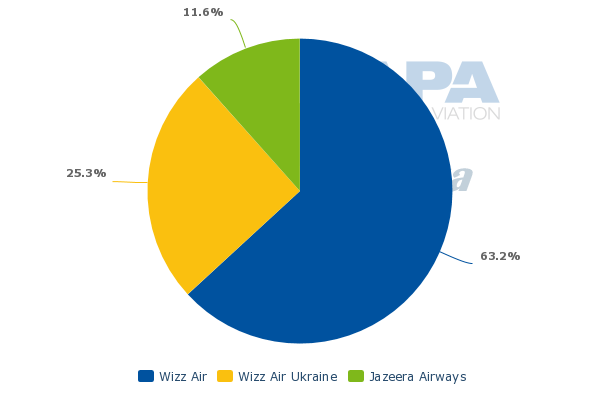 While Wizz Air Group is now the dominant carrier at DWC, it is only scratching the surface of the overall Dubai market. Its seat capacity at DWC represents 0.3% of the combined capacity of DWC and the much larger Dubai International. This highlights its challenge in building up a more significant presence in Dubai, although the significance of transfer traffic in the Emirate means that Wizz's share of the point-to-point market is probably around twice its headline share.
Wizz Air has a stronger share on the routes it operates from DWC
Moreover, Wizz's share of the routes that it operates is considerably more important than its share of total seats in Dubai. On an airport to airport basis, Wizz Air has a monopoly on all four of its routes from DWC. However, on a city pair basis (i.e. including routes flown from Dubai International), it faces competition from flydubai and TAROM on the Bucharest route; and from Ukraine International, flydubai and (from Jan-2014) from Emirates on the Kiev route (which also includes Kiev Boryspil).
Wizz Air Group market position on city pair routes from Dubai: winter 2013/2014*
The biggest foreign LCC from UAE to Europe
Could Wizz Air Group's entry into Dubai lead to further growth opportunities in this market? Based on Innovata data for the week of 28-Oct-2013, Wizz Air Group is the number 45 airline group in the United Arab Emirates and the number nine ranked LCC group in the UAE. On routes between UAE and Europe, it is the third biggest LCC (behind flydubai and Air Arabia) and the biggest foreign LCC on these routes.
United Arab Emirates LCC capacity share (%) of total seats: 2001 - 2013*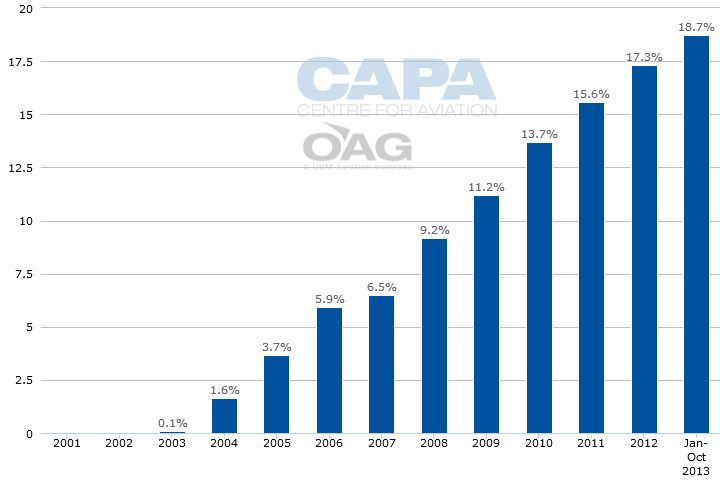 LCC penetration in UAE overall has been rising steadily over the past 10 years and has reached almost 19% of total seats (Jan-Oct-2013), compared with a worldwide penetration of 26% (source: CAPA - Centre for Aviation with data provided by OAG). LCCs have only 10% of seats between UAE and Europe, but – as might be expected from the geography – this is not evenly spread between Western Europe and Eastern/Central Europe. LCCs have only 1% of seats on UAE to Western Europe, but 34% on UAE to Eastern/Central Europe. This gives rise to two observations.
UAE to Eastern/Central Europe: can LCCs increase their share?
First, on initial inspection, LCCs' relatively high penetration on routes from UAE to Eastern/Central Europe might suggest that there is little scope for further gains by LCCs on these route. However, these routes form a market that is only around one third of the size of UAE to Western Europe (by number of seats).
This points to potential for further growth in air travel from UAE to Eastern/Central Europe and LCCs should be well placed to capture (and, indeed, to stimulate) much of this future expansion. Flydubai, the leading LCC in this region, has a market share of 19% of seat capacity, Air Arabia has 10% and the Wizz Air Group now has just over 3%.
Russia and Ukraine less likely focus for further Wizz Air expansion from DWC
For both flydubai and Air Arabia, Russia and then Ukraine are the principal country destinations in Eastern/Central Europe, although the region overall represents a fairly low proportion of their seat capacity. These two countries each account for 4%-5% of flydubai's seats and 3%-4% of Air Arabia's.
flydubai international seat capacity by region: 28-Oct-2013 to 3-Nov-2013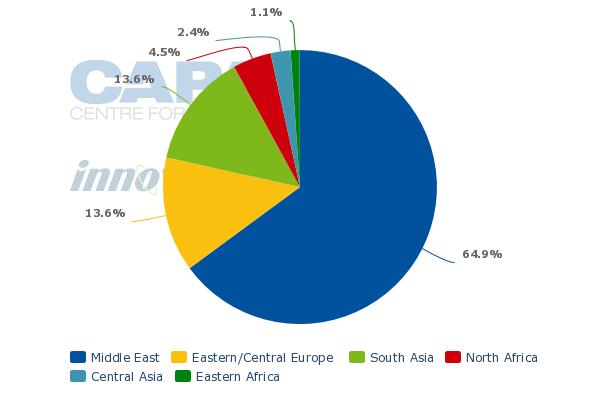 Any aggressive Wizz Air Group expansion from Dubai to Ukraine could lead to a significant competitive response from the two UAE LCCs, given their already strong presence. Russia is less important to Wizz Air and so seems a less likely destination for it to attempt to operate from Dubai.
Air Arabia international seat capacity by region: 28-Oct-2013 to 3-Nov-2013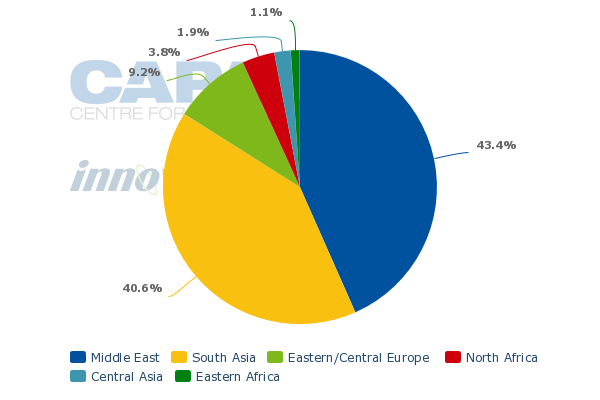 Outside of Russia and Ukraine, the markets for air travel from UAE to Eastern/Central Europe countries where Wizz Air is present are currently small. In Wizz Air's biggest market, Poland, Emirates is the sole operator from UAE with a daily service to Warsaw, but there is no LCC competitor. The most common LCC competitor is flydubai, but it only operates two or three weekly frequencies into most of these countries.
UAE to Eastern/Central European countries where Wizz Air is present: 28-Oct-2013 to 3-Nov-2013
| UAE to | LCC share | Wizz Air Group share | Main competitor |
| --- | --- | --- | --- |
| | 27% | 0% | |
| | 74% | 7% | |
| | 0% | 0% | |
| | 76% | 37% | |
| | 100% | 100% | Wizz Air monopoly |
| | 100% | 100% | Wizz Air monopoly |
| CzechRepublic | 6% | 0% | |
| | 31% | 0% | |
| FYR Macedonia | 100% | 0% | |
| Bosnia | 0% | 0% | No operators |
| | 0% | 0% | No operators |
In the Eastern/Central European countries where Wizz Air is present, and where it has seen strong growth recently, routes to Dubai would be roughly similar in length to its four new routes and so would not involve a significant change to the operating model. The market for routes from these countries to UAE can be characterised in one of five ways. In all cases, there is potential for LCCs to enter the market or to find further growth.
See related reports:
The second observation, arising from the low penetration of LCCs on UAE-Western Europe, is that there may be a significant opportunity in this market. The main hurdle to 'no-frills' operations on such sectors is the distances involved. Wizz Air's longest Dubai route is Budapest, at just over 4,000 km. This is already much longer than its average sector length in the region of 1,500 km and its previously longest route of around 2,600 km.
The UAE's two LCCs do not serve Western Europe currently. Flydubai's longest routes from Dubai are less than 4,000 km (to destinations in Eastern/Central Europe and the Indian sub-continent). Similarly, Air Arabia's longest routes from Sharjah are around 3,700 km. In addition, most Western European LCCs do not serve Dubai on the basis that the route is too long. EasyJet's longest routes, into Egypt, are around 3,900 km and Ryanair has no routes longer than 3,800 km (Aarhus to Gran Canaria).
In other parts of the world, the 4,000 km mark also seems to act as a threshold beyond which LCCs have not taken the narrowbody model.
AirAsia's longest route is around 2,900 km from Kuala Lumpur and Thai AirAsia's maximum is close to 3,000 km from Bangkok. AirAsia X flies routes of up to 7,000 km, but operates these with widebody aircraft. Jetstar's longest route using narrowbody aircraft, Sydney to Perth, is around 3,800 km, while Jetstar Asia flies routes of up to 3,900 km.
In the US, JetBlue's longest route, New York to Los Angeles, is just over 4,100 km and Southwest's Baltimore to Los Angeles is around 3,700 km.
Nevertheless, although Dubai routes from Western Europe would push the envelope of the narrowbody LCC model, this need not be an insurmountable hurdle. Some additional on-board comforts may be needed and the challenge would be to offer these without significantly adding cost to the business model. The ability to offer low fares profitably is key.
…but Western Europe from Dubai is possible with narrowbodies
Wizz Air would have to design crew and aircraft rosters that efficiently utilised its crew and fleet, but operating to Western Europe from Dubai with narrowbody aircraft is technically possible. The A320-200 operated by Wizz Air has a maximum range of 5,676 km and two LCCs do already operate to Dubai from Western Europe.
Norwegian Air Shuttle operates 737-800 equipment on winter routes from Dubai International to Oslo, Stockholm and Copenhagen (routes of around 4,800-5,000 km) and transavia.com operates the same equipment to Amsterdam (a 5,100 km route). Norwegian also operates routes of up to 9,000 km on its long-haul network, using 787 aircraft, but this is essentially a different model, rather than an extension of the existing medium-haul narrowbody LCC model.
See related report: Norwegian Air Shuttle: Asia's longhaul LCC model comes to the N Atlantic (but watch falling profits)
Next step India?
Not only do there appear to be opportunities for Wizz Air to add routes from Dubai into Europe, but the company is also reportedly considering using DWC as a hub for flights to India. According to CEO József Váradi, operating to India was scalable under Wizz Air's business model and now that the airline had entered the Dubai market it "begs the question what's next" (Gulf News, 27-Oct-2013). He said this is "certainly something being evaluated". He however said gaining approval from the Indian Government could be "difficult" and could require input from the UAE. The necessary bilateral rights are not in place at present.
Such a move would be the first example of a European LCC developing an intercontinental hub outside Europe. For a continent still adjusting to the idea of LCCs operating to long-haul destinations at all, this would be a radical step.
It raises questions of how to achieve a sustainable cost advantage. Wizz Air is very cost efficient by comparison with European competitors, but regional and Indian LCCs would push it hard. In the meantime, its Dubai push will be closely watched by European LCC competitors, who have previously regarded such a route as a step too far.
See related report: Wizz Air: why Europe's second lowest cost producer may be looking for fresh capital: IPO time?