WestJet will increase capacity after recording a rebound in yields during 2Q2014
Robust demand is driving Canada's WestJet to revise its CY2014 capacity upwards, largely through higher aircraft utilisation. The airline is opting to increase its supply as it recorded strong 2Q2014 results that included solid growth in profitability and better than expected unit cost performance.

WestJet also saw a rebound in unit revenues and yields during 2Q2014 after encountering pressure in those metrics during the past year - mostly driven by its own capacity growth from the debut of its regional subsidiary Encore and pricing pressure in some of its markets.

The airline believes that many initiatives it has undertaken during the past few years – fare bundles, the creation of Encore, and other product improvements – are beginning to bear fruit, which is driving an overall bullish outlook for WestJet as it embarks on the operation of widebody jets in late 2015.
WestJet's unit revenues and yields rebound in 2Q2015
WestJet recorded a 16% jump in net income during 2Q2014 to CAD52 million (USD47.6 million). Its top-line revenues increased 10% to CAD930 million (USD852 million) while operating expenses also grew 10% year-on-year to CAD852 million (USD780.6 million).
WestJet increased its operating income by 18% during 2Q2014 to CAD78 million (USD71 million).
WestJet financial results: 2Q2014 vs 2Q2013 and 1H2014 vs 1H2013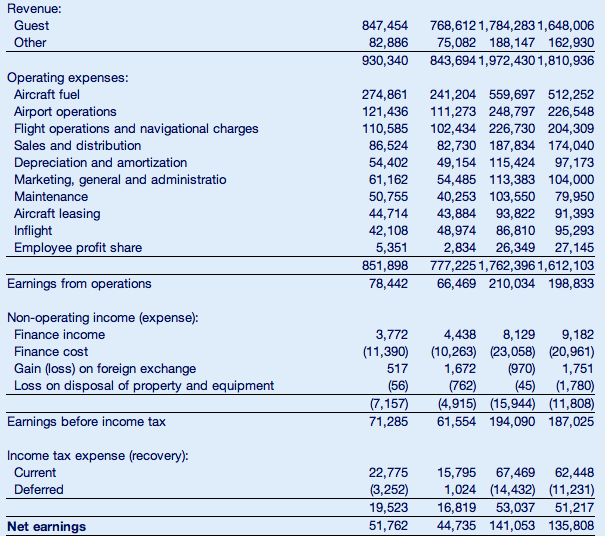 The airline recorded a pronounced improvement in unit revenue and yields during 2Q2014, which grew by 4.8% and 4.5%, respectively. It is a marked rise from the flat unit revenue growth WestJet recorded in 1Q2014 and the 1% increase in yields.
WestJet unit revenue, unit cost and yield performance: 2Q2014 vs 2Q2013 and 1H2014 vs 1H2013

WestJet's results in 1Q2014 were actually an improvement from CY2013 when unit revenues fell 1.6% and yields slid 0.4%. The revenue drag in 2013 was driven by the introduction of the operation of smaller 70-seat turboprops operated by Encore and pricing pressure in some of WestJet's markets. In response to Encore, Air Canada increased capacity in regional markets in Western Canada, which created pricing pressure in some of those markets.

See related report: WestJet continues attempts to recoup its revenue slide as international service debuts
WestJet sees a steady revenue contribution from Encore
Now that Encore has reached a full-year of operation, WestJet concluded, "Encore is starting to creep up every quarter with respect to its contribution to RASM". The airline also estimated that about 50% of the improvement in yield was driven directly by fares.

WestJet has previously estimated that roughly 50% of Encore's passengers connect onto mainline flights, which is helping to drive unit revenue and yield growth. The airline also ticked off a number of other factors that are driving the strong results, including strong traffic in most of its geographies plus its one-stop service to Ireland through St John's that debuted in Jun-2014. The airline highlighted strong demand in trans-border markets, driven by the depreciation of the CAD against the USD.

WestJet has concluded that it is pretty rare that it gets to "fire on all cylinders", referencing the performance of Encore, fare bundles, and partnership revenue. However, the airline did admit that there are some pockets of capacity creating headwinds. But overall the airline believes it can sustain its unit revenue and yield momentum, albeit not at the same growth rate as in 2Q2014.
WestJet opts to increase capacity growth for CY2014 as demand remains strong
The relative strength WestJet is seeing with respect to demand in most of its markets has resulted in the airline revising its capacity growth for CY2014 to a 6% to 7% expansion versus previous estimates of a 5% to 6% increase. The bulk of WestJet's CY2014 capacity – 5% to 6% – is dedicated to the domestic market as the roll-out of Encore continues.

During 1H2014 WestJet's capacity increased 6.6% while unit revenues increased 2% and yield grew 2.7%. It does seem odd for a North American airline to actually boost capacity; but WestJet has obviously concluded there is enough demand to absorb its uptick in capacity without diluting its revenues.
WestJet capacity and cost outlook: 3Q2014 and CY2014

A slight decrease in currency pressure fuels revised cost guidance for WestJet
WestJet's unit cost excluding fuel and profit sharing increased 1.9% during 2Q2014, which is a better result than the 3% to 4% increase the airline previously forecast.

The better than expected cost performance was driven by a change in advertising spend, negotiating lower contract rates with suppliers, and a better CAD-USD exchange rate.

For 3Q2014 WestJet projects an exchange rate of CAD1.09 to the USD, which is an improvement over previous projections of a rate of CAD1.10-CAD1.11. The slight strengthening of the CAD is allowing WestJet to project an improved unit cost performance for FY2014 of a 1.5% to 2% increase compared with previous estimates of 2% to 2.5% growth. The airline expects 3Q2014 unit cost excluding fuel and employee profit sharing to remain flat or grow 1%.
WestJet opts for Boeing 767s as its initial widebody platform
After declaring plans in Jul-2015 to acquire four widebodies to operate from Alberta to Hawaii in late 2015, WestJet has now selected the Boeing 767-300 as its initial widebody platform. Specific details of the acquisition are scant, but WestJet is targeting a seating configuration of 262 seats. The 767s will feature WestJet's Plus extra legroom offering, but no business class cabin, which is not surprising given the 767s are being placed on leisure routes to Hawaii. But WestJet may need to consider some sort of business class offering on newer widebodies it intends to acquire in the medium to long term in order to compete effectively with Air Canada on routes to Europe and Asia, and achieve its anticipated revenue targets on those routes.

In the short term, WestJet is taking a measured approach to its widebody aspirations, assuming routes to Hawaii that are presently operated on behalf of WestJet by Thomas Cook. WestJet has had the benefit of scrutinising that 757 operation to determine the proper capacity and price points without bearing too much risk.
Its 737 service to Dublin through St John's is also not a burden to the WestJet system, and allows the airline to learn the dynamics of trans-Atlantic operations without creating a drain on its overall operations.

See related report: WestJet takes a measured approach in crystallising its international widebody aspirations in 2015
WestJet's favourable outlook is encouraging for its CY2014 financial performance
Even as WestJet during the past year has hit some bumps in its unit revenue and yield growth, its overall financial performance has remained steady amid the numerous initiatives it has undertaken to shore-up revenue in the long term.

Throughout the launch of Encore and the roll-out of fare bundles WestJet has consistently exceeded its ROIC targets of 12%, recording a 13.7% ROIC for the 12M ending in Jun-2014. There is some debate as to whether WestJet should raise its targets; but for the time being it appears the 12% goal stays in place as the airline remains in a higher mode of growth.

At the moment WestJet seems to be absorbing its growth fairly smoothly while beginning to regain some pricing traction and getting a reprieve from cost headwinds. It is an encouraging combination as the airline's outlook for 2H2014 looks favourable. Barring a dramatic fall-off in demand, WestJet should deliver strong results for CY2014 as it no doubt works to solidify its long-haul strategy beyond the initial service to Hawaii.
Perhaps WestJet's biggest gamble – trans-Atlantic and trans-Pacific operations – is yet to come. But for now, WestJet is apparently on a roll.