WestJet share issue raises speculation of a planned acquisition, Frontier to emerge from bankruptcy
WestJet's shares slipped 4.4% yesterday following the carrier's announcement that it plans to raise up to CAD172.5 million (USD160 million) in fresh capital.
The unexpected share issue, which will reportedly dilute the carrier's shares by approximately 12%, has fuelled speculation that WestJet is readying for its first acquisition. Further fueling speculation is that WestJet had a healthy cash balance of USD687 million as at Jun-2009. The carrier's share price has fallen approximately 14% since the beginning of the year.
Westjet share price growth: Jan-2009 to Sep-2009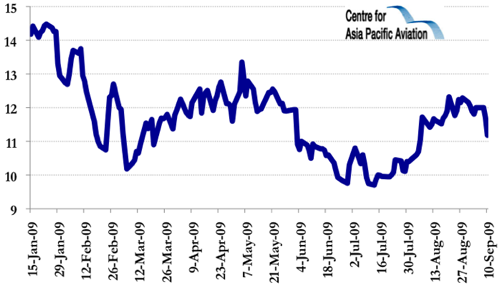 Frontier Plan of Reorganisation approved
Among the non-listed carriers, Frontier Airlines announced that the Bankruptcy Court for the Southern District of New York has confirmed the its Plan of Reorganisation, enabling Frontier to proceed to emerge from bankruptcy "on or about 01-Oct-2009", as a wholly-owned subsidiary of Republic Airways Holdings.
Southwest reaches tentative union agreement
Also in the US, Southwest's shares were up 5.0%, as the Southwest Airlines Pilots' Association yesterday confirmed that it reached a tentative agreement on a new employment contract with the LCC. Southwest stated the agreement is a "positive development", adding, "it's been a long process and there's a couple more steps to go, but we're encouraged."
AirAsia shares also down on share placement
AirAsia's shares were down yesterday, by 0.7%, on the same day the carrier announced shareholder approval of the proposed private placement of new ordinary shares worth USD0.03 (MYR0.10) and proposed amendments to the Memoranum of Association of the carrier. The stated it carrier is confident the private placement will be "well received" and hopes to raise at least USD142.8 million from the offering.
Selected LCCs daily share price movements (% change): 10-Sep-09
NB: DAILY LCC SECTOR strategic updates from around the world are NOW AVAILABLE! Sign up today for your free trial subscription to Peanuts! Daily.
Virgin Blue facing union problems?
Also in the Asia Pacific region, Virgin Blue's shares jumped 8.5% yesterday. However, the Transport Workers Union reportedly stated that the carrier's employees may vote on a strike in coming weeks after 69% of ground crew reportedly rejected a pay agreement. The union rejected a three-year agreement that included a 3.5% lump-sum cash payment and a 3% pay rise in the final year.
In other Virgin Blue news, the carrier, in a submission to the International Air Services Commission, stated it would operate a "virtual low cost cabin" on V Australia's B777-300ER aircraft on Sydney-Fiji services, to enable the carrier to maintain low fares on the route.