WestJet sees no stumbling blocks as it continues to lay the foundation for its new regional carrier
Analysis
Confidence among WestJet's senior management team is rampant as the airline moves closer to the launch of its new regional subsidiary dubbed WestJet Encore, which the carrier admits will create some cost pressures going forward as it prepares for the new airline's debut. However, carrier executives believe the underlying premise of WestJet's ability to lower fares in the smaller markets destined for Encore will not inhibit the carrier's yield growth, which during 3Q2012 grew a healthy 3.6%. They conclude the shorter stage lengths of the markets featured in Encore's network will continue to bolster the company's yield growth even as the new airline adds capacity to the Canadian domestic market place, which has seen rational supply expansion during 2012.
WestJet's construction of the new carrier has been swift due to a combination of employee cooperation and communities eager to attract service from the new carrier. WestJet first revealed plans for the proposed new regional subsidiary in Jan-2012 and then moved to secure employee approval to move forward with the enterprise. Endorsement from the workforce was followed by WestJet's order for 20 78-seat Bombardier Q400 turboprops and options for 25 additional aircraft.
The latest developments in the creation of Encore include revealing the name of its new subsidiary, and its base of operations, which unsurprisingly will be in WestJet's headquarters of Calgary. Previously, WestJet management stated that Encore would launch operations in either eastern or western Canada, and commence operations in the second region nine months after start-up in the first.
See related articles:
Now WestJet is putting Encore's management team in place and has named current EVP of People, Culture and Inflight Services Ferio Pugliese as the new airline's president, and is in the process of applying for an operating certificate with Transport Canada.
The planned delivery stream of seven Q400s beginning with two aircraft in Jun-2013 should support the debut of Encore during the busy summer travel season. Following those deliveries WestJet expects to take delivery of a single turboprop in Aug-2013 followed by a single delivery per month throughout the remainder of the year.
The carrier is working hard to keep the first destinations slated for operation by Encore under wraps, indicating it will make the markets public in the global distribution systems on 21-Jan-2013. But previously the carrier has essentially laid out an attack plan for cities operated by Air Canada's regional affiliates, estimating there are 30 destinations within Air Canada's regional network that are not served by WestJet. The airline has calculated the value of operating regional aircraft featuring more than 50 seats in Canadian domestic and transborder markets is CAD2 billion (USD2 billion). WestJet executives during a 3Q2012 earnings discussion confirmed that the destinations introduced by Encore during 2013 would be within Canada, which indicates short-haul transborder markets would be added on as the ramp-up of the new carrier accelerates.
Potential cities for WestJet's new subsidiary operated by Air Canada Express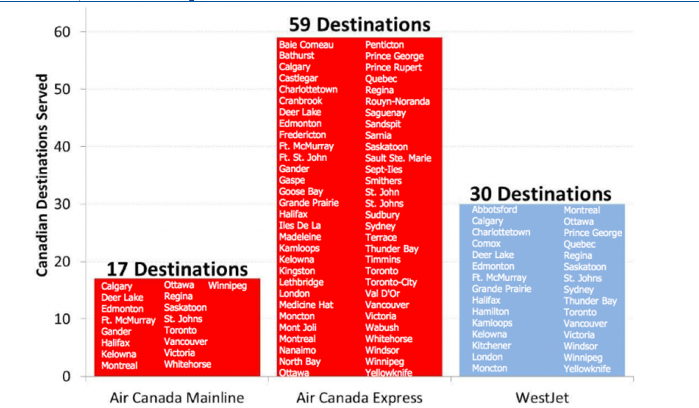 Encore should contribute to yield strength
WestJet has baked start-up costs into its cost guidance for 2013, and acknowledges investment to launch the new carrier will create some drag on its earnings. However, carrier CEO Gregg Saretsky assured that WestJet would continue to meet its stated goal of delivering return on invested capital (ROIC) in excess of 12%. During 3Q2012 WestJet recorded a trailing 12 month ROIC of 12.7%, up from 11.4% posted in 2Q2012.
Mr Saretsky remains bullish in WestJet's ability through its low-cost base to offer lower fares in the communities served by Encore while still achieving robust yield growth. The 3.6% increase in yields year-over-year during 3Q2012 joins 3.3% growth recorded for the nine months ended 30-Sep-2012.
He believes Encore will be a positive yield contributor, reasoning that "yields are a function of stage length, and these (markets operated by Encore) are shorter stage lengths, so even with big discounts these yields would be higher than our current average".
Marked capacity growth in 2013
Mr Saretsky's projections of robust yield production from the new Encore subsidiary were accompanied by WestJet's management declaring that with just seven aircraft introduced in Encore's fleet in the back-half of 2013, the capacity the new carrier will introduce into the domestic market place will be a small portion of the planned 7%-8% capacity expansion planned by WestJet during 2013.
WestJet capacity, revenue and cost projections: 3Q2012, year-end 2012 and year-end 2013

WestJet's planned capacity growth for the coming year is an almost doubling of the 4% increase estimated for the full-year 2012. The expansion in 2013 is also fuelled by the delivery of five Boeing 737-700s/800s for operation in the carrier's mainline fleet.
The capacity growth planned for 2013 appears somewhat high given that WestJet's domestic capacity growth during 2012 will be flat to down by 1%. WestJet's disciplined capacity management is being mirrored by its rival Air Canada, which projects overall capacity growth during 2012 of 0.5% to 1.5% with domestic capacity production falling within the same range.
Capacity restraint practiced by Canada's two main airlines during 2012 is one of the main drivers in WestJet's strong unit revenue growth of 9.5% during 3Q2012 and 7.7% for the nine months ending Sep-2012.
With significant capacity growth planned during 2013, it is possible WestJet could upset the supply balance within Canada. Presently the carrier is not disclosing the portion of the 7%-8% growth dedicated to the domestic market place, other than stating its domestic supply will rise year-over-year in 2013. Some of the overall increase will be weighted towards its Caribbean and sun destinations during the winter 2013 period, but overall it appears WestJet is set to increase domestic supply, which could pressure the yield environment.
The nearly doubling of WestJet's capacity growth in 2013 is being partially driven by narrowbody fleet growth of 5% year-over-year compared with 3% growth from 2011 to 2012. Based on WestJet's fleet projections there are no 737 lease returns or retirements during 2013, which means the five aircraft will bring the year-end fleet total to 105 737 narrowbodies and seven Q400s. That compares with just three 737 deliveries in 2012 for a year-end total of 100 aircraft.
WestJet's conservative 2% capacity growth during 3Q2012 was far below the nearly 8% rise in traffic recorded year-over-year which drove load factors up 4.5ppt to a record 84.6%. Mr Saretsky remarked that it is necessary for loads to be higher than WestJet's historical levels of 78% to 82% in order to cover fuel costs, which currently account for one-third of the carrier's expenses.
Both Air Canada and WestJet need to keep the capacity balance within the domestic market place in check as the country's 7% unemployment rate is driving some spending constraint by consumers. If the high unemployment rate persists, consumers will cut back on their discretionary spending, which will create yield pressure for both carriers if excess capacity exists in the market place. Air Canada's yield growth during 2012 has been more muted than WestJet's gains, but the carrier still posted positive growth of 1.2% during 2Q2012 and 2.2% during 1H2012 (Air Canada reports its 3Q2012 results on 08-Nov-2012).
Strong profit growth instills confidence
WestJet's confidence heading into 2013 is fuelled by a strong financial performance during 3Q2012 as its profits jumped 80% to CAD71 million (USD71 million) and 60% to CAD181 million (USD181 million) during the nine months ending Sep-2012.
WestJet financial performance: 3Q2012 vs 3Q2011 and nine months 2012 vs nine months 2011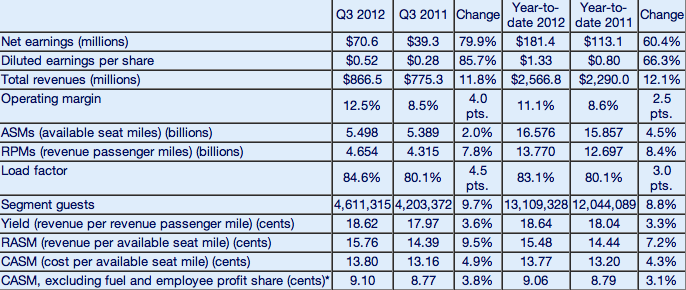 The carrier's year-over-year revenue grew 12% during 3Q2012 to CAD867 million and 12% for the nine months ending Sep-2012 CAD2.6 billion (USD2.6 billion).
Unit cost pressures that hovered over WestJet for much of 2012 should ease in 2013 based on the 2%-3% rise in unit costs projected by the carrier. During 2Q2012 WestJet revised its unit cost guidance upwards from 1.5% to 2.5% to 3% to 3.5%, driven by hiring and a seat reconfiguration project for the installation of a premium economy product on its 737 narrowbodies. Completion of the aircraft interior project has now been delayed from year-end 2012 to 1Q2013 due to delays in gaining all the requisite approvals from regulators.
While it is not suprising that WestJet management remains confident in its business strategy going forward, the reality is the macro-economic environment remains highly uncertain and great care needs to be taken in managing the debut of Encore to ensure that the launch does create too much pressure on its financials as current solid demand trends run the risk of turning negative quickly. Given the uncertainty that still hovers over world economic growth, the carrier needs to manage its capacity growth carefully in 2013 in order to sustain its profitability streak.