WestJet loses US market access as Southwest postpones codeshare. GOL turns positive.
WestJet (-3.0%) lost ground as partnership prospects dimmed in the short term. But GOL (+1.9%) rose after a recent declining trend as investors became more comfortable about the carrier's financial arrangements.
On a day when Wall St was closed for the Memorial Day holiday, trading was generally quiet and restricted.
North & South America selected airlines daily share price movements (% change): 25-May-09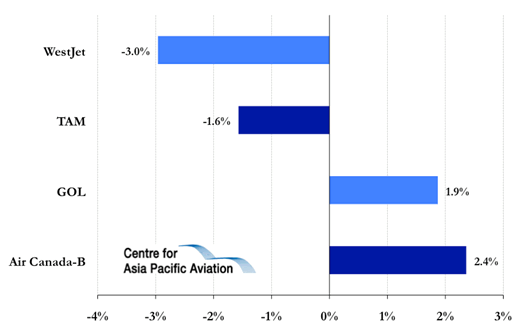 WestJet delays Southwest codeshare and FFP/GDS implementation
WestJet has had bad news on two fronts, each illustrating the difficulties faced by a high growth domestic LCC as it seeks to metamorphose into a larger player, with partnerships and international operations. And a lot of those surround getting the IT platform right.
All of this makes competing in the big league with Air Canada just that bit harder.
Perhaps the biggest setback was the announcement by Southwest that it would delay the proposed cross-border codeshare with WestJet, thus delaying WestJet's expansion into the US market. This had already caused some concern among Southwest pilots, who imposed restrictions on the American carrier's percentage of codeshare operations in their salary negotiations.
But the reason given for the postponement was, according to WestJet, that "With the recessionary revenue environment, Southwest has decided to re-direct a portion of its resources dedicated to the code-share project towards other near-term revenue opportunities."
For its part, Southwest made the appropriate noises about the future, despite the postponement. "In response to the current economic environment, Southwest is focusingits immediate attention on several critical objectives, including increasing our revenues," said Bob Jordan, Southwest Airline's Executive Vice-President, Strategy and Planning.
"While I am very excited about working to deliver new incremental revenue opportunities for 2009, it will have an impact on our timing for code-share delivery. We remain absolutely committed to our partnership with WestJet, and to code-sharing in general, and will do all we can to minimize the impact on our previously stated code-share plans."
However, the WestJet announcement also referred to the carrier's delays in getting its GDS operations right. "WestJet's implementation of the Sabre reservation system, which is key to code-sharing, is continuing on track and will be ready for launch in the fourth quarter of 2009," continued Dr. Hugh Dunleavy. "We are pleased with the significant progress being made on our rewards and credit card programs, and look forward to their launch once the reservation system is up and running."
This issue is a big and costly one for the Canadian LCC. It announced early in May-2009 that it was postponing introduction of its new frequent flyer programme until the end of 2009. This IT-driven problem is now being solved by waiting until the more upmarket, but LCC-oriented, SabreSonic reservations system. Management decided against interim use of the old system, preferring to wait and get it in full working order before restarting later this year.
WestJet tried for two years to develop its own enhanced version of the low frills Open Skies reservation system, but finally had to concede defeat with the aiRES attempt. This has meant now that introduction of a whole slew of potentially money-earning activities has been put on the back burner.
Now, while Air Canada is scraping the bottom of the barrel, it is able to use the power and support of its parent's highly successful Aeroplan loyalty programme. WestJet will delay access to that sort of revenue stream, as well as not being able to implement a profitable branded credit card.
And now, with at least another six months before it can effectively talk to potential partner airlines, with eg full earn-and-burn FFP capability, its wider partnerships with both Southwest and Air France-KLM will have to wait. The result, a loss of greater feed into and from its home market.
All of this is positive news for Air Canada as it battles to stay out of bankruptcy. But WestJet is still performing well. The pity for it is that this downturn would have been the ideal time to capitalise on its strengths.
GOL - confidence returns

GOL's share price has recently been dragged down by concerns about its funding arrangements, but as the dust clears, investors are now
gaining some confidence in the carrier's expansion plans.
GOL share price growth: Apr-2009 to May-2009