Virgin Blue expects breakeven in FY2010 after sinking to a deep loss in FY2009
Virgin Blue's shares slipped 4.1% yesterday, ahead of the release of the carrier's FY2008/09 financial results today, with the share price slightly lower in early morning trade today.
The carrier reported a full year loss of AUD160 million (USD134 million) in the 12 month period (to Jun-2009), on the lower end of its AUD160-165 million forecast, hurt by falling passenger demand amid the "toughest operating conditions in its nine year history" and costs (AUD74 million) associated with the launch of its long haul V Australian operations.
However, the carrier stated it expects to break-even in the current year, with a positive cash-flow even after excluding a AUD231.4 million capital raising launched last month. The carrier expects to reduce capacity by approximately 5% in the current year.
Virgin Blue also stated yields on its short-haul business had improved from May-2009 to Jul-2009. The carrier stated that "whilst it cannot be considered a recovery at this stage, it does indicate some stabilisation at least in the domestic market".
V Australia also continues to suffer, losing AUD124 million in the first four months of operations, reflecting "the difficult long-haul environment compounded by the US centric focus of the launch routes."
Virgin Blue shares have risen 38% so far in 2009 to yesterday's close, recovering from last year's 86% slump.
Virgin blue share price growth: Jan-2009 to Aug-2009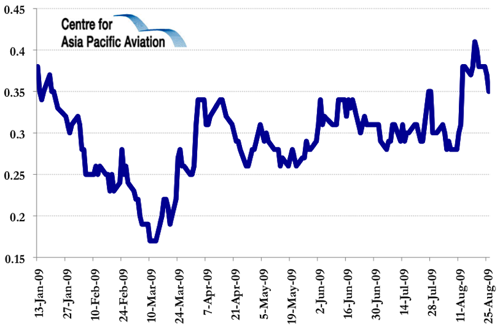 In the US, Southwest shares were down 0.9% yesterday, as the FAA stated it is investing the carrier over the use by a maintenance company hired by the LCC of unapproved parts for repairs on at least 42 of its B737 aircraft. However, the FAA stated the carrier could keep operating its aircraft for now.
Selected LCCs daily share price movements (% change): 26-Aug-09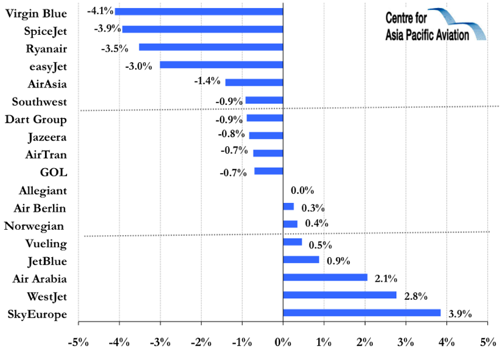 In Europe, both Ryanair and easyJet were down, by 3.5% and 3.0%, respectively, while Air Berlin gained 0.3%.
LCC SECTOR strategic updates from around the world are NOW AVAILABLE! Sign up today for your free trial subscription to Peanuts! Daily.