Virgin Australia realigns its airline partnership priorities on new long haul strategy: Part 2
Analysis
As Virgin Australia's unique accumulation of airline shareholders on its registry evolves, some of the longer term outlines of the Australian airline's strategy are unfolding. Air New Zealand is withdrawing as an equity owner, although the future nature of its partnership with Virgin has yet to coalesce. HNA Group, with its subsidiaries Hainan Airlines and Hong Kong Airlines is now on the register, along with the Nanshan Group, while Etihad and Singapore Airlines remain as substantial minority owners.
Part 1 of this report reviewed some of these issues in the context of Virgin Australia's international route plans.
Part 2 reviews the actual changes planned, as they relate to Virgin's US and Abu Dhabi routes and sets out why a greater emphasis on US routes is desirable for the short term, while a full picture becomes available for the more risky Chinese market.
This is Part 2 of a review of Virgin Australia's restructuring of its international routes.
Part 1 can be found here: Virgin Australia realigns its airline partnership priorities on new long haul strategy: Part 1
Virgin Australia returns to Los Angeles-Melbourne market, stabilising Delta partnership
The most significant part of Virgin's long haul restructure is the addition of four weekly services to North America – as with the rest of Virgin's North America network, the only destination served is Los Angeles. Virgin is adding five weekly Melbourne-Los Angeles flights. This is made possible by reducing Brisbane-Los Angeles from seven weekly to six weekly (thus a net addition of only four Los Angeles services); the three Abu Dhabi services are being redeployed then ground time is being tightened, producing the fifth weekly frequency.
Virgin serves North America with a daily Sydney-Los Angeles and daily Brisbane-Los Angeles flight. Virgin served Melbourne-Los Angeles from 2009 until 2014. Virgin ultimately had three weekly flights from Melbourne to Los Angeles and it was decided to redeploy the capacity to Brisbane-Los Angeles, which was four weekly. Rather than serve two markets with a limited presence, Virgin decided to concentrate on one market. Operationally, Melbourne was further inland (i.e. south and west) and started to press the 777-300ER's capability.
There was a thought, for many years, of Delta launching Los Angeles-Melbourne with 777-200LRs, whose longer range would have been more appropriate operationally. More recently Delta is understood to have weighed investing in Virgin - but seemingly rejected the idea.
Australia is not a major market for Delta but is important for a global footprint. Not to be ignored is the possibility that a Delta investment in Virgin would have strategically annoyed Delta's competitors American and United. Ultimately it seems that Delta is content to let its Australia footprint rest with only a service to Sydney, and no equity involvement.
Virgin's addition of four weekly flights to North America presents its response – finally – to the developments over the past two years of United serving Melbourne directly and deploying better aircraft, while American Airlines has entered in partnership with Qantas, and Qantas has relaunched San Francisco.
For Virgin Australia the change represents a 29% increase in its North American seat capacity and a 20% increase in its JV capacity (lower since its partner Delta is not growing). For the overall Australia-United States (excluding Hawaii) market, Virgin is adding 5% growth. Virgin-Delta's market share grows from 23% to 26% – still well below Qantas-American's 57%, but increasingly larger than United's 17% share.
Market share figures have limited implication and do not take into account the benefit from Virgin-Delta having service from all three major Australian gateways (now matching Qantas-American but with fewer frequencies and seats). United still serves only Melbourne and Sydney. Implications may be more significant for United than Qantas-American, which retains a dominating position.
There are also impacts to Air New Zealand, which had a tidy business carrying Melbourne-North America traffic via Auckland. That opportunity became more competitive when United started Melbourne-Los Angeles nonstop; Virgin's Melbourne resumption adds pressure.
Australia-US (excluding Hawaii) market share changes, before and after Virgin Australia restructures: Apr-2017
Virgin's withdrawal from the Sydney-Abu Dhabi market will result in Etihad replacing Virgin. Etihad had offered 11 weekly flights and Virgin three, so combined the two offered a twice daily service. With Etihad taking over Virgin's service twice daily service will be maintained. The change will not exactly be new.
Whenever Virgin has had to do maintenance, repaints, or cabin work on its 777-300ERs the small size of the fleet (five frames) has meant needing to withdraw services. Sydney-Abu Dhabi has been the service to get the temporary cut. It is the least important for Virgin, and Etihad can backfill the capacity.
Since 2012 Virgin has withdrawn its three weekly Sydney-Abu Dhabi services around every February for approximately a month, although duration has varied. In 2016 there has been an extended withdrawal from Feb-2016 through Aug-2016.
Virgin Australia Sydney-Abu Dhabi frequency: 2011-2016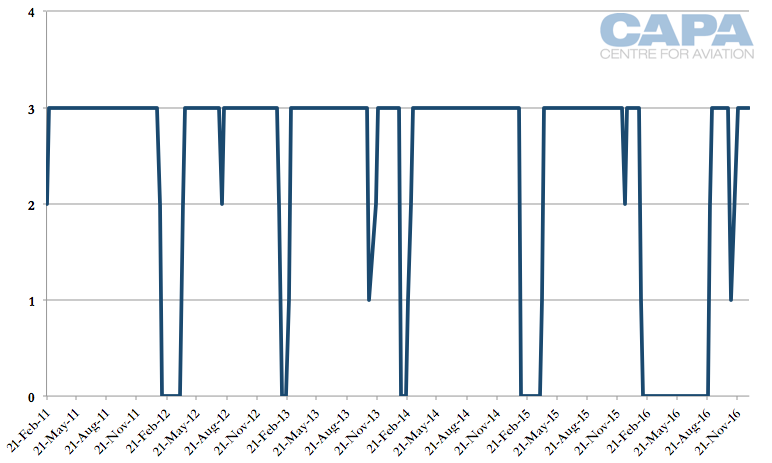 Etihad having year-round, twice daily Sydney service ensures a consistent product and alignment on a flagship market. Virgin does not offer first class (Etihad does), whereas Virgin does offer premium economy (Etihad does not). Etihad's other daily Sydney service will continue to be operated by its A380, which also goes only to London, Melbourne, Mumbai and New York.
The change may seem a loss for Virgin as it exits the route – from its largest city (Sydney) to the hub of its partner (Abu Dhabi). But nearly since the inception the service was a token contribution to the Etihad partnership. The partnership has faded since Virgin formed a partnership with Singapore Airlines, which is a larger presence in Australia than Etihad.
SIA does not have as extensive a European network, but it has a bulkier presence in the major European cities. Virgin had long struggled to identify what to do with its spare 777 capacity left over from filling out its Los Angeles network. If anything, this decision was overdue and should not be seen as a loss, but as graduating and moving on.
Etihad's experience has been that its partners have lose interest in serving its Abu Dhabi hub, largely because the reliance on transfer traffic makes it difficult to find mutually agreeable commercial models for joint service. Etihad still has Virgin service into Abu Dhabi, albeit not from a key market. But in the case of a major market like Sydney, it is probably in Etihad's favour to have a consistent product.
With Etihad owning part of Virgin, a stronger North America business for Virgin should benefit Etihad too.
Virgin will add three weekly Perth-Abu Dhabi A330-200 services, supplementing Etihad's existing daily 787-9 service. As Etihad will add three weekly Abu Dhabi-Sydney flights to replace Virgin's withdrawn services, Etihad's Australian services increase from 39 weekly to 42 weekly. Virgin's service will bring the combined Etihad-Virgin JV total to 45 weekly – still much lower in frequency and seat capacity than the Emirates-Qantas operations.
In the Perth-Middle East market the combined Virgin-Etihad presence will mean that the two together will be larger than Qatar but some size below Emirates (Qantas does not operate to Dubai from Perth).
Perth Airport to Middle East (seats per week, one way): 19-Sep-2011 to 6-Mar-2017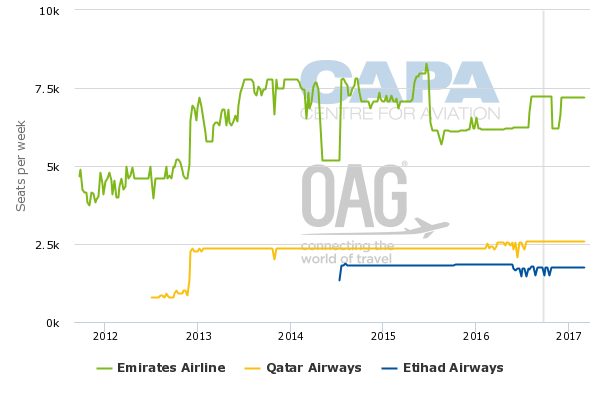 With Virgin focusing 777-300ERs exclusively on Los Angeles the airline was left with A330-200s that could contribute to the Etihad partnership. Perth is the only major Australian city that could offer sustainable A330-200 service. The initial JV programme envisaged Virgin flying Brisbane-Singapore-Abu Dhabi alongside Etihad's exact routing on the city pair. That lost lustre as Virgin did not see the strongest performance in Abu Dhabi, Singapore Airlines came on as a partner (and would not have welcomed a routing via its home hub of Singapore), and finally Etihad moved to nonstop Brisbane-Abu Dhabi service.
Virgin's Abu Dhabi service from Perth appears operationally pragmatic. Yet there may also be a strategic component: Qantas is weighing nonstop Perth-London service. Over the years Virgin and Mr Borghetti have rightfully advocated a virtual long haul network for the airline instead of many online points, but Virgin may not be willing to forgo any online/own metal presence en route to Europe.
Sydney-Abu Dhabi fulfilled this, but at a cost, and the capacity is now finally being smartly redeployed.
The outbound Australian market may demand some presence from Virgin, even token, to a region other than North America. Virgin can serve Abu Dhabi more efficiently from Perth on A330s than Sydney on 777s, and with lower capital. 777s can reach Los Angeles, but A330s cannot.
CAPA has discussed Qantas' Perth-London evaluation in a report about financial earnings.
See related report: Qantas achieves financial sustainability, now takes on Singapore Airlines and Cathay Pacific
Virgin grows relatively stable LA flying before more risky Hong Kong and Beijing growth under HNA partnership
This long haul restructure may not be greeted with as much public enthusiasm as Virgin's entry into Asian hubs. This restructure adds services (a net four weekly) but still within the confinement of Abu Dhabi and Los Angeles.
Yet this is stable growth and relatively guaranteed – Los Angeles especially. There may come a time when Virgin no longer finds that it makes sense – financially or strategically – to serve Abu Dhabi.
The increased North American flying will help reduce the risk and initial losses on Virgin's planned services to Beijing and Hong Kong under partnership with HNA. Virgin is up against significant competition, and airlines far bigger – in network and political connections – than HNA. Greater China flying is a medium- and long-term opportunity. Shareholder changes have stabilised Virgin, but with the airline remaining fragile, it needs additional mature flying to offset new endeavours.
See related reports: