Virgin Atlantic & Flybe hope codeshare helps them further into profit. Benefits are there for both
Analysis
Virgin Atlantic and Flybe, both back into profit after periods of losses, will launch a new codeshare from 2-April-2016. The agreement involves 19 short haul routes operated by Flybe, both domestic UK and international. These will connect into 15 Virgin routes from the UK to the US and Caribbean at all three UK airports outside Virgin's main Heathrow hub, namely Manchester, Glasgow and Gatwick.
The deal gives Virgin access to feed from 12 UK domestic routes and seven UK-Europe routes. This helps it to address its lack of short haul feed, albeit in a different way from the now defunct Little Red operation that only brought domestic traffic into Heathrow. Virgin's Delta relationship has changed its priorities in this regard. The codeshare also offers Flybe, which has gradually expanded its codeshare strategy in recent years, the potential for additional demand from passengers connecting to long haul leisure destinations.
Not long after Saad Hammad joined Flybe as CEO in 2013 he launched a restructuring and rebranding that he called the 'purple way'. Virgin Atlantic will be hoping that purple is a better colour than red for its short haul needs.
Codeshare embraces 25% of Flybe's seat capacity and 36% of Virgin Atlantic's
In some ways, Virgin Atlantic and Flybe are two of the UK's most distinctive airlines. One is the country's only long haul specialist airline (and one of a very small number anywhere in the world that focus on long haul point-to-point). The other is Europe's largest independent regional airline.
The three airports with routes included in the deal between them are Manchester, with 14 Flybe routes and four Virgin routes; Glasgow, with four Flybe routes and one Virgin route; and London Gatwick, with one Flybe route and ten Virgin routes.
The routes concerned represent 25% of Flybe's total seat capacity, but only 12.5% of its routes. The Flybe routes include six in its top 10 by seats in the week of 4-Apr-2016.
The connecting routes operated by Virgin Atlantic represent 36% of the long haul airline's seats and half of all its routes, including four of its top ten routes by seats (using data from OAG for the week of 4-April-2016, which will be the first full week of the agreement).
Flybe and Virgin Atlantic: routes covered by new codeshare and percentage of seats for each airline*
| Flybe operated | Share of Flybe seats | UK airport | Virgin Atlantic connecting destinations | Share of Virgin Atlantic seats |
| --- | --- | --- | --- | --- |
| | 2.6% | | Orlando | 6.7% |
| | 2.2% | | | 3.1% |
| | 2.0% | | | 1.2% |
| | 2.0% | | | 0.6% |
| | 1.7% | | | |
| | 1.0% | | | |
| | 1.0% | | | |
| | 1.0% | | | |
| | 0.7% | | | |
| | 0.7% | | | |
| | 0.6% | | | |
| | 0.5% | | | |
| | 0.4% | | | |
| | 0.3% | | | |
| Flybe total to MAN | 16.9% | | Virgin total from MAN | 11.6% |
| | 1.6% | | | 8.6% |
| | | | | 4.3% |
| | | | | 3.1% |
| | | | | 1.8% |
| | | | | 1.8% |
| | | | | 1.3% |
| | | | | 1.3% |
| | | | | 1.2% |
| | 1.6% | | Virgin total from LGW | 23.5% |
| | 2.4% | | Orlando | 1.2% |
| | 2.2% | | | |
| | 1.3% | | | |
| | 0.5% | | | |
| | 6.3% | | Virgin total from GLA | 1.2% |
| Flybe grand total | 24.9% | | Virgin grant total | 36.3% |
Flybe generally has a strong market position on the routes covered
Flybe is the UK's second biggest domestic airline by seats (behind easyJet), but the biggest in the UK domestic market if ranked by frequencies.
See related report: Flybe moves towards Chapter 4 in its restructuring: Profitability
Flybe generally has a strong market position on the 19 routes covered by the new codeshare with Virgin Atlantic. Indeed, viewed on a city pair basis, Flybe is the number one operator by seat capacity on 15 of these routes, and it is the only airline on 12 of them. There are LCCs on each of the seven competitive routes: Flybe faces easyJet on six of them and Eurowings on the other.
The most competitive city pair among them is Paris-Manchester, which includes Air France, easyJet and Ryanair as competitors. Ryanair is also on the Milan route (but from Bergamo, compared with Malpensa for Flybe and easyJet).
Flybe is only ranked third by seats on Amsterdam-Manchester (behind KLM and easyJet).
Flybe competitive position on routes covered by new codeshare with Virgin Atlantic
Virgin well-placed on most of its routes that will be fed by Flybe
According to OAG data for the week of 4-Apr-2016, Virgin Atlantic has a leading market position by seats on nine of the 14 city pairs that will now be fed by Flybe. Virgin is the monopoly supplier on three of these routes. Eight of the competitive routes are duopolies (with Virgin the leader on three of those). Out of the six routes where Virgin faces more than one competitor, it is the leader on three.
Thomas Cook will operate a peak summer service to Orlando, mainly from London Stansted but also from Gatwick, ranking it number two by seats on the city pair in Aug-2016.
Thomas Cook will also increase its Glasgow-Orlando capacity in the peak season to be number one in late Jun-2016/early Jul-2016.
Virgin Atlantic competitive position on routes connecting with Flybe codeshare routes
| From | To | Competitors ranked by seats on city pair |
| --- | --- | --- |
| | Orlando | 1 Virgin, 2 Thomas Cook, 3 Thomson (to Sanford) |
| | | Virgin Atlantic monopoly |
| | | 1 Virgin, 2 Thomas Cook* |
| | | Virgin Atlantic monopoly** |
| | | |
| | | |
| | | 1 Virgin, 2 BA |
| | | 1 Thomson, 2 Virgin, 3 BA, 4 Thomas Cook |
| | | 1 Virgin, 2 Thomson |
| | | 1 BA, 2 Virgin |
| | | 1 BA, 2 Virgin |
| | | Virgin Atlantic monopoly |
| | Orlando | 1 Virgin, 2 Thomas Cook, 3 Thomson (from May, to Sanford) |
Virgin Atlantic began its own domestic-only short haul feeder airline in Apr-2013 – Little Red, operated on its behalf by Aer Lingus. Little Red operated routes from Manchester, Aberdeen and Edinburgh into Virgin's principal hub at Heathrow.
This was partly an opportunistic response to the enforced availability of slots at Heathrow resulting from British Airways' acquisition of bmi. It was also partly an attempt to fill Virgin's ongoing lack of short/medium haul feed, although it had traditionally always operated on a point-to-point basis, relying on the strength of London as an O&D market.
Little Red terminated the Manchester operation in Mar-2015 and the other two routes in Sep-2015, after failing to attract sustainable load factors. Virgin's new codeshare agreement with Flybe does not involve Heathrow, which is not part of the Flybe network, so it cannot be seen as a direct replacement for Little Red.
Nevertheless, Flybe is Virgin's only codeshare partner in Europe (following the demise of former codeshare partner Cyprus Airways, which flew from Larnaca to Heathrow). As such, it could be seen as a replacement in the sense that it is the only supplier of short haul feed into Virgin Atlantic's all-long haul network.
See related report: Virgin Atlantic's track record of losses: Delta should help, but what about SkyTeam?
Delta strengths at Heathrow reduce the need for feed at Virgin's biggest base
Virgin's close partnership with Delta has increased its focus on the UK-US market and has strengthened its position at Heathrow, to a degree reducing the need for partner feed there. Virgin is number two by seats at Heathrow with a share of 4.7%, while Delta is number 11 with 1.6% (source: OAG, week of 4-Apr-2016).
See related reports:
London Heathrow Airport: airlines ranked by share of seats 4-Apr-2016 to 10-Apr-2016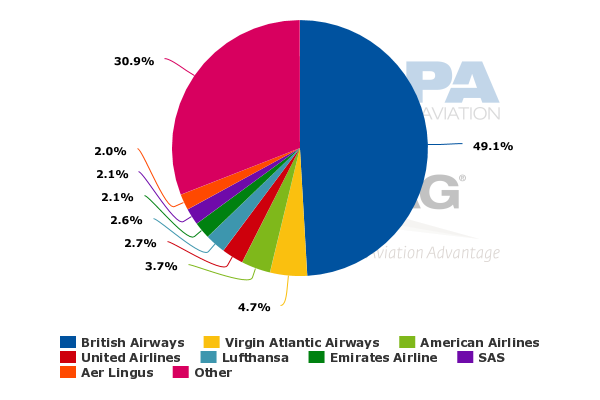 Flybe can boost Virgin's presence at Manchester
At Manchester, which is Virgin's biggest UK airport outside London, by contrast it is only ranked number 11 by seats, with a share of 3.0%. Flybe is Manchester's number three airline, with 10.0% of seats in the week of 4-Apr-2016, behind Ryanair and easyJet.
Manchester is Flybe's second most important UK airport after Birmingham. In addition to the 14 Manchester routes in the new codeshare, Flybe also operates five other routes to/from the airport (data source: OAG, week of 4-Apr-2016).
Ryanair and, to a lesser degree, easyJet have both indicated that they would be open to interline agreements with long haul airlines to facilitate feed, but would be unlikely to go so far as a codeshare at this stage. Ryanair has so far not even reached an interline agreement with another airline, mainly due to difficulties in agreed the allocation of responsibility in the event of a missed connection.
In reality, therefore, at Manchester Flybe is the biggest airline that is open to a codeshare. The Virgin-Flybe deal seems mainly to be based on potential feed at Manchester.
Gatwick seemingly not core to the new codeshare
At Gatwick, Virgin Atlantic's number two UK airport after Heathrow, the airline is only seventh with 3.5% of seats, but Flybe is only 18th with 0.5% and just one route. Flybe's passengers from Newquay are unlikely to have much impact on Virgin's long haul network.
The agreement with Virgin is not really about Gatwick, an airport that Flybe all but exited in 2014.
See related report: EasyJet works the Gatwick slot machine as Flybe cashes out
Flybe also has a significant presence at Glasgow
Virgin is number 15 at Glasgow, with 0.8% of seats, while Flybe is number three with a share of 14.5%, behind easyJet and British Airways and ahead of fourth ranked Ryanair (source: OAG, week of 4-Apr-2016). As with Manchester, Flybe is the biggest airline at Glasgow that is available for codeshare.
Glasgow is Flybe's number six UK airport and it operates 13 more routes there, other than the four that are in the codeshare agreement with Virgin.
Virgin has no load factor problem at the three airports
As a point of interest, Virgin Atlantic typically achieves better load factors on its US routes from the three Flybe codeshare airports than it does at Heathrow, according to statistics reported to the US Bureau of Transportation.
In 2014, the last year for which complete data are available, Virgin Atlantic achieved a load factor of 74.5% on its London Heathrow-New York JFK route, for example. Load factors in the mid 70% area are typical for its JFK operation, while it reaches 80% and more on US routes from Gatwick, Manchester and Glasgow.
On Gatwick-Orlando it achieved 82.5% and on Gatwick-Las Vegas 83.3% in 2014. Its Manchester-Orlando load factor was 84.5%, Manchester-Las Vegas was 82.6% and Glasgow-Orlando 81.9%.
To a large extent, comparison of load factors is blurred by the different nature and structure of the routes. Virgin's JFK operation tends to be high frequency with a significant proportion of higher yield premium passengers, whereas its routes from the other three airports are relatively low- frequency with a greater leisure focus.
However, these kinds of leisure routes tend to rely more on feed compared with the strong point-to-point demand at Heathrow and it seems likely that Virgin's high load factors have been at the expense of yield dilution. The Flybe codeshare may help to enhance the economics of these routes through improving the balance of supply and demand.
Flybe is a regional airline with a fleet consisting only of regional jets and turboprops, and a network that includes many smaller regional airports.
Even where it operates from larger airports, Flybe's route structure tends to focus on destinations that are underserved. That being so, Flybe has no competition from other airlines on a large part of its network. However, its brand has some LCC-like qualities and it is classified with LCCs in CAPA's (OAG-based) databases.
This may limit its appeal to some of Virgin Atlantic's passengers, particularly those used to some kind of premium product. Flybe's aircraft are configured with 100% economy class seats, whereas Virgin Atlantic's are 78.5% economy, 13.8% premium economy and 7.7% business class.
Virgin Atlantic Airways schedule by class of seat 4-Apr-2016 to 10-Apr-2016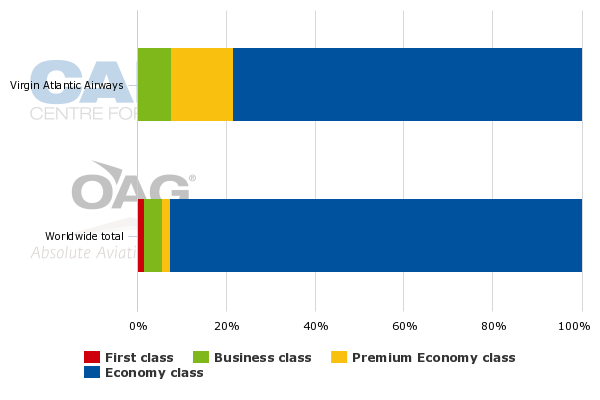 Schedules also face some challenges to fit well
There may also be some limits to the potential feed generated by the codeshare as a result of the schedules of the two airlines, at least initially.
As an example, at Manchester (the biggest point of overlap under the agreement) on Monday 4-Apr-2016, Virgin Atlantic's three incoming flights arrive at 7.35am (from Orlando), 8.20am (from Atlanta) and 8.30am (from Bridgetown). Its three departing flights then leave at 10.30am (Orlando), 11am (Atlanta), and 1.15pm (Bridgetown), according to schedules data from OAG.
On the same day, Flybe has a more even distribution of departing flights, with 81 out of 115 leaving between the hours of 10am and 9pm, so most of Virgin's arriving flights could transfer onto Flybe routes. However, 54 of these (67%, two thirds) depart at 4pm or later, requiring a long wait.
Flybe's schedule places greater limits on its ability to feed Virgin Atlantic outbound flights. Only 18 of Flybe's 115 incoming flights on 4-Apr-2016 arrive before 9am, early enough to feed each one of Virgin's departures. It has a further 12 flights arriving before 11am and eight more arriving before midday.
The remaining 77 incoming Flybe flights arrive too late for their passengers to connect to any of Virgin's departing flights that day (data source: OAG, 4-Apr-2016).
Flybe arriving at departing flights at Manchester Airport 4-Apr-2016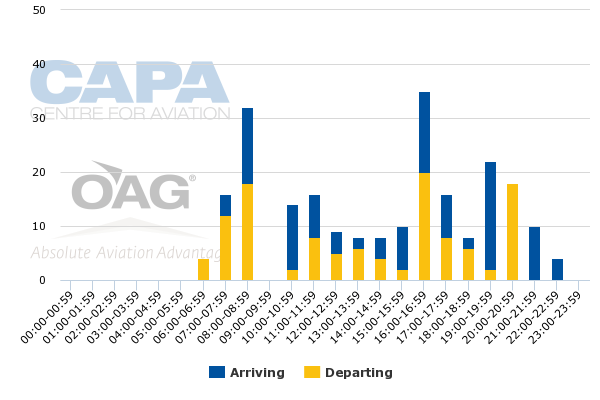 The new codeshare should bring benefits to both airlines
In spite of some issues of fit between the brands and the schedule coordination challenges for Virgin Atlantic and Flybe, the new codeshare should bring benefits to both airlines. Furthermore, in fact there ought to be opportunities to refine their schedules for a better fit over time. Manchester, the most important airport in this agreement, is not capacity constrained.
Virgin should attract some additional feed into its long haul network, particularly the leisure destinations in the US and Caribbean offered from Manchester, Glasgow and Gatwick. It already has quite high load factors on its US routes at these airports so any increase in demand could be beneficial to yield.
Moreover, unlike Virgin's unsuccessful Little Red operation, a codeshare agreement is a low-risk way for the airline to increase short/medium haul feed, which has historically been a gap in its business model.
For Flybe, the deal brings the prospect of increased demand for a number of its regional services between the UK/Europe and Manchester, Glasgow and Gatwick – from passengers connecting into Virgin's long haul network.
As part of a broader partnership strategy that already includes nine other codeshare partners, this could help to stabilise the falling load factors reported by Flybe in its 1HFY2016 results and increase confidence in its own profit recovery.