Virgin America weathers capacity onslaught in New York, Dallas, with strong unit revenue performance
Analysis
Virgin America is joining nearly every other US airline in forecasting a decline in unit revenue growth for 2Q2015 after posting an increase that was higher than most of its US airline peers during 1Q2015. Its solid performance was more impressive given that the airline faced significant competitive capacity additions in its New York and Dallas markets.

During 2015 Virgin America is making moves to balance out some of the seasonality in its network largely through its new service at Dallas Love Field and the addition of flights to Hawaii scheduled to begin in late 2015. Those investments could take some time to pay off as each market remains highly competitive. But Virgin America is citing some positive trends in Dallas, and aims to leverage its point of sale strength in California for service to Hawaii.

At the same time as Virgin America's unit revenues are declining, its unit costs are increasing - mainly due to salary increases to bring employee wages in line with industry averages. All this is creating some choppiness for Virgin America in 2015 as capacity growth resumes in 2016.
Virgin America's 1Q unit revenue performance tops most US airlines
Virgin America recorded a 2.6% increase in passenger unit revenue growth during 1Q2015, which was a better performance than the three large US network airlines and Southwest, Alaska and Hawaiian. JetBlue had the best PRASM performance among the largest US airlines in 1Q2015 of 4.5%.
US airline passenger unit revenue performance: 1Q2015
The increase posted by Virgin America was against a backdrop of pressure in its largest markets, New York transcontinental routes, and continuing negative effects from competitive capacity additions in Dallas. Factoring out New York and Dallas, Virgin America's unit revenue across the rest of its system grew by 7% in 1Q2015.

See related report: Virgin America achieves a second year of profitability despite revenue pressure in key markets

Breaking down Virgin America's unit revenue performance, CEO David Cush recently stated that the airline's unit revenues increased slightly in the New York market during 1Q2015, noting its goal was to hold onto unit revenue on those transcontinental routes while keeping its operations simple – maintaining a single fleet type and a smaller premium cabin compared to its competitors.
Virgin America appears to hold its own in New York's new competitive dynamics
As JetBlue and the three large network airlines have added or revamped their premium cabins in the New York transcontinental market during the last couple of years, Virgin America's business class (which does not feature a lie-flat seat) has remained unchanged. Mr Cush stands by the airline's decision not to undertake a product refresh, noting that "what we see in the numbers" is that passengers like the intimate setting of Virgin America's eight seat first class product compared with premium offerings on competitors that offer a larger number of seats.

JFK transcontinental flights remain the backbone of Virgin America's network. Its Los Angeles-JFK and San Francisco-JFK remain the airline's largest routes measured by ASKs.
Virgin America top ten domestic routes by ASMs: 4-May-2015 to 10-May-2015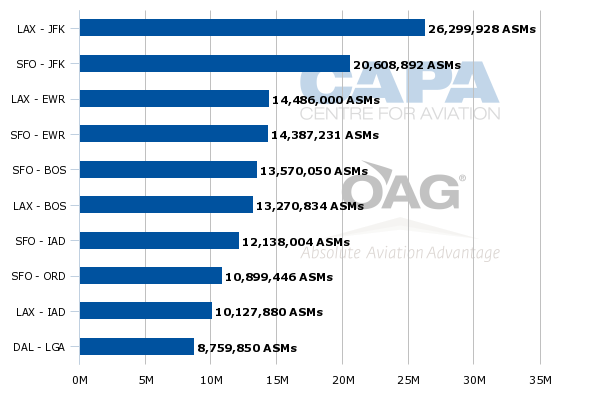 Data from CAPA and OAG for the week of 4-May-2015 show that one way seat numbers in the JFK-Los Angeles market are up 25%, with Virgin America's seats up 5% year-on-year. JetBlue has recorded a 109% jump and American has posted a nearly 60% rise. United's seat numbers are unchanged and Delta's have fallen 6.5%.

From JFK to San Francisco, total seats are up nearly 14% year-on-year. JetBlue's seats have risen 74% and American's have grown 35%. United's have dropped 13% and Virgin America's have fallen 1%. Virgin America has a 13% seat share in JFK-San Francisco market and a 12% share on the JFK-Los Angeles pairing.

Mr Cush stated projected 4Q2015 capacity in those markets is now at levels not reached since 2004. Based on public data he remarked Virgin America during 4Q2015 was keeping its revenue premium to JetBlue and also had revenue premium to Delta. Overall it seems as if the markets are absorbing the capacity increases said Mr Cush, who stated that JFK unit revenue should "firm up for everyone" in 2016.
Virgin America sees positive signs in Dallas, a challenging market
In late 2014 Virgin America moved its operations from Dallas/Fort Worth where it served its Los Angeles and San Francisco bases to Dallas Love Field, adding flights to Washington National, New York LaGuardia and Austin, Texas to its route roster.

Virgin America's expansion and Southwest's rapid growth into longer haul markets have created significant capacity growth in Dallas. Southwest added flights after the dissolving of the Wright Amendment that limited certain long-haul flights from Dallas Love Field.

Mr Cush said the capacity growth is unprecedented for a mature market such as Dallas, and calculated that Virgin America recorded a 19% fall in Dallas unit revenues during 1Q2015 compared with its DFW-west coast service the year prior.

Based on public data, Mr Cush stated that Virgin America in 4Q2015 was seeing unit revenue on par with Southwest in markets where the two airlines compete directly. However, he acknowledged that Virgin America has work ahead to bring yields in Dallas to satisfactory levels. That could prove challenging as American Airlines president Scott Kirby recently indicated that now that there is a new supply equilibrium in the market, the lower pricing in the market could be a mainstay for the foreseeable future.

See related report: American concludes currency and capacity headwinds mask still strong underlying demand
Virgin America's push from Dallas and its planned service from San Francisco to Honolulu and Maui is an effort to iron out seasonality in its network, Mr Cush explained. He stated transcontinental routes are generally weaker during 1Q while traffic is heavy in 2Q and 3Q. Other airlines mask that weakness by shifting capacity onto north-south routes or elsewhere in their respective networks. "We've never been able to do that," Mr Cush said.

Addressing questions about the wisdom of Virgin America's entry into the crowded Hawaiian market, Mr Cush said yields between Hawaii and California are 20% higher than from California to Florida and roughly equal to transcontinental yields.

Mr Cush also concluded that point of sale between California and Hawaii is tilted toward California, reiterating previous comments that Virgin America can leverage its strong brand in the San Francisco region and do well on its upcoming service to Hawaii. San Francisco is the second largest domestic market from both Honolulu and Maui (Kahului) measured by ASMs.
Honolulu International Airport top 10 domestic routes by ASMs: 4-May-2015 to 10-May-2015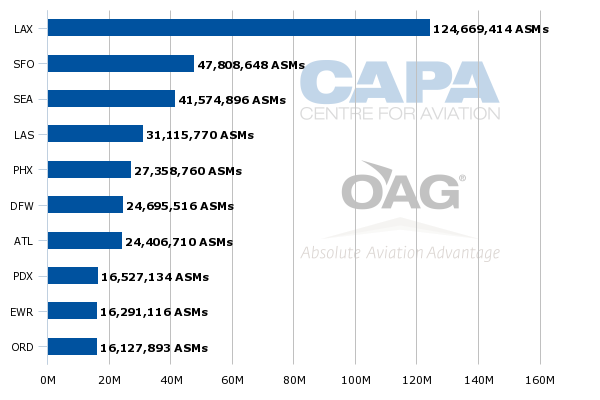 Kahului Airport top 10 domestic routes by ASMs: 4-May-2015 to 10-May-2015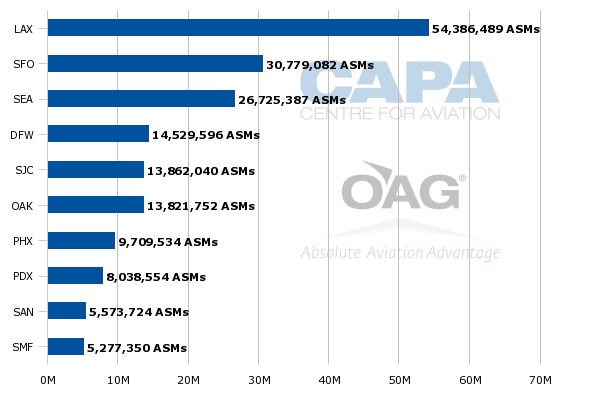 See related report: Virgin America opts to enter crowded Hawaii market as pressure lingers elsewhere in its network
Codesharing potential could benefit both Virgin and Hawaiian
After Virgin America tabled plans to launch flights to Hawaii, the airline spoke with its codeshare partner Hawaiian Airlines, reported Mr Cush. He stated he would like to see their codeshare evolve to similar arrangements Hawaiian has with other competitors, where codes are placed on beyond flights rather than overlap services.
That would ensure that Hawaiian keeps its code on Virgin America's US mainland flights while Virgin America could gain access to Hawaiian's inter-island network, which could be a key selling point on its new Hawaiian service.

Hawaiian serves both markets Virgin America is entering in late 2015, and seems unfazed by its latest competitor. Hawaiian COO Peter Ingram, during the recent CAPA Americas Aviation Summit, stated that the airline "is used to competing with carriers all over the world. Virgin America is just another carrier on the long list of people who have come to compete".

Mr Ingram remarked that presently supply between Hawaii and the US mainland is not out of balance. "Every once and a while capacity will get out of sync with demand… right now our business is operating very well," he stated.
Virgin America expects cost headwinds to fade in 2016
As it faces many moving parts in its network, Virgin America is forecasting a passenger unit revenue decline in 2Q2015 of zero to 2% on a capacity projection of flat to a 1% decline. Similar to other US airlines, Virgin America has tough year-on-year comparisons from 2Q2014, when unit revenues increased 6.6%. However, its unit revenue projections are still better than the 4% to 6% decline projected by American and United and the 2% to 4% drop forecasted by Delta.

But Virgin America projects unit cost increase excluding fuel, profit sharing and special items of 8% to 10% in 2Q2015 and 7% to 9% for CY2015, which is higher than previous full year projections of 4% to 6%.

The rise is driven by salary increases and a decreased stage length driven by the pulling of capacity from New York transcontinental markets and redeployed to the much shorter Austin-Dallas market (164nm). CFO Peter Hunt stated the unit cost pressure should subside in 2016, with flat unit costs growth (excluding fuel and profit sharing) year-on-year. He stressed Virgin America's cost structure is still competitive with other LCCs particularly "if you adjust on a leg per leg basis for the fact that we have 100% of our fleet financed under operating leases today, which most of the industry does not have".
Virgin America recognises it needs unit cost to fall and unit revenues to rise
Beginning in Jul-2015 Virgin America is taking delivery of 10 Airbus narrowbodies through 1H2016, which means there will be a ramp up of 2016 capacity after just 1% growth in 2015.

2016 is emerging as a wild card for Virgin America even as it expects cost pressure to abate. The new Dallas service will likely take longer than normal to reach maturity and competition will be intense on its new Hawaii routes given that several airlines serve Hawaii from the San Francisco Bay area (San Francisco, Oakland and San Jose).

Although it faces formidable challenges in its new markets, Virgin America has always operated on hotly contested routes. For now it seems to be holding its own. But, like other US airlines, Virgin America cannot operate with unit revenue declines indefinitely, especially when those decreases are accompanied by stiff unit cost headwinds. The airline no doubt understands it needs to reverse this scenario in order to capture attention of new investors and allay jitters with its current shareholders.