V Air, Taiwan's second LCC startup to launch in Dec-2014. Initial Thai routes could revive tourism
Analysis
After a near-quarter century hiatus on new airline entry, Taiwan in Dec-2014 is set to receive its second LCC startup, V Air, wholly owned by existing Taiwanese carrier TransAsia Airways. V Air follows the Sep-2014 launch of Tigerair Taiwan, Taiwan's first new airline in 23 years. V Air has postponed its launch multiple times but now expects to commence service on 17-Dec-2014 with a service to Bangkok Don Mueang, followed by a Chiang Mai service on 07-Jan-2015. The routes will help to revive Taiwanese tourism in Thailand, which has dropped more sharply than the average decline following political instability.
On both routes V Air will compete with Tigerair Taiwan. V Air will also compete with its parent TransAsia to Bangkok but not to Chiang Mai, which TransAsia will drop once V Air launches. How TransAsia, which has only 11 jet aircraft of its own, manages this dual-brand strategy will be a determining factor for V Air's success. Publicly, V Air appears to have garnered interest with its cuddly mascot.
V Air sets Dec-2014 launch after several delays
V Air plans to launch its first flight on on 17-Dec-2014 from Taipei Taoyuan to Bangkok Don Mueang, subject to regulatory approval from Thailand. V Air plans to launch its second route, Taipei-Chiang Mai, on 07-Jan-2015. V Air expects to confirm service frequency by 01-Dec-2014.
In Sep-2014 V Air said its third route would be a Southeast Asia charter service in collaboration with travel companies. V Air had previously stated it hoped to expand to Northeast Asia in 1Q2015. Approvals to Japan especially can take longer than average, despite Japan's formally open skies.
V Air has stated a wide range of destinations it would like to serve, including Kuala Lumpur, Hong Kong, Chiang Mai, Denpasar, Singapore, Kalibo, Cebu, Seoul Incheon, Jeju, Busan, Fukuoka, Nagoya and Tokyo.
V Air as late as Jul-2014 had been planning for a Sep-2014 launch, but this target kept slipping for unspecified reasons. In Oct-2014 V Air's first aircraft, an A321, arrived. V Air expects to have a an initial fleet of three A320/A321 aircraft in an all-economy configuration. While some LCCs use two aircraft types, few do this so early in their history. Although the A321 can offer more seats, relevant in slot-constrained airports, few LCCs have found the higher operating cost and lease costs to be worthwhile on point to point routes.
In the lead-up to its launch, V Air has pursued a high-visibility social media campaign that has arguably brought more attention to it than its owner, TransAsia Airways. TransAsia in Nov-2014 has 47,000 likes on Facebook while V Air has 218,000. V Air's eventual launch may propel the airline into becoming better known than TransAsia.
Where TransAsia has followed a traditional approach to branding, V Air has adopted a smiling formosan bear as its mascot and livery design. Crew will wear t-shirts as their uniforms. Initial fares will be set by the public. V Air has much left to demonstrate, but in terms of getting branding relevant, catchy and appearing youthful, V Air has excelled – perhaps to the doubt of many skeptics.
See related report: TransAsia names LCC 'V Air' and 'Wei Hang'. Cuddly bear becomes the dual brand's low price image
On both of its first two routes V Air will face competition from Tigerair Taiwan, which launched in Sep-2014 and was Taiwan's first new airline in 23 years. Tigerair Taiwan like V Air has a parent Taiwanese airline. Tigerair Taiwan is a JV between Taiwan's China Airlines and Singapore's Tigerair Holdings. Tigerair Taiwan's first route was to Singapore, a logical choice as Tigerair serves the route. This allows the Tigerair site to sell Tigerair Taiwan's Singapore capacity and also helps on the cost side as Tigerair has infrastructure at Singapore Changi.
See related report: New China Airlines subsidiary Tigerair Taiwan eyes rapid expansion after becoming Taiwan's first LCC
Tigerair Taiwan made Bangkok its second destination on 14-Nov-2014 and Chiang Mai its third on 15-Nov-2014. Bangkok service is a daily flight to Don Mueang while Chiang Mai is four weekly. Both are logical choices as Thailand is the fifth largest short-haul market from Taiwan. The larger markets – China, Japan, Hong Kong and Korea – either face traffic rights restrictions or require much preparation. Still, V Air may not have wanted to promote for so long what its destinations would be.
Taiwan international capacity by country/territory: 24-Nov-2014 to 30-Nov-2014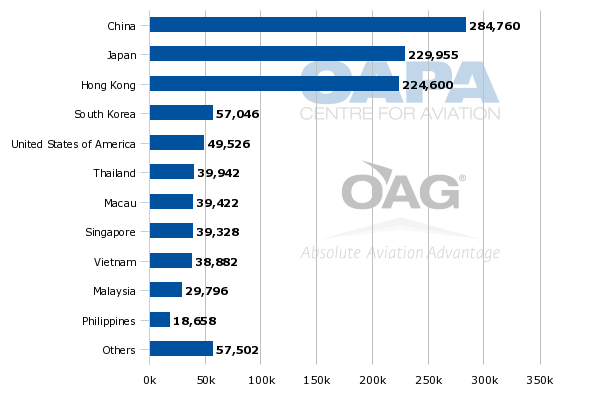 Tigerair Taiwan hopes to expand to Korea and Japan, including points in Hokkaido and Okinawa. Japan and Taiwan have an open skies agreement. Tigerair Taiwan also flagged service to Macau once Macau-Taiwan open skies are realised (expected in 2014), but TransAsia has said it will remain on the Macau route rather than hand it over to V Air.
Taiwanese tourism to Thailand has dropped sharply in 2014
Taiwanese visitor arrivals to Thailand dropped sharply in 2014 as a result of political stability. Taiwanese arrivals to Thailand for the year to Oct-2014 are down 27%, well below the average drop across all nationalities of 9%. This decline has been concentrated earlier in the year when there was greater instability. In Oct-2014, Taiwanese visitor arrivals were down only 8.5%, as confidence rebounded. The relationship between air capacity and tourism flows is fickle: expansion of flights can stimulate passenger growth, but flights may also need to be cut if demand weakens.
In Mar-2013 the number of non-stop seats between Taiwan and Thailand started to grow. Momentum dropped in Nov-2013 while Mar-2014 saw the start of capacity falling below 2013 levels. The market started to rebound in Oct-2014 and shows itself holding for the medium term, although at levels below the peak capacity briefly reached in 2013.
Taiwan to Thailand (seats per week, one way): 19-Sep-2011 to 3-May-2015
EVA contributed to the growth spike in late 2013, but the larger force in market nuances has been flag carrier China Airlines, which grew capacity but then sharply cut back to pre-2013 and even pre-2012 levels. In comparison EVA decreased capacity after its spike in late 2013, but 2014 has been comparable to 2013 levels, and (unlike at China Airlines) above 2012 levels.
Taiwan to Thailand (seats per week, one way) by carrier: 19-Sep-2011 to 3-May-2015
To stimulate demand in mainland China and Taiwan, Thailand waived visa fees commencing in Aug-2014. The three month programme ended in Oct-2014 and Thailand indicates it found the programme to be successful. Thailand is reportedly considering re-introduction the programme or moving to visa-free relations with Taiwan. The visa fee is not small at NTD1,200 (USD40).
V Air and TransAsia now need to work out a dual-brand strategy
TransAsia also operates from Taipei to Bangkok and Chiang Mai. But V Air says TransAsia will drop its two-weekly A321 Chiang Mai service once V Air launches. TransAsia will maintain its daily A330 service to Bangkok Suvarnabhumi. TransAsia will need to decide how to approach this dual-brand strategy with V Air. TransAsia hardly has the scale of other dual-brands to allow it to differentiate. China Airlines has multiple flights a day to Bangkok and Singapore, as well as wider corporate visibility and transfer traffic, helping to differentiate itself from Tigerair Taiwan. China Airlines does not serve Chiang Mai.
Even coordination on Bangkok could be difficult. Merely separating airports, with V Air at Don Mueang and TransAsia at Suvarnabhumi, is only a start. TransAsia faces the challenge of getting a premium for its full-service proposition as well as dedicated business class seats. Chiang Mai is too small to support both of them, especially with TransAsia having a limited frequency already.
TransAsia has stated its focus will be Northeast Asia, where TransAsia is already mostly concentrated (see graph below). TransAsia explains that in Northeast Asia there is enough demand for itself and V Air, implying Southeast Asian routes could be handed to V Air. TransAsia has flagged handing the Jeju route to V Air, but keeping Macau for TransAsia. Tigerair Taiwan's entry may change the dynamics and require a re-think.
TransAsia international seat capacity by country: 24-Nov-2014 to 30-Nov-2014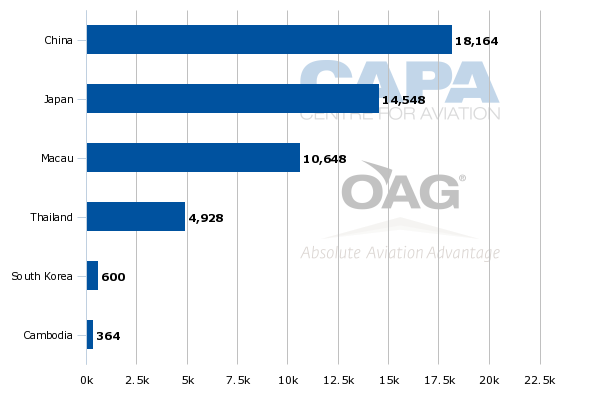 The path forward for a Taiwanese LCC is surprisingly straightforward. The regulatory environment could do with more support for the LCCs it so eagerly sought, but the demand for Taiwan as an inbound and outbound market is there.
The challenge will be in working out a dual brand strategy to complement TransAsia. Opportunities for a full service regional carrier are more limited, but the group may fall victim to favouring the full service carrier, which carries greater status. But V Air appears to have strong public support, suggesting its greater challenge is support from within the group.
No doubt both EVA Air (which, rarely among Asian airlines, has eschewed the prospect of an LCC subsidiary) and China Airlines will be looking on with great interest as the experiment unfolds.