US ULCCs evolve revenue management while keeping costs in check
From CAPA Americas Aviation Summit:
Although it seems like they've been a mainstay in the region much longer, ULCCs in the Americas have only been a force for a little over a decade as Spirit began transitioning to the model in 2005, which was around the time that Volaris and VivaAerobus were pioneering the model in Mexico. Frontier has joined Spirit in the US ULCC space after transitioning to the model during the last couple of years. VivaColombia made its debut in 2012 followed by JetSMART in Chile during 2017.

There are no doubt cardinal rules all those airlines live by – a stringent focus on cost, high employee productivity and maximum asset utilisation. But those airlines also understand they need to evolve within that framework, and some of that evolution is occurring in revenue management as the focus on generating higher total revenue continues to evolve.

For Spirit Airlines specifically, part of its pivot during the last couple of years is a focus on shoring up its operational improvement and net promotor scores while maintaining the crucial cost metric for ULCCs -- a unit cost excluding fuel of USD6 cents or less.
Summary
Employee and aircraft utilisation are imperative for the ULCC model
Spirit gets back to basics with a focus on on-time performance and employee training
All airlines, including ULCCs are attempting to apply more sophistication to their ancillary revenue techniques
The ULCC model rests on asset and employee efficiency
Speaking on a panel at the recent CAPA America's Summit in Houston, Texas, Indigo Partners managing parter William Franke stated there's no one element that makes and ULCC successful, rather there are several tenets required to successfully execute a favourable cost performance. Indigo owns ULCC Frontier Airlines and new Chilean upstart JetSMART, and has stakes in Volaris and Wizz Air. Indigo was also responsible for Spirit's transition to the model before selling its stake in the airline during 2013.
ULCC Panel at the recent CAPA Americas Summit
Mr Franke remarked ULCCS need a network that "moves metal", and it is not uncommon for average daily aircraft utilisation for those airlines fall between 11 hours and 13 hours per day. During 1Q2018, Spirit's average daily utilisation was 12 hours and Volaris' reached 13.2 hours.

Employee efficiency is also vital for the ULCC model. Mr Franke remarked ULCCs usually allot 40 to 50 employees per aircraft versus 100 per aircraft for traditional airlines. He explained that in labour negotiations, his objective is not to try and change union strategies of benchmarking to general industry contracts. Indigo works to make an airline more efficient rather than convincing a to pilot to earn less than others at different airlines operating the same aircraft type. "Our focus has been to properly schedule the workforce and deal with time away from work," Mr Franke concluded.
Spirit maintains its cost performance while improving its operational metrics
One of Spirit's challenges during the last couple of years is improving its operational performance while keeping its cost in-check. Joining Mr Franke on the panel, Spirit Chief Commercial Officer Matt Klein stated the airline has focused a lot of energy on ensuring it improved its on time performance while maintaining its unit cost advantage.

The airline's on time performance has improved from below 70% in 2015 to the mid-80s or above since Oct-2017.
Spirit Airlines on-time performance and completion factor from 201 through Feb-2018

Mr Klein remarked it was key to make those operational improvements without compromising Spirit's efficiency or ultilisation. The airline has been successful in that regard; its unit costs excluding fuel for 1Q2018 fell 5% year-on-year to USD5.3 cents.

Spirit has also worked to expand customer service training for flight attendants and airport employees, something employees were asking for, said Mr Klein. Again, Spirit needed to fulfill that request without compromising its cost performance, and Mr Klein believes those efforts have begun to pay off as Spirit's maintains its cost targets and its net promoter score sits at an all-time high.
All airlines are moving toward holistically looking at total revenue generation
Ancillary revenue is a mainstay for all airlines, and now carriers spanning all business models are becoming more sophisticated in managing ancillaries through dynamic pricing, something Spirit has been undertaking for roughly a year.

The airline has typically had one of the highest ancillary revenue per passenger generators worldwide, and has stated its performance in that metric would reach USD55 in 2018 after falling below that level from 2015 to 2017. During 1Q2018, Spirit's non-ticket revenue per flight segment was USD55.29. Some of that performance improvement is attributable to a bundled product Spirit introduced in late 2017 that includes a checked bag, a carry-on bag, seat selection, shortcut boarding, a free flight modification and accruing loyalty miles.
Spirit Airlines non-ticket revenue per passenger from 2014 through 2018 (estimated)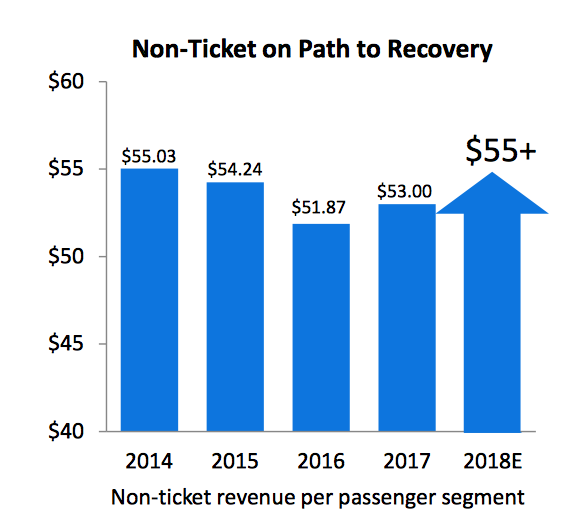 Mr Klein said typically Spirit has been somewhat of an order taker with its unbundled product, noting passengers would essentially put what they preferred in their cart. Now the airline is joining other carriers operating different types of business models in working to become a retailer. There is a big opportunity for Spirit to act as an e-commerce company; however the investments necessary to meet the airline's retailing objectives need to demonstrate a successful business case, Mr Klein remarked.

The industry in general is moving toward thinking about total revenue production, said Mr Klein, and a big piece of the network perspective is considering what markets could make the largest total revenue contribution, including ancillary sales.

From Mr Franke's perspective, total revenue is important for the ULCC model, and higher load factors are necessary to build ancillary revenue. He stated ULCCs need a base fare that attracts the consumer, and ultimately, it is important for ultra low cost airlines have load factors above 85%.
ULCCs understand the need to evolve while maintaining crucial cost performance
ULCCs have certain level of nimbleness that allow them to pushing their ancillary revenue to levels not enjoyed by full service airlines. It is not clear that FSCs can ever generate USD55 in non-ticket revenue per passenger.

Ultra low cost airlines understand that the model needs to evolve as technology and business practices change. However, those carriers also understand the need to maintain their crucial cost advantage as the business evolution continues.