US-Japan airline alliances become lopsided as JAL, ANA expand while US to shift to other markets
Analysis
The anti-trust immunity alliances between All Nippon Airways and United Airlines as well as Japan Airlines and American Airlines are past the honeymoon phase. Whereas the airlines a decade ago were bullish on linking the mighty US with Japan Inc., today the latter's economy is still underperforming.
Japanese airlines are now ramping up US capacity to existing and new destinations as they seek to woo markets with their premium products, efficient hubs and services to secondary US cities, reducing connections.
But US carriers are expanding less than their Japanese partners, which impacts the competitive potential of the JVs, as Japanese carriers have far higher CASKs. The US airlines are also looking to diversify what United calls its "non-Japan Asia" network, a reflection of the growing importance of China. United will resume services to Taipei while American will expand to Seoul, but the pot of gold is mainland China.
Expansion there will be steady as slots are difficult to secure and airlines are dependent on next-generation aircraft to make secondary cities profitable. China services would likely be excluded from the JVs with Japanese carriers due to the Chinese regulatory environment – possibly spearheading the formation of new JVs. But that will depend on the pace of liberalisation.
Japan-US aviation market is down from last decade but slightly improving
The Japan-US market continues to decline, despite the open skies agreement concluded in 2010 and the subsequent anti-trust immunity extended to the respective ANA-United and JAL-American partnerships. The market has shown some recovery, although there are many features of that. Overall the market was down 8% on seat capacity when comparing 2012 to 2003 (2013 figures have been dampened by the 787 grounding).
There are two components to the Japan-US market: the first is traffic between Japan and the 48 mainland states, which has an emphasis on corporate traffic and connections. Seat capacity in this segment in 2012 was down 9.5% against 2003.
The second segment is traffic from Japan to Hawaii as well as Guam and Saipan, which in 2012 was down 6.2% compared to 2003. When looking at extreme gains and losses over the past decade, the Japan-to-48 States market peaked in 2005 but had its worst year in 2010, with 2010 seat capacity down 24% as compared to 2005 (2010 was lower than 2011, which was impacted by the Mar-2011 earthquake and tsunami). Likewise the Japan-Hawaii/Guam/Saipan market peaked in 2005 and had its worst year in 2009, with a 11.5% drop in capacity.
Japan-to-48 States and Japan-Hawaii/Guam/Saipan seat capacity: 2003-2013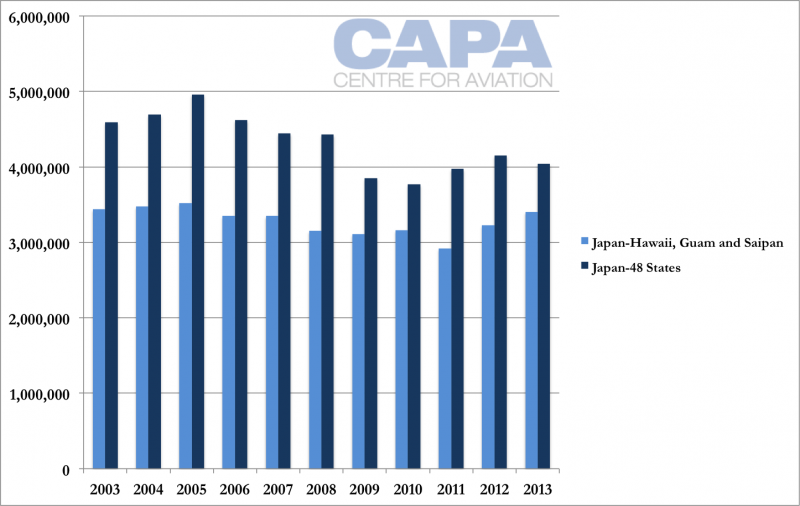 ANA and JAL are now driving Japan-US expansion, although 787 problems are a setback
When looking at the Japan-to-48 States market by carrier, ANA has outperformed, having added significantly more capacity in 2013 than it had 10 years previously, in 2003 (up 31.6%). This growth largely occurred from mid-2012 to mid-2013, during which time ANA introduced or expanded four routes from Japan to the 48 States. (JAL made two changes while Delta and United each made one of the capacity changes planned so far.) ANA, however, traditionally had less capacity than the longer established international operations of JAL, logically allowing for more room for growth.
American Airlines in 2013 is up 15.4% on 2003 seat capacity levels, but it is the smallest carrier in the market. Its 2013 capacity levels are down from mid last decade when American cancelled its San Jose-Tokyo Narita service (re-launched in 2013 by ANA).
Delta (which includes merger partner Northwest Airlines) and United (including merger partner Continental Airlines) are the two largest operators in the market and have each seen large decreases in capacity. Against this, it should be noted however that all carriers have however typically seen notable load factor improvements, enhancing the bottom line.
Japan-to-48 States seat capacity by major carrier: 2003-2013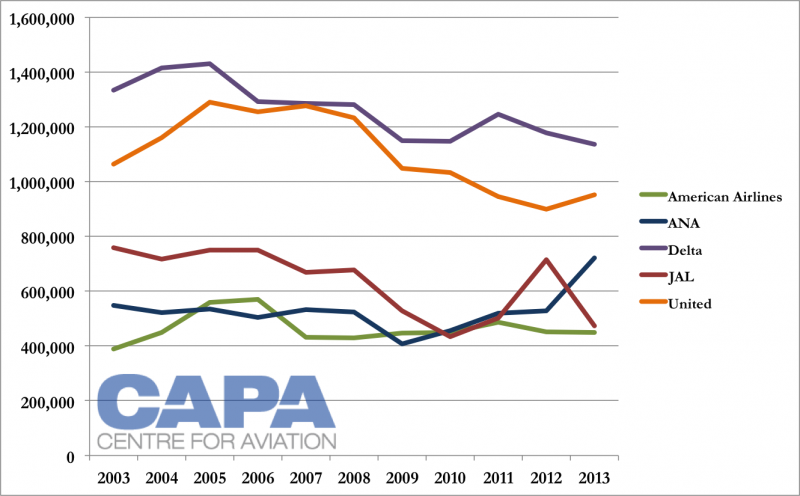 After a painful series of route cuts as well as (profitably) down-gauging 747-400 services to 777-300ERs, JAL's capacity in 2012 was about the same as its capacity early last decade. Its 2013 capacity, which was looking strong, is down significantly, deeply affected by the cancellation of 787 services.
JAL's recent growth has been via two new services, to Boston and San Diego, on the 787; ANA's have been a mixture of new routes (787s to San Jose and Seattle) as well as capacity increases to Chicago and New York. ANA will have double daily service to Chicago and New York JFK, whereas JAL only has single daily service (before JAL's capacity reduction it used to serve JFK with double daily flights). JAL also has daily service to Los Angeles and San Francisco, whereas ANA has double service to Los Angeles and daily service to San Francisco.

Expanded mainland US-Japan routes: 2012-2013
As CAPA previously wrote:
The declining traffic was reflective of economic indicators – Japan's weakening economy, the global financial crisis – as well as airline changes. JAL in 2005 withdrew from Saipan, taking 182,000 seats out of the market annually. ANA in 2005 downgauged services from Tokyo Narita to Los Angeles and New York JFK from 325-seat 747-400s to 250-seat 777-300ERs while JAL in 2009 went from approximately 320-seat 747-400s to 250-seat 777-300ERs on the Tokyo Narita to Chicago and Los Angeles routes.

Other US services saw downgauges as well. JAL has fully retired its 747-400s and ANA only operates the type domestically while Delta and Unitedhave downgauged some frequencies from 747 service.

2011 levels received a boost with Singapore Airlines (SIA) in Jul-2011 upgauging its Singapore-Tokyo Narita-Los Angeles service from approximately 375-seat 747-400s to 471-seat A380s, adding approximately 55,000 passengers to the Japan-US market, but much of SIA's traffic on this route transfers through Tokyo. This year's traffic will receive a small boost as Malaysia Airlines from Mar-2012 re-routed its Kuala Lumpur-Taipei-Los Angeles service to transfer in Tokyo Narita instead of Taipei. The four times weekly service on 282-seat 777-200s will add approximately 70,000 passengers to the market.
See related article: Despite new air routes, traffic between Japan and the US is down from last decade
Japanese airlines' high CASKs limit alliance competitiveness as they add capacity
Just as the world is becoming virtual, so too is aviation, as strategic and deep partnerships take form and increasingly drive growth. The formula does not work so well however is if your partner has higher operating costs - as ANA and JAL do - compared to their respective JV partners United and American.
Official figures give ANA and JAL a CASK which is double, nearly triple (!), that of their JV partners. These figures, which are network averages, are compounded by different stage lengths - for example, long-haul flights are more efficient but rarer at the Japanese carriers.
Comparing CASKs on routes with similar distances would narrow the gap, but still leave a noticeable difference.
Select American and Asian carriers' CASK (USD cents) ex-fuel: 2011/2012*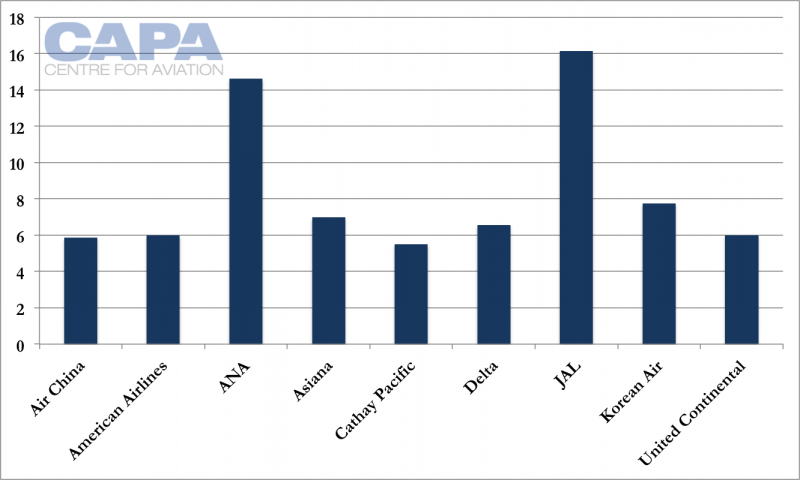 If the higher cost partner adds capacity, this can limit competitive ability when peers have lower CASKs that would allow lower ticket prices. South Korea's Asiana and Korean Air compete for much of the same sixth-freedom north Pacific traffic, much of it to/from China.
Those airlines have a CASK around half that of ANA and JAL, while Air China and Cathay Pacific are even lower.
And US-Japan airline strategies diverge as ANA and JAL capture corporates
But this is where the partnerships are becoming lopsided, as American's and United's strategies diverge from ANA's and JAL's.
While the Japanese airlines are looking to build O&D traffic to and from Japan, the US carriers are increasingly using Japan as a hub for onward connections around Asia, enhanced by the JVs (exceptions are beach holiday markets like Guam and Hawaii, which rely heavily on O&D demand).
The Japanese carriers have strong corporate contracts, at home and abroad, that see companies want direct service from Japan to secondary cities, which ANA and JAL have opened up over the past two years (Boston, San Diego, San Jose and Seattle). Connecting traffic is important with corporate contracts, and the new services enable one-stop service from many parts of the US to Asia - whereas before a transfer would typically have been required in the US, and again in Japan.
The US carriers in comparison have stronger corporate contracts at home than abroad. Their strategy driver then becomes to open service from the US to new cities in Asia - where they are seeing their corporate growth - bypassing Japan. And that is precisely what the US airlines are gradually doing.
A declining yen and increasing fuel costs would dent the outbound Japan market
A concern for the Japanese carriers' dependence on O&D traffic, and in particular for Japan-originating traffic (whose passengers pay a premium for Japanese service) is the depreciating Japanese yen. Although nowhere near the levels seen early last decade, the decline has been sharp and the view, from the market and Japanese government, is that a weaker yen will benefit the economy and further depreciation could be used.
With ANA and JAL having the majority of expenses in US dollars, this would dampen what has remained a relatively strong outbound market, given the high yen. The situation could be aggravated by increased fuel costs (which are in USD).
JPY to USD exchange rate: 2003-2013

US airlines are looking beyond Japan, diversifying Asian networks
The least aggressive US airline in Asia has been American Airlines, but over the past year or two has shown some signs of rejuvenation. (Possible merger partner US Airways has no services to Asia either.) One recent positive move was the decision to open services to Seoul Incheon from its Dallas Ft Worth hub.
American has had difficult times in serving ports where it lacked partner feed: the airline withdrew from its non-stop Delhi operation and its China services have been weak, although steadily improving. Its presence in Tokyo, the hub of partner JAL, has remained strong.
American will have no partner in Seoul, relying on traffic from its US network as well as Latin America. SkyTeam's Korean Air and Star's Asiana account for the majority of traffic in Seoul. Both Korean carriers have large if under-appreciated networks in the US, including a Korean Air service from Dallas to Seoul, where the carrier will increase capacity ahead of American's entry.
American's more progressive – but still unambitious – international thinking comes as the Korean economy picks up, also spurring British Airways to make Seoul its first new long-haul route, following the acquisition of bmi and its precious London Heathrow slots. (One stated goal in that acquisition was to allow British Airways to enhance its long-haul operations in Asia.)
As CAPA previously wrote:
American's seven weekly flights operated with Boeing 777-200s will add about 1,700 one-way seats into the Dallas-Seoul market, which will give the carrier a lead in the market in terms of seat share at 57% of the nearly 3,000 combined seats on offer from American and Korean. Now with American able to leverage its largest hub in Dallas, Korean's service will be somewhat pressured by American's heft in Dallas and its aggressive pursuit of business travellers to make its new service to Seoul viable.

American will also have the advantage of offering its new Korea passengers connections to Latin America. Korea-Latin America is a large and growing market. American will be able to offer connections to several destinations in Latin America including Lima and Sao Paolo, which will compete against Korean's Seoul-Los Angeles-Sao Paulo service.

American is coming off a strong performance in its Pacific markets during 3Q2012, as yields grew 10% and unit revenues in the entity grew nearly 16%.
See related articles:
American's Asian network however remains heavily reliant on Japan, but AA will seek to change this, especially as it takes 777-300ER and 787 aircraft.
Secondary Chinese cities are strong candidates, as is Hong Kong, a city American has evaluated on and off for several years. Although American's schedule expansion is limited in these markets, its financial performance has been, as indicated by the strong yield and revenue growth. A shift in its distribution in China, as well as some scheduling improvements, has seen some months become profitable.
United meanwhile is actively considering secondary Chinese cities for its 787s, but this will be a gradual process, as even some secondary cities are already constrained on slots. United in Apr-2013 is also resuming services to Taipei, where United will be the only US carrier in the market.
As CAPA previously wrote:
United's long-haul push from San Francisco in 2013 also includes the resumption of flights to Taipei Taoyuan International Airport, a market the carrier exited in 2008 during the height of the first oil price crisis. No US-based carrier currently offers direct flights to Taipei (United serves Taipei from Tokyo Narita) but new Star Alliance member-elect EVA Air and SkyTeam member China Airlines offer a combined total of roughly 6,504 weekly one-way seats from San Francisco to Taipei, with EVA accounting for 59% and China Airlines holding a 41% share.

The resumption of daily service to Taipei in Apr-2013 by United from San Francisco will result in the carrier offering service to seven Asian destinations from its northern California hub. Currently, United operates flights from San Francisco to Beijing, Hong Kong, Osaka, Seoul and Shanghai.

United's return to Taipei coincides with the carrier securing regulatory approval to codeshare with EVA on flights between and within the United States and Taiwan as well to third countries. The relationship has historical ties as Continental (United's merger partner) had a codeshare arrangement with EVA. The codeshare will allow the carriers to strengthen their networks, and, for United, potentially make the service viable. EVA intends to codeshare on a number of United's domestic routes. United can be expected to announce in due course additional codeshares on EVA following United's decision to enter EVA's hub. Although EVA's strategy is increasingly relying on Cross-Strait flights to mainland China, China typically permits foreign carriers to only codeshare with Chinese carriers on flights to the mainland, so United is unlikely to be able to codeshare on EVA's flights from Taiwan to the mainland.

In early 2012 Taiwan's tourist bureau estimated a nearly 10% rise year-over-year in foreign tourist arrivals during 2011, with 4% growth in visitors from the US.
See related articles:
As United fortifies its Asian hub in San Francisco, Delta is seeking to establish Seattle as a hub to Asia. Although Delta's capacity in Seattle is not as strong as other cities like Atlanta, Seattle's standing as the most northwestern major city in the US provides geographical advantages, as does Seattle's standing as the hub for Alaska Airlines, to which Delta is growing closer for its connecting traffic. Delta serves Tokyo Narita from Seattle and intends to open a Seattle-Tokyo Haneda service, but also a Seattle-Shanghai service. Delta also serves Beijing and Osaka Kansai from Seattle.
See related articles:
While Delta was able to secure favourable day time slots in Shanghai, poor availability of slots in Beijing and Shanghai (typically only available at midnight hours) has limited expansion. Guangzhou also suffers from a slot shortage and has precluded Delta and United, which have fifth-freedom hubs in Japan, from more actively considering services to the city.
There have been push backs. American and Delta ended direct services from the US to India (Delta maintains a service via Amsterdam) while Delta ended its non-stop Detroit-Hong Kong service (connections to Hong Kong are maintained with a Tokyo Narita-Hong Kong service).
See related articles:
Delta and American Airlines have the majority of their Asia-Pacific capacity in Japan
Although Delta and United are planning near-term capacity increases in Japan, it is likely some of this capacity will eventually be pulled back (due to diminishing O&D demand and/or traffic transiting through Japan moving to direct on new services) or overshadowed by growth in other "non-Japan Asia" markets.
A decade ago American and Delta (including Northwest, with whom it merged late last decade) had 100% of their US-Asia seat capacity in Japan. That share has since declined but is still the majority, 58% for AA and and 78% for Delta. United in 2003 (including its merger partner, Continental) was more diversified, with 58% of seat capacity in Japan, since declining to a minority position of 36%; but it is still United's single largest Asian market, although mainland China at 27% is not far behind – and will likely overtake Japan this decade.
American, Delta and United US-Asia/Pacific available seat distribution share by country: 2003 & 2013
Georgia, 'Times New Roman', Times, serif; font-size: 0.8em;">Source: CAPA - Centre for Aviation and OAG
Thus American and United have grown their position in Japan while Delta has shrunk it.
Eventual replacement of the workhorse 747-400s that Delta and United rely heavily on to service to Japan will likely result in less seat capacity as those carriers opt for smaller-gauge widebodies. Efficiencies gained, however, should result in a stronger financial position (provided the reduced competition does not open the door to other competitors).
American, Delta and United US-Asia/Pacific available seat distribution by country: 2003 & 2013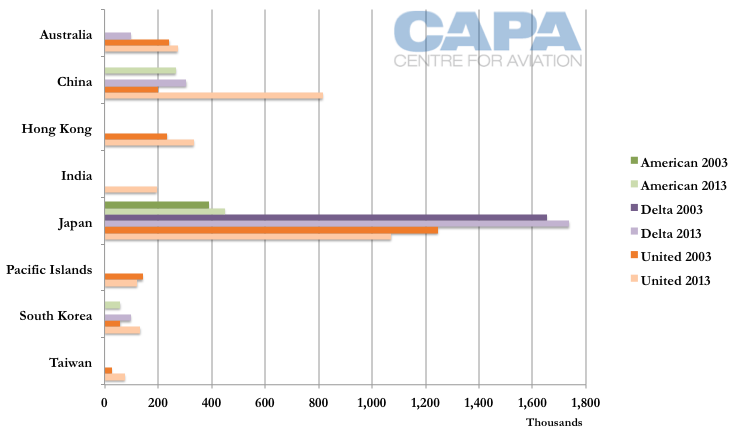 (These figures exclude the fifth-freedom hubs in Japan that Delta and United operate to other Asian countries.)
Delta in 4Q2012 saw flat unit revenues on its Pacific network as competitors increased services and opened new city pairs. That led Delta to give a "mixed" outlook for the region: weakness in Japan but strength elsewhere, notably mainland China. Delta in 2013 is 90% hedged at JPY80 to the US dollar, leading the carrier to conclude it will be "protected" this year.
The story at United, the least exposed to Japan, was quite different. The Pacific was United's best performing region in 4Q2012 and FY2012 with respective PRASM increases of 5.1% and 5.8%, a result of higher yields and load factors. China was the anchor, with 9% growth in PRASM and 5% yield growth in 4Q2012. That continued the trend from 3Q2012 when United reported unit revenues were up 9.9% and yields 7.2%.
Mainland China was its best performing country, with 11% PRASM growth and 8% yield growth year over year despite the slowness mainland Chinese carriers saw. In 2Q2012 Japan was the best-performing region year over year, although this was impacted by weaker 2011 performance as the result of the earthquake and tsunami that struck Japan in Mar-2011.
United's distribution in Asia will likely prove to be stronger in the long-term, but in the short-term there are public perception problems it sometimes has to address: earlier in 2012 carriers were posting larger improvements across the Pacific than United was, but this was because of the Mar-2011 earthquake and tsunami that heavily impacted United's competitors and saw them post steeper declines. As a result, United did not need as large a rebound. "If our capacity were Delta, [which has] 78% of its ASMs in Japan, we would've added 9 points in PRASM to our Pacific entity and so forth," United Chief Revenue Officer and Executive Vice President James Crompton remarked.
United has also been exposed to other competitive moves; the carrier singled out Cathay Pacific's launch on Hong Kong-Chicago (a staple United route) as adding pressure. Delta eventually withdrew from its Hong Kong-Detroit service.
With airlines now having a taste of trans-Pacific JVs, are more to come?
One of the biggest limitations to the trans-Pacific JVs between US and Japanese carriers is that US carriers cannot access codeshare services on ANA and JAL to China as China prevents third country codeshares. China Southern, a member of SkyTeam, has suggested Delta should form a JV with it to speed up liberalisation. However, the US will only approve JV ATIs if open skies agreements already exist - a Mexican standoff.
It is not just China Southern cosying up to Delta, which lacks a close North Asian partner. Korean Air, also a member of SkyTeam, said it would explore closer cooperation with Delta after a rough history that saw safety concerns at Korean Air followed by Delta trying to woo Korean Air competitor JAL from oneworld to SkyTeam (there is open skies between Korea and the US.)
Japan's low cost original, Skymark, which has plans to embark on international and long-haul operations to the US with a fleet of A380s, could eb grateful for a partner if it wants greater stability. By a process of elimination Delta is left, but it remains to be seen if Delta has the appetite – for Skymark or whoever.
See related article: Skymark switches first A380 destination from London to New York but viability remains to be proven
Although challenges face the Japan-US JVs, Japanese carriers now have an advantage compared to their Asian peers. Open skies agreements not withstanding, Asian carriers will now look to see what JVs they can form. But as partnerships overlap, airlines will have to delicately balance these relationships.
Meanwhile, the scenario that is playing out in Japan largely mirrors the country's wider issues as it seeks to restore its relevance in a fast changing Asian marketplace. If US airlines remain reluctant to place their metal in Japan's skies, there could be significant changes in the US-Japan market over the medium term.