US investors remain skittish on airline stocks until they demonstrate sustainability in a downturn
Analysis
The US airline industry is still in the early stages of structural reform that is providing the foundation for a shift in business models guided by long-standing metrics for the majority of successful publicly traded companies – pretax margins, return on invested capital, balance sheet leverage and capital deployment.

Those measurements were absent in the airline business until recently as airlines constantly bounced between boom and bust cycles that left the US airlines heavily leveraged, largely unprofitable and at a huge product disadvantage compared with their international airline peers.

According to a panel discussion at CAPA's Americas Aviation Summit 2015 in Las Vegas, gseneral sentiment among the investment community is that while significant changes have occurred to transform the US airline business, the industry needs to survive the next recession in order to prove that the structural reforms that have occurred during the last few years are indeed a mainstay. That is a tough ask.
Industry transformation remains in its early stages, and airlines have much to prove
The significant changes that US airlines began to undertake out of necessity during the 2008-2009 timeframe when oil prices hit record highs of roughly USD147 per barrel are still evolving. Prior to capacity discipline, a focus on returns and the formulation of shareholder rewards airlines were trapped in a cycle where they would make millions during the boom times and lose billions in bust cycles, said CRT managing director and co-head of research Michael Derchin during the recent CAPA Americas Aviation Summit 2015 in Las Vegas.

A decade ago very few airline management teams could explain how they define ROIC and how that compares with the weighted average cost of capital (WACC), concluded Michael Linenberg, Deutsche Bank airline analyst and managing director. Now, nearly every single US airline knows their ROIC calculation and can at least articulate their WACC, he concluded.

Additionally, some portion of airline executive compensation – 30% to 40% in some cases – is tied to achieving ROIC targets, said Mr Linenberg.

During the last few years the ongoing profitability of many US airlines has been a bit surprising, said Mr Derchin, and now analysts are attempting to encourage those management teams to "focus on something they've never focussed on".
Industry concentration and higher levels of variable costs help improve fundamentals
As the profitability streak of US airlines dominates many business headlines, sometimes the fundamental structural shifts that have created that financial strength get lost in the hype.

One of they key factors driving the industry's transformation is the concentration created by the mergers that have occurred in the US during the last decade.
Data from CAPA and OAG for the week of 27-Apr-2015 to 3-May-2015 show that the three largest global airlines and Southwest control roughly 81% of US domestic ASMs. Mr Linenberg estimates that 20 years ago the top four US airlines represented 60% of the market.
United States of America domestic capacity by airline (% of seats): 27-Apr-2015 to 3-May-2015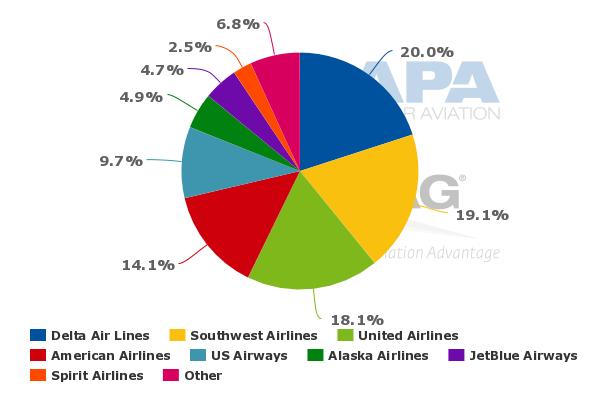 Another element driving the financial stability of US airlines during the last few years comes from the fact that variable costs represent a larger portion of those companies' cost structure. One reason the airline industry historically was not able to generate returns that exceeded the cost of capital was that 80% to 90% of an airline's costs were fixed, said Mr Linenberg.
But with restructuring that included Chapter 11 reorganisation for many airlines, the cost structure has shifted. Mr Linenberg cited Delta Air Lines as an example, noting that approximately 60% of its costs are now variable.

Even while fuel still represents 20% to 30% of an airline's total costs the higher percentage of variable costs allow airlines to quickly cut capacity and costs when the inevitable extraneous shocks occur including economic downturns, volcanic ash, earthquakes, geopolitical issues and outbreak of disease.
Upstart airlines face big challenges in the consolidated US market place
Barriers to entry in the US airline industry are now the highest since deregulation, said Mr Linenberg. One key driver thwarting start-ups is the financial strength of the major airlines, he concluded, explaining that airlines typically formed during the worst times when the larger airlines were weak and ceding markets, and cheap aircraft were available.

However, Mr Linenberg believes there are still niche markets within the US domestic space. With slots and gates in short supply at some of the key US airports, ample gate space is available in markets such as Cincinnati, Cleveland, St Louis and Pittsburgh. The three largest US global airlines have shrunk their presence in those markets as a result of consolidation, and now ULCCs are making moves at those airports. Allegiant has made a big push from Cincinnati, and is also adding service from Pittsburgh. Frontier and Spirit have also added flights from Cleveland after United initiated a significant pull-down at its smallest hub in 2014.

See related reports:
Spirit Airlines unleashes new competitive dynamics in Cleveland with challenges to Frontier Airlines
Allegiant Air continues its expansion from Cincinnati as smaller airlines seize on hub devaluation

But all of those airlines are well-established, and it does not appear that full fledged new airlines are attempting to make a mark in the US market. The resurrected PeoplExpress had a short-lived run in 2014. Virgin America is the only airline formed during the last few years that has actually participated in an IPO, said Mr Linenberg.
Solid ROIC and pretax margin results do little to improve discounting of airline stock prices
Few can argue that the fundamental structural changes that US airlines have undertaken since 2008 are paying off. ROIC is one of the first items airline management teams tick off when discussions earnings.
Recently the Alaska Air Group declared that its 20.1% ROIC for the 12M ending 31-Mar-2015 was highwe than 80% of the companies included in the S&P 500. Three US airlines are now a part of that group after American Airlines entered the index earlier this year, joining Southwest and Delta.
Return on invested capital for select US airlines for the 12M ending 31-Mar-2015
American Airlines recorded a 12.4% pretax margin in 1Q2015 and projects an 18% to 20% pre-tax margin for 2Q2015. Alaska Air Group recorded one of the best pretax margins in the industry of 18.9% in 1Q2015.

But as much as investors welcome these impressive results, US airline stocks are still trading at discounts of roughly 40% to 50% to the S&P 500, said Mr Linenberg. That discount is being driven by investor conclusions that airlines have not faced a recession since they've undertaken all the changes that are driving their current financial strength.

The discount of airline stocks is likely to continue until airlines can prove their ability to weather a downturn without wiping away all the progress that they've made during the last few years. The recent rise in US airline capacity may also be giving investors pause.
Even as airlines constantly stress the increases are being driven by increased seat density and aircraft upgauge, most US domestic airlines still plan to increase capacity in 2015 although the three largest airlines have refined their growth in light of f/x pressure and capacity creep.
Airlines cannot sustain weak unit revenue growth for the long term
Despite the progress US airlines have made during the last few years to clean up their balance sheets, deliver returns and reward shareholders, challenges are a mainstay in the commercial aviation business.

With costs at most US airlines trending in the right direction, those companies should look to bolstering their revenue. Cowen and Company managing director and senior airline analyst Helane Becker stated that low oil prices are a big driver of the favourable margins that many airlines are enjoying during 2015. But a year from now oil prices could be flat, and if revenue and earnings results are also flat, it does not bode well for an increase in stock prices.

Presently, unit revenues are trending down for most US airlines. During 1Q2015 all the major US airlines posted weak unit revenues and are forecasting wider decline for 2Q2015. They all stress that 2Q seems to be the low point, and that their unit revenue performance should improve in 2H2015.
US major global airline unit revenue performance in 1Q2015 and 2Q2015 projections
| | | |
| --- | --- | --- |
| Airline | 1Q2015 passenger unit revenue growth | 2Q2015 passenger unit revenue growth estimates |
| American | -1.7% | 4% to 6% decline |
| Delta Air Lines | -1.7% | 2% to 4% decline |
| United Airlines | 0.4% | 4% to 6% decline |
They also seem to recognise that negative unit revenue growth is not sustainable over the long term. Recently American Airline president Scott Kirby concluded that when fuel prices start to rise again airlines will need to have passenger unit revenue growth. However, that is not going to occur in 1H2015, and unit revenues are likely to remain tepid for the remainder of the year.

See related reports:
American concludes currency and capacity headwinds mask still strong underlying demand
Unit revenue pressure could linger beyond 1Q2015 for US airlines as capacity creeps up
Investors are right to approach airline stocks with caution, say the analysts
US airlines deserve much credit for the structural shift they've undertaken during the last six years to deliver a solid performance in metrics that were scarcely spoken of over decades.

But it is hard to argue with investors who conclude that airlines need to demonstrate they have now built businesses that can withstand the inevitable crises that will arise and create a bust cycle for the industry. Much of the recent progress that has been made is a result of Chapter 11 restructuring. Airlines now need to prove they can stand on their own without pulling the levers of bankruptcy to improve their fundamentals.

Most signs indicate that US airlines have created a strong foundation and that the business changes that have been made are a permanent fixture. But the real tests for US airlines lies ahead, and how they perform in less favourable conditions is yet to be seen.