US-Gulf airline dispute - Europe Part 1: IAG opposes "subsidy" of US airlines, AF-KLM on 5th freedom
Analysis
Of the thousands of comments the US government has received about the US-Gulf carrier debate, those from Air France-KLM, Lufthansa and International Consolidated Airlines Group stand out. They are the JV immunised partners of US carriers, and while this may suggest shared interests, the three European carriers show nuances – and even contradictions – compared with the positions of their respective US partners.
Part 1 of this report examines two aspects: Air France-KLM boldly believes the US-Gulf dispute should embrace Europe since US-Gulf traffic has the potential alternative of hubbing over Europe. Further, AF-KLM fears greater Gulf fifth freedom trans-Atlantic flying.
By AF-KLM's logic, IAG should have an even greater say: IAG is the single largest group operating between the US and Western Europe with a 16% capacity share, more than Lufthansa Group's 13%, AF-KLM's 9% or Delta's 14%. Yet IAG denounces the US carrier White Paper, saying: "To shield US airlines from their competitors would be to grant them the biggest subsidy of all."
Follow-up reports will examine other issues raised, including loss of market share, state aid, "fair competition" and how the European carriers propose this debate be dealt with.
IAG is the largest trans-Atlantic airline group. It has the most to protect – but does not seek government protection

International Airlines Group is the single largest entity from Western Europe to the US. Its airlines include founding group carriers British Airways and Iberia, the recent addition of Aer Lingus, as well as Vueling, which does not serve the trans-Atlantic market. IAG's three trans-Atlantic airlines have a 16% seat capacity share of the Western Europe-US market, according to OAG data.
This is larger than its European peers Lufthansa (13%) and AF-KLM (9%). IAG's share is also larger than the biggest US entity, Delta (14%).
US-Western Europe seat capacity by airline group: 2015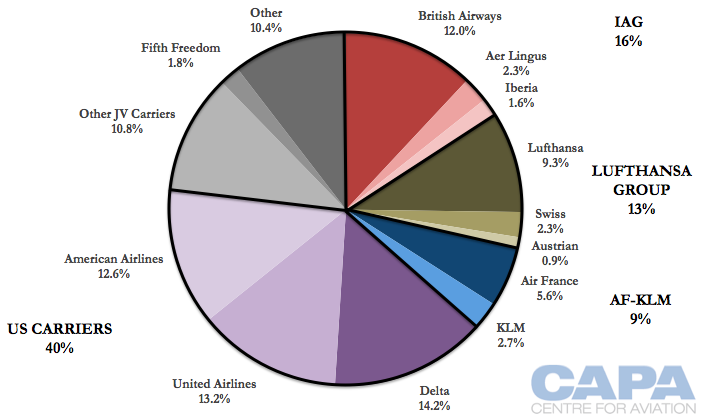 Such figures might give IAG greater cause to object, building on AF-KLM's view that the trans-Atlantic market is inherently relevant to Gulf-US operations. Yet IAG sweepingly rejects the US carriers' "White Paper" arguments about government support of Gulf carriers. This of course challenges the view of IAG's JV partner American Airlines, one of the three US carriers in the debate.
IAG rejects calls for Gulf carriers to be somehow limited in the US market. General comments from IAG about the White Paper include:
"The White Paper's allegations on subsidies to Gulf carriers do not withstand scrutiny. IAG also has serious doubts about the way information is presented in the White Paper. It is heavily caveated due to difficulties in obtaining information. Yet, even where transparent accounts are available, many of the conclusions drawn appear inaccurate e.g. in relation to jet fuel subsidies or alleged fuel hedging support.

...

"Even where independent studies are used to support arguments, the evidence is deliberately misquoted to distort its meaning so that unfavourable conclusions can be drawn

...

"The overall picture today is an overwhelmingly positive one for the travelling public and it is hard to reconcile the arguments made in the White Paper with the overall interests of American (and foreign) consumers.

"The benefits to US consumers, businesses and employment are plain to see. The global competitiveness of the US economy has been significantly enhanced by the aviation policies the DOT has pursued over the last 30 years. Turning the clock back now would be folly.

...

"IAG disputes the evidence and conclusions that unfair subsidies are being provided by the Gulf States to the Gulf airlines contained in the White Paper prepared by American, Delta and United. IAG believes the evidence and therefore the conclusions to be unreliable and wholly inappropriate as a means of informing important government policy decisions. The White Paper's arguments should be rejected as a return to international aviation policies that protect airlines from competitors instead of fostering competition."
IAG's more specific views on certain allegations and Gulf airlines will be examined in follow-up reports.
IAG supports competition and open skies without conditional statements
IAG states that the framework for its submission is not to delve into specifics of the debate or defend certain carriers (although it does partly doing so). Instead IAG seeks to offer comments on the US DoT's rationale for open skies.
IAG says its liberalisation views are consistent with US DoT's open skies principles, which IAG quotes and which is reproduced below:
"Open Skies agreements have vastly expanded international passenger and cargo flights to and from the United States, promoting increased travel and trade, enhancing productivity, and spurring high- quality job opportunities and economic growth.

...

"Open Skies agreements do this by eliminating government interference in the commercial decisions of air carriers about routes, capacity, and pricing, freeing carriers to provide more affordable, convenient, and efficient air service for consumers."
IAG says: "We have consistently supported the liberalisation of air transport worldwide." This is the full statement and is not selectively quoted. Notably this statement does not include any conditionals, the way submissions from AF-KLM and Lufthansa say they generally support competition but with certain "principles" or "fair competition".
IAG's only reference to "fair competition" in its submission is a statement that the UK Department for Transport reviewed Qatar Airways and was satisfied regarding Qatar's "fair competition".
The European issue examined in this first report is AF-KLM's concerns about Gulf-operated fifth freedom flights.
IAG makes not a single mention of fifth freedom services from Gulf carriers or any other operator. To a naysayer, this could mean IAG objects to such services but stays silent on the issue. However, this view would be difficult to justify given IAG's clear-cut view supporting open skies, of which fifth freedom liberalisation is a core tenet.
As an aside, the group's OpenSkies airline operating between Paris and New York was until recently the only European carrier successfully to utilise fifth freedom rights under EU-US open skies. It has since been joined by La Compagnie, another all-premium operation, and low-cost Norwegian.
Why might IAG's thinking be so different from European and American peers?
Some might argue IAG has a bias towards supporting Gulf carriers. In Jan-2015 Qatar Airways took a 9.99% stake in IAG for EUR1.5 billion. (These shares were acquired on the open market and were not newly issued. As such, IAG did not receive capital from Qatar.) But it would be inaccurate to say Qatar as a shareholder has suddenly changed IAG's view on Gulf carriers. The Qatar stake builds on IAG's long-running positive attitude towards Gulf carriers. IAG was for example instrumental in bringing Qatar Airways into its oneworld alliance in 2013.
As far back as 2010 Willie Walsh, now IAG CEO, refuted claims about Emirates' financials. Mr Walsh was quoted by Business Travel News in Jun-2010 as saying: "Many of my European counterparts will bitch and moan about the way the Middle East carriers operate; they think that it is unfair competition. I don't buy into that. Emirates [Airline] has been flying to the U.K. for over 20 years now. I just got a copy of its [financial] accounts the other day, and they look like a normal set of accounts to me. I have much more experience in dealing with Emirates, and have no doubt that they acted in a rational, commercial way in every way that I have seen."
Clearly this is a different attitude from AF-KLM and Lufthansa, and the Qatar stake. As CAPA previously commented about the stake:
Throwing itself into a mutual embrace with a Gulf carrier would be a further sign of IAG's more progressive thinking. Air France-KLM does have limited codeshare agreements with Etihad and may also consider some kind of joint venture arrangement, but Lufthansa continues to stand aloof from the Gulf carriers and even loosened ties with Star alliance partner and honorary fourth Gulf carrier Turkish Airlines in 2013.

...

Rather than bringing QA any immediate tangible benefit, it is more a symbolic purchase. It signals that Qatar Airways is serious about developing the commercial relationship and that it intends this to be long term. At around EUR1.5 billion, that is very serious.
See related report: Qatar Airways buys its 10% stake in IAG, showing it wants a serious relationship
For a number of years, IAG has offered supporting words for Gulf aviation. But in 2015 as peers stepped up allegations and the ferocity with which they are lobbied, IAG has shifted from words to actions. IAG has not been a follower but a leader, unafraid to be the unpopular kid on the block while it stands up for its view. IAG's submission to the US DoT (and other agencies) is notable not merely for its support but its sweeping rejection of allegations peers consider unquestionable, and IAG's sharp language.
In some aspects, IAG's submission is more powerful than the official comments from US entities supportive of Gulf carriers, such as Alaska Airlines, JetBlue and certain airports.
This is not the first time IAG has taken action to defend – or stand behind – its principles.
In Apr-2015 IAG left Europe's main airline association, the Association of European Airlines (AEA) due to the protectionist stances being taken by other senior members. IAG's exit was followed by airberlin and Alitalia. Etihad Airways has stakes in those two carriers at percentages that are multiples of Qatar's stake in IAG. As CAPA previously wrote:
IAG took BA and Iberia out of the Brussels-based Association of European Airlines, traditionally the main body representing legacy airlines, in mid Apr-2015 due to differences of opinion with other leading members of the association over what IAG saw as protectionism. The group's LCC subsidiary, Vueling, was never a member of the AEA.

IAG said: "We believe global liberalisation of our industry is fundamental to our future growth and we are not willing to compromise on this fundamental matter" (Financial Times/Wall Street Journal 16-Apr-2015). In particular, IAG objected to the stance taken by Air France-KLMand Lufthansa towards competition from the Gulf super-connector airlines Emirates, Qatar Airways and Etihad.
See related report: ACI Europe promotes open skies; a resounding precedent for airlines and other airports to follow
Air France-KLM boldly seeks inclusion of Europe into the US-Gulf debate
IAG's submission on the US-Gulf debate essentially encourages airlines to "get on with it". IAG claims no inherent right to be involved in the matter (aside from a few instances where it says the White Paper has not properly represented IAG's position). This is in stark contrast to Air France-KLM's submission. The Franco-Dutch group sets out to discuss what it calls the "basic principles enshrined in the Bilateral Agreement signed between the European Union and the United States."
This EU-US focus may seem irrelevant given the topic of concern is between the US and Gulf carriers. However, Air France has two reasons for wanting to broaden the US inquiry: Gulf carrier-operated fifth freedom services and Gulf carriers carrying passengers that bypass European hubs on US-Europe-Asia routings.
These factors provoke Air France to call for "a coordinated approach in order to safeguard the benefits of the ground-breaking US-EU agreement." This reports examines the first concern, fifth freedom flying, which AF-KLM expresses in its submission as a greater concern than Lufthansa does. (This simply reflects the contents of their submission and not necessarily views outside of the submissions.)
Lufthansa joins AF-KLM in having concerns about US-India/Asia market share. Their joint views (and IAG's opposition) will be examined in a second report.
Gulf fifth freedom trans-Atlantic flights: Emirates' entry actually grew the market for European and American carriers
Air France's argument about Gulf-operated fifth freedom trans-Atlantic flights partially relies on scare tactics. AF-KLM notes Gulf carriers can exercise fifth freedom rights between the EU and US that are "enshrined in the open skies agreements". Air France makes the traffic rights seem a dangerous holy principle, writ in stone 70 years ago.
For the Italian government, Emirates' entry on the Milan-New York market was perhaps divine intervention. Incumbents had been cutting capacity (see graph below), sending passengers to transit via other European hubs. And passengers flying the non-stops found themselves on board dated aircraft. Emirates' entry provoked competitors to increase capacity.
Milan Malpensa-New York JFK seat capacity by carrier and total figure: 2003-2013
Emirates' presence on Milan-New York was not part of the UAE-Italy bilateral but rather was granted on an extra-bilateral basis by the Italian government, a fact often conveniently ignored. There was no manipulation or sneaky backdoor access, and nor can the market be said to have been undermined. The key argument from US carriers in their White Paper about this fifth freedom service is that "U.S. carriers have lost 13 points of market share directly to Emirates."
This argument is misleading since US carriers cite market share, rather than total bookings. The Gulf carrier's analysis of MIDT found that after Emirates' entry on the Milan-New York JFK market, US legacy carriers and their joint venture partners increased bookings by 46%.
The Euro-US JVs are carrying more passengers since Emirates' entry than they were before; Emirates has hardly "stolen" any passengers.
This confusion about market share versus actual passengers carried is present throughout the arguments of US carriers and AF-KLM and Lufthansa, as well as members of the press and government that the US airlines have successfully won over with claims about market share rather than total market size.
Milan-New York monthly bookings by carrier group and legacy carriers' capacity: 2013-2014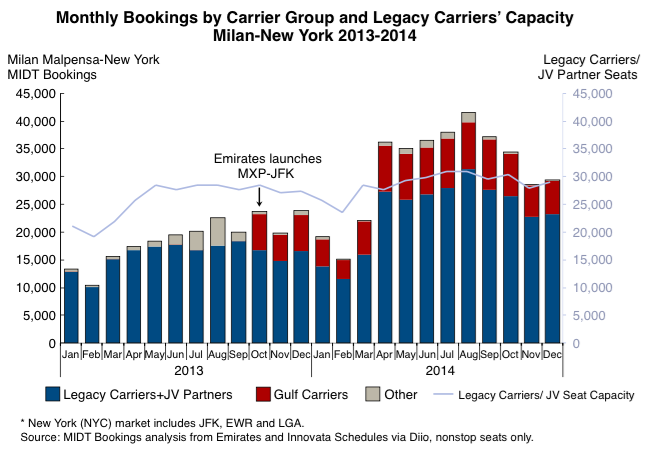 Milan-New York Bookings by Carrier Group Before and After Emirates' Entry: 2013-2014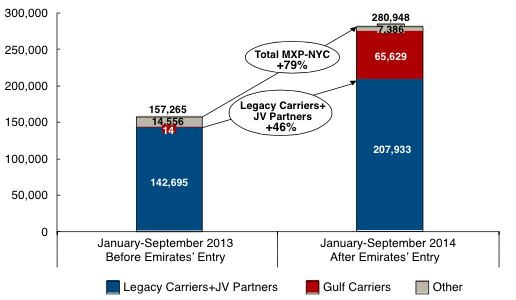 Another argument is that Emirates' entry has caused fares to decrease, caused financial damage. Yet specific comments or any evidence of fare pressures as a result of Gulf competition is generally lacking in submissions from AF-KLM, Lufthansa and the US carriers. This is probably not because there has been a lack of price competition.
Rather, the airlines would probably find little public support when they argue against competition is bringing lower fares to passengers. There is heightened sensitivity from US consumers that airfares are increasing at the same time as they are receiving diminished service. Airlines would face a challenge to justify what an "appropriate" or "sustainable" fare on the market may be.
It is far easier for the airlines to drum up public support by saying market share is being lost or stolen. This creates immediate negative connotations, even if the full picture is complex (such as the market actually growing and consumers being given more options). In contrast, saying that Gulf airlines are causing competitors to reduce fares or increase service (such as deploying aircraft with better interiors, as American has done) would probably be music to the ears of American consumers.
Gulf airline fifth freedom growth is theoretically possible, but a mere sideshow. US-EU JV partners have stitched up the market
The discussion on Gulf carrier-operated fifth freedom services begins and ends here; there are no other Gulf-operated fifth freedom services outside Emirates' Milan-New York flight. This single daily flight (even if on an A380) is one of about 373 daily trans-Atlantic services between the US and Western Europe in 2015, according to OAG data. US airlines have approximately 170 daily flights, or 45% of the market.
Europe's three main airline groups account for approximately 33% of flights. When including all airlines operating between the US and Western Europe as part of a JV, approximately 90% of trans-Atlantic flights are flown under a JV.
The biggest independent challengers are Turkish Airlines with approximately nine daily flights, Icelandair with eight and Norwegian with six. It is unsurprising that Turkish has been excluded from the Star-led JV, while carriers have tried to inhibit the growth of Norwegian.
Average daily US-Western Europe flights by carrier: 2015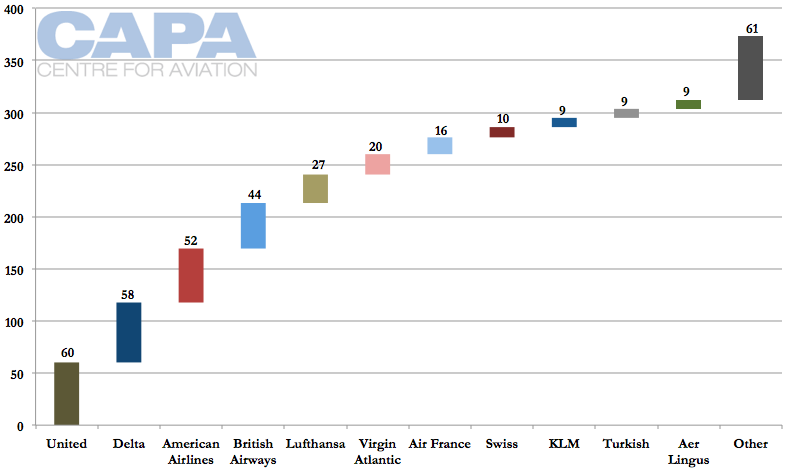 Sizeable growth opportunities for fifth freedom operations seem limited. President Sir Tim Clark in a May-2015 interview with The National said 20 European airports had asked Emirates to open fifth freedom services to the US.
But it may not be that easy. As CAPA previously wrote:
it is difficult to see where substantial fifth freedom growth could occur. The aeropolitical environment remains too limiting: few European countries permit UAE carriers fifth freedom services. Germany does from some cities, and so too does the UK – but not to North America.

There are other complexities. Flights would also need to fit into Gulf carriers' scheduling banks. Further, as Gulf carriers use larger aircraft on European services, potential fifth freedom flights beyond would need to be on large enough city pairs to sustain the larger aircraft. Such city pairs with large un-met demand are few, and Gulf carrier service could be prevented if existing American and European carriers met demand. Ironically, one such carrier to fill unfulfilled demand could be Norwegian International, which the US airline pilots and airlines are working so hard to block.

Prof. Dr. Richard Klophaus at the Competence Center Aviation Management at Worms University of Applied Sciences in a 2014 paper examined the prospect of additional EU-US services by Emirates. Mr Klophaus wrote the UK would present the best fifth freedom trans-Atlantic opportunities if liberalisation occurred. And that is a big if since "such head-to-head competition would lower chances to get fifth freedom rights enabled by UK authorities." He concluded: "Because of regulatory constraints and commercial reasons it is unlikely that Emirates will offer more than a handful of direct EU-US routes in the coming years."

It is often Emirates that attracts attention and high level opposition – after all it is the world's largest and one of the fastest growing international airlines. Prof. Klophaus suggests that Etihad perhaps represents a greater threat in this context, noting Etihad's growing equity investments in Europe (Aer Lingus, Air Serbia, airberlin, Alitalia and Etihad Regional), in addition to close commercial partnerships (Air Europa); these potentially give Etihad the local European feed that could theoretically sustain a wider range of fifth freedom trans-Atlantic services. Etihad however has been clear in saying it is not interested in these markets, at least for now, as the routes for its European partners.
See related report: US airlines take aim at the Gulf carriers when perhaps they would be better woo-ing them
These and related issues will be discussed by airline CEOs at CAPA's forthcoming World Aviation Summit in Helsinki, 7/8 Oct-2015. For information, please see: World Aviation Summit
Follow-up reports: Market share, state aid, fair competition – and what to do?
The the next report in this series examines claims from AF-KLM and Lufthansa that Gulf carriers are causing them to lose market share on sixth freedom traffic between the US and beyond Europe markets like the Indian subcontinent. This raises the matter of who "owns" the passenger; IAG's retort is that no one does. AF-KLM's strong views on this subject contradict partner Delta, which says beyond-Europe connections have not been important for them.
The final report will examine matters including state aid and fair competition. Lufthansa has more to say on this subject than AF-KLM. The profound difference is that where the three US carriers try to impose an obligation on Gulf carriers to conform to "laws" (often exaggereated or non-existent), AF-KLM and Lufthansa note this debate takes place in a grey area. They would like, albeit with little legal authority, to change this new world of competition.