US Ex-Im Bank: Congress fails to renew mandate before recess - equivalent to unilateral disarmament
Analysis
On 26-Jun-2015, the US Congress went into a recess without having approved a renewal of the charter for the Export Import Bank of the United States (Ex-Im Bank), the country's export credit agency. Congress doesn't return to session until 08-Jul-2015, forcing a hiatus of at least a week on further Ex-Im Bank financing activities.
When the bank's Congressional funding authority expired on 30-Jun-2015, it became unable to undertake new transactions. Existing financing – some of it stretching out as far as 18 years – will continue unaffected, but new activity will effectively cease.
This is the first time in the bank's 81-year history that it has been forced to suspend its lending activities, even on a temporary basis. Once a source of bipartisan unity, the Ex-Im Bank has fallen victim to Tea Party activism, ideology and the increasingly acrimonious nature of US politics. It is hard to see who wins from this silliness.
The Ex-Im Bank's mission is to assist in the financing of US exports of goods and services. It provides financing when the private sector is either unable or unwilling to undertake financing at commercially viable terms, or to meet foreign competition by countering export credit financing offered by other countries in support of their own exporters.
The bank works primarily through the private financing sector. In FY2014, 98% of its loans involved commercial financial institutions.
For the same year, the bank reported that it supported USD27.4 billion of US exports - with a default rate of just 0.175%. The Bank's activities supported 164,000 US jobs, and generated a USD675 million surplus for the Treasury.
US small businesses accounted for 89% of the bank's 3842 transactions, while larger companies represent 75% of the dollar amount. Major US companies such as Boeing, GE, Caterpillar and Lockheed Martin are among its largest beneficiaries.
Re-authorisation debate is third time unlucky for the Ex-Im Bank
Prior to 2010, the re-authorisation of the Ex-Im Bank barely raised a flutter, on either side of Congress. Its activities were comparatively modest and generally little cause for controversy. Re-authorisation sometimes passed without debate or by a simple voice vote.
However, the re-authorisation of the bank has progressively become more controversial over the past five years. The ongoing battle over its future is just another high profile example of the intractable nature of US partisan politics.
When the 2007-2011 financial crisis arrived and global liquidity tightened, export credit agencies globally moved to fill credit gaps. The Ex-Im Bank was no exception, with its authorisations jumping from USD12.7 billion in FY2007 to a peak of USD32.7 billion in FY2011. During the GFC, it was there when US industry needed it most.
Ex-Im Bank lending authorisations FY2007-2011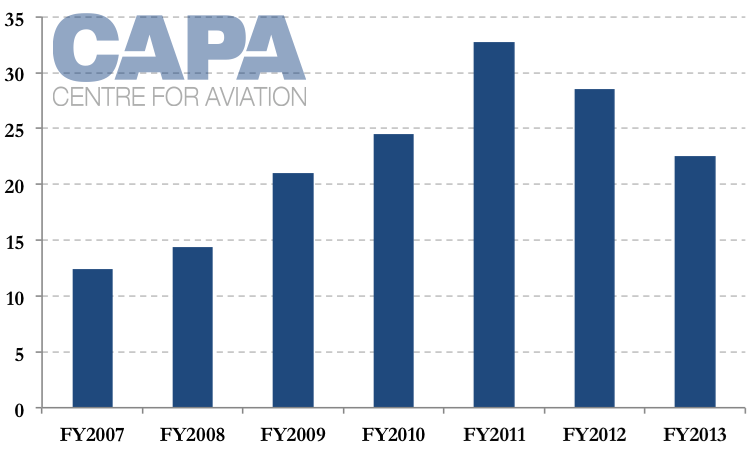 Commercial aviation financing was one of the sectors that needed the greatest support. By FY2010, 37.5% of Ex-Im Bank financing authorisations were going to boost sales of Boeing aircraft. As of the end of FY2014, USD50.7 billion of the Ex-Im Bank's USD112.7 billion in lending exposure was for air transport finance.
This greatly displeased some US aviation interests – most vocally Delta Air Lines, Airlines for America and the ALPA pilots union.
They argued that Ex-Im's aircraft financing amounted to state subsidies for foreign competition, particularly for widebody purchases, and was costing them business and denying American jobs. They even moved to challenge some of the Bank's lending activities and due diligence processes in court.
US Ex-Im Bank and European ECA support for large commercial aircraft deliveries
The second element has been the addition of the Tea Party to the US political mix, following the 2010 and 2012 elections. Tea Party politicians such as House Financial Services chairman Jeb Hensarling are generally advocates of laissez faire capitalism and open market economics. They are ideologically opposed to the role of the Ex-Im Bank, arguing that the federal government has no business in determining "winners and losers" in the market.
For Sen. Hensarling, allowing the Ex-Im's funding authority to lapse on 30-Jun-2015 is "a small step toward renewing a competitive free-market economy and arresting the rise of the progressive welfare state and the cronyism attached to it."
Joining the Tea Party opponents to Ex-Im are influential conservative Republicans and such as House Majority Leader Kevin McCarthy and Majority Whip Steve Scalise, along with libertarians such as Congressman Paul Ryan and Senator Rand Paul.
They argue that the bank's activities are corporate welfare for the benefit of a few, politically well-connected companies. Some also argue that the Ex-Im's activities amount to corporate welfare that expressly benefits foreign companies and countries.
These groups tried, and failed, to stall re-authorisation of the Bank in the two previous rounds, although they did succeed in implementing some modest reforms. The debate in 2014 was fiercer, particularly on the Republican side, but was eventually quelled by then House Majority Leader Eric Cantor.
With Mr Cantor's loss in the 2014 primaries, the Republican party lost one of its strongest voices supporting the Ex-Im Bank. After failing in 2012 and 2014, the Ex-Im's opponents have managed to at least force a temporary halt to its activities the third time around.
What effect will this have on Boeing? Even mere doubts over Ex-Im support had turned buyers elsewhere
A temporary financing lapse will not create a serious disadvantage for Boeing, at least in the short term. The company can use its own financing arm, Boeing Capital Corp, as a lender of last resort where private sector financing is unavailable - although Boeing notes that it can only lend so much.
An Ex-Im shutdown is also not as disastrous as it would have been four or five years ago. As liquidity has returned to global financial markets, and aircraft financiers have sought new and alternative financing arrangements, the Ex-Im Bank lending activities to support Boeing aircraft sales have dropped precipitously. For FY2014, Ex-Im support for Boeing was USD8.1 billion, the lowest its been since FY2010.
US Ex-Im Bank authorisations (widebody, commercial aircraft and total) FY2004 to FY2013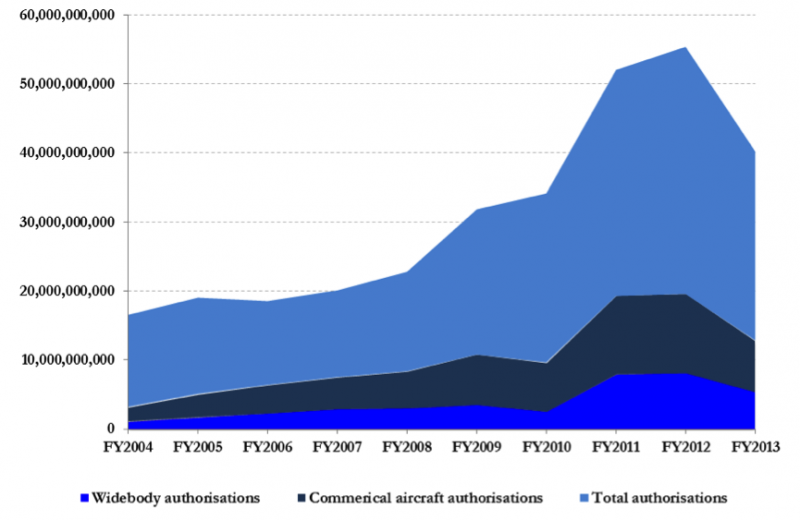 However, the US Congressional research service reported that even just the uncertainty caused by the 2014 debate over whether Congress would renew Ex-Im Bank's authority "reportedly led, in some instances, to foreign buyers selecting other suppliers over U.S. suppliers for certain export contracts, out of concern about financing."
Shortly before the Congressional recess, Boeing spokesman Tim Neale said that even a short-term suspension of the Export-Import Bank of the US (Ex-Im) funding authority "would be problematical to Boeing and other US exporters because it will add to customers' anxiety about the future of the bank". Boeing will also face difficulty winning orders with customers that have financing issues or weaker credit ratings that makes it more difficult or near to impossible for them to go to commercial financing sources.
The Ex-Im decision may also have long-term implications for Boeing's production. Boeing Capital Corporation head of regulatory strategy Scott Scherer said in May-2015 that Boeing has no intention to "sit idly by" if the bank is shut down. He noted Boeing will have to look at alternatives for securing financing measures, including locating production in countries with "more aggressive export policies", to ensure that Boeing is not hurt by a lack of financing support.
Boeing is not alone in expressing this sentiment. In Jun-2015, GE CEO Jeffrey Immelt said the company would consider relocating production outside the US to "places where export credit financing is available."
In the long-term, the Ex-Im provides a vital additional avenue of support for Boeing and another arrow in its quiver when competing against Airbus, which as three European export credit agencies backing it. There is no level playing field in international trade and commercial aerospace and Boeing now has now been hobbled by a political decision.
Political ideology and global realities make a poor mix
The failure to re-authorise the Ex-Im Bank is chiefly ideological, with negligible real world rationale. The temporary lapse in authority breaches a previously uncrossed barrier, increasing the likelihood of a recurrence, or even a gradual closure.
The Ex-Im funding lapse effectively amounts to a unilateral disarmament. Global markets are not the free and open structures that Tea Party ideologues would like them to be. Other countries have their own export credit banks to support their own exports. This is one of the key reasons the Ex-Im Bank is still in place after more than 80 years.
The Ex-Im's existence is justified by one of the oldest arguments: we have it because they have it, and they have it because we have it.
Unless other nations agree to similar disarmament and commit to the same open market, level playing field philosophy as Tea Party Republicans, one of the legs that American exporters rely on to compete internationally, has been chopped out from underneath them.