US ATA hits out at UK's populist per-aircraft tax
Already suffering under a nearly USD20 billion fee and tax bill that does not even include property or income taxes, the Air Transport Association of America (ATA) is protesting what it calls "another unjustified flight tax" as the UK's newly minted coalition government scrapped its highly controversial and unpopular airline passenger duty (APD) which increased air fares by hundreds of pounds, in favour of a per-airplane tax.
See related report: Coalition Government full frontal attack on British aviation; Heathrow R3 in jeopardy
The UK government said it was part of an effort to streamline air traffic since it would "tackle inefficient planes and discourage airlines from flying half-empty aircraft," according to MailOnline.com, which broke the story yesterday.
Populist politics at its cheapest
The move comes on the heels of the government's cancellation of the third runway at Heathrow and can only be viewed as a thinly veiled attempt to raise funds for depleted government coffers. After all, the funds will not be used for environmental mitigation, but, according to language in the document, will go toward funding an income tax break in the UK.
No sooner had the news moved, than ATA weighed in, criticising the supposed purpose of the tax and insinuating the new government has little understanding of how airlines actually work. It also noted that such fees were illegal under current international treaties to which the United Kingdom is party.
The greatest irony is that that governments around the world can do more to streamline operations than all the world's airlines have already done in the past three decades, simply by modernising their air traffic management systems. Thus, the new government should look no further than its own policies, which, like the US and Europe, do little to address the most overwhelming factor in what little carbon emissions there are from aviation.
ATA: should instead "encourage more investments that reduce...emissions"
"Contrary to what some have said in support of the per-aircraft fee, airlines do not wastefully schedule their flights," said the association as it shot out its response late yesterday. "The economics of this industry do not permit that. Stubbornly high fuel prices, inefficient air traffic control systems and dismal financial results mean that airlines have strong incentives to schedule their flights as efficiently as possible and reduce the consumption of jet fuel. We respond to those incentives every day. The result is an unrelenting focus on efficiency that has produced an extraordinary environmental record, which dates back decades. That commitment continues today as evidenced, for example, by our ongoing involvement in the development of alternative jet fuels. What the airline industry needs is government policies that encourage more investments that reduce greenhouse gas emissions, not punitive taxes that stifle investment in technology and upgrades."
US airlines have long been fighting such green "initiatives", saying they have already done more to reduce emissions and inefficiencies than most other industries combined. They are also fighting the propensity for the US government to continually impose new fees and taxes on passengers, that, like England increase fares by hundreds of dollars.
ATA joined Virgin Atlantic and British Airways in opposing the per-aircraft fee. British Airways also pointed out the existing controversial airline passenger duty has nothing to do with environmental or infrastructure benefits, adding that there is no guarantee that the new charge would go toward such initiatives.
'This isn't a new idea," Virgin Atlantic told MailOnline.com. "When Treasury looked at it before, they found it would be unworkable. We agree that there is considerable scope to improve APD but a per-plane tax won't do it."
However, the move was hailed by charter operators who with TUI Travel telling the publication, "TUI Travel has long argued for this change which will reward airlines like Thomson Airways that operates with the highest load factors in the industry, and will incentivise carbon efficient behaviour."
easyJet too, with its young aircraft fleet and high load factors, also gave some support to the move, insofar as it would give efficient carriers an edge.
US airline tax burden offers no return value
Despite steadily increasing taxes, US passengers have not seen a commensurate return on the airlines' investments.
Increasing taxes on US airlines since 2000
After 40 years of ticket taxes, they have yet to see the modernisation of the air traffic control system that costs the traveling public an estimated additional USD40 billion annually.
"Once again, airlines, their customers and the communities that they serve are at the mercy of political forces beyond their control," ATA continued. "We can only hope that facts rather than misguided impulses gain the upper hand in the debate about the proposed per-aircraft fee.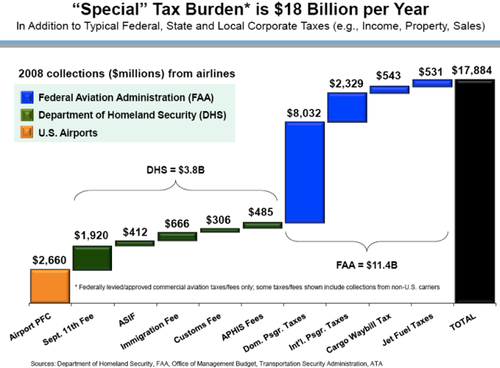 Airlines are fighting US government efforts to increase its already high, unique tax burden that views airline passengers and shippers as the government's personal ATM machine. This, for an industry that contributes USD1 trillion to the economy and 11 million jobs.
Not "a green proposal", simply an opportunist penalty
"Further burdening air transportation with another tax puts the well-being of our customers at risk," said the association. "That is crystal clear. The simple reality is that this is not a 'green' proposal, it is a plan to financially penalize airlines and thereby force them to cut back air services that passengers and shippers want. We are hopeful that the remarkable environmental record of the airline industry, our long-demonstrated commitment to working to improve that record, and the needs of passengers and shippers will persuade those who advocate imposition of the per-aircraft fee to abandon their efforts."
And US airlines - along with many others - will be hoping that the UK government's cynicism in milking the airline industry will not spread. Easy, populist taxes like these can be highly contagious.