Tough times ahead as air traffic weakens; declines in freight markets accelerate in Aug-2011: IATA
Analysis
Growth in passenger traffic weakened in Aug-2011 and the decline in freight markets accelerated amid economic jitters and waning business and consumer confidence, according to the International Air Transport Association (IATA). Director General and CEO Tony Tyler separately commented: "We are in a time now of declining profitability. The latest traffic figures would reinforce this and possibly point to risks, if anything, being on the downside."
Commenting on the current state of the aviation industry, Mr Tyler noted: "The industry has shifted gears downward. The pace of growth in passenger markets has dipped and the freight business is now shrinking at a faster pace. With business and consumer confidence continuing to slump globally there is not a lot of optimism for improved conditions any time soon".
He continued: "Airlines are bracing for tough times ahead. Economic uncertainty owing to the European sovereign debt crisis and the growing likelihood of a protracted period of slow growth in developed economies mean the industry will be even more focused on reducing costs."
IATA worldwide air travel growth and business confidence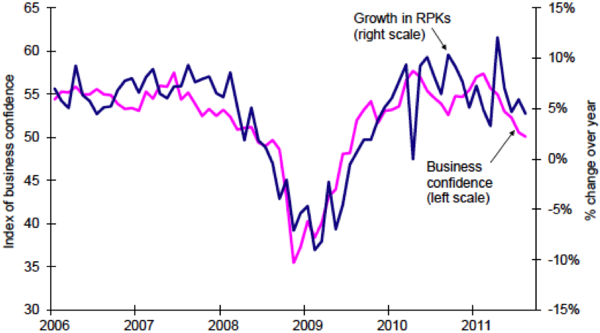 Passenger traffic growth slows in Aug-2011. Month-on-month weakening
Passenger traffic (RPKs) increased 4.5% in Aug-2011, traditionally a seasonally strong month, marking a "significant slowing" from growth of 6% in Jul-2011, according to IATA.
IATA total air freight and passenger volumes (seasonally adjusted): 2006 to Aug-2011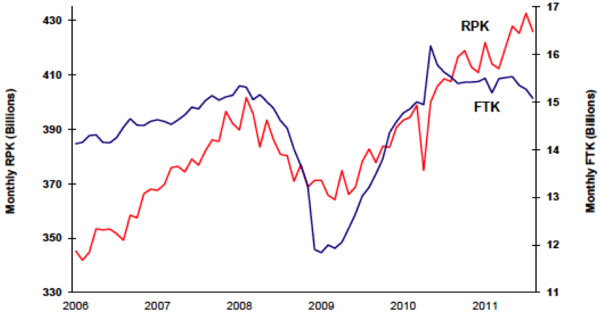 In the year-to-date period, traffic has increased 6.1% to be close to the growth trend witnessed over the past 20 years. However, much of this growth took place in mid-2010, with growth slowing since 3Q2010. The slowdown in growth is expected to continue throughout the remainder of the year.
IATA traffic growth for Aug-2011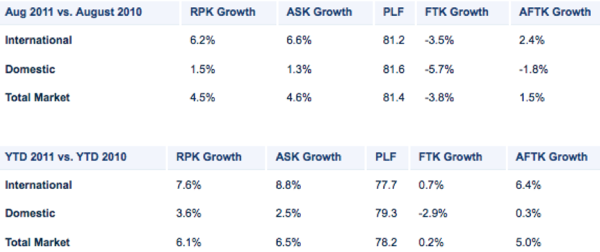 Comparisons of Jul-2011 with Aug-2011 clearly highlight the slowdown in traffic. The total passenger market weakened by 1.6% in Aug-2011 compared to Jul-2011. International markets declined by 1.8%, while already weak domestic markets shrank by 1.0%, with load factors also weakening across the board.
IATA traffic comparisons: Jul-2011 to Aug-2011
European airlines post strongest growth in international traffic
International passenger demand increased 6.2% year-on-year in Aug-2011 but declined by 1.8% on a month-on-month basis. IATA warned that "very weak" domestic markets are negating the impact of stronger international markets, though a slowdown is widespread across all markets.
International passenger market: 2006 to Aug-2011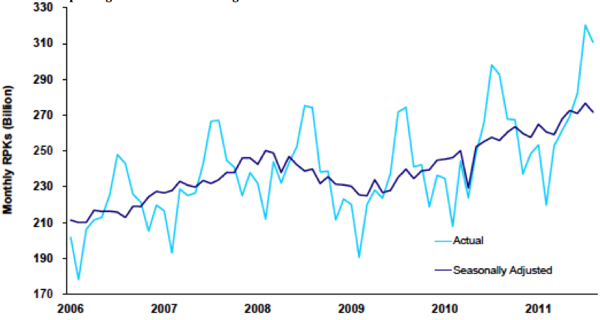 European airlines posted the strongest growth in international air traffic in Aug-2011, as strong exports led to increased international business. Traffic increased by 7.9%, slightly below capacity growth of 8.2%, with load factors standing at 83.9%. Middle Eastern carriers recorded the second highest demand growth at 6.7%, behind capacity expansion of 7.6%, leaving load factors down at 76.2%. Asia-Pacific carriers reported 5.3% demand growth, slightly below a 5.6% capacity expansion. This is slightly better than the year-to-date growth of 4.4%, reflecting the recovery in Japanese international travel. Load factors of 78.9% were below the industry average of 81.2%.
International passenger growth by region: Jul-2011 and Aug-2011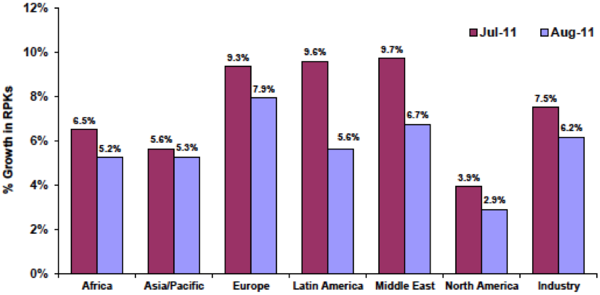 Latin American carriers reported 5.6% growth for Aug-2011, behind their 7.1% capacity expansion. This is significantly lower than the 10.9% demand growth recorded in the year-to-date period. Load factors stood at 76.9%. African carriers reported 5.2% demand growth against a capacity expansion of 6.3%. The continent's carriers had the lowest load factor at 70.0%.
North American carriers reported the weakest performance with growth of just 2.9%, as cautious capacity control is followed by the region's airlines. This slow growth is in contrast to the stronger growth witnessed earlier in the year, as reflected in the 5.6% year-to-date demand expansion. The region's carriers posted the highest load factor at 86.1%.
International passenger load factor by region: Jul-2011 to Aug-2011
India reports strongest domestic growth; China domestic growth moderate
Domestic demand increased 1.5% year-on-year in Aug-2011, with a 1.0% month-on-month decline. Year-to-date domestic demand is up 3.6% on 2010 levels.
IATA domestic passenger market: 2006 to Aug-2011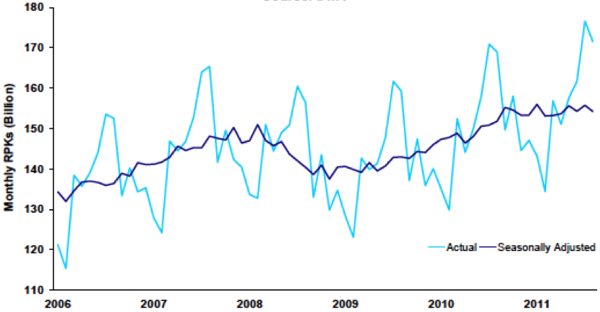 India recorded demand growth of 19.7% in Aug-2011 to be the "top performer" among domestic markets, followed by Brazil. Combined these markets represent 3% of worldwide air travel limiting the impact of their strong performance on the global industry. Chinese domestic travel demand increased by only 2.8%, considerably below the double-digit growth seen in 2009 and for much of 2010.
Domestic passenger growth by country: Jul-2011 to Aug-2011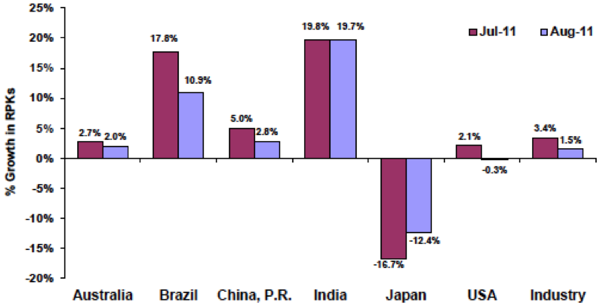 Also in North Asia, Japanese domestic demand was down 12.4% year-on-year but has strengthened since the 11-Mar-2011 earthquake and tsunami to recover to within 9% of pre-earthquake and tsunami levels.
The largest source of weakness in absolute terms was the 0.3% fall in the US compared to the previous year. US domestic travel accounts for about half of all domestic travel.
Load factors remain high but showing weakness
Passenger load factors were high at 81.4% in Aug-2011, almost as high as Jul-2011, although the trend of a supply-demand imbalance is beginning to appear. Adjusted to seasonality, load factors weakened to 77.8%, with IATA commenting: "While this is close to historically high levels reflecting the industry's ability to efficiently allocate capacity, it too showed weakness – falling by 1.3% compared to July".
Internationally, load factors slipped in Aug-2011 on a seasonally adjusted basis, but have improved from the lows of Mar-2011 and Apr-2011 related to demand shocks in Japan and MENA. Amid continued capacity additions through aircraft deliveries, coinciding with a softening demand environment, this load factor pressure will likely continue.
International passenger load factor: 2006 to Aug-2011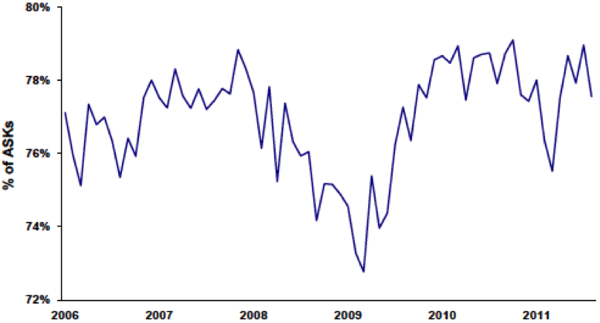 Freight load factors in Aug-2011, a seasonally weak month for freight, stood at 43.3%, increasing to 45.6% adjusting to seasonality. This is over 4 ppts weaker than peak 2Q2010 levels, as capacity has continued to grow despite stagnating, and now shrinking, freight markets. "Coupled with falling volumes this makes the freight business a very difficult market in which to sustain profitability," IATA cautioned.
Freight load factor: 2006 to Aug-2011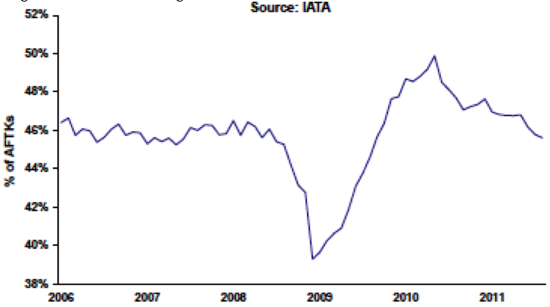 Freight declines more than double in Aug-2011
Freight declines deepened in Aug-2011, with freight traffic down 3.8% year-on-year, more than double the 1.8% decline in the preceding month.
"In 2011 air freight reflected the lack of growth in overall world trade volumes. This latest decline shows a further deterioration in global economic conditions," IATA said. "The cargo trends are certainly inauspicious and if cargo is again playing the role of leading indicator, then economies – and by extension airlines – are in for a difficult time," Mr Tyler added.
IATA total freight market: 2006 to Aug-2011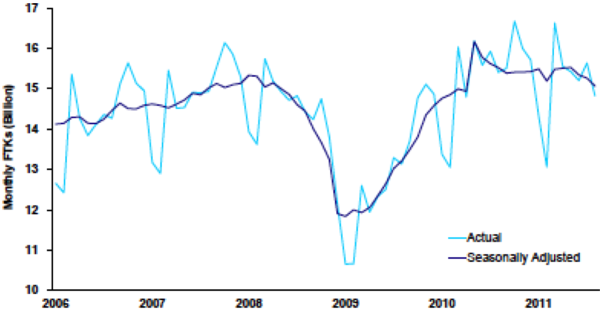 The outlook for the freight market is weaker, with weak consumer spending in the US and Europe (amid concerns of another global recession) impacting high-value exports from Asian manufacturers. The air cargo market, which accounts for around a third of all internationally traded goods, is seen as a reliable indicator of the state of the global economy and their industry.
The decline has been most prominent in the largest markets. North American carriers reported a 7.0% fall in cargo volume for Aug-2011, followed by carriers in the Asia Pacific (-5.4%) and Europe (-1.8%). Operators in Africa (+2.2%), Latin America (+5.4%) and the Middle East (+3.7%) remained positive.
IATA total freight growth by market: Jul-2011 to Aug-2011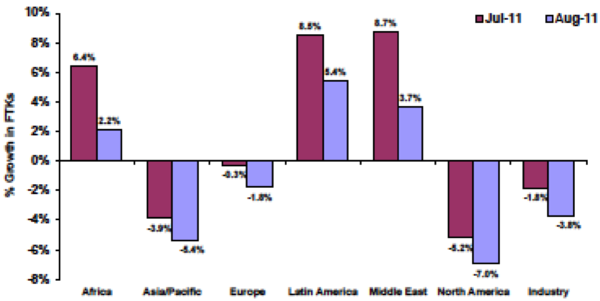 IATA noted that all the major carriers in the Asia Pacific, which represents nearly half of the freight market, experienced a slowdown in cargo. "Their cargo numbers are driven by consumption in Europe and North America, so if their numbers are weak it is because people in Europe and North America are not buying products," Mr Tyler said, adding there had been no sign of a recovery in Sep-2011.
Current economic conditions impacting airline profitability
The Aug-2011 traffic results and the caution about the remainder of the year are in line with expectations for a decline in profitability heading into 2012. This decline in profitability reflects "falls in business and consumer confidence, the unresolved financial situation in the Eurozone and the stagnation or worse in world trade", which are all likely to weaken air travel and air freight further, IATA said.
According to The Conference Board, the "severe deterioration in business confidence and stock prices" in the euro zone has continued in Sep-2011. "The sovereign debt crisis and the uncertainty concerning its resolution are beginning to dampen current economic activity and the immediate outlook. The prospect of a banking crisis and increased fears of recession are self-reinforcing and an economic contraction cannot be ruled out in the very near term," it warned. In the US market, The Conference Board separately noted "the pessimism that shrouded consumers last month has spilled over into Sep-2011". Consumer expectations, which had plummeted in Aug-2011, remained weak in Sep-2011, with consumers' assessment of current conditions declining for the fifth consecutive month, "a sign that the economic environment remains weak".
Meanwhile, IATA cautioned that "slipping load factors will add to the adverse impact this will have on airlines' profitability". In addition to the global slowdown, airline profitability is being further jeopardised by the European Union's plans to include aviation in the EU ETS, a plan Mr Tyler has stated is "misguided". The EU ETS is likely to have around a USD1.2 billion impact in 2011, IATA has forecast.
As previously reported, IATA forecast that the aviation industry will see total industry profits fall from USD6.9 billion in 2011 to USD4.9 billion in 2012. Mr Tyler has also cautioned that airline profits forecast to total USD28 billion in the three years through 2012 may be unsustainable as over-capacity and looming regulatory costs weigh on margins. This will create an average net margin of only 0.8%, which could weaken even further if economic growth slows to less than 2.4%.