Tokyo Narita Part 2: low-cost terminal opening underlines airport's short haul low cost evolution
Analysis
Tokyo Narita on 08-Apr-2015 will open its low-cost carrier terminal, the third Japanese airport to have one, after Osaka Kansai and Okinawa Naha. The LCCT will open with five LCCs: local carriers Jetstar Japan, Vanilla Air and Spring Airlines Japan as well as Jeju Air and Jetstar Airways (Australia). Those five carriers comprise 78% of Narita's LCC movements and 74% of LCC seat capacity. The LCCT will have transfer facilities, the airport tells CAPA at the recent Routes Asia conference in Kunming.
The LCCT is further proof of the dramatic changes in Japan's aviation policy framework in recent years that have supported LCCs and open sky agreements. In 2015, LCCs will account for 18% of Narita's seats, including 67% of domestic seats. Both of these figures are up from almost zero in 2011. Over a third of all LCC seats at Tokyo Narita are international, and this is expected to grow further as Jetstar Japan commences international flights from Narita and Narita welcomes new service from carriers including Tigerair Taiwan and Indonesia AirAsia X.
Tokyo Narita focus is slowly shifting: from full-service long-haul to low-cost short-haul
Until 2008, Tokyo Narita had no LCCs (and the first was a foreign one). In 2015, LCCs will account for approximately 18% of available seats, according to OAG data. This includes a penetration rate of 67% of domestic seats and 8% of international seats. Tokyo Narita had a low number of domestic flights, with domestic services mainly focused on connecting international passengers to other points in Japan.
With the opening of more international slots at Haneda, domestic feeder flights can be reduced. Japan Airlines also codeshares on Jetstar Japan's domestic network from Narita, giving JAL a wider reach.
LCC seat share at Tokyo Narita: 2005-2015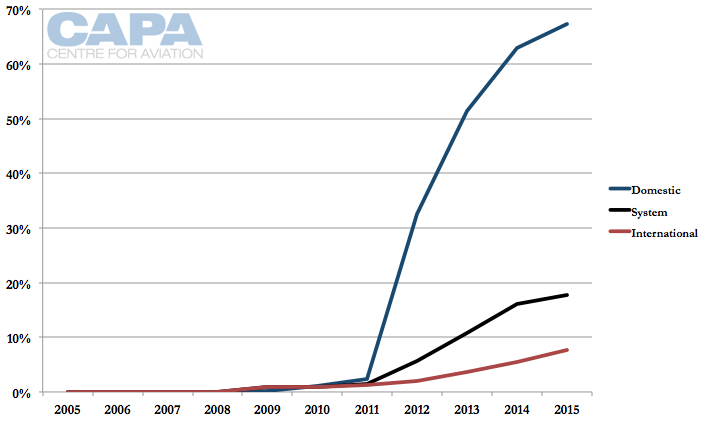 To be clear, Narita will remain a primarily full-service international airport. Haneda slot growth for the rest of the decade is limited and Haneda slots are carefully given out, and are often politically linked. Even if a large number of slots did become available, Tokyo requests airlines maintain Narita operations if they grow at Haneda (this had had mixed results). Narita can no longer rely on full-service international capacity.
Long-haul still dominates internationally. Narita's average international sector length decreased only 1% from 5,114km in 2008 to 5,046km in 2015. However, when looking at system-wide (including domestic) average sector lengths, there was a 13% decrease from 4,696km in 2008 to 4,093km in 2015.
Narita's seat capacity in 2015 will be 2.5% less than 2005, but the composition has shifted, as indicated by average sector lengths. Domestic seats accounted for only 5% of capacity in 2005 (and these flights often ran at low load factors) but in 2015 will account for 18% of capacity.
Domestic LCCs account for 11% of total capacity, with domestic full-service airlines holding the remaining 6%. Full-service domestic carriers are far larger at Tokyo Haneda.
Tokyo Narita seat capacity by type of carrier: 2005-2015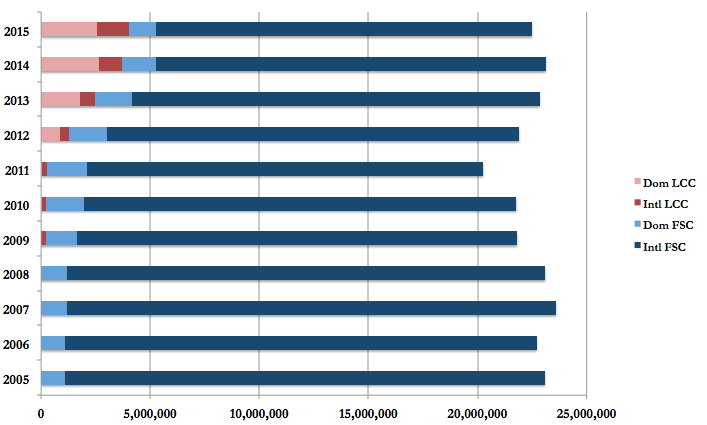 707" height="425" />
The international LCC sector is growing at Narita. It had mostly been a foreign LCC story with only AirAsia Japan (now Vanilla Air) offering international flights. Of the other two LCCs with their main base at Narita – Spring Airlines Japan and Jetstar Japan – Spring Airlines Japan only flies domestically while Jetstar Japan is expected to commence international service from Narita in northern summer 2015. Jetstar Japan in Mar-2015 commenced international services but from Osaka Kansai.
Kansai-based Peach Aviation is opening a Narita base, but for now is only flying domestically (it will have some international flights from Haneda using late-night slots).
See related report: Peach Aviation solidifies Japanese network with Tokyo base while Spring Japan re-capitalises
As of Mar-2015, 36% of LCC seats at Tokyo Narita will be international, a share likely to grow as capacity is added during the year.
Narita has lost some international traffic to Haneda. But its downturn in international traffic is not exclusively because of Haneda. Rather airlines are pulling out of Tokyo (and Japan) entirely. Likewise, Haneda's domestic growth is not just because airlines can shift flights from Narita to Haneda. Haneda slots are creating new growth – albeit perhaps not as much new growth as was hoped.
Tokyo airport international traffic (Haneda and Narita) was up 16% in 2014 compared to 2008, and up 4% in 2014 compared to 2013.
International traffic at Tokyo Haneda and Tokyo Narita: 2008-2014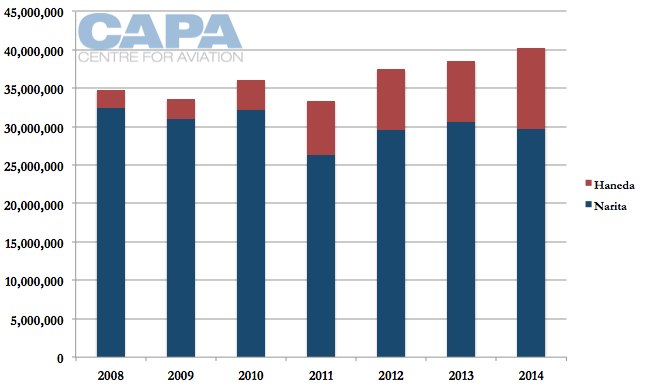 Haneda domestic passenger volumes were 3% lower in 2014 than 2008. Total domestic Tokyo domestic passengers were up 4% in 2014 compared to 2008. The main driving factor for Haneda's decline is not LCC capacity at Narita but JAL's restructure that provoked a decrease in capacity.
Domestic traffic at Tokyo Haneda and Tokyo Narita: 2008-2014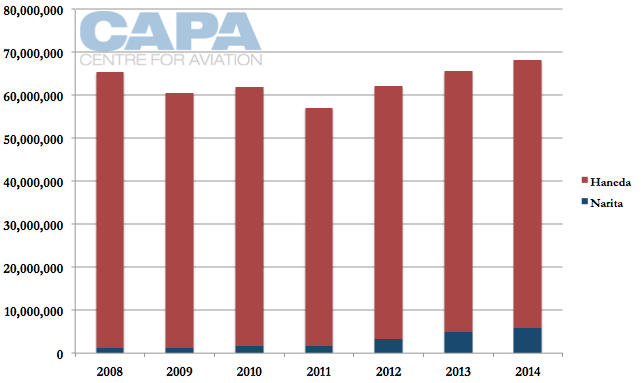 13 LCCs serve Tokyo Narita. Domestic LCCs are adding new destinations
Tokyo Narita in Apr-2008 had service to nine domestic airports, and in Apr-2015 this has increased to 17, according to OAG data. LCCs have added eight domestic destinations are the only operators on those routes from Narita.
This is still small compared to Tokyo Haneda, which had service to 48 domestic destinations in Apr-2008 and 49 in Apr-2015. In 2008, Narita had 19% of the destinations of Haneda but in 2015 will have 35% (this is destinations only and not frequency or seat count).
Tokyo Narita domestic destinations: 2008 and 2015
| | | |
| --- | --- | --- |
| Airport | 2008 | 2015 |
| Amami | - | Vanilla |
| Fukuoka | ANA, JAL | ANA, JAL, Jetstar Japan, Peach |
| Hiroshima | ANA | ANA, Spring Airlines Japan |
| Kagoshima | - | Jetstar Japan |
| Komatsu | ANA | ANA |
| Kumamoto | - | Jetstar Japan |
| Matsuyama | - | Jetstar Japan |
| Nagasaki | ANA | - |
| Nagoya | ANA, JAL | ANA, JAL |
| Niigata | - | ANA |
| Oita | - | Jetstar Japan |
| Okinawa Naha Apt | ANA, JAL | ANA, Jetstar Japan, Vanilla |
| Osaka Itami | ANA, JAL | ANA, JAL |
| Osaka Kansai | - | Jetstar Japan, Peach |
| Saga | - | Spring Airlines Japan |
| Sapporo New Chitose Apt | ANA, JAL | ANA, JAL, Jetstar Japan, Peach, Vanilla |
| Sendai | ANA | ANA |
| Takamatsu | - | Jetstar Japan, Spring Airlines Japan |
13 LCCs will serve Tokyo Narita in Apr-2015 according to schedules filed as of Mar-2015. Destinations are primarily around North and Southeast Asia but extend to Australia on Jetstar Airways (Australia). Jetstar Airways is one widebody LCC operator at Narita in addition to AirAsia X, Scoot and Thai AirAsia X. They will be joined by Scoot's Thai affiliate NokScoot.
Cebu Pacific operates A330s but does not fly them to Tokyo Narita. Its A330s are mostly used on long-haul flights to the Middle East as well as Australia and some regional sectors. The latest long-haul LCC, Indonesia AirAsia X, intends to serve Japan but is waiting on regulatory approval. The only other long-haul/widebody LCC in Asia, Jin Air (which has a 777-200) has not stated plans to serve to Japan with its 777.
Japan LCC destinations
| | |
| --- | --- |
| LCC | Destination(s) |
| Air Busan | Busan |
| AirAsia X | Kuala Lumpur |
| Cebu Pacific Air | Cebu, Manila |
| Eastar Jet | Seoul Incheon |
| HK Express | Hong Kong |
| Jeju Airlines | Seoul Incheon |
| Jetstar Airways | Cairns, Gold Coast, Melbourne |
| Jetstar Japan | Fukuoka, Kagoshima, Kumamoto, Matsuyama, Oita, Okinawa, Osaka Kansai, Sapporo, Takamatsu |
| Peach Aviation Limited | Fukuoka, Osaka Kansai, Sapporo |
| Scoot | Taipei |
| Spring Airlines Japan | Hiroshima, Saga, Takamatsi |
| Thai AirAsia X | Bangkok Don Mueang |
| Vanilla Air | Amami, Hong Kong, Kaohsiung, Okinawa, Sapporo, Taipei Taoyuan |
See related reports:
LCCT, Terminal 3, will open with 5 airlines and transfer facilities
A low-cost terminal for Narita was mooted in 2011 as LCCs announced plans to launch operations from Narita. The terminal will open on 08-Apr-2015 and initially feature five of Narita's 13 LCCs: Jetstar Japan, Jetstar Airways (Australia), Jeju Air, Spring Airlines Japan and Vanilla Air. Peach Aviation, which has a new hub at Narita, will continue to use terminal one, possibly to offer connections with part-owner All Nippon Airways. (ANA has 100% ownership in Vanilla Air, which will use the LCCT.)
The LCCT will serve 12 domestic destinations and nine international points.
The five carriers at T3 will comprise 78% of Narita's LCC movements and 74% of LCC seat capacity, according to OAG data. Peach is the third largest LCC at Narita based on seats and frequency. Peach accounts for 9% of movements. Thai AirAsia X, which so far will also not use the LCCT, has the same number of movements of Jeju but approximately twice the seat capacity due to its high-density A330s compared to Jeju's A320s.
Tokyo Narita movement share by LCC: Apr-2015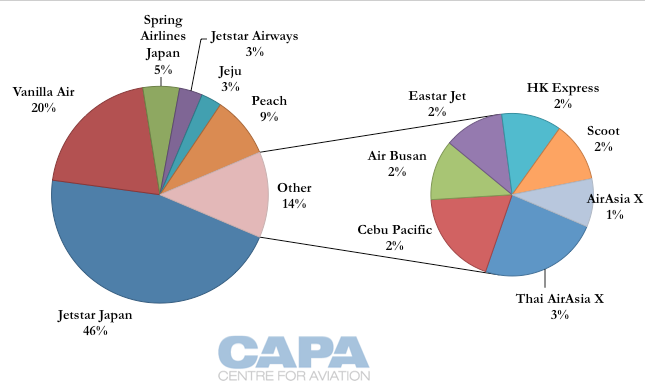 The LCCT's capacity is 7.5m passengers per annum. Based on schedules as of Mar-2015, the existing 13 LCCs at Narita will have just over 8.0m seats in 2015. Assuming an 80% load factor, they will carry 6.4m passengers in 2015, and this excludes growth they may create or new LCCs that plan to enter Narita but have not yet filed schedules (such as Tigerair Taiwan and Indonesia AirAsia X).
Tokyo Narita seat share by LCC: Apr-2015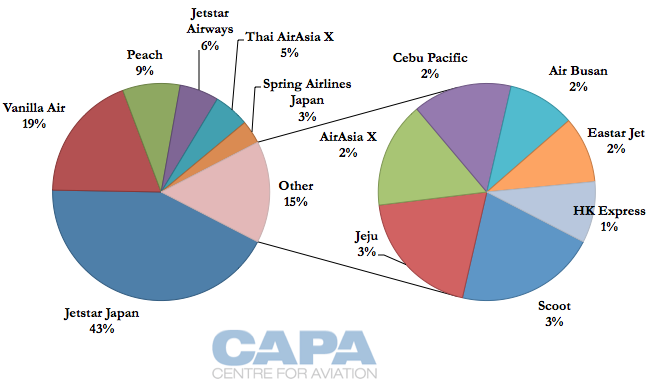 The LCCT, Terminal three, will be situated 500 metres north of Terminal two, where many of the LCCs have been operating in the interim. Terminal two features mostly oneworld carriers while while Terminal one features mostly SkyTeam and Star Alliance carriers.
The LCCT will offer discounted fees.
Terminal precincts at Tokyo Narita: Apr-2015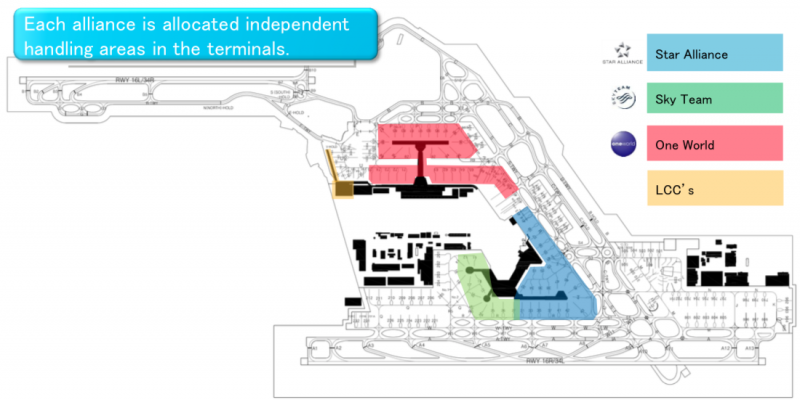 T3 will initially have four parking spots for international flights and five for domestic (other marketing information says 10 aircraft can be handled at one time). Widebody aircraft can be accommodated and the terminal can be expanded in the future, according to Narita. There are no jetways but there is a mostly covered area to each parking spot.
Transfers will be possible. These were once not thought of as necessary but LCCs are increasingly hybridising.
LCCT detail: Apr-2015
T3 will have 66,000sqm floorspace. This includes 1200sqm departures duty free shopping on the third floor (in addition to a cafe), and retail area and food court in the main departures lobby on the second floor.
Narita notes the food court will be the largest in a Japanese airport and be able to accommodate 400 people. Landside departures will have a 24-hour convenience store (even though Narita has a curfew), bookshop and other unspecified stores.
LCCT floor plan: Apr-2015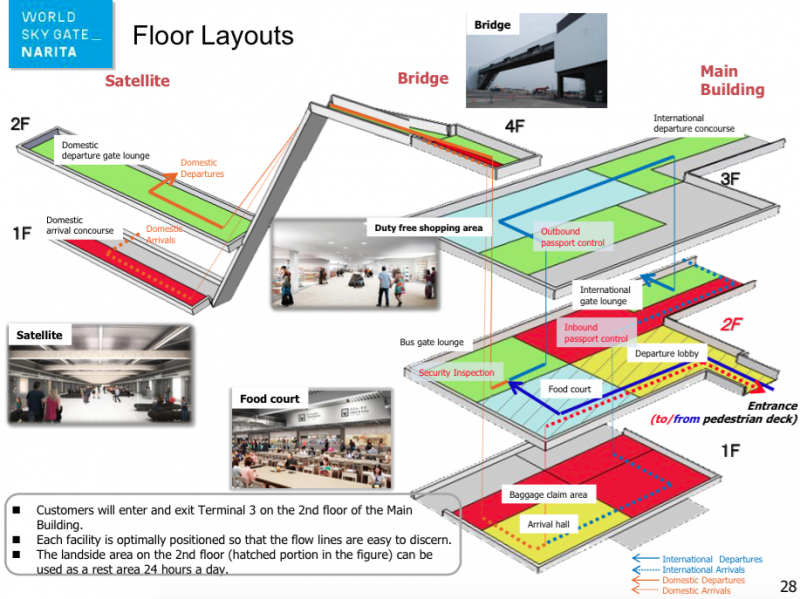 LCCT exterior: Apr-2015
See related report about LCCTs from CAPA journal Airline Leader: Low-cost airports and terminals are changing shape
Tokyo Narita has slots - and discounts are significant
For airlines that cannot grow further at Tokyo Haneda, Narita is working hard to capture business. It has pushed for inexpensive ground transport, more accommodation options and is even catering to a new demographic of Muslim travellers with Halal-certified restaurants. Narita will achieve a new limit of 68 hourly movements in northern summer 2015 (increasing to 72 by 2020) with slots available for most of the day (outside curfew hours) except around 17:00.
Discounts are also large, with 50% off fees for additional tonnage and steeper discounts for new routes. For a route new to the airline (such as ANA's Narita-Houston), there is 20% off the first year and 10% off the second year. Routes entirely new to Narita (such as Ethiopian's service to Addis Ababa) get a further 30% off in the first year and 15% off in the second year. All together, new routes in their first year receive a 100% rebate.
Tokyo Narita's top level figures are not the strongest, but they are comprised of many factors – US carrier capacity reductions and new generation growth. Hopefully the LCCT, which joins LCCTs at Osaka Kansai and Okinawa Naha, will further support growth. It will be of a different nature, but in a sector that has massive potential for growth. Narita has recognised the potential of LCCs at a time many other Asian airports still struggle to accommodate them.