Tiger Airways Australia drags down Tiger Airways Group, Ryanair's talks with Boeing break down
Tiger Airways Group financial highlights for the 12 months ended 31-Mar-2009 traffic highlights for Nov-2009
| Currency: USD | Nov-2009 | % Change |
| --- | --- | --- |
| Revenue (mill) | 275 | +23.9% |
| Operating costs (mill) | 305 | +43.6% |
| Operating profit (loss) (mill) | (34) | ^ |
| | 8.6 | n/a |
| | (45.3) | n/a |
| Net profit (loss) (mill) | (36.5) | ~ |
| Passenger numbers (mill) | 3.2 | +42 |
Commenting on the result, Tiger Airways Group President and CEO, Tony Davis, stated, "we are pleased that despite the very challenging trading conditions last year, which included record highs for fuel costs, Tiger Airways Singapore recorded its second consecutive year of profitability. Our business in Australia experienced anticipated losses during its first full financial year of operations, which were also negatively impacted by the adverse impact of record high oil prices and foreign exchange volatility".
Tiger Airways Singapore declared a small operating profit of USD8.6 million in the 12 month period, its fourth full financial year since it commenced operations in Sep-2004, while Tiger Airways Australia reported an operating loss of USD45.3 million in its first full financial year of operations.
Group revenue was up 23.9% in the period to USD275 million, driven by a 237% year-on-year increase in ancillary revenues, to represent 13.3% of total revenue sin the period (up from only 4.9% in the previous year).
However, operating expenses were up by a greater degree, soaring 44% to USD305 million, with fuel costs the largest expense, at 57% of total expenses. This was followed by aircraft rental expenses (14.3% of the total), as the group fleet increased from 12 to 16 aircraft in the period, and labour costs (11.4% of the total).
Also in the period, Tiger Airways Group reported that its net liabilities exceeded its assets by USD78.5 million.
Tiger Airways has reportedly hired three banks for its proposed IPO. The IPO, which is to be launched in Jan-2010, will be below the USD500 million previously speculated, and will help the carrier finance 50 A320s on order. The carrier has reportedly selected Citigroup and Morgan Stanley as joint book-runners and lead managers of the sale, with DBS also appointed a joint lead manager.
Ryanair's negotiations with Boeing break down
In Europe, Ryanair (shares down 2.4% yesterday) stated it is likely to shelve plans to acquire 200 Boeing aircraft for delivery between 2013 and 2016, after talks with the manufacturer broke down over the weekend.
The LCC stated that while the two parties had "effectively" reached a pricing agreement on the aircraft, talks broke down after the manufacturer reportedly changed delivery conditions for the aircraft.
Upon the release of the carrier's financial results for the three months ended Sep-2009, Mr O'Leary stated that if negotiations with Boeing were not completed by the end of 2009, then Ryanair would "end its relationship with Boeing and confirm a series of order deferrals and cancellations".
If this scenario eventuates, Ryanair would, according to Mr O'Leary, "change course" before the end of the current fiscal year and manage the airline over the next three years to maximise cash for distribution to shareholders, adding, "if we cannot invest our surplus cash efficiently in new aircraft, then we should distribute it to shareholders".
Selected LCCs daily share price movements (% change): 08-Dec-09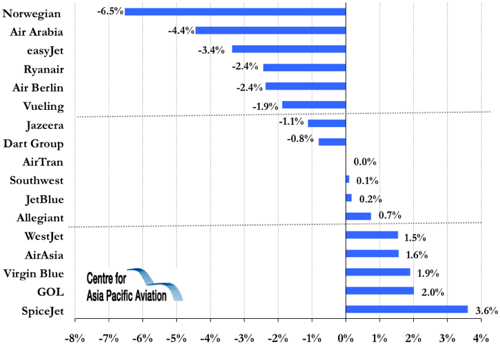 Norwegian Air Shuttle's shares slumped 6.5% yesterday, after the LCC reported a worsened 20% reduction in unit yields and a 21% slump in unit revenues in Nov-2009.
See related article: Yields worsening for Norwegian Air Shuttle in Nov-2009