Tibet Airlines commences operations as first airline based in Tibet Autonomous Region
Analysis
Tibet Airlines, the first airline based in Tibet autonomous region, commenced flight operations on 26-Jul-2011, with the carrier seeking to benefit from the booming Tibet market.
The start-up expects to take advantage of a significant increase in demand for flights to the southwestern Tibet Autonomous Region. The Tibet aviation market, like the overall China market, is growing rapidly, with the region benefitting from a resource and tourism boom and a large number of key economic, social and infrastructure developments. With seven airports now operational in the region, Tibet Airlines commencing operations and network growth continuing at existing carriers, Tibet's continued growth seems assured. Meanwhile, China is seeking to more than double the number of tourists visiting Tibet by 2015, when it hopes the Himalayan region will handle around 15 million visitors p/a, creating more than 300,000 jobs.
CAAC Tibet Airlines Preparatory Group Deputy Head, Liu Yanping, has stated the carrier would have a distinct advantage over other airlines, which have not based any overnight aircraft at Lhasa Airport due to its unique geographical environment. The proposed carrier would operate in direct competition with Air China Southwest, which currently has a 26% capacity share at Lhasa, slightly behind Sichuan Airlines with a 27% capacity share, and around a 50% market share in the region.
Lhasa Airport capacity (seats per week, to/from) by carrier (25-Jul-2011 to 31-Jul-2011)
Tibet Airlines' maiden flight was conducted from Lhasa Gonggar Airport to Kunsha Airport (Ngaria Prefecture), Chairman Xu Bo said. The airline will also provide services from Lhasa to other cities in China, such as Chengdu (daily service) and Chongqing (four times weekly). The airline will operate a full codeshare with Air China on its initial routes.
The demand for flights from Chengdu and Chongqing to Lhasa is growing significantly. An estimated 766,000 O&D passengers flew between Lhasa and Chengdu in the past year, a 12.2% year-on-year increase, while 288,000 flew between Lhasa and Chongqing, a 31.4% year-on-year increase. Air China, Sichuan Airlines, Xiamen Airlines and China Eastern Airlines operate on Lhasa-Chengdu sector and Air China, Sichuan Airlines, Xiamen Airlines and China Southern Airlines operate on the Lhasa-Chongqing sector.
Lhasa Airport to Chengdu Airport (seats per week, one way, 4-Jul-11 to 15-Jan-12)
Lhasa Airport to Chongqing Airport (seats per week, one way, 4-Jul-11 to 15-Jan-12)
Prior to Tibet Airlines' launch, there were nine destinations offered from Lhasa, of which seven are monopoly routes, as follows:
Southeast Asia and European expansion planned in next five years
Tibet Airlines is expected to connect to all airports in Tibet, Mr Xu said. Executive director Cheng Hui also stated the carrier is seeking permission for Lhasa-Beijing flights that it aims to launch by the end of the year. There are no direct services between the two cities at present, so the flying time is about six hours, with a stopover in Chengdu or Chongqing. The direct service will only take about four hours, Mr Chen said.
The carrier also hopes to expand into Europe within four to five years. "Tibet is attractive to European travellers and we will have the ability to operate international routes in three years," Mr Chen said. South Asia and Southeast Asia expansion is expected by 2013. The carrier is also considering destinations in India, Pakistan and Nepal. Mr Liu declined to specify particular destinations, stating it is a long process to receive landing rights.
The airline received its first aircraft, an A319, on 01-Jul-2011. The aircraft is configured with 128 seats in a two-class configuration with eight premium and 120 economy seats. The carrier has three A319s on order and in five years, it is expected to have a fleet of 20 aircraft.
Tibet Airlines fleet profile
Tibetan Airlines was established in Jun-2010 with registered capital of CNY280 million (USD43.42 million). According to reports in Beijing Business Today and Jinghua Net, Tibet Airlines Executive Director Cheng Hui stated Air China acquired a 31% stake in the carrier through cash shares in Mar-2011. According to Mr Cheng, Air China purchased its stake in the carrier from the State-owned Tibet Investment Company, which held a 51% stake in Tibet Airlines. Tibet Airlines' ownership structure now stands at Air China (31%), Tibet Investment Company (20%), Tibet Sanli Investment Company (39%), Tibet Ruiyi Investment Company (10%).
Tibet Airlines details of public air carrier's licence/launch details
Launch details

Key details

Name

Launch date

26-Jul-2011

Base

Lhasa Gonggar. The airport is located at an elevation of 3600m and is one of the world's highest civilian airports

Registered capital

CNY280 million (USD43.1 million)

Business type

Limited liability company

Business scope

Domestic air passenger and cargo transportation

Start-up approval details completed

Has received approval from the National Development and Reform Commission to purchase three A319 aircraft;
Has signed ground service agreement and operational safety protocols with the Tibet AR Regional Administration;
Received approval from Airworthiness Division for its corporate logo and aircraft livery;
Has hired 21 flight crew;
IATA code: TV.

Network

Will operate services within Tibet and link its capital Lhasa with other cities across China, with an inaugural service on Lhasa-Beijing route. CAAC Tibet Airlines Preparatory Group Deputy Head, Liu Yanping, has stated the start-up will not compete on routes served by other airlines as it is focussed on maximising operating capacity for the majority of passengers. The carrier has also stated it has the option to operate international routes in the future

Fleet

The carrier will operate three CFM56-5B powered A319s to service the high-altitude routes. The carrier is scheduled to will take delivery of one A319 aircraft in Jul-2011, 03-Aug-2011 and 09-Aug-2011. Tibet Airlines is planning to increase its fleet to 20 aircraft over the next five years

Ownership

Previously Tibet Autonomous Region Government's investment arm, Tibet Autonomous Region Investment Co (51%), Tibet Sanli Investment Co (39%) and Tibet Ruiyi Investment Co (10%). Now Air China (31%), Tibet Investment Company (20%), Tibet Sanli Investment Company (39%), Tibet Ruiyi Investment Company (10%).*

CAAC approvals

CAAC approved the airline in Mar-2010 as part of efforts to boost tourism in Tibet

Recruitment

The carrier launched its recruitment for pilot trainees in Dec-2010. The carrier has made the following management appointments:

General Manager: Liu Yanping;
Vice President Operations: Zhang Xin;
Vice President Fleet operations: Zhang Jun.
Tibet's airports handled 1.5 million pax in 2010
According to CAAC Tibet AR Regional Administration, Tibet's airports handled 1.4 million passengers in 2010, a 16.9% year-on-year increase as follows:
Passenger numbers: 1.5 million, +16.9% year-on-year;

Lhasa Airport: 1.3 million, n/a;
Qamdo Airport: 89,000, n/a;
Nyingchi Airport: 149,000, n/a;
Gunsa Airport*: 6000, n/a;
Cargo volume: 147,000 tonnes, +8.0%;
Aircraft movements: 13,970, +18.9%;

Lhasa: 11,697, n/a;
Qamdo: 872, n/a;
Nyingchi: 1291, n/a;
Gunsa*: 110.
*Commenced operations on 01-Jul-2011 after construction commented in May-2007 at a cost of USD241.2 million.
Airports in Tibet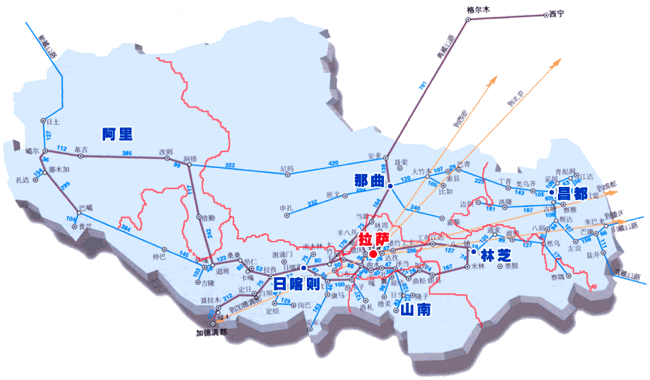 Lhasa Gonggar Airport is the main gateway to Tibet. The airport, 90km southwest of Lhasa in Gonggar County (Shanna Region), commenced operations in 1965 with services to Beijing and Chengdu. The airport is more than 3,600m (14,315 ft) above sea level, making it one of the highest in the world. The 4,000m runway is among the longest in China, built to accommodate take-offs at high altitude.
Following expansion work in 2004, the airport's parking apron can accommodate five A340 or seven B757 aircraft simultaneously. The airport's CNY732 million (USD108 million) airfield reconstruction and supporting projects received State Development and Reform Commission approval in Apr-2010. Once completed, the airport will have capacity for 4.5 million passengers and 55.2 tonnes of cargo by 2020. Meanwhile, Tibet's Gonggar Airport highway link to Lhasa was completed in Jul-2011, after being launched in 2009 with CNY72.8 million (USD10.7 million) invested. It is the first express way link in Tibet.
Six airlines operated at the airport – Sichuan Airlines, Air China, China Eastern, China Southern and Xiamen Airlines – with the airport handling 258,900 passengers in 1Q2011.
Lhasa Airport Passenger Numbers (2009 to 2011)
Qamdo Bangda Airport, opened in Eastern Tibet in Oct-1994, lies at 4334m (14,219ft) making it the highest airport in the world. Bangda Airport, the first lateral airport in Tibet, also has the longest publicly used runway in the world, at 5500m. Low air density at higher altitudes means aircraft have to take-off at higher speed.
Nagqu Airport, for which construction is expected to be completed in 2014, is expected to surpass Bangda Airport as the highest in the world with an elevation of 4436m (14,500 ft). The project is expected to require a USD263 million investment and cover 266 hectares. The airport is part of a Chinese Government development scheme to build 97 airports across China by 2020. By then, the authorities hope that 80% of China's population will be within a 90-minute drive of an airport. Nagqu is in the centre of the Qinghai-Tibet Plateau, located approximately 300km from Lhasa, with a population of 400,000. As Tibet's sixth airport, its addition means there will be one airport in each prefecture.
Nyingchi Airport is located in Mailing in Nyingchi and was the third airport opened in Tibet. Constructed at a cost of CNY780 million (USD96.8 million), part funded by CAAC, the airport provides one of the most challenging instrument approaches in the world due to its location on the Qinghai-Tibet Plateau, surrounded by mountains more than 4000m high. Heavy fog and cloud cover often limits operations to certain times of the day, with conditions only suitable about 100 days p/a.
The airport is 2949m above sea level, lower than the other airports in Tibet, with annual capacity for 120,000 passengers. It was completed in 2006 and is 400km from Lhasa and 120km from Yarlong Tsangpo Canyon. The airport, served by Air China, provides access to the Nyingchi Prefecture, which has one of the largest virgin forests in China and two nature reserves, approximately half of the land area is covered by forest.
Gunsa Airport, located near Shiquanhe (Ali) in Ngari Prefecture and 1600km from Lhasa, commenced operations on 01-Jul-2010, becoming TAR's fourth civilian airport. The airport, serviced by Air China's Southwest branch, is located more than 4274m (13,780ft) above sea level, and like the other airports in Tibet, is one of the highest in the world. The airport, which has a 4500m runway and a 51,000sqm parking apron, will have capacity to handle 120,000 passengers and 350 tonnes of cargo p/a and can accommodate four aircraft simultaneously. Construction commenced in May-2007 at a cost of approximately CNY1.65 billion (USD241 million). Before the airport opened, Ngari was linked to Lhasa only by road and it took three days to cover the 1600km route.
Tibet's fifth airport, Peace Airport in Xigaze, was opened in Oct-2010, following the completion of construction in Sep-2010. Construction commenced in Apr-2009, with an investment of CNY489 million (USD72 million). The airport will have capacity to handle 230,000 passengers and 1150 tonnes of cargo and will permit 2580 take-offs and landings annually by 2020. The airport is located at an altitude of 3782m and is 48km from Shigatse city.
China plans to fast-track Tibet development
Tibet Autonomous Region (TAR) in China is 1.22 million sqkm and accounts for 13% of China's land area. The region adjoins Xinjiang Uygur Autonomous Region and the Province of Qinghai in the north, Sichuan in the east, Yunnan in the southeast, and countries including Myanmar, India, Bhutan and Nepal in the south and west along an international border of 4000km.
Tibet's economy has already grown faster than the rest of China, accelerated by the completion of a railway line to Lhasa and large mining projects. Mining has become a large and contentious part of the Tibet economy. Tourism is also an extremely important part of Tibet's growing economy. China is seeking to more than double the number of tourists visiting Tibet by 2015, when it hopes the Himalayan region will handle around 15 million visitors p/a creating more than 300,000 jobs. At present, the majority of visitors are domestic Chinese visitors, although the number of international tourists are increasing.
The Chinese central government, meanwhile, has invested CNY300 billion (USD46.4 billion) in Tibet as financial subsidies in the period from 1952 to 2010, with an annual growth rate of 22.4%, according to the White Paper "Sixty Years Since Peaceful Liberation of Tibet" issued by the Information Office of the State Council on 11-Jul-2011. This is equivalent to almost USD15,000 per person with much of the investment centering on infrastructure construction and tourism, mining and agriculture development. Over the period, the government has approved 410 major projects in this period.
The investment is expected to continue, with the government seeking to "fast-track" development in Tibet, to enhance security in the region, with plans to raise infrastructure quality and agricultural incomes to national levels by 2020. Earlier this month, the Chinese central government plans to invest CNY138.4 billion (USD21.38 billion) in Tibet over the next five years to support the region's development and social development.