The Monarch Group. Part 1: No divine right to rule the air, but a new reign has started purposefully
Analysis
Monarch Airlines has one of the lowest levels of unit cost in Europe and some decent market positions on routes in its mainly sun-oriented leisure routes. Both the airline and its parent the Monarch Group returned to profit in FY2013 after a period of losses.
Nevertheless, this Monarch has no divine right to rule the air. Its margin is not enough for sustainable long term returns and 2014 is proving to be more difficult. Moreover, its earnings are very seasonal and the Group's year end FY2013 balance sheet was weak. Faced with these issues and the need to fund a planned order for 30 Boeing 737 MAX 8 aircraft, the Group appointed a new Chairman, CEO and CFO in Jul-2014 and launched a strategic review in Aug-2014.
The new management has quickly had an impact in three significant ways. First, it has committed Monarch to scheduled operations only, thereby completing its withdrawal from its original activity of charter flying. Second, it has secured union agreement to wage cuts and new working conditions and, third, it has found a new owner to invest in its future.
CAPA's World Aviation Summit will he held at the Hilton Antwerp Hotel on 20/21 November 2014, preceded by a Corporate Travel Innovation Day on 19 November.
To register to hear discussion of the industry's key issues by the world's aviation leaders, including over 20 airline CEOs and numerous other industry and government decision makers, click here: CAPA World Aviation Summit and Corporate Travel Innovation Day
In this first part of our analysis of Monarch's operations, we consider the developments initiated by the Monarch Group's new management and review its most recent financial results. The second part will focus more closely on Monarch Airlines.
Monarch Group's new senior management team has considerable aviation experience
The senior appointments give the Monarch Group significant aviation experience at the top of the company, as well as a better balance of leadership roles. New non-executive chairman Sir Roy McNulty and new group CEO Andrew Swaffield have effectively split the roles previously combined under former executive chairman Iain Rawlinson, who stepped down after five years.
Sir Roy is a former chairman of NATS and the Civil Aviation Authority and is currently also chairman of London Gatwick Airport. He is one of the UK's most experienced aviation executives, having also been the head of Short Brothers, which became part of Bombardier in 1989.
Mr Swaffield stepped up from his previous position as the managing director of Monarch Airlines, which he assumed only in Apr-2014 after joining from the IAG loyalty scheme Avios. He has also worked at Thomas Cook and British Airways. New CFO Andrew Lavery only joined the group in May-2014 as group finance director. His previous experience includes three years at British Airways and 10 years at Ernst & Young.
As noted above, the new management team and the strategic review have already had a huge impact on strategy, ownership and labour conditions. We consider each of these three developments.
Monarch is to transition to a scheduled LCC
The strategic review led by Sir Roy and Mr Swaffield has confirmed a decision to complete Monarch's transition to being a scheduled low-cost carrier. Originally a charter airline, Monarch's operations have been dominated by scheduled routes for some years, but it now aims to move completely to scheduled flying from summer 2015.
Some charter routes might become part of its scheduled programme. In order to provide a more attractive schedule with more frequencies at key bases, it will cease operating from its East Midlands Airport base by the end of Apr-2015. The Group's tour operator divisions, Cosmos Holidays and Avro, will fill its flying needs through Monarchs scheduled operations and third party carriers.
Greybull Capital to acquire the Monarch Group
On 23-Sep-2014, Monarch Group announced that Greybull Capital was the preferred bidder to acquire the Group from its existing shareholders, the Swiss Italian Mantegazza family, subject to a successful conclusion of ongoing negotiations. If concluded, the parties said that they expected the deal to complete by the end of Oct-2014.
Greybull is a family investment office specialising in private companies with established brands and where it can back incumbent management. According to The Financial Times (23-Sep-2014), Greybull Capital founder Marc Meyohas said: "It's a very competitive market. We need to do three things – run a business, have a low-cost base and have the right fleet."
Monarch's unions support the changes
In contrast with the sometimes difficult labour relations backdrop at a number of other European airlines, Monarch's strategic review appears to have been met with a positive response from its workforce representatives. The UNITE union, which represents cabin crew and engineers, has given a cautious welcome to the planned acquisition by Greybull. Pilot union BALPA also supported the proposed deal, calling on the UK government to do all it can to "make this deal happen and help Monarch survive and thrive".
It seems that Monarch's new senior management has also been able to persuade its unions to accept new restructuring measures. Pilot union BALPA and UNITE agreed to concessions of up to 30% on pay and changes to working conditions and were supported in this by strong majorities in staff ballots. The Group is also reported to be considering headcount reductions, including compulsory redundancies, and this would be a further test of the industrial relations environment at the company.
Union backing should help to secure the Greybull deal, which in turn should improve Monarch's standing with aircraft lessors and banks.
Monarch Group returned to profit in FY2013, but its balance sheet remained weak
The Monarch Group returned to profit in FY2013 (year to Oct-2013), recording a net result of GBP4 million after a loss of GBP26 million in FY2012. Revenues increased by 16% to GBP957 million.
In spite of the annual profit, the Group balance sheet saw its book equity value turn even more negative, closing the year at minus GBP156 million. This further deterioration was mainly due to actuarial losses in connection with the pension scheme, which are booked straight to equity, rather than charged through the profit and loss account.
Monarch Group financial highlights FY2013 (GBP million)
| Year to 31 Oct | 2012 | 2013 | Change |
| --- | --- | --- | --- |
| Revenue | 825.1 | 956.9 | 16.0% |
| Operating profit | -14.9 | 6.3 | 21.2 |
| Net profit | -26.1 | 4.1 | 30.2 |
| Gross debt | 103.4 | 85.1 | -17.7% |
| Cash | 49.9 | 37.0 | -25.9% |
| Net debt | 53.5 | 48.1 | -10.1% |
| Capitalised operating leases* | 447.2 | 452.8 | 1.3% |
| Adjusted net debt | 500.7 | 500.9 | 0.0% |
| Equity | -141.7 | -155.6 | -13.9 |
The Group's FY2013 year end cash balance (before restricted cash) fell by one quarter to GBP37 million, equivalent to only two weeks of revenues. If restricted cash is included, the liquidity position was equivalent to six weeks of revenues, but this was still only a very slight cushion against the potential buffeting that the aviation industry can provide. Net debt fell slightly to GBP48 million, but remained stable at GBP500 million if operating leases are treated as debt (capitalised at eight times annual lease payments).
Moreover, the pension scheme carried a significant net liability of GBP158 million at the balance sheet date. According to media reports, the Group's current owner has agreed to provide GBP30 million to help to reduce the pension deficit prior to the completion of the sale to Greybull. The UK's Pension Protection Fund may also acquire a stake in the Group, reported to be possibly 10%.
The details of the Greybull sale and acquisition deal are still being negotiated, but what is clear is that the Group's balance sheet is in need of repair ahead of completing the 737 MAX order.
Boeing 737 MAX aircraft will replace the existing fleet
According to the CAPA Fleet Database, Monarch's fleet in service currently consists of 37 Airbus A320 family aircraft, two A330s and three Boeing 757s. The total of 42 compares with 38 in summer 2013. The A320 family fleet has increased by seven aircraft, while its previous three A300 aircraft have been phased out of service.
In Jul-2014, Monarch announced that Boeing was the preferred bidder for its narrowbody fleet replacement and that it was working towards signing an agreement to order 30 Boeing 737 MAX 8s for delivery from 2018. Completion of the sale of the Group to Greybull should help to close this aircraft order.
These 30 new aircraft would be for replacement and compare with the existing fleet of 42, reflecting the reduction in scale planned by the strategic review. Under its previous executive chairman Iain Rawlinson, Monarch had been considering a larger order, of up to 62 aircraft.
According to TravelWeekly.co.uk (13-Aug-2014), Mr Swaffield has more aircraft than he would like. He said: "We began to see the market deteriorating at the end of last summer. It's the old story – too many aircraft. This has been a challenging year. There is too much capacity." The second part of our analysis of Monarch will give further consideration to the size of the operation.
Monarch Airlines Fleet Summary as at 2-Oct-2014
| Aircraft | In Service | In Storage | On Order* |
| --- | --- | --- | --- |
| | | | |
| | | | |
| | | | |
| | | | |
| | | | |
| | | | |
Monarch's long-haul operations may cease
According to OAG data, Monarch's Sep-2014 schedule is strongly short/medium-haul focused, with 93% of seats operating in Europe (the remaining 7% is to Africa) and 72% operating on routes of less than four hours. The strategic review is thought likely to propose that Monarch ceases its long-haul operations and this would mean the removal of its last few widebodies.
The A320 family aircraft in the fleet have an average age of 10 years, which is similar to the average fleet age of many of Europe's principal legacy airlines, but considerably older than the fleets of most of its main LCCs. Moreover, this will creep up towards 14 years by the time the 737 MAX deliveries start in 2018.
Monarch has decided that the MAX will be its best option for further restructuring its cost base to compete with other LCCs, although it will face the challenge of managing the transition period, when it will operate a mixed Airbus/Boeing fleet.
Monarch Airlines average fleet age Oct-2014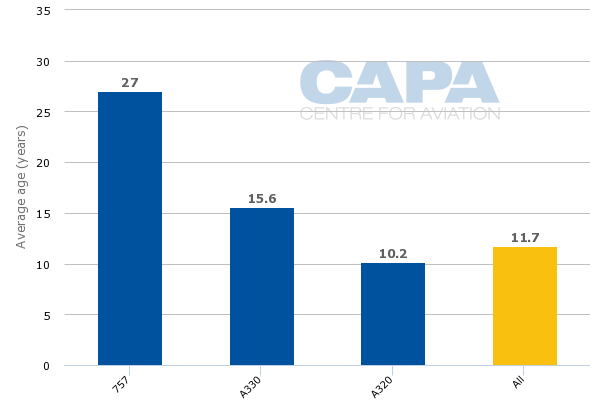 Enough is enough for the Mantegazza family
The Greybull announcement noted that they intended to "provide significant capital" to Monarch. Greybull's Mr Meyohas has said that Monarch Airlines' planned 737 MAX 8 aircraft would be part-financed through further capital injections. According to press reports, Greybull is offering a GBP75 million convertible loan and the Mantegazza family plans to inject around GBP70 million in funds in order to facilitate the transaction.
Other press reports speculate that the existing owners will not inject more funds into the Group, but that they will ensure that it is ready for sale. The FY2013 year end balance sheet included a shareholder loan of GBP72 million, so perhaps the Mantegazzas are prepared to forgive this debt.
It seems that the Mantegazza family, which has invested considerable sums in the past as long term owner of the Monarch Group since its inception in the 1960s, has decided that it would be better to make one final investment and then walk away, rather than to give an open ended commitment to support its future.
In Part 2 of our analysis, we will take a closer look at the operating and financial performance of the Group's airline division, Monarch Airlines, and assess its strategic and unit cost position compared with other LCC competitors.