Thai Airways shares leap; Cathay Pacific falls. Qantas performs worse than Indian carriers this year
Thai Airways' shares (+11.1%) leapt yesterday, presumably on either rumour or inside information about a government support programme coupled with credit restructuring. The flag carrier is searching for a suitably strenuous corporate restructuring plan, which will provide a basis for the government to provide loan guarantees - and in turn allow the carrier to roll over its current short term debt facilities and/or find new ones.
Cathay Pacific (-6.3%) was the downward leader yesterday, despite only a modest loss on the Hang Seng generally. The carrier has been facing up to the difficulties of a large delivery schedule, as its key network markets decline steeply.
Malaysia Airlines (+5.1%) meanwhile regained most of the ground it lost yesterday.
Hainan Airlines (+8.5%) showed another good rise (see below under 1Q09 report).
For daily updates on American aviation stock prices and a complete wrap of the day's breaking news, sign up now for a complimentary subscription to America Airline Daily.
Asia Pacific selected airlines daily share price movements (% change): 31-Mar-09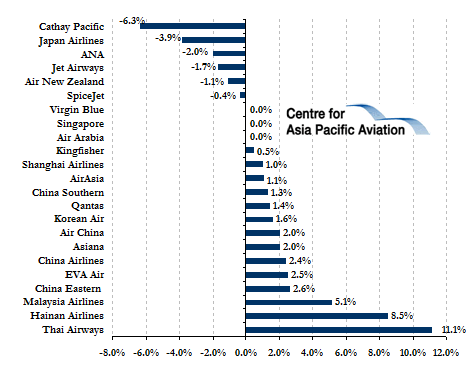 Quarterly Share price report: 1Q09
Hainan Airlines shares have outperformed all other airlines in the region this year, with a more than healthy 51.9% rise since 02-Jan-09. The carrier's outlook is better than most, with a strong position in the Beijing market and, a longstanding dispute with the bankruptcy estate of Dornier Aviation (North America), Inc. (DANA), was resolved in Feb-09, when Hainan paid the trustee $14,950,000 in consideration of the settlement.
The Chinese airline market overall has staged something of a recovery this year, as last year's extremely negative figures started to improve. China Southern (15.2%) and Shanghai Airlines (11.8%) each gained solidly, while Air China (+2.9%) was more modest. Even struggling China Eastern has managed to stay above its January level.
Across the Straits, China Airlines (+10.7%) and EVA (+10.0%) have both benefited from the encouraging start to direct services, with the hope of more to come - despite the downturn in freight markets.
At the other end of the scale, Australian airlines have fared badly. Qantas (-34% this year) has suffered greatly following a capital raising, designed to protect its credit rating. Indeed, but for a substantial recovery in the airline's share price over the past couple of weeks, the fall would have been much larger.
Virgin Blue (-18.8% this year), too, with shareholder uncertainty, capacity cutbacks and a perilous venture into long haul operations across the Pacific, have helped anchor the downside.
Indian carriers, unsurprisingly in their turbulent market, were also on the downside. Kingfisher (-20.1%), Spicejet and Jet Airways (both -18.4% for the year) have each lost around a fifth of their market capitalisation.
Selected Asia Pacific carriers share price growth for the first quarter ended 31-Mar-09