Taipei Taoyuan Airport: Asia's fastest growing airport outside mainland China despite runway works
Analysis
Taipei Taoyuan, the largest airport in Taiwan, grew 11.1% in 2014 to handle 35.8 million passengers, making it the 16th largest airport in Asia Pacific and bigger than Tokyo Narita, Mumbai and Manila. Taoyuan was also Asia Pacific's fastest growing major airport outside of mainland China. Taoyuan achieved this despite construction works that took a runway out of service. Full operations are expected to resume in early 2016 and will ease existing congestion as well as open up more slots for growth. Taiwan recorded a 23.6% increase in inbound visitors in 2014.
1H2015 traffic grew at a slower 7%. EVA Air, the second-largest carrier in Taiwan, is leading growth ahead of China Airlines. Japan is the largest growing market with nearly an additional 1,000 seats a day in 2015. The USA is also a large growth market as EVA undertakes long-haul expansion. Taoyuan in 2014 gained two new local airlines, both LCCs: Tigerair Taiwan and V Air. This gain is partially offset by reductions at TransAsia following a series of incidents. A special one-off A380 flight from Emirates brought the aircraft to Taoyuan, which has invested to support the type. But perhaps China Southern is a more likely regular operator. Next Taoyuan will see growth from cross-Strait transit passengers and a new terminal three.
Taipei Taoyuan records 11.1% passenger growth in 2014. Cargo recovering
Taipei Taoyuan, the largest airport by far in Taiwan, handled 35.8m passengers in 2014, up 11.1%. Based on total passenger volume, Taoyuan is Asia-Pacific's 16th largest airport (bigger than Tokyo Narita, Mumbai and Manila) but fastest-growing outside of mainland China. In the top 20, faster growth than Taoyuan's was posted only by Chengdu (14th largest, 12.8% growth) and Shenzhen (15th largest, 12.4% growth).
The growth is particularly notable as Taoyuan's southern runway was closed for most of 2014 for various works including re-surfacing, supporting a new navigation system, lengthening and to handle the A380. The runway re-opened in late 2014 and works commenced on the northern runway, which is expected to resume operations by Feb-2016.
During this runway closure time, securing slots has been difficult and there have been delays. Taoyuan expects significant growth in 2016 when it resumes operations on both of its runways for the first time in two years.
Top 20 Asia-Pacific airports ranked on passenger volume (size of bubble) and growth: 2014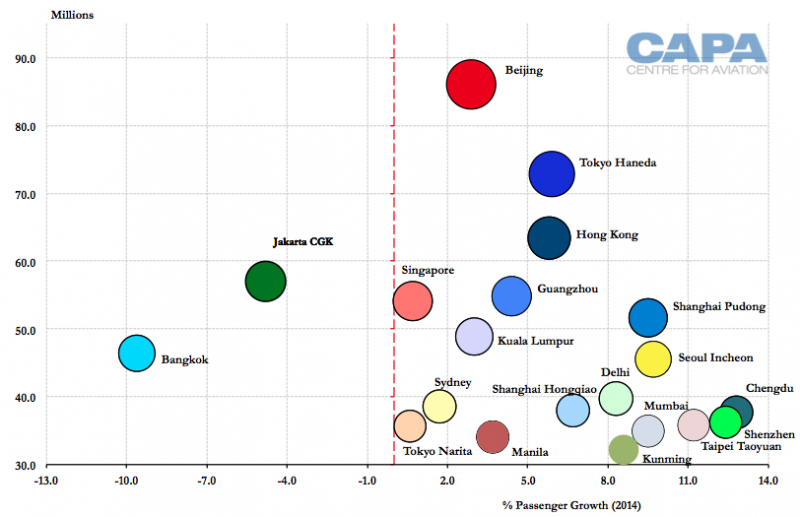 From Jan-2015 Taoyuan commenced traffic reporting to ACI standards. These figures use the adjusted statistics. 2014 was Taoyuan's third consecutive year of double digit growth.
2011 experienced a slight 1.2% contraction while 2010 posted 14.8% growth.
Taipei Taoyuan passenger volume and growth: 2009-2014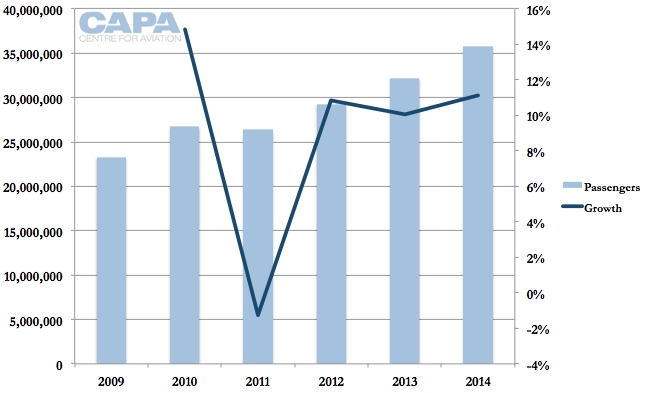 All of Taiwan saw a 23.6% increase in inbound visitors. Visitor arrivals were just under 10 million. 1H2015 arrivals are up only 3.5% as Taiwan adjusts to new visa policies for cross-Strait passengers.
Taiwan annual tourist arrivals: 2009-2014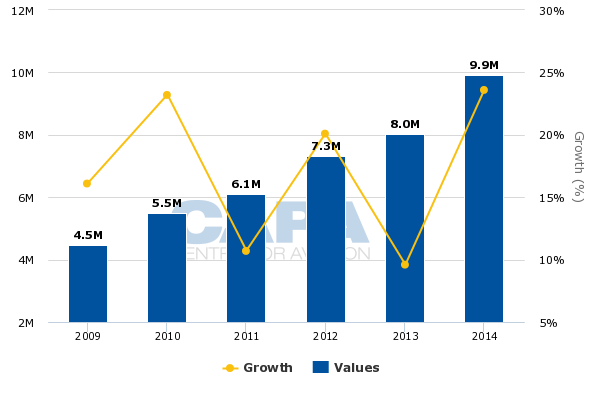 2014 was the first year in three years that Taoyuan recorded cargo volume growth. After 34.8% growth in 2010, cargo declined 7.4% in 2011, 3.9% in 2012 and 0.1% in 2013. However, 2014's 6.1% cargo volume growth was not enough to bring Taoyuan back to 2010 levels. 2014's volume was 6.3% down from 2010.
Cross-Strait mainland China-Taiwan cargo accounted for 8.8% of volume in 2014. Taoyuan is the 10th largest airport globally for air cargo. Taiwan's China Airlines and EVA Air are major cargo operators but have decreased their freighter fleets. EVA Air on 21-Jul-2015 finalised an agreement for five 777Fs to be delivered between Oct-2017 and Sep-2019.
See related report: Northeast Asia's cargo airlines re-fleet. But SIA has no plans, MAS weighs future & Thai exits
Taipei Taoyuan cargo volume (kg) and growth: 2009-2014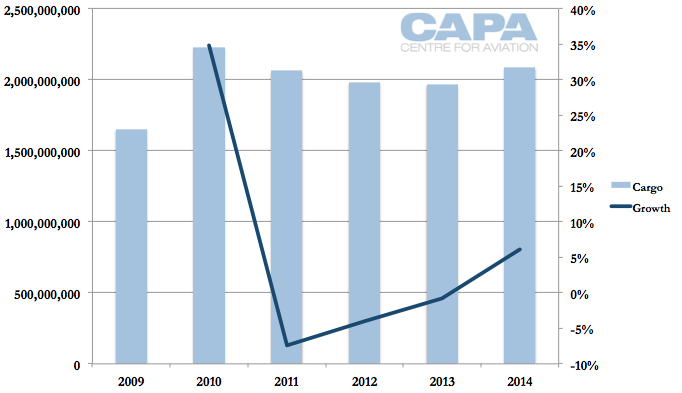 Financially, operating revenue in 2014 grew 9%, slower than the 11% passenger volume increase. Landing fees accounted for 18% of revenue. 53% of revenue is derived from concessions and rent.
Taipei Taoyuan operational revenue breakdown (TWD millions): 2012-2014

Taipei's 1H2015 traffic was up 7%. Japan, USA and Thailand lead growth
Taipei Taoyuan's passenger throughput increased 7% in 1H2015. Taoyuan is linked to 26 country markets non-stop including mainland China. Taoyuan's 10 fastest growing markets are seeing growth in excess of 8%. The fastest growing market is Thailand at 17%. Austria is the second fastest with 16% growth, but Austria has a fraction of the seat capacity (red markers on the graph below) that Thailand does.
This list excludes Russia, where growth from a low base distorts figures. Also excluded is mainland China, where changes between charter and scheduled seats distort logged scheduled capacity data.
The UAE's inclusion on the list mostly reflects full-year realisation of the Dubai-Taipei route Emirates commenced in Feb-2014, but also includes one-off services and a move towards higher-capacity aircraft.
Taipei Taoyuan 10 fastest-growing markets ranked on growth: 2015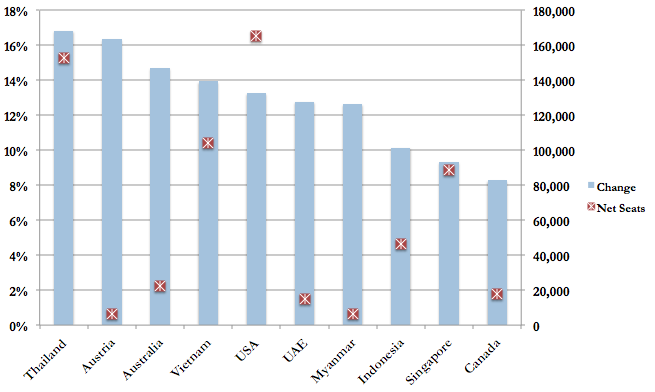 Looking at growth ranked on net seat additions, Japan is the largest market with an additional 350,000 seats in 2015 or nearly an additional 956 seats a day.
Taipei Taoyuan 10 fastest-growing markets ranked on net seat additions: 2015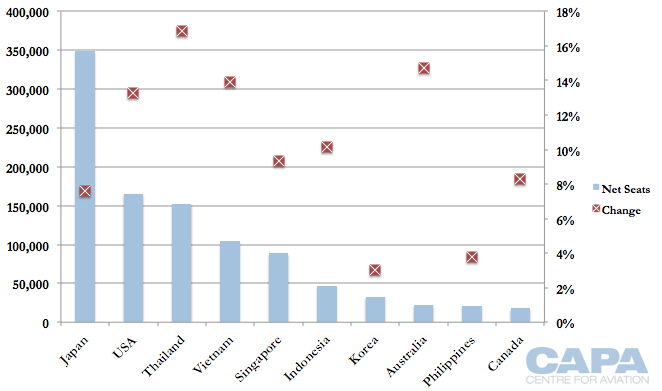 Japan is Taoyuan's largest market after mainland China, so this increase over a large base represents 7.6% growth.
Japan has long been a popular destination for Taiwanese, and the growth of LCCs and Japanese yen's depreciation are driving an increase in inbound tourism, as they are in other markets.
Taipei Taoyuan 10 largest markets ranked on seat capacity: 2015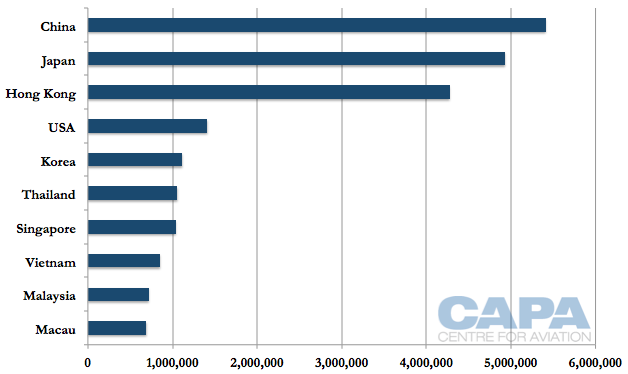 The next two largest additions of capacity are the USA (166,000 annual or 453 daily seats) and Thailand (153,000 annual or 418 daily seats). The USA growth mostly reflects full-year realisation of the San Francisco-Taipei Taoyuan service United commenced in Mar-2014 and capacity additions from EVA Air.
EVA sees about half of its North American passengers connect beyond Taiwan, so growth in Southeast Asia supports long-haul expansion. Five of Taoyuan's largest-growing markets are in Southeast Asia.
See related report: EVA Air begins a new phase of US expansion with Houston launch and second schedule bank
Thailand's growth is slightly distorted by reductions made in 2014 by China Airlines during the political uncertainty. Taiwan-Thailand seat capacity was down 8% in 2014 compared to 2013. Growth in 2015 sees the market surpass the previous 2013; the market will be 7% higher in 2015 than 2013.
Eight of Taoyuan's markets are scheduled to see capacity reductions in 2015 compared to 2014, according to OAG data. The largest in terms of net reduction of seats is Hong Kong, which will see about 169,000 fewer one-way seats over 2015, or about 364 seats a day.
Hong Kong is Taoyuan's largest route and more than twice as big as the next largest route, to Tokyo Narita. The Hong Kong reduction represents a decline of 3.8%.
Taipei Taoyuan top 10 international routes ranked on available seat capacity: 27-Jul-2015 to 2-Aug-2015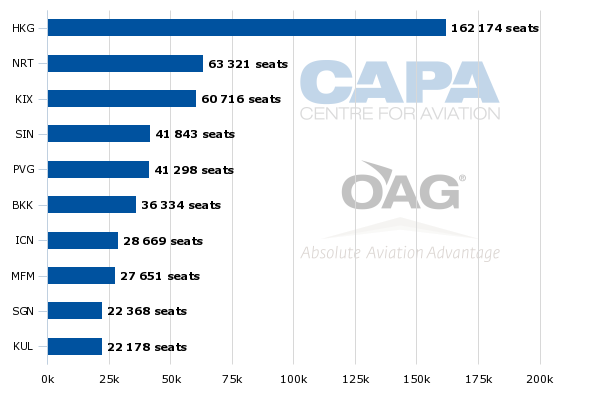 Palau sees about 60 fewer one way seats a day, Malaysia 32, Cambodia 30, intra-Taiwan nine, Guam six and then less than one fewer seat a day for India and Macau. In terms of percentage drops, Palau at 57% is the largest followed by Cambodia at 11%.
Taipei Taoyuan markets with capacity reductions, measured in net seats and percentage change: 2015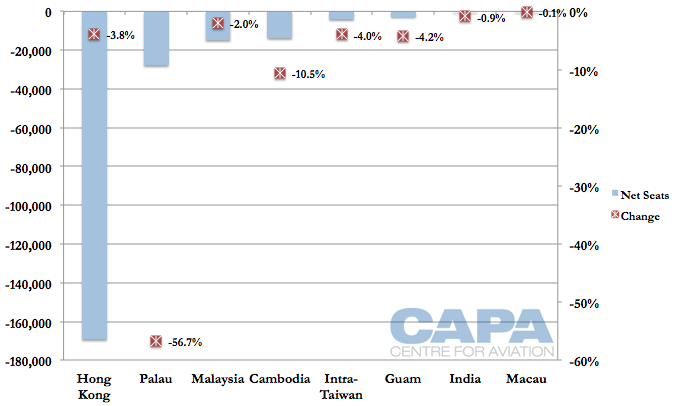 EVA Air has shown the most growth by far at Taipei Taoyuan. Overall EVA is second largest at the airport after China Airlines.
Taipei Taoyuan International Airport system seat capacity by carrier: 27-Jul-2015 to 2-Aug-2015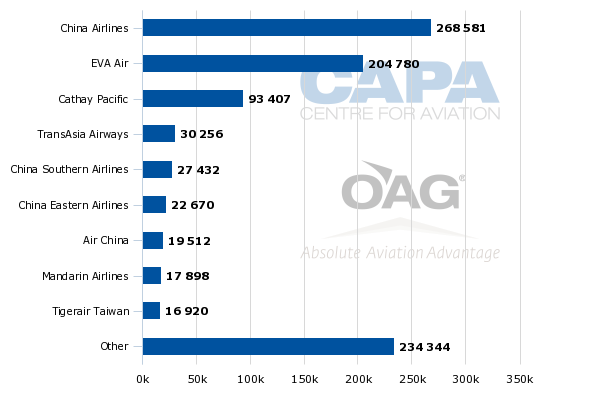 In 2015 EVA Air will add about 1,000 seats a day on average, growing by 9%, according to OAG data. China Airlines will grow at a much more conservative 2% with growth equating to another 372 seats a day. The next largest additions (excluding airlines that launch in 2015 or launched in 2014 and have not yet seen a full-year realisation of capacity) are Vanilla Air (73 extra daily seats, 20% growth), Vietnam Airlines (59 extra daily seats, 12% growth), KLM (54 extra daily seats, 8% growth) and Air Macau (52 extra daily seats, 8% growth).
This growth represents market interest (Vanilla Air to Japan) and also perhaps competitive moves: Vietnam Airlines growing as LCC competitor VietJet enters, Air Macau growing as Tigerair Taiwan and V Air both launched services to Macau, and KLM perhaps in response to the entry of Emirates and Turkish.
Largest net addition of seats by airlines at Taipei Taoyuan: 2015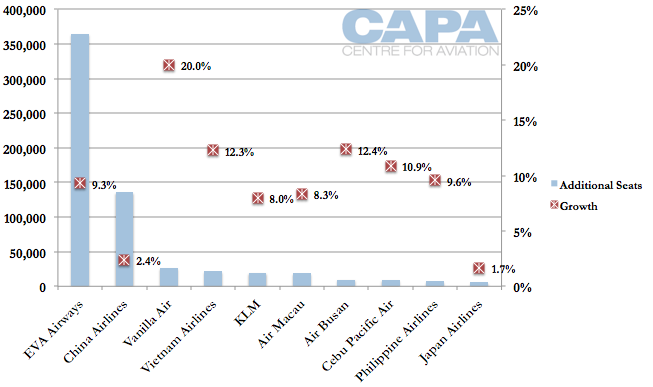 In addition to Emirates and United, Taoyuan welcomed six new airlines in 2014: Japan Transocean Air (a unit of Japan Airlines), Sky Jet Airlines, Transaero Airlines, Vietjet, T'way Airlines and Air Do. (New cargo operators include Polar Air Cargo and SF Express.) 2014 saw the exit of Garuda Indonesia, Hawaiian Airlines and AirAsia Zest. 2015 has seen the entry of Indonesia AirAsia X and Jeju Air.
In 2014 Taoyuan also saw the establishment of two new local airlines, Tigerair Taiwan and V Air. Both are LCCs based at Taoyuan. Tigerair Taiwan is affiliated with China Airlines, and V Air with TransAsia.
Tigerair Taiwan launched in Sep-2014 and V Air in Dec-2014. Tigerair Taiwan has steadily grown while V Air has seen limited growth since Jan-2015. Tigerair Taiwan operates five A320s and V Air two A321s.
Tigerair Taiwan's 52,000 passengers in Jun-2015 make it nearly three times the size of V Air's 18,000 passengers. V Air only operates from Taoyuan while Tigerair Taiwan mostly operates from Taoyuan. Tigerair Taiwan also has 11 weekly flights from Kaohsiung.
Traffic Comparison for Tigerair Taiwan and V Air: Sep-2014 to Jun-2015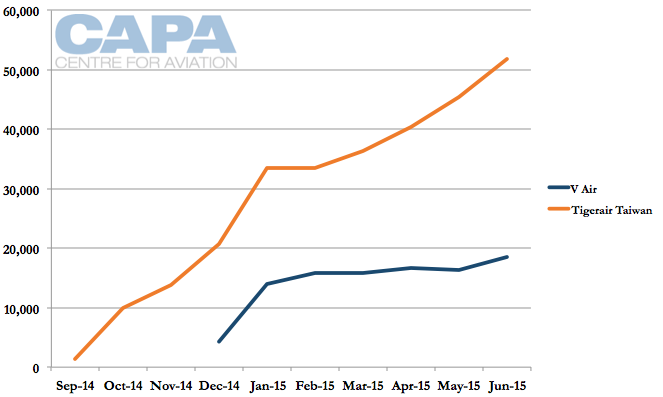 Growth from the two new LCCs is partially offset from declines at TransAsia, which had to pull back schedules after a series of safety incidents, including crashes. TransAsia's domestic passengers in Jun-2015 are half that of Jun-2014, bringing the volume to levels below 2008.
From Taoyuan, TransAsia only flies internationally. OAG data indicates a reduction of 21,000 in Jun-2015 from TransAsia at Taoyuan, or a 26% drop. TransAsia's system-wide international traffic has dipped below 2013 levels. This is the result of having to reduce capacity and also previous decisions to transfer some routes to its LCC unit V Air.
There may be market perception issues as international passenger volumes have decreased faster than seat capacity, leading to declines in load factor. Since TransAsia's Feb-2015 crash, its international load factor has dipped to around 65-70%, reductions of 5-10ppt.
TransAsia Airways monthly international passenger numbers: 2008-2015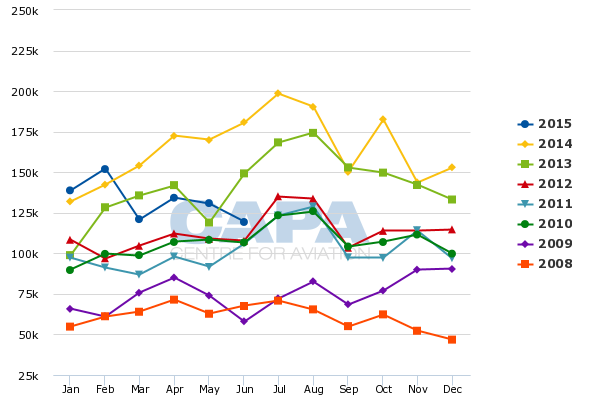 Emirates makes its first A380 service with one-off flight. Perhaps China Southern more likely for regular service
Taoyuan's runway works have been partially to allow the airport to accommodate the A380. There has been no announced firm interest in A380 service to Taipei from non-Taiwanese carriers. Neither of Taiwan's long-haul carriers, China Airlines and EVA Air, intends to operate the A380.
Emirates on 19-Jul-2015 operated a token, one-off A380 service to Taoyuan. Emirates has said it is studying A380 operations to Taoyuan, although it often says this of most non-A380 markets. Emirates generally has double daily 777 services before it commences A380 flights. Emirates has only one daily flight to Taoyuan. Taoyuan will be eager for an A380 service given the runway and apron works it has undertaken to handle the A380, as well as the double-storey jetbridge it installed to accommodate the aircraft.
Asian carriers could consider regional A380 service to Taoyuan, as they have on other intra-Asia routes, mostly to Hong Kong (which has had A380 service at various times from all of Asia's A380 operators). However, Taiwan's lower premium traffic could be challenging. Perhaps most likely is A380 service from China Southern on cross-Strait mainland China-Taipei Taoyuan routes.
Taipei Taoyuan prepares for new USD1.5 billion Terminal 3
Taoyuan in recent years renovated terminal one, its oldest, and by the end of 2015 expects to start a train service directly linking Taoyuan with Taipei's main train station. Trains will depart every 10-15 minutes. Non-stop trains will reach Taipei in 35 minutes while regional services will make stops and take longer.
There will also be a train link to the nearby high speed railway station that serves the city as well as other points in Taiwan. The airport is currently linked to the high speed railway station via bus service.
The big development at Taoyuan is preparations for the airport's all-new terminal 3, due to be completed by the end of 2021. CAPA's airport construction database reported the latest on the project as:
On 22-Jun-2015 Taipei Taoyuan International Airport launched an international competition for a new GBP1 billion (USD1.5 billion) terminal. The new Terminal 3 building is design to have capacity of 45 million passengers, covering 640,000sqm and to be connected to the airport's existing Terminal 2 facility. New service roads, multi-function buildings, apron facilities, taxiway systems and an 'automatic people mover' will also be required. According to the brief, the "project will be developed as a sustainable and intelligent airport, with comprehensive facilities encompassing functions in tourism, shopping, culture and arts to create new traveling experiences." It adds: "Outstanding design proposals and professional services teams from all over the world are solicited to develop the project. This project intends not only to satisfy the rapidly growing demand in passenger/cargo volume, but also to absorb advanced technologies such as self check-in; bag-drop systems; BIM and energy management to create a magnificent terminal in all respects". Three shortlisted teams will receive around GBP126,000 (USD198,000) to participate in the competition's second stage. Participants must have already designed a terminal building handling at least 18 million passengers p/a within the past 15 years. The deadline for submissions is 21-Aug-2015.
Taipei Taoyuan outlook: strong growth despite runway closures
As the fastest growing airport outside mainland China, Taoyuan's performance is strong - but even more notable given the challenges of limited slots during runway works. Airlines will very much look forward to more growth opportunities and smoother operations once the works are completed in early 2016. EVA Air and China Airlines are in growth mode, but outside Asia are mostly focused on North America, leaving Taoyuan to look at other carriers for service. Emirates and Turkish are strong recent additions.
TransAsia's outlook is not strong in the short term, but two new Taoyuan-based LCCs are growing faster. Tigerair Taiwan and V Air finally give Taiwan the locally based LCCs it has sought after experiencing a foreign LCC influx; 10% of Taoyuan's seats are from LCCs.
Liberalisation, such as to Seoul Incheon, should usher in further growth. An LCC terminal has been discussed for some years, and with significant plans under way for terminal three, this segment of the business should not be forgotten.
A key market for Taoyuan and all of Taiwanese aviation is the cross-Strait market.
Expected approval for transfer traffic marks the start of a new era, but a slowdown in mainland China's economic output coupled with visa changes bring challenges airlines and airports will have to navigate.
The cross-Strait market between Taiwan and Mainland China will be examined in a later report.