Sukhoi SuperJet: from Russia, with hope
Analysis
In late Apr-2018 S7 Airlines signed a letter of intent to buy 50 Sukhoi SuperJets, with options over a further 25. The order is for the as yet undeveloped 75 seat SSJ-75, the smallest variant of the SuperJet family, with a target entry into service in 2022.
The 100-seat Sukhoi SuperJet conducted its maiden flight on 19-May-2009 and entered service in 2011 (although the launch customer Armavia subsequently withdrew its single aircraft from service). The first delivery to an operator outside Russia was to the Mexican LCC Interjet in 2013, and the first delivery to Western Europe was to CityJet in 2016.
The SuperJet competes with Bombardier's CSeries and Embraer's E-Jet, but targets the lower end of the size range for new technology regional jets. SSJ variants will offer 75-100 seats, whereas the CSeries is in the 100-130 seat range and the E-Jet will be in the 80-140 seat range. (The SSJ size range also mainly avoids direct competition with the lower end of the Airbus A320 and Boeing 737 families).
Built by the Sukhoi Civil Aircraft Company, which is part of Russia's majority state-owned United Aircraft Corporation, the SSJ is rare in being a Russian-built aircraft operating within Western markets. SCAC is now hopeful of securing more orders in Europe, with interest reportedly high in the Balkan region.
This report presents details of the Sukhoi SuperJet's installed fleet and order book.
Summary
There are 125 Sukhoi SSJs in service and 175 on order. 78% of the fleet in service is with Russian operators.
Aeroflot is the biggest current operator. S7 has the biggest order, for the SSJ-75 that is still to be developed.
There are 125 Sukhoi SSJs in service and 175 on order
According to the CAPA Fleet Database, there are 125 Sukhoi SSJs in service and 175 on order (this includes 92 unconfirmed orders). The most popular variant, both in service and on order, is the SSJ RRJ-95B (89 in service and 68 on order).
The -95B has up to 100 seats, while the longer range -95LR has up to 103 seats in a single cabin configuration.
Summary of Sukhoi SuperJets in service and on order at 12-Jun-2018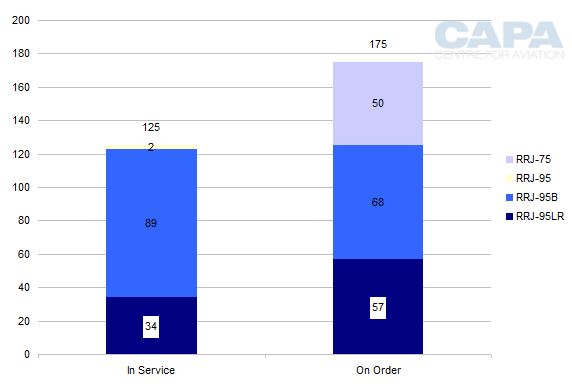 The SSJ-75 is planned for 2022
Sukhoi's newest variant to be offered is the 75 seat SSJ RRJ-75, the development of which was announced in Feb-2018. It is to be aimed at regional routes of 1,500km to 2,000km. There is no confirmed delivery date for the smallest variant, but it is expected to enter service in 2022.
S7 Airlines' intended 50 aircraft order and options for a further 25 RRJ-75s also involves its participation in the aircraft's development. Sukhoi estimates the market potential for the new variant at 200 to 300 aircraft in Russia and up to 3,000 internationally.
Aeroflot is the biggest SSJ operator currently; 78% of its fleet is with Russian operators
The 125 SuperJets currently in service are deployed by 15 operators, according to the CAPA Fleet Database. A large majority of this fleet, 78%, is operated by Russian operators.
Russia's leading airline, Aeroflot, has the largest SSJ fleet, with 43 (all -95B variants) in service, followed by Interjet, which has 20 (also -95Bs).
The Russian carriers Yamal Airlines and Gazpromavia are the only other operators with SSJ fleets in double digit quantities (15 and 10 respectively).
There are a further nine Russian operators, making 12 in total. Other than Interjet, the other non-Russian SSJ operators are Ireland's CityJet, which has six -95Bs, and the Royal Thai Air Force, which has two -95Bs.
Sukhoi SuperJets in service by operator at 12-Jun-2018
S7 has the most orders
S7's (unconfirmed) order for 50 SSJ-75s puts it at the top of the ranking of SuperJet orders, which comprises 11 operators and three lessors (with no identified operator).
Of the 14 entities that have outstanding SuperJet orders, eight are Russian and six are from other countries.
Two Iranian operators, Iran Air Tours and Iran Aseman Airlines, each have preliminary agreements to buy 20 SSJ-95LR aircraft, making them the most significant non-Russian organisations ranked by outstanding SuperJet orders (if confirmed).
The return of US sanctions on Iran may boost the prospects of Iranian orders for the Sukhoi equipment, although questions have been raised within Iran about the reliability of Russian aircraft.
CityJet has nine outstanding orders, one more than Interjet. These two are important to the SuperJet's prospects in international markets. Among the remaining orders, the only others by non-Russian operators are Aero Mongolia's two -95LRs and the Royal Thai Air Force's one remaining -95B.
In addition to the orders summarised in the chart below, there are options for a further 69 SSJs (25 with S7, 16 with CityJet and 28 with lessors).
Sukhoi SuperJets on order at 12-Jun-2018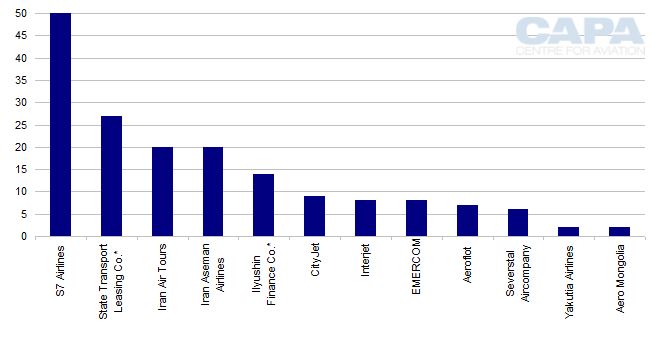 63% of SSJs in service are leased
Out of the 125 aircraft in service, 79 are owned by four Russian lessors (63% of the total).
State Transport Leasing Company, owned by the Russian Federation, has 33 SuperJets (15 with Yamal, eight with Azimut, seven with IrAero and three with Yakutia); Vnesheconombank has 24 (23 with Aeroflot and one with Buryat Airlines); Sberbank Leasing has 20 (all with Aeroflot); and VEB Leasing has two (both leased to Yakutia).
Sukhoi SuperJets in service at 12-Jun-2018: ownership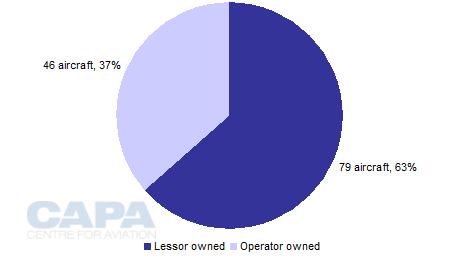 Lessors account for 33% of SSJ orders
A smaller proportion of the 175 SuperJets on order have been placed by lessors. There are outstanding orders for 57 aircraft (33% of the total) with three Russian lessors. The majority of these 57 aircraft (42 of them) currently have no identified operator.
State Transport Leasing Company has 27 orders with no identified operator (plus two for Yakutia Airlines), while Ilyushin Finance Company has 14 (plus six for Severstal Aircompany) and Vnesheconombank has one (plus seven for Aeroflot).
Sukhoi SuperJets on order at 12-Jun-2018: ownership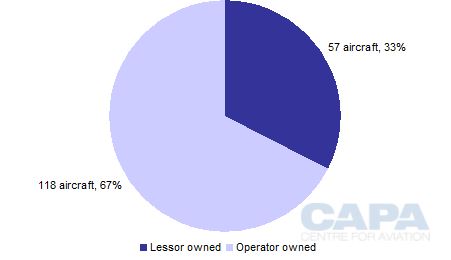 CityJet and Interjet are important to the SSJ's international profile
CityJet placed its SSJ order in 2015 with a view to replacing its ageing BAE146 fleet. It now has a fleet of six SSJ-95Bs in service, with nine more on order. The first European customer for the Superjet outside Russia, CityJet took its first delivery in summer 2016.
When CityJet announced the Superjet order in Oct-2015, it intended to deploy it on its London City network once operational approval had been received for the aircraft at this airport.
Pending modifications to the aircraft by Sukhoi to allow for City's steep approach (expected in 2019), CityJet is wet leasing half of its six SuperJets to Brussels Airlines and deploying the remaining three on its own network away from London City.
The Irish regional airline is operating Brussels Airlines services to Billund, Birmingham, Bologna, Edinburgh, Figari, Gothenburg, Hannover, Manchester, Milan Malpensa, Nantes, Prague, Stockholm, Venice, Vienna and Zadar (source: OAG).
This is consistent with CityJet's strategic shift towards third-party operations (it also operates for Air France and SAS, using other aircraft types).
The SuperJet's operation by CityJet in a number of major European cities is important in raising its profile outside Russia.
In addition to its SSJs in service and on order, CityJet also has options for a further 16. If it were to exercise all of its options, this would take it above Mexico's Interjet as the most important non-Russian operator of the SuperJet, with a total of 31.
Interjet has 20 SSJ-95Bs in service, two in storage and eight on order, giving a total of 30 aircraft. Only S7 (50 orders and 25 options for the SSJ-75) and Aeroflot (43 -95Bs in service and seven on order) would have more than these two non-Russian operators.
Interjet mainly uses its SSJ fleet on domestic routes, so that it plays a lesser part in raising the aircraft's profile compared with CityJet's operations in Europe (but Interjet does deploy the SuperJet on routes to Cuba and to the US cities of Houston and San Antonio from Monterrey).
More international customers are needed
The SSJ had a head start on the CSeries and the E-Jet. The SSJ has been in service since 2011, whereas the CSeries entered service in 2016 and the E-Jet only began operation in Apr-2018 (with the Norwegian regional airline Widerøe).
However, in spite of its longer period of availability, the SSJ is underselling these competitors.
Adding the 125 SSJs in service to the 175 on order gives a total of 300 aircraft for the Sukhoi SuperJet to date. This compares with 311 for the E-Jet (309 orders and two in service) and a total of 439 CSeries aircraft (399 on order and 40 in service).
In selling to CityJet and Interjet, Sukhoi Civil Aircraft Company have made important breakthroughs in the international markets for the SuperJet.
For its newest variant, the SSJ-75, it achieved a significant early customer in the form of S7.
Nevertheless, it will need to find a major non-Russian order if it is to fulfil its hoped-for 3,000 international orders.