Stronger than expected premium traffic in Sept but structural shift in premium demand evident: IATA
Analysis
International demand for premium-class travel again rebounded in Sep-2011 despite declining business confidence and economic uncertainty and early signals of a decline, IATA said. "We have pointed to the lack of further growth in international trade and the sharp declines in business confidence as reasons for expecting a decline in business travel and premium seat sales. So far, this has not happened," IATA said, while noting: "It still looks a matter of time before the deteriorating economic conditions pull premium travel lower."
This stronger-than-expected growth in premium and overall passenger levels in Sep-2011 has had a positive impact on airline yields and profits in 3Q2011. Correlating with the improvement in premium traffic volumes in Sep-2011, there was an improvement in premium revenues in Sep-2011, following a marked decline in Aug-2011, with declines in premium revenues to the lowest levels in 16 months. IATA noted that it "had not expected the strength to continue this long" although, given deteriorating business confidence, weakening international trade and strained economic conditions, IATA expects the situation to deteriorate and slow in the months ahead.
Premium ticket volume and revenue growth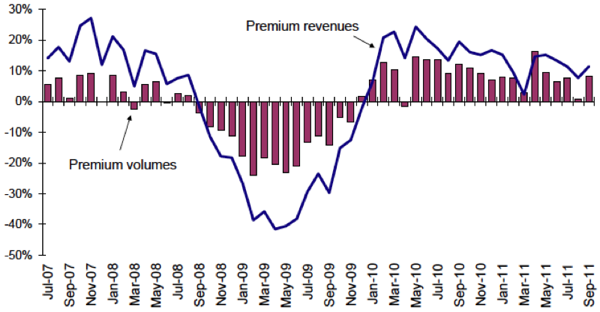 Premium passenger numbers strengthen by 6.7% in Sep-2011
Premium passenger numbers, which include business and first-class seats, strengthened 6.7% year-on-year in Sep-2011, following growth of only 2.3% in Aug-2011 and returning the size of the premium market to levels seen in May-2011. IATA noted that premium travel is significantly higher than last year, but has made no further progress since May-2011.
IATA international air passengers by seat class (seasonally adjusted): Jan-2004 to Sep-2011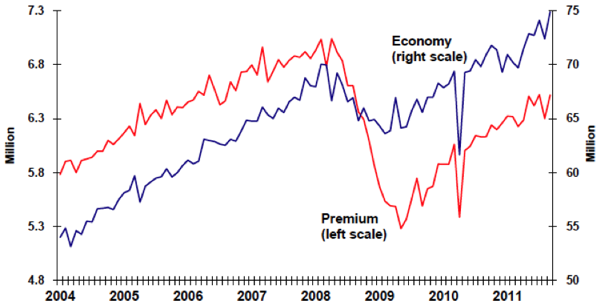 Structural shift in premium travel demand since GFC
The rebound in economy travel was stronger than the rebounds seen in the premium market. The number of passengers travelling on economy seats (including premium economy) increased 5.8% year-on-year in Sep-2011, with the increase in economy travel from the lower levels in Aug-2011 taking passenger numbers "well above previous highs".
The strongest international travel market segments in Sep-2011 were within-Europe and Europe-Far East, with the strongest First/Business markets being within the Far East and in the Europe-Far East market. The direct segment Europe-Far East has been strong throughout 2011 and strength continued in Sep-2011. Indirect travel between Europe and the Far East also appeared strong, IATA said, adding that both the Europe-Middle East and Middle-Far East segments showed double figures growth in premium travel in Sep-2011.
Overall however, IATA noted that travel markets within the Far East have been "surprisingly weak" in recent months, although premium travel rose back strongly in the region in Sep-2011. Meanwhile, South America experienced slower growth in both premium and economy travel in Sep-2011. Travel between North and South America continues to be one of the strongest markets although travel across the Pacific between North America and Asia has seen very little growth, with overall passenger numbers up less than 1% in Sep-2011.
Africa, which remains a small market, has "proved to be very resilient and was boosted by the good growth rates being experienced in a number of economies in the continent," IATA said. Both premium and economy travel are expanding at double figure rates. Travel within Africa is also growing strongly, as is growth between Africa and the Far East (reflecting the increasing investments and trade links between the regions) but the main trade lane between Europe and Africa is seeing travel decline.
For more on the weakened Africa-Europe market and growing Africa-Asia market, see related articles:
First/Business and Economy traffic growth by route: Sep-2011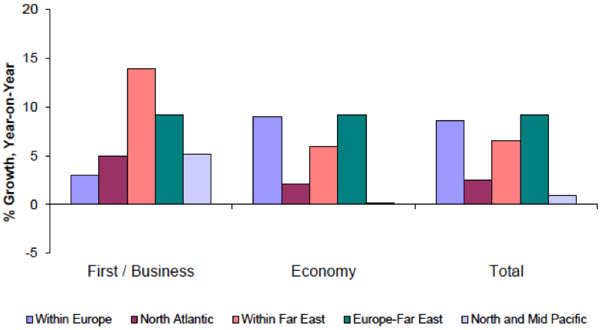 In Europe, IATA noted that given the worsening economic conditions in Europe and the sharp fall in consumer confidence, growth in intra-European economy travel seen in Sep-2011 "is unlikely to have been driven by leisure travel". IATA continued: "More likely business travellers have been trading down from premium to economy". In fact, premium passenger numbers as a percentage of the total international travel market are starting once more to represent a declining proportion". Premium travel, meanwhile, weakened in the month.

Premium passengers as a percentage of the total (seasonally adjusted): Jan-2004 to Sep-2011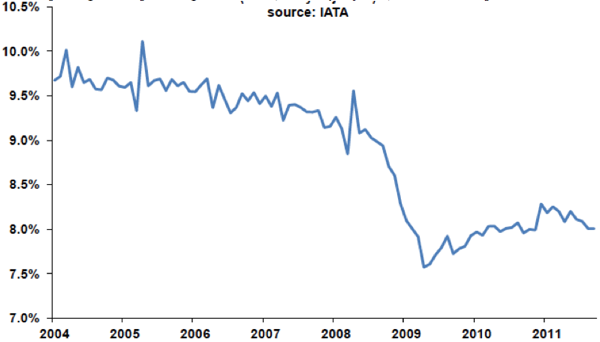 IATA has previously said that while there has been a "significant" rebound in premium travel after the 2008-09 recession, "there has clearly been a structural shift, due to the severity of the recession, away from travel on business and first class seats towards economy". Prior to the recession, premium travel made up 9-10% of the international total, with this declining to the 7.5-8.5% range. This also reflects an increasing movement towards premium economy, which IATA includes as part of the 'economy' category. "In recent months, that structural downshift has been joined by the start of a new cyclical downturn," IATA said last month.
Expected demand weakness linked to economic woes
IATA has continually noted that weak levels of business confidence is usually consistent with little or no growth in premium travel volumes. Premium travel is also aligned with international trade and business confidence. Currently, the signals from international trade are that business travel should slow further, with IATA adding that the same signals for a sharp slowdown in premium travel are evident in the purchasing managers' index of business confidence, averaged across major economies. IATA commented: "The 2009 upturn in premium travel was signaled, by rising business confidence, six months earlier. This year, business confidence has been steadily declining for more than the last six months. Premium travel has slowed, but both trade and confidence point to very little further growth in premium travel, until economic conditions improve".
Premium passengers and world trade growth: Jan-2006 to Sep-2011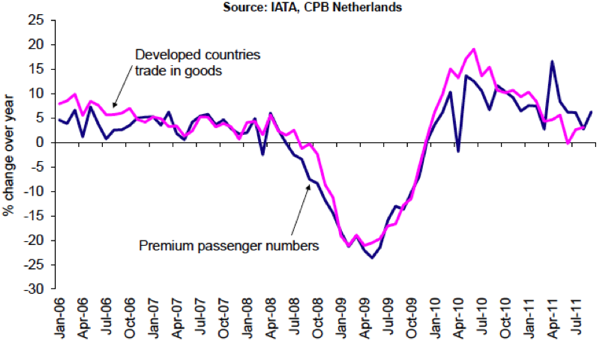 Premium travel and business confidence: Jan-2006 to Sep-2011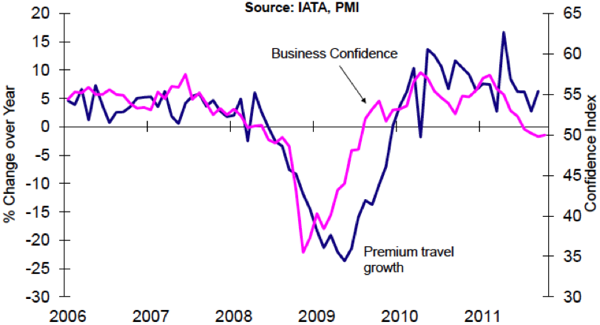 The Conference Board this week stated that while economic activity in China remains robust, the pace of growth is expected to "continue to ease in the near term". Separately, the Conference Board stated economic indicators in Japan "suggest that the current economic downturn is likely to continue in the near term".
The Conference Board has also stated US economic indicators indicate that the "sluggish economy is going to be here for a while", adding that "there is a risk that already low confidence – consumer, business and investor – could weaken further, putting downward pressure on demand and tipping the economy into recession". The Conference Board stated the probability of a downturn starting over the next few months remains at around 50%.
In the Euro area, the Conference Board cautioned that further declines in Euro Area economic indicators has pushed economic fundamentals into "recessionary territory". The Conference Board commented: "The deterioration of consumer and business confidence has been much stronger than the decline in real measures. Nonetheless, if the latest policy intentions to contain the debt crisis fail to reassure investors and businesses, it will be much harder to prevent decline in measures such as industrial production and retail trade."
Earlier this month, the Conference Board in its global forecast, forecast that the world economy will struggle to grow above its potential over the next five years as advanced economies recover, although the gain will likely be offset by a slowdown in emerging markets. The Conference Board's global forecast expects world GDP to grow 3.2% in 2012 and accelerate to 3.5% from 2013 until 2016. Farther out, growth is projected to average 2.7% from 2017-2025. Each period's projected pace is less than the 3.6% average during the 1996-2005 period, before the severe recession hit.
Outlook: Better than expected Sep-2011 but weakness expected in upcoming months
Deteriorating consumer confidence and weaker global economic growth prospects are expected to have an impact on the world's airlines in the months ahead with forward-looking economic indicators pointing to a slowdown in late 2011/early 2012. Freight market trends are also concerning, particularly from manufacturing hubs in Asia. This slowdown will be particularly evident if the sovereign debt problems in Europe deteriorate into a renewed banking crisis, which would likely to weaken travel markets worldwide, IATA said.
APPENDIX: IATA Premium traffic by route
IATA Premium traffic by route: Sep-2011