Spirit's latest route changes indicate increasing pressure from JetBlue
Analysis
Spirit Airlines in 4Q2012 is planning to rework its schedule on some routes from its Fort Lauderdale base to the Caribbean through the elimination of flights to Nassau, Bahamas and transitioning service to Kingston, Jamaica to a seasonal offering. In both those markets Spirit has a relatively small offering in comparison to its competitors, which includes JetBlue, on both the routes. Those market exits follow an earlier decision by Spirit to end service from Dallas/Fort Worth to Boston in late 2012 as JetBlue recently made its debut in the market. Three markets certainly do not account for a trend, but it does seem that Spirit would prefer to expand where JetBlue does not operate, concluding it can better stimulate traffic in markets with a higher concentration of legacy competition.
Spirit has a limited presence in terms of flights and seats on offer from its Fort Lauderdale headquarters to Kingston and Nassau. Spirit offers three weekly flights to Kingston, which accounts for roughly 11% of the total 4091 approximate one-way weekly seats (02-Sep-2012 to 08-Sep-2012) on offer from Fort Lauderdale. Caribbean Airlines accounts for 53% of the seat share and JetBlue holds a 37% share.
Fort Lauderdale to Kingston Norman Manley (seats per week, one way): 19-Sep-2011 to 24-Feb-2013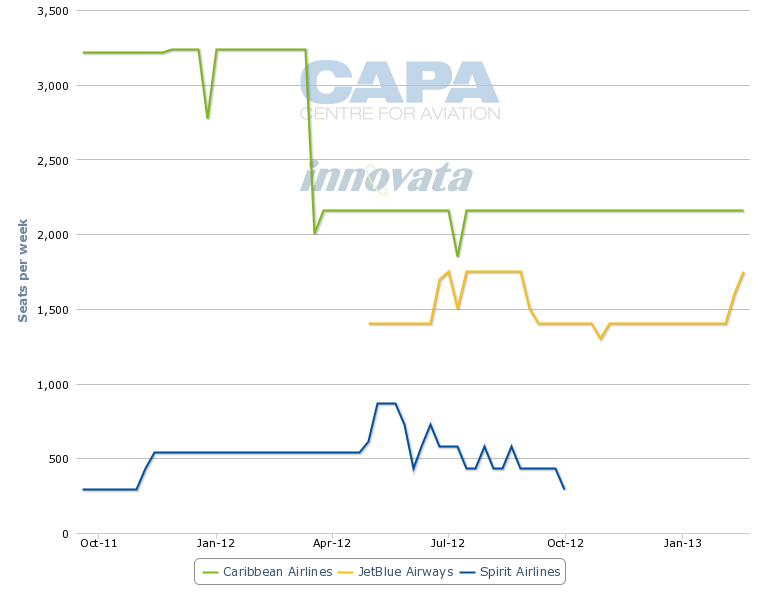 Nassau is a more crowded market served by four carriers: Spirit, JetBlue, SkyBahamas and Bahamasair. Spirit offers about six weekly flights on the pairing compared to three daily services operated by JetBlue. Of the approximately 6,300 weekly seats on offer, Bahamasair holds a 47% share followed by JetBlue at 36%. Spirit represents a 12% share and SkyBahamas holds a 4% share.
Fort Lauderdale to Nassau (seats per week, one way): 19-Sep-2011 to 24-Feb-2013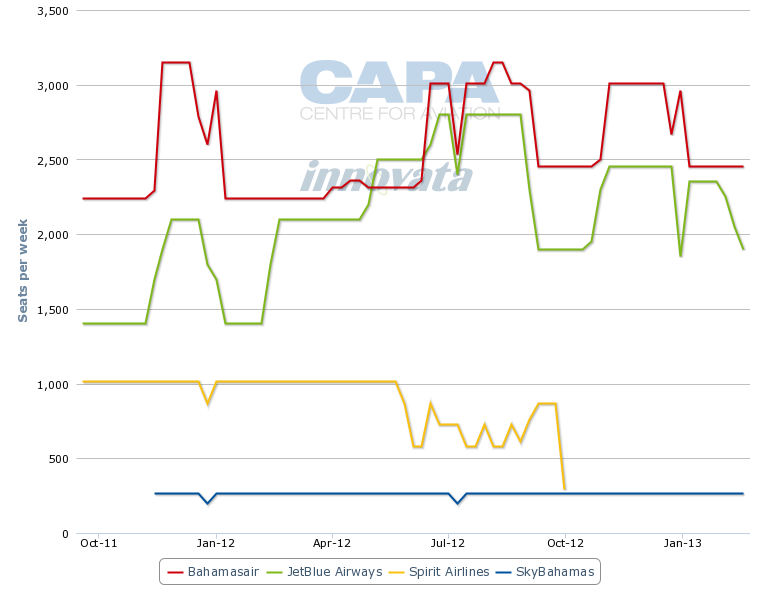 The reality is that Spirit during the last two years has turned its attention from growing traffic into and out of the Caribbean and Latin America from Fort Lauderdale to larger US domestic markets where it believes it can stimulate traffic, so it is not suprising the carrier is opting to redeploy aircraft from relatively minor markets to regions where those assets can hit the carrier's average aircraft utilisation of 13h per day. At the same time JetBlue has been building up Fort Lauderdale to bolster its north-south traffic flows from the US northeast to Florida and currently accounts for 18% of the airport's total seating capacity, just 3 ppts less than the 21% share held by Spirit.
Fort Lauderdale capacity by carrier (% of seats): 03-Sep-2012 to 09-Sep-2012
See related articles:
Once the changes are made to Spirit's service from Fort Lauderdale to Kingston and Nassau, JetBlue and Spirit will remain competitors in seven markets: Bogota, Boston, Cancun, Los Angeles, New York LaGuardia, Santo Domingo and San Juan. Of those markets the carriers are the only competitors on flights from Fort Lauderdale to Boston, Cancun and Santo Domingo. The two carriers along with US Airways also currently compete on flights from Fort Lauderdale to Washington National, but Spirit is shifting that service to Baltimore Washington International Airport in September 2012.
On service from Fort Lauderdale to Bogota, Cancun, LaGuardia, Los Angeles and Santo Domingo, there are no wide gaps in JetBlue and Spirit's capacity in terms of seats on offer. JetBlue overall is the dominant carrier in the Fort Lauderdale-New York market as it offers a total of roughly 12,600 weekly seats in the market from both LaGuardia and JFK. JetBlue also dominates the Fort Lauderdale-Boston market, holding a 80% share of seats on offer. Boston is a focus city for JetBlue, as is San Juan, where the carrier has a 57% seat share from Fort Lauderdale. Spirit has a stronger presence in the Fort Lauderdale-Cancun market, holding a 62% share of current seats on offer.
Competitors on JetBlue and Spirit markets from Fort Lauderdale (seats per week): 02-Sep-2012 to 08-Sep-2012
Avoiding increasing overlap with JetBlue
For now it appears Spirit and JetBlue will continue to co-exist in those markets, but it appears that JetBlue might be more of a threat to Spirit's no-frills, ultra low-cost model than the legacy carriers that dominate the large domestic markets Spirit has entered during the last two years. JetBlue's medium-frills offering for fares that fall between those charged by Spirit and legacy carriers could appeal to a passenger base willing to spend up for some perks that Spirit opts to levy charges on. It seems Spirit is aiming to keep its competitive overlap with JetBlue at 15%, (compared with 58% overlap with American) while pressing into larger markets where it can attract highly price-sensitive customers that have been abandoned by US legacy airlines. Spirit continues to build-up its presence at Dallas-Forth Worth and has launched a minor offensive from United's Houston Intercontinental hub.
See related article: Spirit continues legacy fortress invasion in Dallas and Houston
But Spirit's calculations of stimulating price-sensitive traffic in some legacy markets have not exactly come to fruition. In Oct-2012 the carrier is eliminating its single daily flight from Chicago O'Hare to Delta's fortress of Detroit that it inaugurated in Aug-2011. The route is one of the most contested as American, United and Delta all offer service from Chicago to Detroit. With United anchoring its hub in Chicago and Delta dominating its Detroit hub, the opportunity for stimulation might be weaker than in other markets where Spirit has launched service.
Chicago O'Hare to Detroit Wayne County Airport (seats per week, one way): 19-Sep-2011 to 24-Feb-2013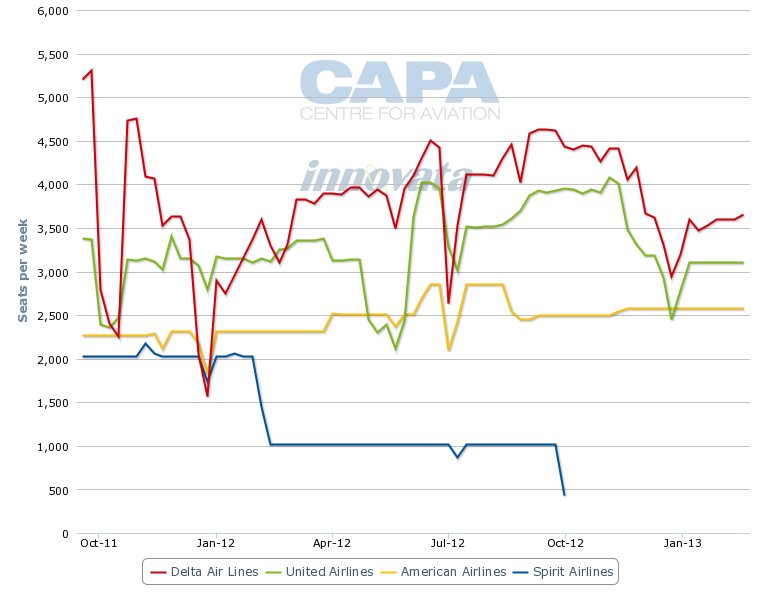 Spirit has also opted to abandon Boston-Dallas/Fort Worth to JetBlue and American during 4Q2012 after only operating the flight for just a few months since the Mar-2012 launch. Another market exit is Chicago-Los Angeles in Sep-2012, which Spirit launched in Apr-2011. But despite those market cuts Spirit remains bullish about its growth prospects underpinned by its ability to quickly redeploy aircraft if certain markets don't quickly meet the carrier's profitability projections.
Yet other legacy airlines are not allowing Spirit to freely enter their markets without some response. US Airways has added a sixth daily flight from its Philadelphia hub to Dallas-Fort Worth ahead of Spirit's entry into the market in Apr-2013. Spirit by Jun-2013 plans to offer twice-daily service in the market, which is also served by American Airlines.
Growth continues unabated
Despite some pressure from JetBlue and a quick exit from markets with less than two years of maturity, Spirit has not revised its target of a compounded annual seat growth rate of 17% through 2015. During a 05-Sep-2012 investor conference carrier CFO Ted Christie declared Spirit would achieve that growth without compressing its margins, which on a pre-tax basis were 26% for the 12 months ending 2Q2012. He declared Spirit's growth plan was "digestible".
Spirit's pre-tax margin comparison: 12 months ending 2Q2012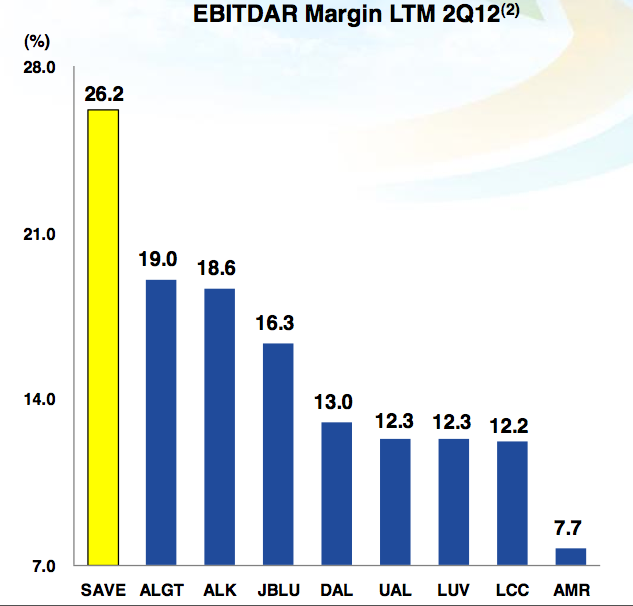 Mr Christie stressed Spirit believes numerous opportunities exist in the US domestic market, and also concluded that if legacy carriers choose to ignore or match Spirit's low fares, the carrier benefits. If legacies ignore Spirit's service entry with lower fares, the carrier succeeds in stimulating passengers, said Mr Christie. If they choose to match Spirit's fares, they can only do so with small segment of their respective inventories, which will create passenger spill in Spirit's favour.
He also stated that while Spirit does have some mix of smaller airports in its network including Phoenix Mesa and Plattsburgh, NY, Spirit is generally gravitating towards large population centres as evidenced by its push during the last couple of years from markets including Dallas, Chicago, Houston and Los Angeles. While Spirit's strategy of stimulating traffic in large markets so far has largely proven to be viable, the route cuts show there are some cracks in its armour, and its careful avoidance of JetBlue indicates the carrier could face a new layer of competitive pressure in the future.