Spirit Airlines foresees continued unit revenue pressure, but still delivers strong topline results
Analysis
Spirit Airlines plans to introduce 24 new routes in 2Q2015 after adding Cleveland to its network earlier in the year. The biggest push during 2Q is from Houston Intercontinental, where the airline is adding eight new nonstop destinations that include seven to Latin America.

The rapid route expansion results in Spirit having a significant portion of its network under development, which along with some lingering pricing compression in other market is pressuring Spirit's unit revenues. It projects a unit revenue decline of 14% to 15% for 2Q2015, which wider than the nearly 10% drop it recorded in 1Q.

Spirit has refined its FY2015 operating margin guidance to a still healthy 24% to 27% as it still faces some lingering pressure in Dallas, one of its larger markets. But it is still the reigning lowest cost producer in the US, which gives is some leverage to navigate the current competitive environment.
Spirit opts to connecting existing international markets with Houston
Beginning in Mar-2015 and continuing through May-2015 Spirit is adding new service from Houston to Tampa, Baltimore/Washington, Oakland, Cancun, Los Cabos, Mexico City Toluca, Managua, San Jose (Costa Rica), San Pedro Sula and San Salvador.

Spirit serves many of the new international destinations from elsewhere in its network, which drives a certain level of efficiency with the new route launches. Recently airline CEO Ben Baldanza stated that along with making those international stations more efficient, the expansion "gives us a little more affinity to the customer bases in those markets because we now can take them not only to Florida, or not only to Dallas, but also to Houston as well. So overall, we see it as very accretive growth...".

Mr Baldanza explained that Spirit's international footprint is different from other US airlines. The airline's international network spans the Caribbean, Central America and north and south America. "Overall, we sell virtually all of our tickets in US dollars, so we don't have any material f/x issues at all," he concluded. Company SVP of network and revenue management Theodore Botimer concluded that Spirit was logging a "good spool up on those markets as well".

See related report: Spirit Airlines makes a new push from Houston adding some new competition for United and Southwest
Spirit's loads return to normal in Dallas, but pricing momentum remains stagnant
Spirit recorded a nearly 10% drop in unit revenues during 1Q2015, which was in line with previous guidance of a 9% to 11% decrease. The decrease is projected to widen in 2Q2015, with projections of a 14% to 15% drop in unit revenue. Spirit estimated that 40% of the 2Q decline was attributable to growth in new markets, 25% stemming from challenges in Dallas and 35% due to pricing pressure in other markets outside Dallas.

After the Wright Amendment restricting certain long haul flights at Southwest's headquarters in Dallas Love Field was lifted in late 2014, the airline made a massive push from the airport along with other airlines that gained access to Love Field including Virgin America.

Dallas/Fort Worth is Spirit's fourth largest base measured by seats and third ranked by frequencies. Its weekly frequencies from Dallas have grown from 348 for the week of 9-Feb-2015 to 407 for the week of 11-May-2015 to 17-May-2015. Although Spirit represents just 4.6% of DFW's seats (American accounts for 82%), Dallas is an important part of Spirit's network, and the jump in capacity and pricing pressure began for Spirit and other airlines in late 2014.
Offering an example of the falling prices in the market, Virgin America has previously cited double digit fares in the Dallas to New York LaGuardia market. With the dilutionary pricing generated by the capacity expansion in Dallas, even the ultra low fares offered by Spirit came under pressure.
Spirit Airlines global top 10 hubs/bases/stations by seats: 11-May-2015 to 17-May-2015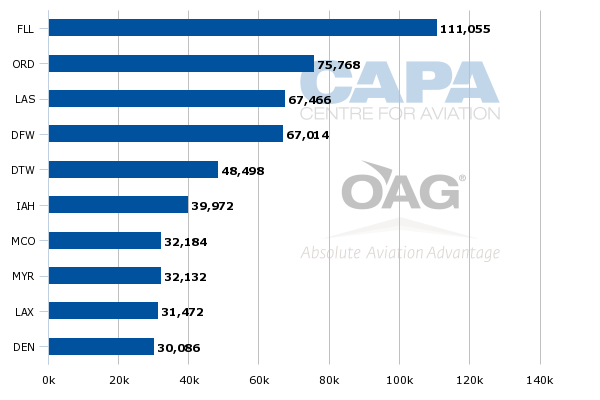 Spirit Airlines global top 10 hubs/bases/stations by frequency (to/from): 11-May-2015 to 17-May-2015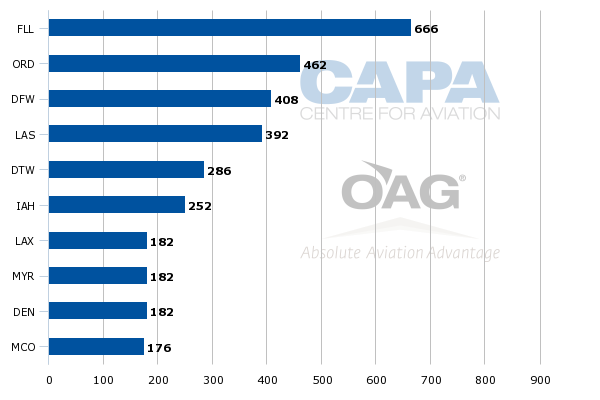 See related report: Virgin America achieves a second year of profitability despite revenue pressure in key markets

Spirit is starting to see some positive signs in the Dallas market. Mr Baldanza explained that load factors are now reaching and surpassing the system average, and concluded that the market appears to be absorbing the capacity increases now that loads have reached normal levels.

However, even as fares have stabilised in the Dallas market, "we haven't yet seen any significant price improvements in Dallas", says Mr Baldanza.
Spirit believes its cost performance is a key tool in the current competitive environment
Spirit's double digit declines in unit revenues are among the highest in the industry for both 1Q2015 and 2Q2015. But its unit costs excluding fuel and special items fell 5.6% in 1Q2015, and are forecasted to drop 7% to 9% in 2Q2015.

The unit revenue declines Spirit is recording are much deeper than the decreases it experienced during the economic downturn a few years ago. "You've not seen our RASM [revenue per available seat mile] drop 10% in other times," said Mr Baldanza. But he stated those were instances of high fuel prices and lower growth. Spirit, he concludes, is better equipped to face the current competitive dynamics given its unit cost performance versus its competitors. "I've said this a couple of times, but the revenue hit from our growth is more than offset by the cost good guy from our growth. And so that's a really good ratio to have.
Spirit still projects a strong operating margin targets, despite recent refinements
Offering some colour on the refinement of its projected 2015 operating margin, Mr Baldanza stated that there was some ambiguity in the revenue environment at the time the company offered its initial margin estimates. Moving out of 1Q2015, he explained that Spirit gained some visibility into trends for the peak summer period. With more clarity Spirit has refined its margin range to 24% to 27% from 24% to 29%, which is respectable by any measure. Yet its stock price at the time Spirit outlined its refined guidance took a short-term hit, reflecting often panicked view taken by many investors whenever certain financial measures are refined downward.

Spirit's 1Q2015 operating margin expanded by 900 basis points year-on-year to 22.7%. For 2Q2015 it anticipates a year-on-year rise of 300 to 500 basis points for an operating margin of 24.5% and 26.5%.

After expanding capacity nearly 31% in 2015, Spirit's aircraft delivery schedule dictates average growth of roughly 20% from 2016 to 2021. CAPA's fleet database shows that Spirit has 100 Airbus narrowbodies on order. Its capacity targets may seem outsized, but Spirit remains in a growth mode, and as CAPA has previously reported, represents a small portion of US seats – just 2% for the week of 11-May-2015 to 17-May-2015.
Spirit Airlines Fleet Summary as of 13-May-2015

Alongside a favourable unit cost performance, Spirit continues to post strong top-line financial results, growing 1Q2015 revenue 12.6% to USD492 million. Operating expenses increased 1.6% to USD384 million, and operating revenue jumped 82% to USD109 million. Its profits increased 83% to USD69 million.
Spirit remains on course to deliver a strong financial performance in 2015
After the onset of pricing pressure and the competitive capacity increases in Dallas, Spirit's financial performance has not diminished, and its unit cost advantage remains firmly intact.

The airline remains in a high growth mode as it works to bolster the ULCC business model in the US domestic market. It has also upped its international growth after opting to largely pursue domestic growth during the last few years, in response to what it saw as major opportunities as airline consolidation led to service reductions.

Despite refining margin guidance, Spirit continues to post margin gains year-on-year as it works to combat the pressure of depressed pricing and significant capacity growth in one of its largest markets. Revised margin guidance obviously spooks investors, but similar to the rest of its US industry peers, Spirit remains on course to deliver solid financial results in 2015.