Spirit Airlines makes a new push from Houston adding some new competition for United and Southwest
Analysis
Spirit Airlines is planning to expand its presence at Houston Intercontinental Airport in 2015 with a mix of domestic and international route additions to widen the ULCC dimension in the market.

Houston, which includes the George Bush Intercontinental and Hobby airports, is dominated by United, which has a hub at Intercontinental, and Southwest, which is gearing up for the debut of international flights from Hobby in late 2015.

Southwest can no longer claim to be the ultimate low fare leader, and legacy airlines obviously charge a premium to ULCCs. Those elements, along with Spirit's own ambitious growth plan in 2015, make Houston an attractive market to extend the reach of its business model.
Spirit opts to add several new markets from Houston, continuing a quick expansion
Spirit is a relatively young airline in the Houston market, having launched service from Intercontinental during 2012. Data from CAPA and OAG show that for week of 8-Dec-2014 to 14-Dec-2014 Spirit operates service from Houston Intercontinental to Atlanta, Denver, Chicago O'Hare, Detroit, Las Vegas, San Diego, New Orleans, Los Angeles and Kansas City.
It presently holds a roughly 2.6% seat share in the market. United holds a 78% seat share, and American, Delta, US Airways and Spirit have shares in the 3% to 4% range.
George Bush Intercontinental Airport capacity by airline (% of seats): 8-Dec-2014 to 14-Dec-2014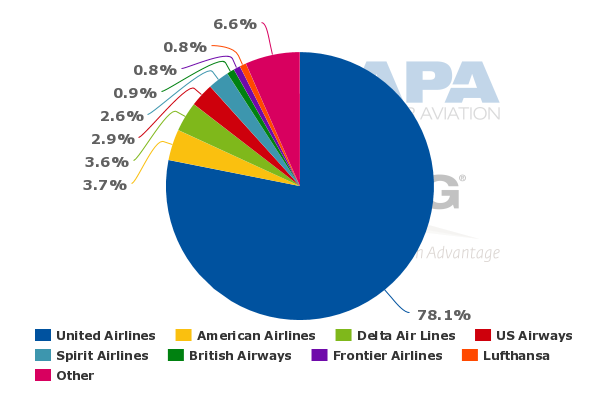 Starting in Mar-2015 and continuing through May-2015 Spirit is adding service from Intercontinental to Tampa, BWI, Oakland, Cancun, Los Cabos, Mexico City Toluca, Managua, San Jose (Costa Rica), San Pedro Sula and San Salavador. The new service to Los Cabos and Toluca will be operated on a seasonal basis.

Once all the new service starts, Sprit's seat share will rise to roughly 3% from Houston Intercontinental, and it will have a presence in about five of the top domestic markets from the airport – Denver, Chicago O'Hare, Los Angeles, Atlanta and San Francisco (through its new service to Oakland).
George Bush Intercontinental Airport capacity by airline: 4-May-2014 to 10-May-2014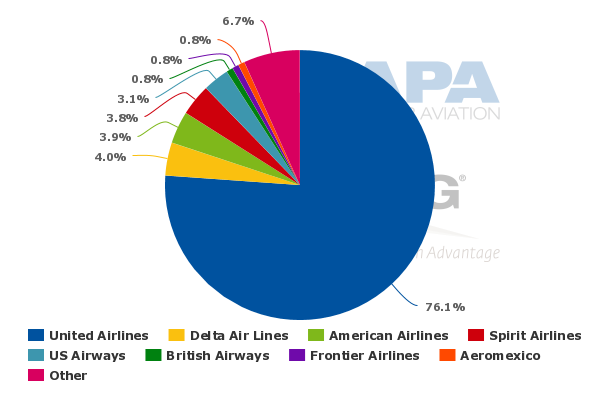 George Bush Intercontinental Airport top 10 domestic routes by seats: 8-Dec-2014 to 14-Dec-2014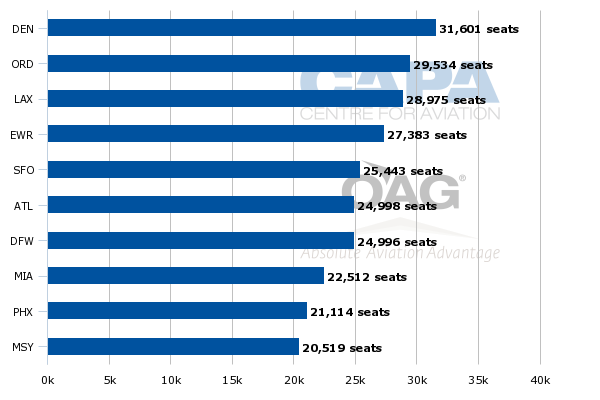 The airline will offer service to three of the top international destinations from Houston measured by seat deployment – Mexico City (through Mexico City's alternative airport Toluca), Cancun and San Jose.
George Bush Intercontinental Airport top 10 international routes by seats: 8-Dec-2014 to 14-Dec-2014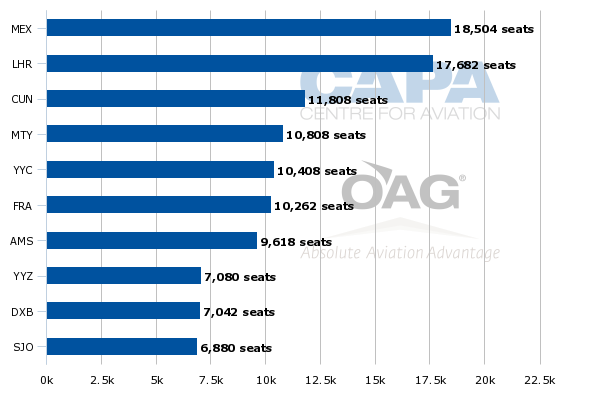 See related report: Spirit Airlines' possible transborder flights from Houston could dampen Southwest's ambitions
Opportunities in Houston seem ripe for Spirit
As previously reported by CAPA, the bulk of Spirit Airlines' international flights are deployed from its largest base and headquarters in Fort Lauderdale. It has some service from Dallas/Fort Worth and San Diego into Mexico, but the push from Houston represents the largest international expansion Spirit has undertaken during the last two to three years. During that time it has focussed on expanding domestically, reflected in its build-up in Houston and a large expansion from Dallas/Fort Worth and growth in Chicago O'Hare and Las Vegas.
See related reports: Spirit Airlines continues rapid expansion from American's stronghold of Dallas/Fort Worth
The more pronounced international growth in 2015 is likely driven in part by the fact that Spirit plans ambitious capacity expansion of approximately 30% for the year. The airline has previously stated that most of its planned capacity growth for 2015 centres on connecting the dots through the launch of new city pairs.

See related report: Spirit Airlines outlines ambitious 20%+ growth targets for both capacity and margin in CY2015

Its route additions in Houston reflect that strategy as the airline serves Toluca, Managua, San Jose, San Pedro Sula and San Salvador from Fort Lauderdale. It also operates service from Cancun to Detroit, Fort Lauderdale and Dallas/Fort Worth and between Los Cabos and DFW. It also offers flights from Tampa, BWI and Oakland to numerous markets.
Spirit Airlines route map (existing and announced markets) as of Dec-2014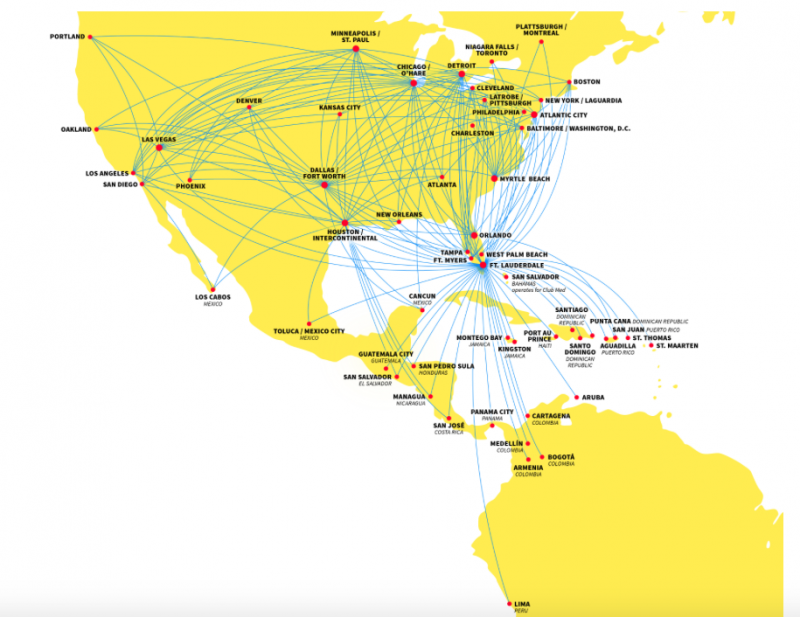 Houston seems like a logical fit for Spirit to add some international service. The city estimates that it is home to the third largest Hispanic and third largest Mexican population in the US. Most of the international service available from Houston is operated by legacy airlines that charge a higher price than Spirit, which in theory allows Spirit to stimulate traffic in the market.

In its pitch to investors, Spirit cites several markets that illustrate its ability to stimulate traffic, including Fort Lauderdale to San Jose, where average passengers per day jumped from 191 to 346 (for a measurement period of Jan-2007 to Jun-2014).
Passengers per day each way in select markets before and after Spirit's entry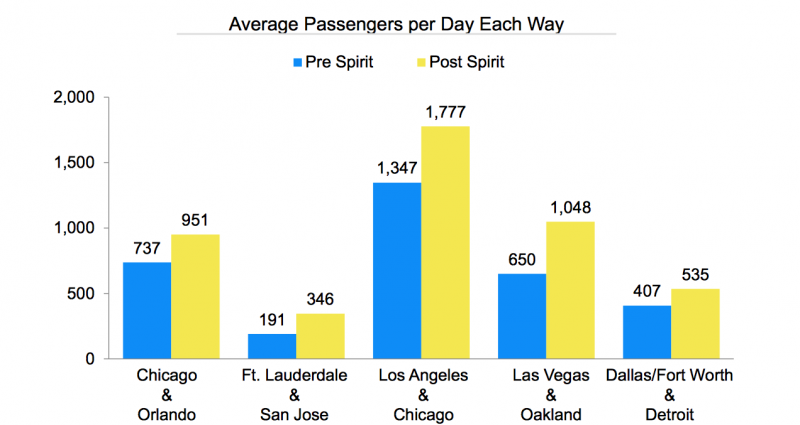 Spirit's innate ability to offer a substantially lower base fare than its competitors resides in its cost advantage compared with hybrid and legacy airlines. Spirit estimates that for the 12M ending Sep-2014 United's unit cost adjusted for stage length were 88% higher.
Although it is not clear if a stage length adjusted measure is the most accurate, (Spirit's adjusted stage length for that period is 1,584km and United's likely much higher), on a pure numbers basis Spirit's USD5.98 unit costs excluding fuel and special items is well below the performance of hybrid, legacy airlines and Southwest.
Adjusted unit costs comparison and competitive overlap for Spirit and other US airlines: 12M ending Sep-2014
It is tough to measure Spirit's competitive effects on Southwest
Spirit's calculations show that the airline has the second largest overlap with Southwest Airlines – 49% – after American. Those are interesting statistics given that Spirit often cites the presence of high legacy airline fares in the markets it enters. It is likely that Spirit considers Southwest a legacy competitor, and lumps Southwest into its legacy categorisation.

Southwest operates service from Hobby to all of Spirit's markets from Intercontinental, as well as the three new domestic routes Spirit is planning to introduce from Hobby in 2015. It also seems that Spirit is making a pre-emptive move against Southwest by launching new service to Mexico ahead of Southwest's international debut from Hobby. Southwest has not outlined transborder markets it will serve from Hobby, but Cancun and Los Cabos seem like logical choices for the airline. United also serves all the markets Spirit is adding from Houston in 2015 from its hub at Intercontinental.

A major point of pride for Southwest is its stature as the only US airline that does not charge for checked baggage. Southwest is also a well known brand in Houston. Hobby is the airline's fifth largest airport measured by departures, so it no doubt has a loyal following in the market that will opt for free checked bags on international flights for a higher all-in fare charged by Southwest.

However, Southwest still is reliant on the more cost conscious traveller, and the market for Spirit's target passenger – the ultra cost conscious customer that will opt for its bare bones fare and attempt to avoid all the add-on fees – is tough to quantify.
Given Spirit's 18% jump in traffic year-on-year for the 12M ending Sep-2014, it seems as if there are still a number of customers - existing and potential - willing to give Spirit a try. Based on the competitive overlap between Spirit and Southwest, and each airline's strong financial results (Southwest grew its profits for the 9M ending Sep-2014 by 74% and Spirit recorded a 27% increase), they are holding their own against one another.

The reality is Spirit is still a smaller airline in the US market place, representing less than 2% of the domestic traffic. Based on data from the US DoT, Southwest was the second largest US domestic airline from Sep-2013 to Aug-2014 with a 16% share.
Spirit also maintains a relatively low penetration in its markets; it offers one to two daily flights, evidenced by 61 of its routes having a frequency of seven flights per week. Southwest's frequency pattern is much different, with a larger number of routes having multiple daily frequencies.
Spirit Airlines domestic routes served by frequency/week: 8-Dec-2014 to 14-Dec-2014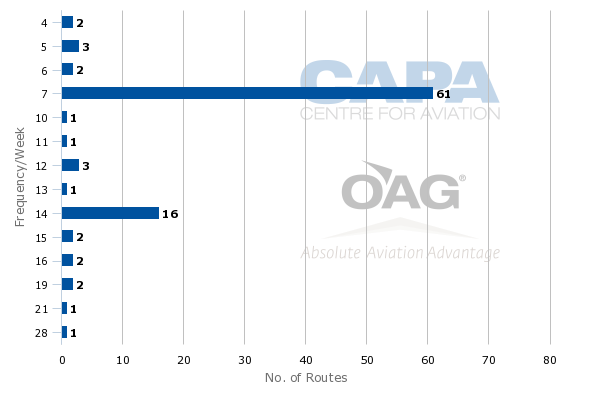 Southwest airlines domestic routes served by frequency/week : 8-Dec-2014 to 14-Dec-2014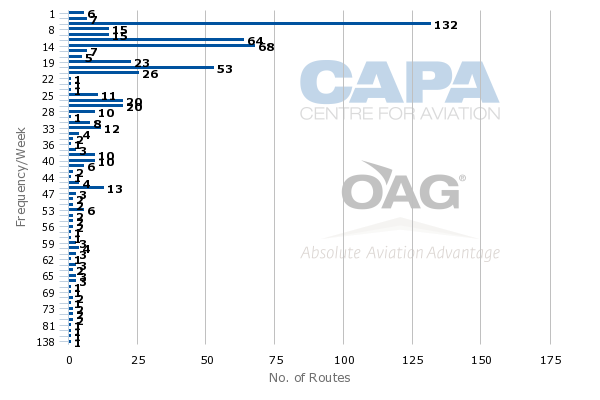 For Houston in particular, the airlines serve separate airports, and Spirit's push from Intercontinental is largely driven by United's dominance at the airport. But Spirit's ultra low fares likely do create some pressure for Southwest, which still bills itself as the US low fare leader.

If Southwest and Spirit ultimately overlap on international flights from Houston, Southwest will have a slightly larger service offering given its pattern of launching a new route with one to two daily flights. Spirit is offering fewer than seven weekly frequencies on its new international routes from Houston that debut in 2015.
Houston could be an interesting test case for competition between Spirit and Southwest
Spirit has solid odds of achieving success on its new routes from Houston, given it already serves all the markets from elsewhere in its network. With the exception of San Salvador, a route operated by United and Avianca, Spirit is only competing with United in its new markets between Houston and Central America. With its market awareness, Spirit can target similar levels of cost-conscious VFR and leisure traffic on its new Houston flights.

Spirit will encounter Mexican LCC VivaAerobus on its new Houston-Cancun service; which could prove interesting given that Mexican airlines are upping their transborder presence as Mexico undergoes a slow economy recovery.

Houston could emerge as a microcosmic reflection of how Southwest and Spirit could compete in the future. Spirit's present domestic footprint is small, but its ambitions are big.
There seems to be more passenger category overlap between Southwest and Spirit than other airlines. For the moment the two airlines are performing well even as they compete in numerous markets; but as Spirit works to increase its profile, Southwest increasingly may have to evaluate the evolution of its brand and product.