Spirit Airlines adopts a cautious view of an improving revenue environment in the US
Analysis
US ULCC Spirit Airlines appears to be taking a tempered view of the country's revenue environment for the remainder of 2017, concluding its unit revenue growth for 2Q2017 would be the high water mark for the year as comparisons for 2H2017 grow tougher.

Spirit has been facing more aggressive pricing from its larger competitors for roughly two years, and is working to transition from managing to load factor to improving yields through better revenue management, and making changes to how it manages its capacity in peak and off peak times.

It seems as if Spirit's assessment of the revenue environment has less to do with the introduction of basic economy fares by larger US network airlines, and is driven more by adopting a different mindset in revenue management to maximise yields while continuing to stimulate traffic among the price sensitive passenger sector.
Spirit cautions competitive pricing remains intact, despite improving trends
Spirit was one of the few US airline that posted a sequential decline in total unit revenue (TRASM) from 4Q2016 to 1Q2017, recording year-on-year decreases of 3.6% and 4.6%, respectively, in each time period. The airline attributed its 1Q2017 performance to shifting of Easter from Mar-2017 to Apr-2017, calculating the shift drove 3.5ppt of the decline.

Calendar placement of the holiday is driving Spirit's forecast of 4.5% to 5.5% TRASM growth in 2Q2017, with Easter accounting for 4ppt of the improvement. Company executives concluded Spirit's unit revenue performance will reach a high point in the second quarter as unit revenue declines began to moderate in 3Q2016. Spirit posted double digit PRASM declines in 1Q and 2Q2017 that dropped to the high single digits in 3Q2016.

Larger US network airlines with a higher mix of corporate travelers seem to have a more bullish view of the remainder of 2017, but Spirit recently cautioned although pricing trends have improved, the environment remains competitive for now and the foreseeable future.
Spirit adopts a mindset change from driving loads to increasing revenue
Company CEO Bob Fornaro has explained in 2016 Spirit remained in the midst of a downward cycle, driving load factor at all costs. The company's load factor in both 2015 and 2016 was 85%. Often a byproduct of driving up load factors is downward pressure on fares.

Spirit is in the midst of a mindset change from focusing on load factor at all costs to taking a more proactive approach in managing fare increases and revenues.

Some of the airline's work to improve revenue management is fairly straight forward – using existing data to drive better analytics, and improving its technology in yield management.
Spirit sees opportunities to drive revenue seasonal capacity changes
Spirit also believes there are opportunities to better manage its capacity in order to improve revenues. Earlier in 2017, the airline has stated it would make seasonal frequency adjustments in certain markets. Typically, the airline operates one to two daily flights on its routes, but now the airline believes opportunities exists to offer fewer frequencies in some markets during off-peak seasons.

See related report: More nuanced network changes for Spirit Airlines as "basic economy" pricing sets in
Mr Fornaro remarked that going forward, Spirit would become much more active in the way it adjusts its capacity by either month or season.

Obviously Spirit needs to balance improved revenue management with the stimulatory philosophy that drives its business model. The airline believes more targeted price stimulation during off-peak times will produce favourable results, while its greatest leverage resides in driving yields up during peak periods.

Spirit is attempting to craft the correct balance of driving traffic while avoiding doing so at fare levels below what the market will bear, "and that's really what we've been working on over the last six to eight months", explained company chief commercial officer Matt Klein.

Spirit's yields during 1Q2017 were essentially flat year-on-year, dropping 0.7%, and average ticket revenue per passenger flight segment fell 1.5% year-on-year to USD53.82. The company has achieved success in arresting steep declines in those metrics since 3Q2016, but its ticket revenue per passenger segment remains considerably lower on an absolute basis.
Spirit Airlines yield and average ticket revenue per passenger segment: 3Q2016 to 1Q2017
| | | |
| --- | --- | --- |
| Quarter | Yield decline | Ticket segment decline |
| 3Q2016 | 7.9% decrease | 12.9% decrease (USD58.34) |
| 4Q2016 | 1.9% decrease | 2.3% decrease (USD56.19) |
| 1Q2017 | 0.7% decrease | 1.5% decrease (USD53.82) |
Spirit maintains its thesis that basic economy fares are essentially benign
Spirit is not attributing the still competitive US fare environment to the basic economy fares being rolled out in various phases by American, Delta and United. Delta plans to roll out the lowest tier fare offering across all domestic markets by YE2017. As of end Apr-2017 American had rolled out basic economy fares in ten markets and United has rolled out the lower fare tier on select routes from Minneapolis.

Management at Spirit has maintained basic economy is less about a competitive response to the proliferation of ULCCs and a more effective tool for firming up pricing in the US market as the larger airlines sell fewer fares at Spirit's prevailing prices.

Early returns of American's limited basic economy roll out give some credence to Spirit's thesis. American executives recently concluded in its ten basic economy markets, half of eligible basic economy passengers have "bought up to the main cabin", which is in line with the company's forecast.
Spirit hints at international growth in the not too distant future
Spirit has also made some network adjustments during the last year, most notably with the addition of more mid sized markets including Akron, Ohio, Hartford, Connecticut and Pittsburgh, Pennsylvania. Spirit has also made a push from Orlando International, expanding it gates at the airport from two to five. Those type of markets help Spirit diversify its revenue base from larger more competitive markets.

Those tactics should also help the airline shore up revenue as the competition in those markets is less intense. Spirit also has a solid presence in Latin America, leveraging inherent demand in South Florida from its headquarters and largest base of Fort Lauderdale. Spirit serves 22 destinations in Latin America plus Puerto Rico and the Virgin Islands. For the week of 1-May-2017, roughly 11% of Spirit's ASKs are deployed into international markets.
Spirit Airlines international vs domestic ASKs for the week of 1-May-2017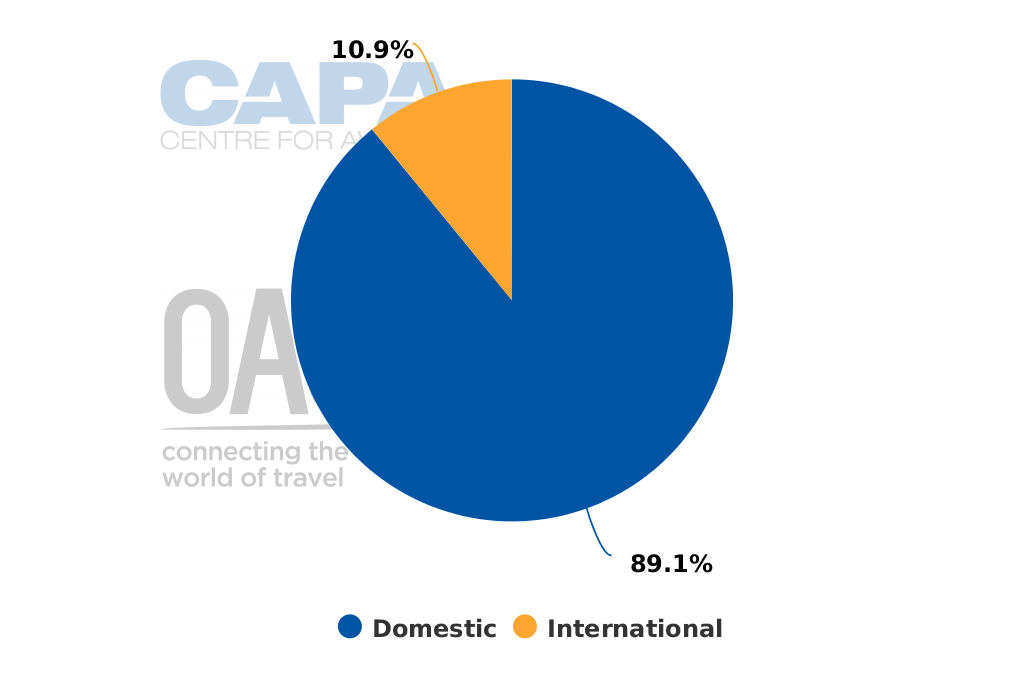 Since a CEO change in early 2016, Spirit has focused more on improving its operational reliability and targeting mid-size markets in US domestic space. It put less of a focus on further Latin American expansion given region's economic weakness. But Mr Fornaro stated at some point Spirit would focus on its international network. "...our ability to begin to grow [international] really begins later this year and next year".

Spirit is not a customer for the Airbus A321neoLR, whose service envelope allows for penetration deeper into South America. But the airline has 48 A320neos on order, and could easily negotiate options for the longer range aircraft.
American, whose hub in Miami (48km from Fort Lauderdale) is its largest Latin American gateway, recognises the competitive implications of new long range narrowbody jets, and has vowed to compete vigorously with new lost cost competitors to South America.

For now, Spirit has adjusted some of its 2018 Airbus A320neo deliveries due to engine problems with the PW1100G models powering the new generation aircraft. Originally, Spirit planned to take delivery of four A320neos in 2018, but has converted two of the deliveries to current production models and deferred delivery of the remaining two A320neos to 2019.
Spirit Airlines fleet summary as of 1-May-2017
Spirit makes adjustments to sustain the tenets of its traffic stimulating model
Spirit has undertaken several different changes during the last year to include more focus on operations, adjusting its network mix and adopting more sophisticated revenue management techniques.

All of those changes occurred for various reasons, but are happening during a time when Spirit has faced more aggressive price matching of its fares due in part due in part to lower fuel costs enjoyed industry wide.

The airline remains in the midst of adopting those change, but remains steadfast in its belief that its lower cost base of sub USD6 cents excluding fuel and improved revenue management will support its ability to continue stimulating travel among price sensitive customers.