More nuanced network changes for Spirit Airlines as "basic economy" pricing sets in
Analysis
For the past year Spirit Airlines has alluded to changes in its network structure to include a larger number of smaller to mid-size markets as competitive dynamics in the US market place have shifted. Few details have emerged other than announcement that smaller markets, including Akron-Canton, Ohio and Hartford, Connecticut would join its network.

Now more clarity about Spirit's strategy is emerging. The airline has declared its future network composition will still feature a mix of larger and smaller markets, but some changes are occurring in frequencies operated. Spirit has concluded there are opportunities to serve a number of markets less than daily while still preserving its cost advantage. Some of those types of changes are occurring in its existing service from Akron, and from new routes debuting from Pittsburgh and Hartford later in 2017.

New basic economy offerings debuting from American and United have generated a lot of industry buzz, but Spirit maintains a belief the changes in fare structures will ultimately firm up the pricing in North America.
After a top level executive change, Spirit looks toward a mix of smaller markets
Spirit named a new CEO in early 2016; since that time the airline has prioritised shoring up its operating performance and restoring positive unit revenues.
But Spirit has also assessed that many network opportunities exist in smaller to mid sized markets with stage length below 1000 miles. In order to broaden its reach into smaller markets Spirit has adjusted its fleet, opting to purchase some smaller gauge Airbus A319s off lease, and has also switched 10 A321neo deliveries scheduled for 2019 to smaller gauge A320neos.
Spirit Airlines fleet summary as of 12-Mar-2017
See related report: Spirit Airlines' network changes have been more subtle than dramatic under new CEO

The airline did not outline any dramatic network changes in 2016 other than adding the small market of Akron-Canton to its network. But recently Spirit executives have offered more insight into the airline's future network strategy.
Changing US dynamics warrant an examination of Spirit's frequency patterns
Spirit's historical network mix has included routes between large US cities, small to medium domestic markets, and small VFR (visiting friends and relatives) routes in Latin America and the Caribbean.

The airline reiterates that numerous network options remain available for its low cost, traffic stimulating model, but Spirit is offering more nuance about how it intends to structure its network in the future.

Typically, Spirit has operated one to two daily frequencies on its routes, and the majority of it routes still feature one daily frequency.
Spirit Airlines domestic routes served by frequency/week: 13-Mar-2017 to 19-Mar-2017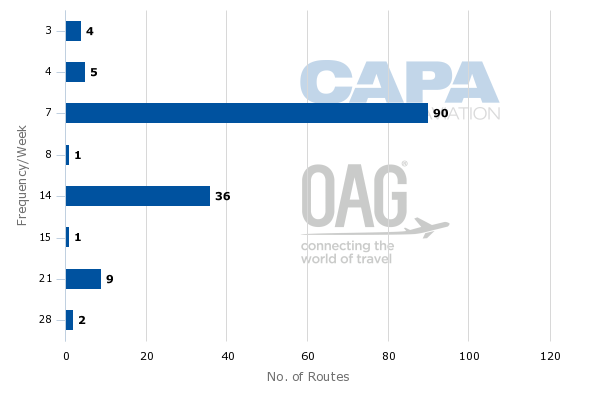 But now Spirit believes a number of market opportunities are better suited for less than daily service.

Company CEO Robert Fornaro recently noted that the US industry is more competitive than during 2014 and 2015, and for an airline that transports mostly leisure passengers, Tuesdays and Wednesdays stick out as the weakest days in certain months. "Over time as we saw less competition in the market place and we were taking a lot of airplanes, it made a lot of sense to stay daily and there was less seasonality around earnings, Mr Fornaro said. "As the market place becomes more competitive...it makes more sense to be nimble."

Spirit' ultra low cost rival Frontier has a slightly more diverse disbursement of frequencies. Data from CAPA and OAG for the week of 13-Mar-2017 show that 50 of Frontier's domestic routes are served once daily, while a combined 51 are served three to four times weekly.
Frontier Airlines domestic routes served by frequency/week: 13-Mar-2017 to 19-Mar-2017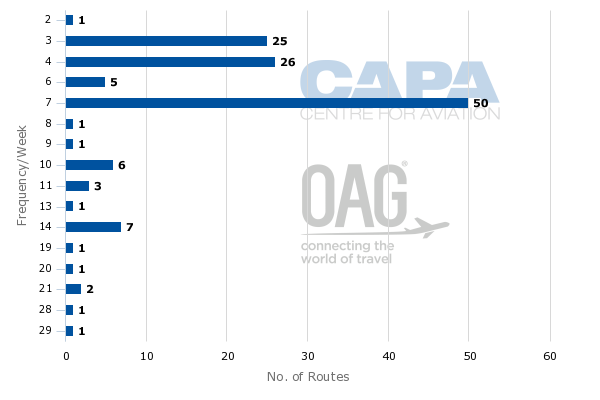 Spirit starts some seasonal variations in its markets
One example offered by Mr Fornaro of how Spirit could adapt frequency in its network is operating service from the US Midwest to markets in Florida, including Fort Lauderdale, Tampa or For Myers nonstop daily in the winter, and shifting up to three to four times weekly in the summer months. The aircraft freed up could be placed on flights to Los Angeles, he stated. In that scenario, Spirit could maintain the aircraft utilisation levels necessary to keep its ultra low cost edge. During 2016 Spirit's average daily aircraft utilisation was 12.4 hours. Its unit cost excluding fuel and special items was USD5.45 cents.

Some of Spirit's frequency adjustments are beginning to permeate its markets. CAPA and OAG data for the week of 13-Mar-2017 show its services from Akron to the Florida markets of Fort Myers and Tampa are operated four times and three times weekly, respectively. The airline operates daily flights from Akron to Fort Lauderdale and Orlando.

During Jun-2017 and Jul-2017 Spirit is launching several new routes from Pittsburgh. Its offering to Fort Lauderdale is three times weekly, and once daily on the remaining routes – Dallas/Fort Worth, Myrtle Beach (seasonal service), Orlando, Las Vegas, Los Angeles and Houston Intercontinental.

During 2017 Spirit is also adding flights from Hartford, Connecticut to Orlando, Fort Lauderdale and Myrtle Beach. The year round service to Orlando and Fort Lauderdale is once daily, while the seasonal flights to Myrtle Beach are offered four times per week.

"We don't want to be dropping in and out of markets", said Mr Fornaro. "But there will be variation."
Spirit sees basic economy as a way for majors to improve revenue management
During the past year, while Spirit has contemplated network adjustments, the basic economy offerings being developed by American and United Airlines and their potential effects on Spirit have garnered much attention. Each airline is in the process of rolling out a bare bones offering to compete more effectively with ultra low cost airlines – including Spirit. Delta has been rolling out a similar offering for the past two to three years.

Mr Fornaro offered some context to the evolution of basic economy offerings by American and United. He explained that there was a lot of conversation a couple of years ago about competition among American, Southwest and Spirit in Dallas. Much of that was driven by a huge capacity push by Southwest from Dallas Love Field – after the dissolution of the Wright Amendment that limited certain long haul flights from the airport.

See related report: Southwest Airlines continues to exploit new Love flying while upping competitive pressure in Dallas

American, initially, started matching Spirit's prices, and the major airline took the position that its efforts would be beneficial and financially positive, said Mr Fornaro. But during the next year American posted significant revenue declines throughout its whole system.

A portion of the weakness was driven by a lack of pricing traction in American's largest market of Dallas, and the rest was overall pricing in the US domestic market as oil prices fell and capacity increased. Eventually, American opted to create a new tiered fare structure featuring a bare bones economy offering.

United is attempting to steer lower fares away from high business travellers, said Mr Fornaro. Those passengers, in theory, were not looking for that type of fare, but at the time of purchase it was made available to them. Basic economy is a way for United to manage their own initiatives, Mr Fornaro explained.

Spirit still views large hub markets such as Dallas and Chicago as rich, said Mr Fornaro, and the ULCC would like to see better average fares in those markets (Dallas/Fort Worth is a hub for American and Chicago O'Hare is a hub for both American and United).
"To the degree it [basic economy] helps them [American and United] we actually think we'll be pulled along with them", Mr Fornaro said. "In order for them [American and United] to get average prices up head-to-head, they have to sell less at our prevailing price."
Basic economy could help firm up North American pricing, says Spirit
Mr Fornaro remarked that the focus on basic economy is kind of a loud ending to story that has been occurring for a long time. He believes the basic economy trend is a path toward firming up pricing in North America. "So from that standpoint, it is positive", he said.

As far back as 2012 Delta began price matching Spirit in certain markets, and the airline plans to feature basic economy system wide in all markets during 2018. Mr Fornaro has stated that Spirit has a solid presence in markets where Delta has rolled out basic economy, including the major airline's hubs in Atlanta, Detroit and Minneapolis, and that the ULCC had performed nicely in those markets.
Spirit Airlines global top 10 hubs/bases/stations by ASMs: 13-Mar-2017 to 19-Mar-2017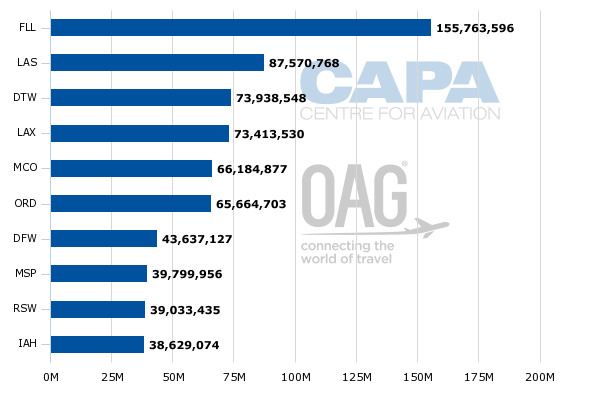 The company's CEO is also sending a message that Spirit has no plans to retreat in large metro markets. Mr Fornaro has said that Spirit's presence in Dallas in the US summer 2017 period will be the largest in the airline's history, and the airline wants more gates in Chicago.
Spirit delivers the same fundamental business premise, despite nuanced network changes
Spirit is making changes to its network composition as competitive dynamics change in the US market place. The network alterations are more subtle than dramatic as it joins the majority of US airlines in working towards attaining positive unit revenue in the short term, and maximising network utility for profitability over the long term.

The message Spirit is sending to markets is that its underlying business premise remains intact: its cost advantage allows the airline to stimulate cost sensitive passengers in a number of different markets.
For now, Spirit has no trepidation about new pricing structures in the US market, and believes the changes should usher in a new level of rational pricing in the marketplace.