Southwest Airlines continues to exploit new Love flying while upping competitive pressure in Dallas
Analysis
Southwest Airlines' growth from Dallas Love Field is continuing unabated during 2015, reflected in estimates that it will serve 50 destinations from the airport with 180 daily departures in Aug-2015.

The growth will no doubt continue to pressure other airlines operating in the Dallas market at least throughout 2015. Both American and Spirit Airlines, which operate from Dallas/Fort Worth, have cited pricing actions in the Dallas market as a factor driving down unit revenue growth during 1Q2015. American operates from DFW to nearly every market that Southwest has introduced or is adding from Love Field, which will result in some promotional pricing pressure continuing throughout most of the year.

It is tough to say when things will return to normal in the Dallas market. American has indicated that the dynamics could normalise in 2016; but it could take a bit longer for the capacity introduced by Southwest to be absorbed.
Seat capacity from Love Field continues to grow, with unfettered access to new markets
Southwest began a massive expansion from its Dallas Love Field headquarters in Oct-2014 after the Wright Amendment was fully repealed. The legislation prohibited certain long haul flights from the airport, and with the restrictions lifted Southwest and other airlines were free to add service to any market in the US.

See related report: American Airlines and Southwest Airlines in Dallas DFW and Love: competition revives as Wright ends
With an ability for airlines to operate longer-haul service from each of the airport's serving the Dallas metropolitan area, obviously capacity in the market has grown substantially since Oct-2014. Schedules from CAPA and OAG show that seats on offer from Dallas Love Field to the US are up nearly 40% year-on-year, with Southwest's seat growth registering roughly 29%.
Dallas Love Field to United States of America (seats per week, one way): 10-Mar-2014 and 9-Mar-2015

The expansion from Love Field, coupled with expanded access Southwest gained at Washington National and New York LaGuardia as a result of American and US Airways gaining US Justice Department approval for their merger, has resulted in roughly 20% of Southwest's network categorised as under development.
Some of those developmental routes are also AirTran routes Southwest started operating as it has now completed the AirTran integration.
Southwest's push from Love Field has resulted in diluted pricing in the Dallas market that has pressured other airlines operating from Dallas. At least part of Spirit Airlines' forecast 9% to 11% passenger unit revenue decline during 1Q2015 is attributable to pricing dilution in Dallas.

Virgin America has also cited the pressure created by additional capacity in Dallas, even as it plans to add service from Love Field to Austin in Apr-2015. That service joins the airline's existing flights to New York LaGuardia, Los Angeles, San Francisco and Washington National. Virgin America was beneficiary of the settlement between American/US Airways and the Justice Department that required the airlines to divest slots at Washington National, LaGuardia and Love Field.

Recently Virgin America CEO David Cush offered an assessment of the Dallas marketplace, noting that capacity in some of the area's most important markets has risen between 25% to 30%, and the result is much lower fares than anyone expected. Mr Cush provided the example of double digit fares available for flights to Washington National and New York LaGuardia.

See related report: Virgin America achieves a second year of profitability despite revenue pressure in key markets
Southwest makes another push from Love in Apr-2015
As DFW's largest airline by a wide margin, American obviously has the most overlap in the new markets introduced by Southwest from Love Field. The airline has stated that the lower prices resulting from the capacity additions are driving part of its forecast 2% to 4% passenger unit revenue decline in 1Q2015. Recently American CEO Scott Kirby concluded that it is basically Economics 101 that when supply rises 60% to 70% in some markets that prices will drop, "and there's more to come", he declared.

Southwest in Apr-2015 is adding several new markets from Love Field Indianapolis, Memphis, Milwaukee, Panama City, Portland (Oregon), Sacramento, San Jose and Seattle. It is also launching one weekly flight to Charleston, SC. American operates service from DFW to all of those markets with the exception of Panama City.
Data from CAPA and OAG show that as of 9-Mar-2015 seats on most of those routes have increased year-on-year with the exception of Portland and Sacramento. In addition to stepping up competition with American in those markets, Southwest is also increasing overlap with Alaska on service to Seattle and Portland.
Airlines serving Southwest's new Love Field markets set to debut in Apri-2015 from DFW
Southwest's planned one way seats in those markets are currently approximately 1,001 in Indianapolis, Milwaukee, Portland, Sacramento and San Jose. It seats in Seattle rise from 1,001 to a peak of roughly 2,002 in Aug-2015, and one way seats in Indianapolis are roughly 995. The range in Memphis appears to be 1,960 in Jul-2015 before dropping to 1,823 seats in Aug-2015.
Of those routes, Seattle has the largest amount of one-way seats from DFW for the week of 9-Mar-2015 at roughly 10,970, rising to roughly 11,800 in Aug-2015.
Southwest starts another spool-up from Love Field in Aug-2015 when it launches flights to Boston, Charlotte, Detroit, Philadelphia, Pittsburgh, Raleigh-Durham and Salt Lake City. American serves all of those markets alongside JetBlue in Boston, US Airways in Charlotte, Delta and Spirit in Detroit, US Airways and Spirit in Philadelphia and Delta in Salt Lake City.
Data from CAPA and OAG show that Southwest's one way seat additions are roughly 1,001 in each market. The market with the largest number of one way seats as of 9-Mar-2015 is Charlotte, with nearly 15,000 one-way weekly seats.
Airlines serving Southwest's new Love Field markets set to debut in Aug-2015 from DFW
The push from Love shows as Southwest's ASMs from the airport grow
Southwest's growth from Dallas Love Field is reflected in the standing of the airport among its top ten bases. During the week of 9-Mar-2015 to 15-Mar-2015 Love Field is Southwest's ninth largest base measured by ASMs, but moves to sixth for the week of 17-Aug-2015 to 23-Aug-2015.
Southwest Airlines global top 10 hubs/bases/stations by ASMs: 9-Mar-2015 to 15-Mar-2015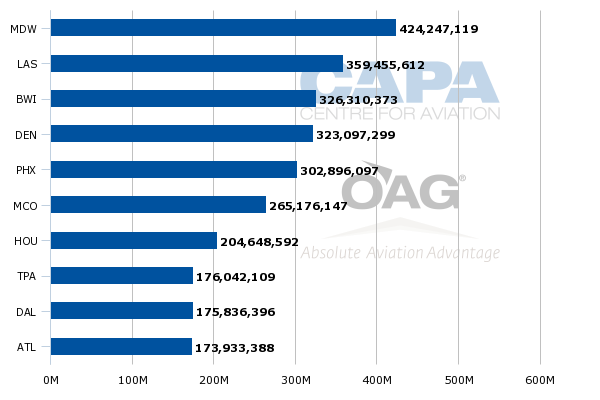 Southwest Airlines global top 10 hubs/bases/stations by ASMs: 17-Aug-2015 to 23-Aug-2015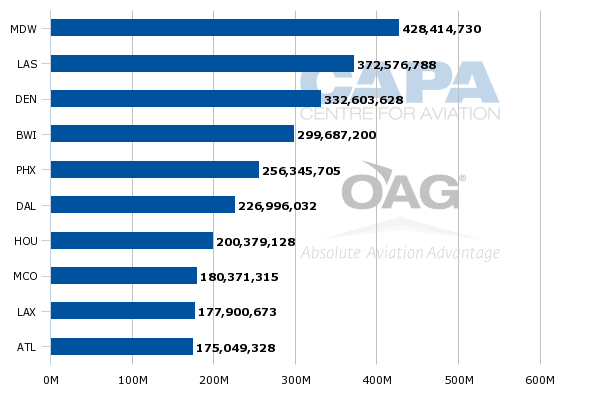 With the new route roll-outs in Apr-2015 and Aug-2015, the dilutive pricing occurring in the Dallas market is likely to last throughout much of the year, continuing to pressure American and, to a lesser degree, other airlines.

Virgin America's Mr Cush has stated that his gut feeling is that the situation in the Dallas market will work itself out. American president Mr Kirby has also stated that the Wright capacity is one of two one-time events driving up domestic US capacity in 2015 (the other being aircraft seat densification by most US airlines) that should start to ease in 2016.

Southwest CFO Tammy Romo was recently asked when the promotional fares in the Dallas Love Field markets would likely end. Her response was that typically it takes about two years for Southwest to ramp up new markets; but that the airline was pleased with the performance of the Love Field routes, and was hopeful they would shape up quickly. Depending on the ramp up time, prices in Dallas could be depressed into early 2016.
Consumers will continue to be the winners from new competitive dynamics in Dallas
With decades old restrictions lifted, it was inevitable that Southwest would make a push from its home base into key business markets to leverage Love's proximity to downtown Dallas versus DFW.

The fact that American and other airlines are feeling pressure is ultimately positive. CAPA has previously concluded that the heightened competition shows that consumers can benefit in the consolidated US market place.

Given its enhanced scale since merging with US Airways (the two airlines are in process of integration), American obviously has a formidable amount of strength to withstand the new dynamics in Dallas.
But some of the smaller airlines caught in the crossfire may opt to withdraw from those markets. Whatever the outcome, consumers should enjoy favourable prices for the foreseeable future.