Southwest expects the worst is still ahead, AirAsia seeing "encouraging" booking levels
Southwest CEO, Gary Kelly, stated that the industry remains "under tremendous stress", with the "worst [still] ahead of us", in an interview with SmartMoney Magazine.
Mr Kelly added that "there are absolutely no green shoots. We have to be very prepared for uncertainty and instability, and operate with an abundance of caution."
Describing what is different about the current downturn, Mr Kelly stated, "I wish steroids were legal, because the speed at which we need to identify issues, study them and make decisions is unlike anything I have experienced before. Anytime you have that many points changing that rapidly, there are bound to be some rough spots. A couple of years ago, we had record earnings, so we were making plans with a lot of comfort. But we've lost our cushion now, so we have to manage our risk much more carefully".
Southwest's shares slipped 1.2% yesterday.
AirAsia not experiencing reduction in demand
In the Asia Pacific region, AirAsia's shares slipped 0.7% yesterday. The LCC stated it has not experienced a reduction in sales amid the global financial downturn, with the carrier adding that it is now seeing "encouraging" bookings as the economy starts to recover.
According to AirAsia Regional Head of Commercial, Kathleen Tan, "because of the economic downturn, people are downgrading but corporate travellers still want to fly. AirAsia offered alternative solutions to get people to fly…Because of our low cost model, the fares are affordable".
Also in the region, Jazeera Airways shares remained unchanged yesterday, despite the carrier announcing plans to establish a new hub in 2010 to increase its market share in the Middle East and North Africa region. No further details have been disclosed but the carrier is expected to announce the new hub in six months.
Selected LCCs daily share price movements (% change): 29-Sep-09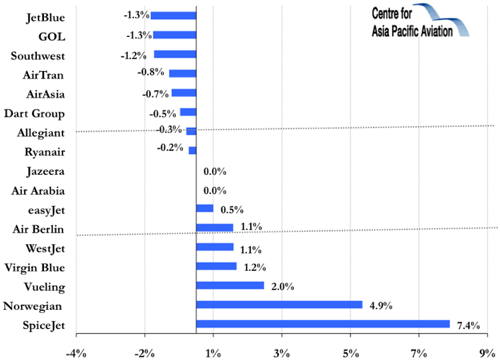 TUI Travel cancels ten of 23 B787 orders
In Europe, TUI Travel announced measures to help refinance a GBP900 million shareholder loan, including cancelling ten of its 23 B787 orders. The company also stated that booking volumes for the Winter season remain lower than 2008 levels, while early bookings for summer 2010 remain in line with last year, with average selling prices up 4%.
Also in Europe, Norwegian shares gained 4.9%, with Air Berlin and easyJet shares up 1.1% and 0.5%, respectively, and Ryanair share's slipping 0.2%.