Satellite airports to regain ground as congestion returns at major hubs
Over the past two years, many American airports have seen their service profiles radically changed with places like Cincinnati dropping further in status and service, while others, like Milwaukee, appear to be rising stars.
This analysis is contained in today's Airport Business Daily and the Feb-2010 edition of Airport Investor Monthly, which also contains analysis of Turkey's TAV, India's non-metro airports and other airport privatisation and investment activity from around the world.
The first in a series by Ron Kuhlman and The Centre, on US airports, their histories, strengths and weaknesses.
All of this shuffling has consequences not only for the airports, but also for cities and their global access. Several US cities operate multiple airports: New York, Washington, Chicago, Los Angeles and San Francisco, and these locations have particular ecosystems in which the airports directly affect one another.
This series begins with a close look at the growing imbalance of service in the San Francisco Bay area and its consequences for the region and the broader US grid, followed by a look at the individual airports.
Out of the doldrums and into a mess
In Aug-2009, we examined the role that San Francisco International Airport (SFO) plays as an international gateway. There have also been references to the recent declines in traffic at many regional and satellite airports, including Oakland (OAK) and San Jose (SJC) in the San Francisco Bay area.
In late 2009, the Metropolitan Transportation Commission, a group that oversees regional airport planning and long-term growth, released a report indicating that the result of carrier flight reductions at OAK and SJC will have increasingly negative consequences for operational efficiency at SFO.
The following table, taken from the Regional Airport Planning Committee report, looks at the distribution of traffic among the three Bay Area airports. What it shows is the growth of traffic percentages at both OAK and SJC in the 90s as first Southwest, and then JetBlue, moved in (this shows only relative market shares, not overall growth or contraction).
Market shares of the three San Francisco airports
There is a clear correlation between the start of service by the new generation carriers and increased market share for the two satellite airports. The late 1990s was a period of rapid traffic growth in the region and this resulted in massive delays at SFO. For this reason Southwest terminated SFO service in 2001, a rare move by the carrier. The disparity became even more pronounced following the events of 9/11, when SFO saw dramatic cutbacks in service by its incumbent carriers.
Correlation between LCC start dates and airport market shares
Start Date

JetBlue

SFO 1982-01

OAK 2000

SFO 2007

OAK 1989

SJC 2004

SAC 1991

SAC 2004

SJC 1993

SFO 2007

SFO 2007
SFO forced to change profile as LCC power grew
Prior to that watershed event, SFO had shunned the new generation carriers, having seen them as ideal candidates for SJC and OAK. And the carriers found OAK and SJC much more amenable to their kind of rapid-turnaround operations. However, by 2002 the SFO passenger share had fallen by one-third and it was one of the nation's airports most affected by the post 9/11 slump. It fell in global status as well, as shown in the graph below. And it continued to operate with very little improvement through 2007 when all three new generation carriers began or in the case of Southwest, resumed - service.
SFO global airport ranking (million passenger numbers)
Then in 2008, the escalating cost of fuel again resulted in carrier service reductions. Less lucrative routes saw either reduced flying or elimination. And later in the year, as the full effect of the economic downturn became apparent, more draconian cuts were made. Legacy airline service levels fell steeply from Nov-2007 by Oct-2009 (see following tables). Those multiple-airport options to hub cities that had worked well in lower cost environments simply were not viable under new market conditions.
Oakland has been especially hard hit, although service on Southwest is generally able to deal with reduced demand. Points like Chicago have multiple non-stops on Southwest - but to Midway rather than O'Hare, limiting connections only to other Southwest cities.
Legacy airline nonstops from OAK
To

Carrier

Nov-2007

Oct-2009

ATL

DL

13

0

CHI

UA

14

0

DFW

AA

20

0

DEN

UA

35

14

HOU

CO

21

0

14

0

LAX

DL

28

0

UA

35

0

AS

20

0

PHX

46

26

AS

35

34

SLC

DL

28

40

SEA

AS

53

34

WAS

UA

7

0

JetBlue nonstops from OAK

B6

7

7

B6

7

0

LGB

B6

35

35

JFK

B6

21

19

WAS

B6

14

12
Legacy airline nonstops from SJC
To

Carrier

Nov-2007

Oct-2009

ATL

DL

21

7

AUS

AA

20

0

AUS

AS

0

7

CHI

UA

21

0

AA

7

14

DFW

AA

42

40

DEN

UA

42

35

HOU

CO

32

18

28

13

LAX

DL

28

0

UA

42

21

AA

64

34

MSP

NW

14

13

NYC

CO

7

0

AA

51

0

PHX

47

34

AS

35

34

SAN

AA

67

0

SBA

UA

28

25

SLC

DL

28

28

SEA

AS

40

28

WAS

UA

7

0

JetBlue nonstops from SJC

B6

7

0

LGB

B6

0

21

JFK

B6

14

7
The cutbacks also have tended to drive legacy mileage program participants to SFO, as they are unable to make on-line connections to many points.
Satellite airports lose service – opening the door for new airlines

This kind of traffic shift away from satellite airports is being reflected elsewhere in the region, in Los Angeles, for example. Much of this is due to the fact that Southwest has notably changed its operating philosophy and is now growing at primary airports like Boston, and even LaGuardia. This reduces the need to expand at places like Manchester, New Hampshire, or Islip, New York.
As further evidence of the trend, air travel over the 2009 Thanksgiving holiday was down about 10% at both Oakland and San Jose, with San Francisco seeing a 2% gain.
As a general rule, airports everywhere anticipate growing congestion as the world's economy (eventually) resumes growth. In the US, much of that growth will move back to primary airports as new generation carriers increase their focus at those points.
SFO Airport Plan
So the satellite airports in the Bay area probably have better prospects than some. This is because SFO has a complex set of problems that put it at much higher risk of gridlock - sooner rather than later.
Its parallel runways are only about 750 feet apart at centerlines, well below the minimal for parallel approaches. In IFR conditions, the airport capacity is roughly halved—not a good thing for a city known for its fog.
The two sets of runways intersect, meaning that arrivals and departures must be staggered—even in clear conditions.
The airport was built into San Francisco Bay prior to the strict landfill and environmental restrictions that currently apply. While relocation of the runways, with additional bayfill has been a topic for decades, it is a proposition that engenders vehement opposition and has little hope of quick implementation.
San Francisco Airport Plan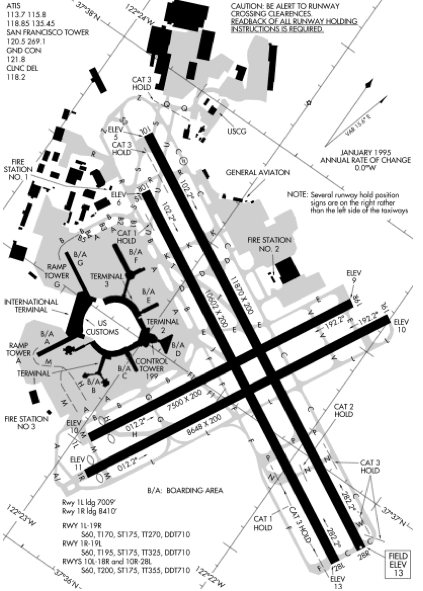 Consequently, the airport's ability to increase capacity is limited by factors with virtually no immediate remedy. But the overall traffic declines earlier in the decade have temporarily reduced delays and made the airport a desirable—and eager—candidate for new generation carriers.
At the time, these new services to SFO were seen as being supplementary to the OAK and SJC operations as the legacy carriers offered alternatives at those airports too, tending to reduce overall SFO demand.
But that was then and this is now. Many of those carriers that were dispersed across the region are now back at SFO, and the airport's limitations are once again causing problems. And if there are mounting delays in a still-down economy, spillover appears inevitable as traffic rebounds.
Deja vu all over again
The MTC report concludes that the only alternative to gridlock at SFO is the revival of more service at OAK and SJC, which not only have capacity, but are also less impacted by fog and other weather problems. However, the report also acknowledges that the legacy carriers will not return in force if they are unable to operate profitably – a goal made more complex by the dominance at those airports by carriers with lower costs.
There is also the acknowledgement that more OAK and SJC service may return if SFO regains its previous reputation for long delays and congestion. While there is hope that navigational aids now being tested will improve the IFR performance of SFO, there are questions as to whether or not such developments will arrive in time to offset the growing traffic. And so the wheel turns.