SAS' horror third quarter - time to burn the furniture to stay warm this winter
Analysis
Losses at Scandinavian airline group, SAS, ballooned to close to USD3 million per day in the third quarter, increasing the need for the carrier to conclude urgent asset sales.
The loss was attributed to falling demand (-5.4% across the Group year-on-year) due to a weakening economy, high oil prices and big writedowns in goodwill and tax assets related to subsidiary Spanair, which has been struggling financially and suffered an accident in Madrid in Aug-08.
SAS put the planned sale of Spanair on hold in June after receiving disappointing offers, while the Scandinavian carrier is currently engaged in negotiations with the Latvian Government to sell its 47% stake in airBaltic. A sale could be concluded by the end of 2008 and would help offset the Group's cash-burn.
In addition to Spanair and airBaltic, SAS also owns regional airlines Wideroe and Blue1 and has a 20% stake in bmi, whose majority shareholder, Sir Michael Bishop, is poised to sell his stake to Lufthansa. The German carrier is also expected to acquire SAS' stake, with CEO, Mats Jansson confirming, "there is a game being played out here and we want to be part of it...That can mean that we will make an exit sometime next year instead of the fourth quarter [2008]".
In the meantime, Mr Jansson, stated the carrier was seeking additional ways to reduce costs, stating "it is of utmost importance that we rapidly close the remaining cost gap we have in relation to comparable competitors".
Last month, SAS stated it was looking at future "structural alternatives", and reportedly held discussions with Lufthansa. SAS appears headed for some form of consolidation as the European economic storm intensifies. This could put some heat into its shares, but investors were chilled by the latest profit report and outlook, sending its shares down more than 5% on the Stockholm exchange after the earnings report.
European selected carriers' daily share price movements (% change): 05-Nov-08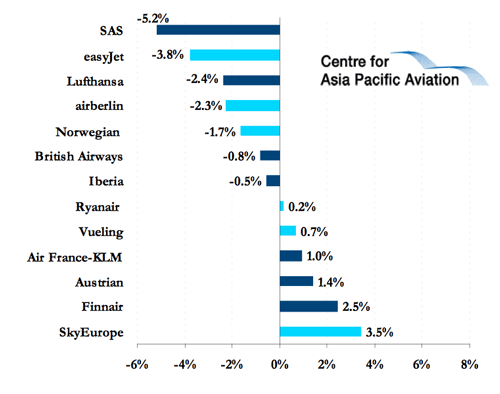 Obama takes the White House
US labour unions have taken heart from Barack Obama's emphatic win in the Presidential elections. A spokesman of the Federation of labor organisations, AFL-CIO's, transportation trades department told Bloomberg, "we would expect an Obama administration would live up to its strong commitment to not only support, but strengthen, the collective bargaining right of workers".
As indicated in yesterday's edition of Europe Airline Daily, the Democrats are likely to take a less supportive view on moves by US carriers to merge and consolidate and expected changes to the National Mediation Board could harden support for labour in any future disputes.
The Democrats may also take a different approach to the negotiations of Phase 2 of the EU-US open skies agreement. Obama has pledged to maintain the current 25% limit on foreign ownership of US airlines' shares
But much of the need for short-term policy changes could be allayed by falling industry capacity (which places less pressure on creaking aviation infrastructure), while the airlines themselves may post a rare collective profit next year as oil prices tumble and fare increases stick.
The Obama Administration is unlikely to take the same rigid view on slot auctions at New York area airports and will move on the FAA's funding re-authorisation bill to provide certainty with which to proceed with investment in modernising the air traffic control system.
US airline shares traded lower on 05-Nov-08, despite sharply lower oil prices, on nagging concerns about the outlook for the US and global economy. US Airways, which stated every USD1 drop in oil translates to USD35 million in annual savings, was nevertheless hardest hit, dropping 13% in trade yesterday.
North America selected carriers' daily share price movements (% change): 05-Nov-08