United Airlines, Alaska Airlines regional airline programmes are the only ones in black
Analysis
United and Alaska are the only two legacies with regional affiliate programs that actually make money, according to analysis by AirlineFinancials.com. USAirways has the narrowest losses at USD75 million with Delta and American topping the list on losses at about USD500 million apiece. In 2008, not one of the programs seemed to be profitable, just using the statistics that expenses outweighed revenues.
While it might be tempting to look at this in black and white and conclude that regional programs are money losers, there is a huge factor missing, one that is not disclosed by most carriers – the contribution of incremental, or flow-through, revenues to the programs. It is the incremental revenues that will tell the tale about the true impact of the higher affiliate costs on the bottom line.
The closest we come in figuring out the impact of incremental revenues is American's disclosure in its annual report that approximately 9.3% of its mainline passenger revenue comes from affiliate feed. For 2009 the amount was USD1.4 billion, somewhat shy of the USD1.7 billion it reported in 2008. That money is in addition to what is reported under affiliate income in American's chart which appears below.
"Affiliates add significant flow through revenue feed that is added to the mainline operation," said Legacy Pilot Bob Herbst who also runs AirlineFinancials.com and writes for the investment site Seeking Alpha, who put together the charts and graphs for this analysis. "Credible arguments can be made that this flow-through revenue covers some to all of the losses attributed to the affiliates. Considering only 6-7% of American's capacity comes from their regional affiliates but over 9% of the mainline passenger revenue comes from affiliate flow-through feed, I would estimate other mainline carriers garner a similar ratio of revenue from their affiliate partners."
| 2009 | | | | | USAirways | Alaska |
| --- | --- | --- | --- | --- | --- | --- |
| Affiliate % of cons rev [2] | 18.83 | 10.10 | 18.76 | 15.50 | 23.93 | 20.05 |
| Affiliate % of exp [2] | 20.75 | 12.44 | 18.23 | 17.80 | 25.55 | 20.33 |
| % of total ASMs [2] | 14.14 | 6.59 | 12.78 | 11.09 | 16.88 | 12.45 |
| RJ % of fleet [1] [2] | 21.44 | 27.27 | 44.19 | 40.98 | 12.31 | 13.53 |
| Affiliate RASM [3] | 16.22c | 18.70c | 17.04c | 16.06c | 17.42c | 20.71c |
| Affiliate CASM [4] | 17.83c | 23.32c | 16.35c | 18.45c | 18.29c | 19.07c |
| Consolidated RASM [2] | 12.18c | 12.19c | 11.61c | 11.49c | 12.29c | 12.86c |
| Consolidated CASM [2] | 12.15c | 12.35c | 11.46c | 11.49c | 12.09c | 11.68c |
| Affiliate pax rev (M) | 5.285B | 2.012B | 3.064B | 1.951B | 2.503B | 682M |
| Affiliate exp (M) | 5.807B | 2.509B | 2.939B | 2.241B | 2.628B | 628M |
Based on these statistics, the impact of Northwest's inclusion is still forcing the Delta Connection program into the red. Prior to that, Delta was usually the only program in which revenues topped expenses.
Regionals provide market share gains
Interestingly, for the year 2009 in jockeying for market share, the industry's carriers all gained market share after including the regional/affiliate traffic - with the singular exception of American, according to Herbst. He pointed to American's order for 22 new CRJ-700 aircraft over the next two years, all scheduled for its American Eagle subsidiary, adding them to its current fleet of 25 CRJ-700s. The entire CRJ-700 fleet will be converted to a two-class configuration.
US airline market shares, 2008-09
US airline market shares, 2008-09 (with regional affiliates)
Interestingly, USAirways has the largest percentage of ASMs flown by their regional partners, at 16.88%, with American the lowest at 6.59%.
Consequently, USAirways also has the highest percentage of consolidated revenues coming from its regionals, at 23.93%, followed by Alaska at 20.05% and Delta at 18.83%. Of course, Alaska has a significant number of routes with no competition and, therefore, higher yields.
As for expenses, USAirways also has the highest percentage of expenses attributed to affiliates at 25.55% while American has the lowest at 12.44%.
United has the largest percentage of its fleet in regional jets at 44.19%, followed closely by Continental at 40.98%, possibly reflecting the larger percentage of 50-seaters in operation. With the removal of all of its 737s, United appears to use the RJ/affiliate feed to support its mainline operation. AA is the only airline that reduced the wide-body ratio, according to Herbst.
Wide body ratios

(wide body = 2 aisle aircraft)

YEAR

AA

DL

UA

CO

2009

19.7%

20.8%

31.1%

13.6%

6.9%

2008

23.3%

20.4%

27.9%

13.1%

5.4%

2009 Y/Y change in mainline fleet

-2.7%

-1.7%

-5.6%

-3.7%

-1.4%

DL y/y change includes NW fleet count
Who says regionals are low-cost operators? Majors will look to pass on more risk

Despite all the talk about getting the lowest costs from regional partners, there are disparities in both the affiliate RASM and CASM. Alaska has the greatest affiliate RASM at 20.71 cents, followed by American at 18.70 cents. Alaska's results mirror its 2008 RASM from subsidiary Horizon Air.
"When evaluating shorter-haul, route segments, more emphasis needs to be put on 'segment' revenue and costs versus the unit RASM and CASM," cautions Herbst. "In other words, if you have a thin market only generating about 150 passengers per day, you can generate more 'segment profit' and provide 2-3 times-per-day frequencies using the affiliate RJ where you would likely see a 'segment loss' by operating a 150-seat mainline aircraft on that same route."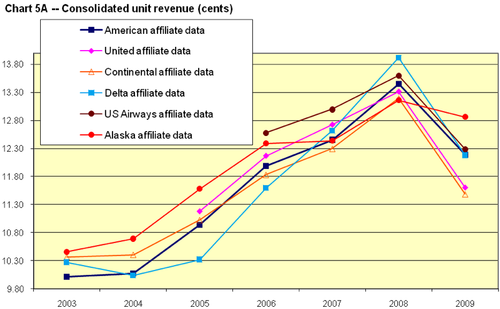 American has the highest unit expense while United has the lowest. The gap is considerable.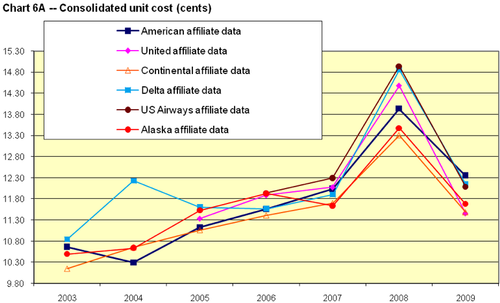 Unsurprisingly, American has the highest affiliate CASM 23.32 cents, followed by Alaska at 19.07 cents.
Still, the numbers are far above the consolidated RASM and CASM of their major partners, although that shouldn't be surprising given the fact that short-haul has always cost far more than long haul. But it does put the lie to assertions since the Colgan crash that regional flying is done on the cheap. It also points up why majors are looking so hard at their regional partners to ease the pain. They are longingly looking at the next generation of contracts to force more risk on regionals, who, it can be said, continue to make hay with high margins even with the sun isn't shining.
Alaska tops the list at 12.86 cents revenue per available seat mile, with Continental making 11.49 cents RASM. Even so, Continental's CASM is breakeven at 11.49 cents, the lowest CASM of the group. American has the highest consolidated CASM at 12.35 cents.
What's a regional?
With so many pilot contracts open, coupled with the shift of regional flying to large RJs, the industry may be at a crossroads.
"Over the past few years, legacy airlines have increased capacity and revenue by contracting with regional type airlines operating primarily smaller jets – under 70 seats," said Herbst. "In addition to capacity purchase agreements, American, Delta, and USAir also operate their own regional jet carriers."
A quick review of Delta shows that in 2003, Delta owned 229 CRJ-100/200's, plus 35 70-seat CRJ 700s. "At the end of 2009, Delta, including the Northwest fleet, now only owns 97 CRJ 100/200's plus a growing fleet of 70+-seat RJs," he said. The same thing is happening all over the industry with the exception of Continental, at which scope clauses preclude regionals operating anything over 50 seats. Herbst noted that American has the most restrictive regional/affiliate scope restrictions with their pilots union and thus has the least impact from regional/affiliates.
Continental CEO Jeff Smizek recently told the JP Morgan conference he is unhappy about that and hoping to gain relief with current pilot negotiations. More recently, MIT International Center for Air Transportation Research Engineer Bill Swelbar analyzed the issues surrounding the conflict between regional/major flying, concluding that major pilots will likely cede more flying to regionals. Will US mainline pilots cede more ground to regional airlines?
As it is, the price of fuel increased so much that 50-seater economics were destroyed. That will be compounded by the new regional airline safety rules now working their way through Congress and the Federal Aviation Administration which will likely add additional costs to regional operations. It has happened before. In 1997, the first round of single-level-of-safety rules raised costs to the point that many routes that had been profitable for regionals were ultimately dropped.
Fuel put the icing on the cake to a trend that was already well underway as majors opted for larger RJs. So, just as the small RJs replaced the 30- to 50-seat turboprops, so too are the larger RJs.
The question then becomes: who is going to fly them? Complicating things further as new aircraft programs such as the Bombardier CSeries – always aimed at legacy airlines and their pay scales. The Embraer ERJ 190 is already in service with legacy carriers around the world, including USAirways.
That is what made yesterday's labor action at United so funny. United pilots were protesting the outsourcing of jobs to Aer Lingus which is next week starting up service between United's hub at Washington Dulles International Airport and Madrid on behalf of United. They were joined by pilots from five other airlines, including the pilots of two carriers that have benefited from the very outsourcing they are protesting. In addition to pilots from fellow Star Alliance-members Lufthansa and Continental as well as SkyTeam's Delta, pilots joined in from Mesa Air Group and Colgan Air, both United regional partners.
The new service is unique in that it does not involve a carrier based in either the US or Spain - and just to show the gaps in solidarity among unions, the move is part of an effort to gain new service, as Aer Lingus restructures and lays off hundreds of employees. In the meantime, United said the new service is expected to mean 125 new jobs at Dulles.
"One of the significant ongoing labor battles between pilots and management is how many smaller RJs are allowed to be operated by the regional affiliates versus jets flown by mainline pilots," Herbst continued. "Not only how many regional jets can be operated but should the 70- to 100-seat jet really be considered a 'regional jet' when they are carrying 70-100 seats on 3+-hour flights? Effectively, every affiliate smaller jet is taking away some number of mainline pilot jobs."
He might have a good point considering what legacy airlines used to operate with mainline pilots. Surprisingly, after all the ups and downs of the industry, things really haven't changed that much, according to Herbst.
"Pre-9/11 the major pilots were flying aircraft that mirror those that are being flown today by regionals," he said. "The DC-9s, BAC-111s, F-100s were between 65 and 100 seats. Today's industry as compared to 10 years ago shows more and more jets under 100 seats are being operated by the regional carrier affiliates."
That's because it is rapidly becoming the regional sweet spot.
Trouble is, the economics were different then and legacy pilot pay scales would quickly make today's regional jets uneconomic. While they may gripe about the flying shifting to regional pilots, it remains a question, if it were even possible, how many pilots would downgrade to regional jets given the chance (although many of those on furlough would likely jump at the chance). However, they'd have to agree to the differing pay scales in place at regionals, duly negotiated by the Air Line Pilots Association.
But the real question is whether or not pilots should continue to look back at what has been lost. In an era of low-cost carriers, who have gained nearly all the capacity lost by majors since 2003, the new economic reality is already here making the more meaningful direction in which to look – forward. It also means that new economics are dictating a new reality for labor as well.
Appendix: Affiliate impact on legacies
The following charts show a clear path for regional/major relationships which, for the most part, peaked in 2006.
Indeed, the affiliate programs studied showed they grew in the early part of the decade – no surprise there, as this was the period when airlines were shedding their routes in favor of regionals. But since 2006, growth essentially stabilized, waffling within a percentage point or so.
Herbst provided a caution on his charts, noting that each airline has individual capacity purchase agreements ranging from fee-per-departure to acquiring all capacity on specific segments to simple code-shared revenue and expenses. Consequently, there is no completely accurate way to define the costs that are attributed to the regional affiliates and partners. For this reason, he said, he notes the consolidated metrics, keeping in mind that those numbers are more or less distorted by the ratio of regional capacity.
Delta's program remained reasonably steady over the period peaking in 2006, accounting for 22.44% of consolidated operating revenue. The proportion of expense, however is rising, along with ASMs.
American affiliate revenues as a percentage of total consolidated revenue has remained steady, also peaking in 2006 while expenses remained fairly steady.
The percentage of regional revenue is rising at United, up from10.24% in 2003 to over 18% today. The percentage of expenses attributed to affiliates has risen too but not as fast as that for revenues. It is clear from the fleet that United is relying more on regionals, with nearly half the fleet in RJs.
As with Delta and American, the Continental program has remained fairly steady in terms of the percentage of consolidated operating revenue attributed to affiliates. That again peaked in 2006 at 17%. Its regional fleet is shrinking as a percentage of the consolidated fleet.
USAirway's chart reflects its merger with America West, with data only since 2006 when most affiliate programs peaked as a percentage of consolidated revenues. However, for USAirways, its percentage actually grew – albeit slightly – over the data period. The same can be seen for fleet and ASMs. Affiliate expenses as a total of revenues remained virtually unchanged until last year when it jumped two percentage points.
Affiliates as a percentage of consolidated operating revenue is growing at Alaska, which has a rather unique situation since only about 28% of traffic is exchanged back and forth between Alaska and its wholly-owned subsidiary Horizon. Fleet percentage is dropping, again after peaking in 2006.