Regional Airline Restructuring Part 3: Will new business aviation models win premium air travellers?
Analysis
Frequent flyers will attest to the fact that flying, whether airports or airlines and what comes in between, is mostly an unpleasant by-product of business travel.
And it promises to get worse as we head to the top of the next business cycle, according to U.S. Travel Association (USTA) studies. For those reasons and more, business aviation, having developed new business models and narrowed the gap with commercial fares, is able to cherry pick premium and full-fare travellers from airlines.
Airlines have spent billions of dollars improving business and first cabins, updating lounges and terminals, providing fast tracks through security and generally upping their game with additional amenities such as lie-flat seats. Some are providing luxury car gate-to-gate connections.
This report, Part 3 in our survey of US regional airline restructuring, looks at the movement to substitute business jet and other premium products at the business end of the market. But there may be lessons to be learned for other regions.
See also CAPA reports:
U.S. Regional airline restructuring Part I: Is consolidation inevitable – or essential?
US Regional airline restructuring Part 2. Towards an independent regional force; & regulatory change
Premium travel is increasing, perhaps driven by the economy
Premium trips are up, according to Sabre. But that may have more to do with an improving economy than airline actions. US Domestic travel statistics booked through the Sabre Marketplace between 2012 and 2014 indicate first and business class travellers, as a percent of total travellers, are growing, with first dominating business for US domestic markets.
First and business travellers, 2012-2014: US domestic (percentage changes)
International (defined as an origin and/or a destination outside the US) travel booked through the Sabre Marketplace between 2012 and 2014 shows business travellers, as a percent of total travellers, have a preference for business class over first for international travel, with a slight drop in business class between 2013 and 2014.
First and business travellers, 2012-2014: US international (percentage changes)
US Domestic travel booked through the Sabre Marketplace between 2012 and 2014 business travellers, as a total percent of travellers, shows 8% of travellers booked premium seats in 2014, up from 4.8% in 2012.
Premium travellers 2012-2014: US domestic (percentage changes)
International (defined as an origin and/or a destination outside the US) travel booked through the Sabre Marketplace between 2012 and 2014 premium first and business class travellers, as a percent of total travellers, showed 5.6% of travelers booked premium class in the international arena in 2014, up from 4.9% in 2012.
Premium travellers 2012-2014: US international (percentage changes)
US airlines "have not done enough" with their premium products
Some, such as Rollie Vincent of Rolland Vincent Associates, say airlines have not done enough. "They may have invested in their premium products, they are not at the same level as the premium offerings of Qatar, Emirates and Singapore or even premium hotels," he told CAPA. "If you don't travel to those parts of the world, you'd think we have it all figured out but we don't.
The Middle East and Asia have worked hard to dramatically improve the flow and remove travel hassles. One of the most hassle free airports is Seoul and Singapore is still at the top of ratings in terms of hassle-free connections." He adds, "Business travel is all about removing the hassles."
Airlines have also mis-stepped with frequent flyer programmes, having transformed from miles flown to dollars spent while devaluing reward miles. And they have little control over the most onerous parts of the journey – crowded airport terminals and cumbersome security procedures, which are deterring travellers.
USTA studies conclude security lines, ancillary fees, high-load-factor flights, congested terminals and delayed/cancelled flights prompted passengers to avoid 38 million domestic air trips in 2013 - or 8% of air travel demand. Avoided trips cost travellers, airlines, hotels, recreation facilities, food services and car rental agencies USD35.7 billion. The total costs to the American economy of these avoided trips amount to USD85 billion and 900,000 jobs.
A 2013 PhocusWright/Amadeus study concluded delays and cancellations kept nearly one in five travellers from completing their trip.
In 2014, USTA indicated that many U.S. airports will be at pre-Thanksgiving-like passenger levels (between 130% and 259% higher than the average day) at least twice a week within 10 years. Some, such as Orlando, are already there.
Airlines are investing in business jet operations
Despite airline improvements, chinks in the armour appear to be showing given the fact that between 50% and 60% of travellers on the new business aviation models are first time business aviation users.
Qatar, Lufthansa and Delta offer their own business aviation services. Lufthansa partners with NetJets, a world leader in business aviation, while Qatar and Delta own their own business aircraft fleets. After 30 years, Delta rebranded to Delta Private Jets in 2010 ("DPJ") with the launch of the Delta Private Jets Card. The DPJ jet card cost is typical at $100,000 and goes up to $500,000.
"In the last year, we have seen remarkable growth, nearly doubling the fleet from 38 to 61 aircraft, making us the third-largest Part 135 operator in the country," spokesperson Elizabeth Wolf reported. "As of 31-Mar-2015, DPJ has seen an increase in demand through its jet card and charter business, which have grown, 40% and 46%, respectively. Flight activity is up 58.6% year over year."
New business models bring down costs
Technology is driving new business aviation models but it is also significant that former airline executives, such as former Frontier CEO Jeff Potter and Virgin Atlantic and Air Canada Veteran David Tait are combining airline experience with new technology to offer cost effective travel on demand. Also involved is in this new charter arena is Director Mike Ritzi, with vast experience in the Caribbean airline market. The rise of mobile apps cannot be underestimated and are already heavily used to book accommodation such as Airbnb and ground transport such as Uber and Lyft.
While some see new developments as more disruptive of traditional business aviation than the airline model, it is likely to impact both. As noted in Part 2 of this report, regional airline executives identified the 1-to 1.5-hour flight as an untapped opportunity but are hamstrung by their major partners, over-reaching regulations and the dearth of modern small aircraft. Business aviation has no such problems and use everything from a Cirrus to a Gulfstream 650.
The growth of these new models is remarkable and comes despite the fact the industry has never exploited the numerous studies that show business aviation is good for the bottom line. Nor have they exploited the half-dozen studies that explain just how bad the commercial airline hassle factor is or just how much it costs travellers and the economy. This overwhelming data easily makes the business case for business aviation and will drive growth.
Business jets are about time and the bottom line
"The hub-and-spoke system just doesn't work for passengers," ImagineAir CEO Ben Hamilton told CAPA. "You can name any regional city pair. You could always do charter but it was hard to access and very expensive. It is a confusing network of brokers, faxing quotes back and forth for hours to get a price. Passengers like to book quickly online. That's the opportunity we see today. We are interested in the less popular routes. There are no membership fees unless you want to join the loyalty program. We fly long-tail routes and there are thousands of permutations of routes over our service area on the East Coast and Southeast."
Using business aviation is less about eliminating airline hassles and more about capturing time, new customers and serving current customers. Indeed, users say business aviation gives them a significant competitive advantage and the studies bear them out.
Business aircraft users among the S&P 500 companies outperformed non-users, according to four studies completed by Nexa Capital. Small and Medium Enterprise (SME) users bested non-users on key metrics because they have better, more immediate access to customers and markets not conveniently served by other modes.
Users posted an average annual earnings growth of 434% between 2003 and 2009 over nonusers.
Business aviation users recovered faster from the recession than nonusers.
Users also began hiring sooner than nonusers.
These same companies are leading the nation's economic growth both in profits and jobs.
SME users were less impacted by the great recession and 69% posted greater top line growth in 2008 and 2009, during the depth of an historic recession.
In 2011, users represented 84% by number and accounted for 96% of total revenue of S&P 500 companies.
74% of the companies added to the S&P 500 group were business aviation users while a significant number of those that dropped out of the group did not use business aviation.
The top most innovative and best customer service companies use business aviation.
Source: No Plane, No Gain
While sceptics will call this hype from industry-funded studies, the reality is that 85% of business aviation flying delivers middle managers – customer service and sales representatives – to remote facilities significantly improving efficiency on multi-leg trips.
Business aviation companies love to promote the convenience. Passengers arrive at the airport within 10 minutes of departure – at the passengers' convenience, not the airlines' – and are greeted by a personal concierge. They don't have to deal with security. They have meal service and are be able to work wheels up to wheels down. Most importantly passengers go direct to their destinations saving hours over airline service.
Making these arguments more compelling are the conclusions of several studies that suggest travel management may need changing. The lock corporate travel managers have on passengers is a barrier to revolutionising air travel. Travel managers have a powerful disincentive to offer alternate forms of transportation, which would unlock productivity gains corporations are seeking.
While corporate travel managers consider themselves key to cost savings, they do not seem to consider the cost of delays and cancellations, which could be avoided with business aviation.
Cancellations and delays cost passengers USD8.5 billion in time lost, missed connections and missed travel activity, according to USTA. About 20% of all U.S. flights are delayed.
The S. Government Accountability Office (GAO) determined a single cancelled flight adds approximately 18 additional hours to the outbound trip thanks to post-recession capacity cuts.
Karl Dring, who heads Global Point Travel Solutions, a San Diego-based corporate travel management company, pointed out the uphill battle necessary to get people to recognise commercial airline hassles. He also doubted these new companies have the budget for the marketing and advertising campaigns but given their growth rates, they may not need it.
"They have a huge problem getting out in front of the right people who would use it," he told CAPA. "I think they underestimate the number of people they'll need to gain any traction. GDSs are such an entrenched part of corporate travel. They are fast and efficient and anything that operates outside these systems is far less visible and harder to book. If they want to be in the GDSs they can't be a charter, they have to be scheduled. Then there are the corporate policies that do not allow high-level people on the same plane."
Fly Tailwinds Director Mike Ritzi noted in addition to the GDS barrier, it is extremely difficult to convince corporate CFOs. "Still we save you about four hours over commercial service just by avoiding commercial airport operations," he said. "And that is at the same price as commercial fares."
Fly Tailwinds offers a unique service between Boston and New York and Washington, DC using Cessna Caravan amphibians from the Signature terminal at Logan to the 23rd Street Skyports Marina in Manhattan allowing passengers to avoid the 30- to 60-minute treks with LaGuardia. It serves Washington Dulles, also from Signature, but is working on adding National Airport.
Growth plans include anything within a three-hour radius of one of its bases as well as Florida-Caribbean service. It also currently serves Bridgeport, CT and partners with Fly the Whale on seasonal service to the Hamptons and Cape and Islands from White Plains.
It has happened before, but new technology may accelerate the trend
At the top of the last business cycle in 2007, premium passengers were so frustrated with delays and cancellations they grew business aviation from 16% to 41% of all premium business traveller trips, according to Stanford Transportation Group (STG).
Meanwhile, U.S. airlines' best-paying passengers stagnated while the number of travellers using business aircraft reached record levels. STG Managing Director Gerald Bernstein attributed the increase to new air taxi models but that was before the power of mobile apps.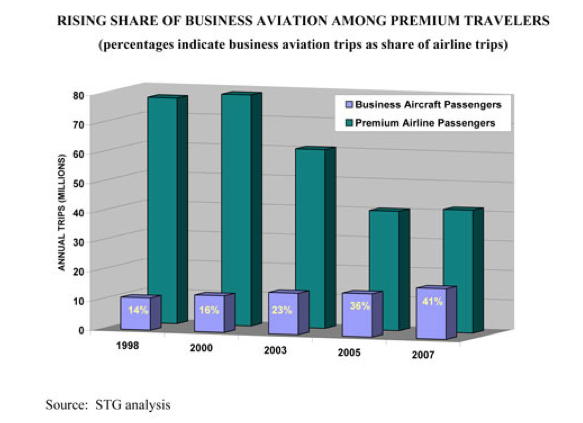 These entrepreneurial companies – Wheels Up, Imagine Air, Surf Air, JetSuite and many others – are specifically designed to expand the business aviation market to new users. Their mobile apps ostensibly make booking a charter or air taxi flight similar to Online Travel Agencies.
But Vincent doubts that some of the new companies are the answer. "With Wheels Up, for instance," he explained, "they charge USD4,000 an hour for a King Aire 350i after the membership fee. That has left a lot of people shaking their head because they are not sure what the value story is. They have great marketing, however."
Wheels Up is a membership company which contracts with Gama Aviation to operate a fleet of King Airs and Cessna Citations in the domestic U.S. market. "Wheels Up," CEO Kenny Dichter is careful to explain, "is not an aviation company", he argues. "We are a technology company that is trying to substantially change the market."
An individual or family membership requires a USD17,000 initiation fee with USD8,500 in annual dues starting in the second year. Corporate members rates are USD29,500 and USD14,000, respectively. Previously, one needed USD50,000 to USD100,000 for private aviation. It expected to broach 1,000 by year's end.
The basic idea with other new models is to monetise empty legs, repositioning flights either by offering empty-leg flights from a company's own fleet, as JetSuite does, or by mobile apps matching empty legs across the industry to passengers.
"Many try to monetise empty legs," JetSuite President Keith Rabin cautioned. "They are trying to be the Uber of private jets. Whether or not that will really work remains to be seen. They are building a lot of apps to make empty legs available but there is a difference between building an app and fulfilling a mission. No app, so far, has real-time availability. You still have to call and confirm the flight. The problem is they do not own or operate any aircraft. They are not integrated into an operator's operational software so they don't know when an aircraft is actually available. That is a lot different than Uber that has a ton of cars sitting around. That's an inexpensive asset. Trying to make that connectivity for private jets is more challenging."
The closest anyone has come to making app-related services work is UK-based Victor, said Rabin. It was created when BMI stopped flying between the UK and Mallorca, leaving Victor Founder Clive Jackson without a way to get between homes. A veteran of the luxury car industry, Jackson began offering a free app. All a passenger has to do is chose two locations and the app finds jets that are available during a given window.
Passengers then choose a flight among the 7,000 aircraft and 40,000 airports offered. Victor offers price transparency along with aircraft information at the time of booking. Prices, however, are the normal tens of thousands of dollars for chartering aircraft.
(Contributed by Kathryn Creedy)
See Part 4 of this series: New business models are emerging – and investors are warming to them.